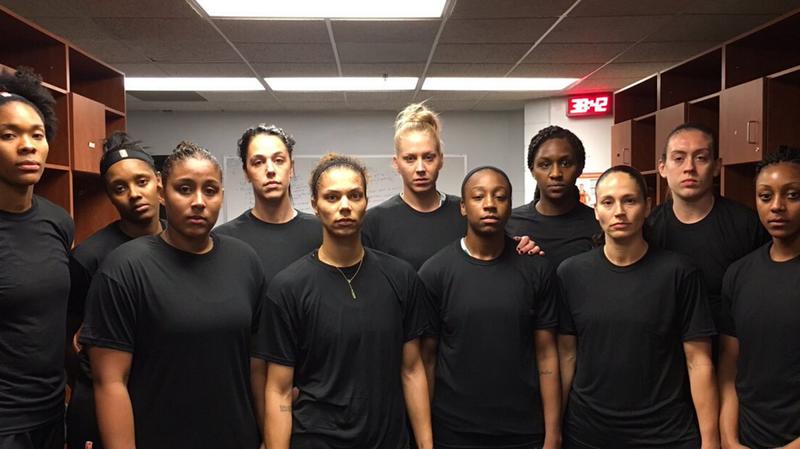 When former San Francisco 49ers quarterback Colin Kaepernick knelt during the national anthem to protest police brutality, detractors claimed athletes had no place in politics. But from Tommie Smith and John Carlos to Derrick Rose, athletes have always used their platforms and voices to bring visibility to causes and issues that exist beyond the boundaries of a field, court or ring.
In the wake of the murder of George Floyd by a Minneapolis police officer, athletes — and entire sports teams and leagues — have shown solidarity with protesters and spoken out against police brutality, systemic racism and white supremacy that exist in the United States. Learn more about the athletes who enacted change in the past — as well as those who are speaking up today.
Tommie Smith & John Carlos Protest Racial Inequality at the 1968 Summer Olympics
Black athletes Tommie Smith and John Carlos each raised black-gloved fists during their medal ceremony at the 1968 Summer Olympics in Mexico City. Smith and Carlos earned gold and bronze medals respectively during the 200-meter running event. When "The Star-Spangled Banner" played, they faced the American flag and kept their hands raised.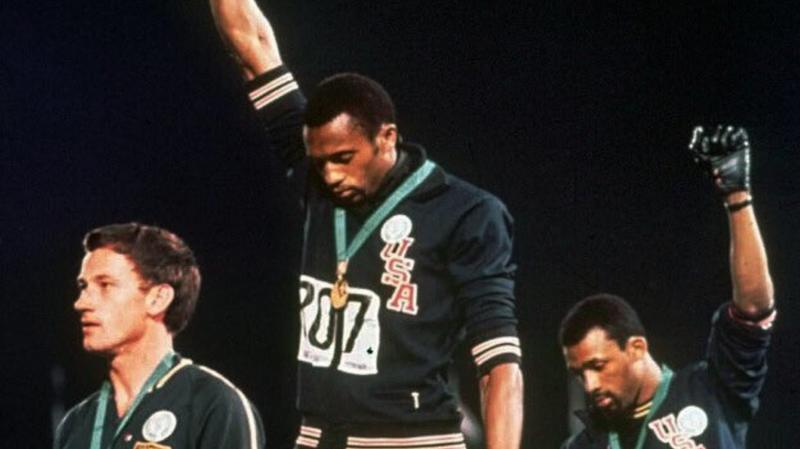 Both athletes — as well as the silver medalist, Peter Norman — wore Olympic Project for Human Rights badges to further raise awareness of civil rights causes. At the time, a raised fist became a Black Power salute and symbol for the American Civil Rights Movement, though Smith later wrote that the gesture was a "human rights" salute.
Colin Kaepernick Kneels to Protest Police Brutality & Racial Inequality
In 2016, Colin Kaepernick, the then-San Francisco 49ers quarterback, refused to stand for the national anthem. "To me, this is bigger than football and it would be selfish on my part to look the other way," the civil rights advocate told NFL Media.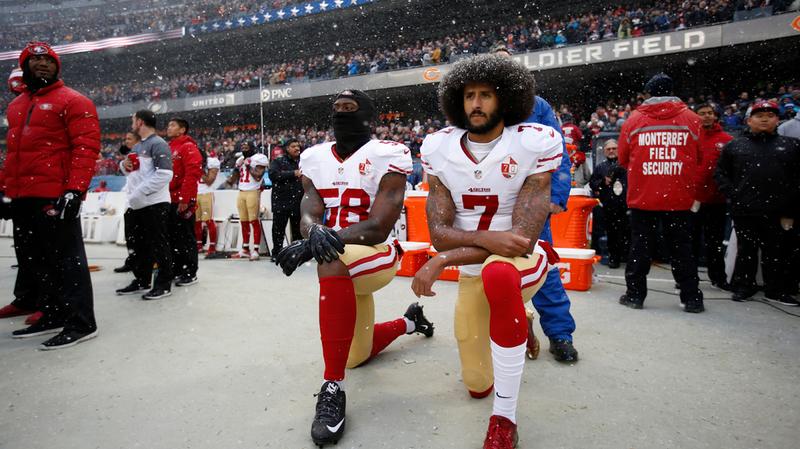 By kneeling, Kaepernick's protest brought visibility to the rampant police brutality and racial inequality that plagues — and kills — Black and Brown folks in the U.S. Since the 2016–17 season, Kaepernick has gone unsigned by any of the 32 NFL teams. "I am not looking for approval," he said. "I have to stand up for people that are oppressed."
The WNBA Stands in Solidarity with the Black Lives Matter Movement
According to The Washington Post, the WNBA rescinded its announcement that it would fine teams and players for participating in Black Lives Matter protests in less than 24 hours. Why did the fines come about? The Indiana Fever, New York Liberty and Phoenix Mercury players wore black T-shirts during warmups in solidarity with Black Lives Matter — and were subsequently fined $5,000 per team and $500 per player.
Lisa Borders, the then-WNBA president, tweeted that "[We] appreciate our players expressing themselves on matters important to them" and rescinded the fines as a show of support. More recently, the WNBA showed solidarity again with Black Lives Matter and Black folks in the wake of the murder of George Floyd. As protesters across the country fight against police brutality, the WNBA, and its teams and players, have added to the conversation. "The time for change is now. Enough is enough," the WNBA tweeted on May 29, 2020 along with an empowering photo that reads "Bigger Than Ball."
Liverpool Footballers and Other Players Protest Police Brutality in the Wake of George Floyd's Murder
Taking a cue from Colin Kaepernick's protest, Liverpool players knelt down at Anfield on Monday in a tribute to George Floyd, who was murdered by Minneapolis police officer Derek Chauvin the week before.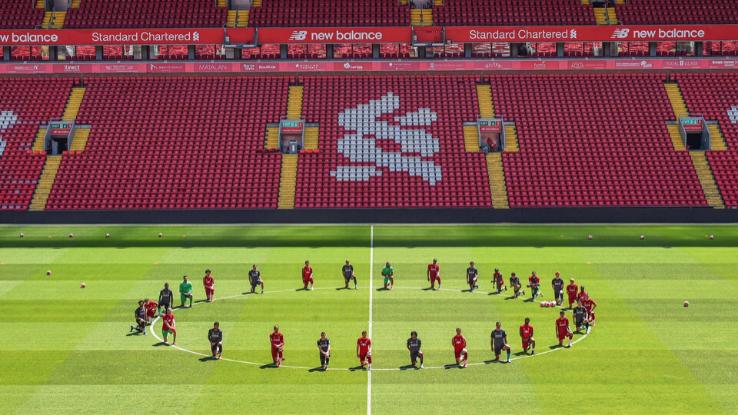 Floyd's murder was yet another display of police brutality in the United States and it's clear that Liverpool's actions were inspired by the Black Lives Matter protests taking place throughout America. Other footballers, like Borussia Monchengladbach forward Marcus Thuram and United States international Weston McKennie, offered their support by kneeling and wearing a "Justice for George" armband respectively.
Brittney Griner & Layshia Clarendon Advocate for the Rights of Transgender Folks
In 2017, WNBA players Brittney Griner and Layshia Clarendon published an op-ed that opposed Texas Senate Bill 3 (SB3), which aimed to regulate bathroom access based upon one's "biological sex" and block local anti-discrimination bills that protect trans folks' rights to use the bathroom that matches their gender.
Griner and Clarendon praised activist-athletes who paved the way for them, writing, "As beneficiaries of such brave efforts, we do not take our responsibility as activists lightly. We believe it is our moral duty to use the platform we have been given to speak out." Since then, the two have been advocates for the LGBTQ community.
Derrick Rose Protests Police Brutality by Wearing a Shirt with Eric Garner's Last Words
In December of 2014, NBA star Derrick Rose wore a black T-shirt with the words "I Can't Breathe" printed on the front during a team warmup with the Chicago Bulls. The phrase referenced the last words of Eric Garner, a Black man who was murdered by Staten Island police officer Daniel Pantaleo in 2014.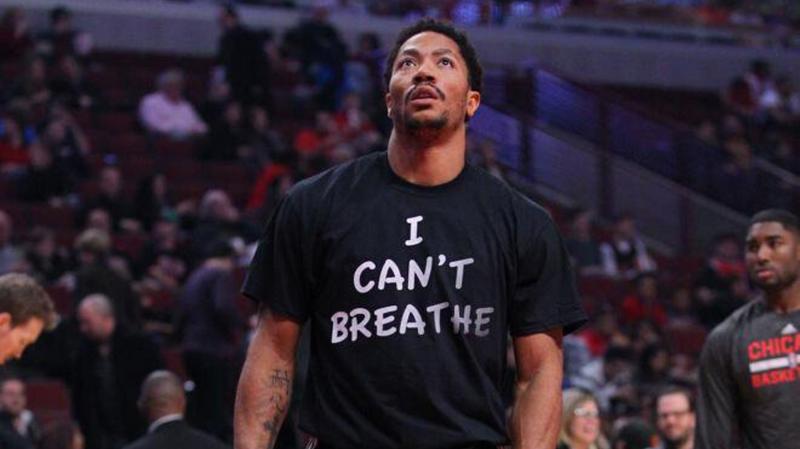 Even though Garner's murder was caught on video, Pantaleo was never indicted. Rose's decision to wear the shirt is another example of an athlete using their platform to make a statement — this time about police brutality and the injustice Black people face every day in America.
The "Syracuse 8" Protest Racial Inequality in Sports, Education & Healthcare
The student athletes who boycotted the 1970 football season at Syracuse University were inaccurately dubbed the "Syracuse 8" when, in fact, nine athletes participated in the protest. The Black players met in secret to discuss how they could achieve racial equality on and off the field.
The players wanted better medical care, access to the same academic opportunities as their white teammates, a more transparent selection process and a more diverse coaching staff. "It's dehumanizing," Greg Allen told NPR. "My talents, my own personal desires and wishes and goals and dreams, take a back seat to this thing called race or racism."
Sean Doolittle Advocates for the LGBTQ Community
MLB pitcher Sean Doolittle and his wife Eireann Dolan purchased hundreds of tickets to the Oakland Athletics Pride Night in 2015 and donated them to local LGBTQ groups so that the seats would be filled.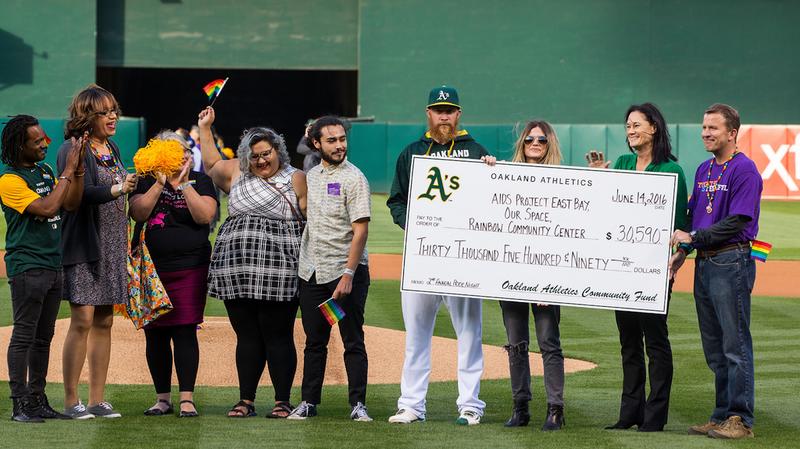 In 2019, Doolittle continued his to show his allyship by painting his cleats with the transgender pride flag as well as the rainbow flag. Most recently, Doolittle refused a White House invitation after his World Series victory, stating, "My wife and I stand for inclusion and acceptance… At the end of the day, as much as I wanted to be there with my teammates…I can't do it."
Carlos Delgado Stayed in the Dugout to Protest the U.S. Invasion of Iraq
Following the United States' invasion of Iraq in 2004, first baseman Carlos Delgado undertook his own quiet protest against the war. That season, Toronto faced off against the New York Yankees a whopping 19 times — and the Yankees, unlike other teams, insisted on playing "God Bless America" during the seventh-inning stretch of every home game.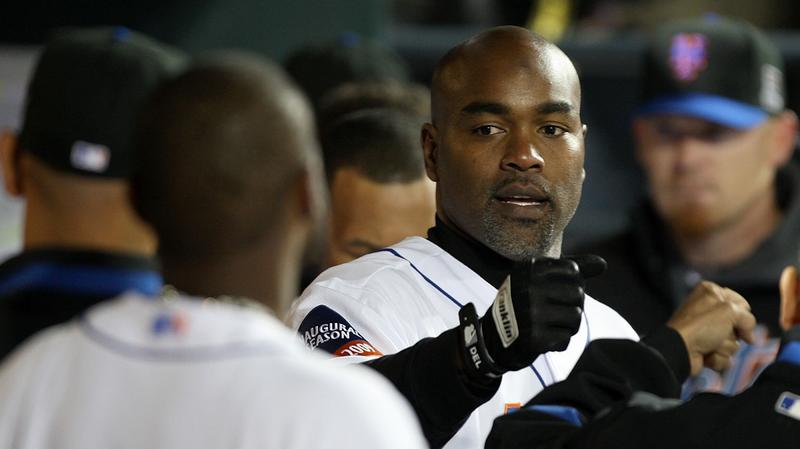 Vowing not to participate following the invasion of Iraq, Delgado hung back in the dugout instead of joining his teammates on the field. "I don't [stand] because I don't believe it's right," Delgado told the Toronto Star. "I don't believe in the war."
St. Louis Rams Players Protest Police Brutality & Stand in Solidarity with Michael Brown & Ferguson Black Lives Matter Protests
After 18-year-old Ferguson, Missouri, resident Michael Brown was killed by a police officer in August of 2014, months of protests ensued. And in November, just five days after a grand jury decided against indicting police officer Darren Wilson, five members of the St. Louis Rams showed their support for Brown and the Black Lives Matter movement.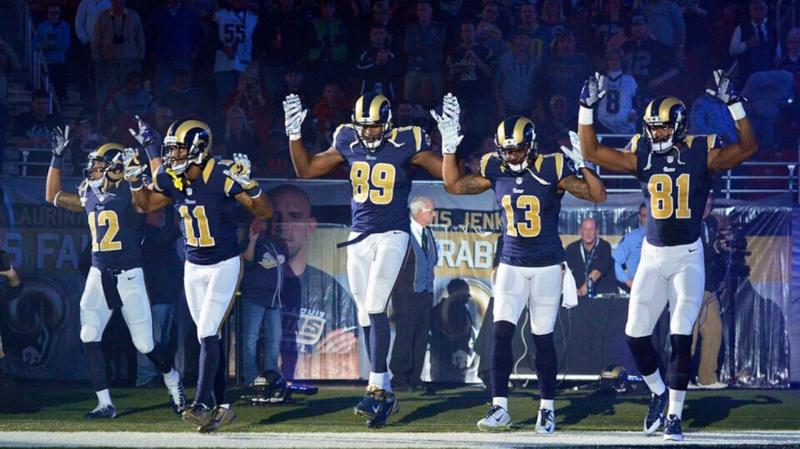 The Rams' players — Jared Cook, Kenny Britt, Stedman Bailey, Chris Givens and Tavon Austin — walked onto the field during their pregame introductions, hands raised. The gesture, later referred to as "Hands Up, Don't Shoot," was the same one that Brown made before he was murdered by Wilson.
Seattle Storm Organize a Rally for Planned Parenthood
Co-owned by three women — Lisa Brummel, Ginny Gilder and Dawn Trudeau — the Seattle Storm WNBA team came together to host a pre-game rally on July 18, 2017, to benefit Planned Parenthood. Some players missed out on warmups to attend the rally, and spectators were given "I Stand with Planned Parenthood" signs.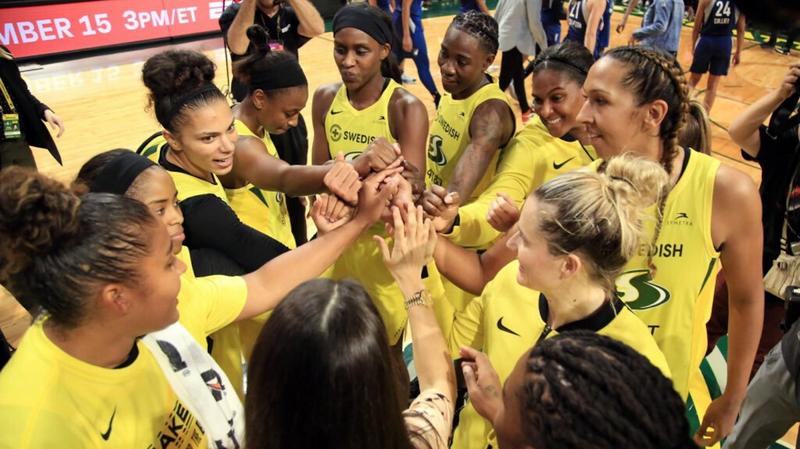 This event marked the first time a professional sports team partnered with Planned Parenthood — and the affiliation paid off. Thanks to proceeds from ticket sales, the Storm were able to donate around $42,000 to Planned Parenthood of the Great Northwest and the Hawaiian Islands (PPGNHI).
Eric Reid Kneels to Protest Police Brutality & Racial Inequality
Following in his former teammate Colin Kaepernick's footsteps, the Carolina Panthers' safety Eric Reid kneels every week during the national anthem to protest ongoing racial inequality, social injustice and police brutality in the U.S.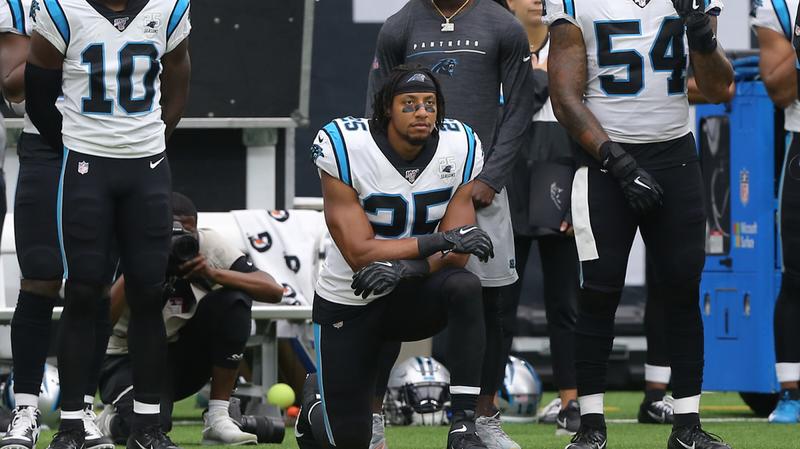 "If a day comes that I feel like we've addressed those issues, and our people aren't being discriminated against or being killed over traffic violations, then I'll decide it's time to stop protesting," Reid told the Charlotte Observer. "I haven't seen that happen." Off the field, Reid and Kaepernick have joined forces again, supporting Black and Brown folks with programs such as their Know Your Rights Camp.
Venus Williams & Serena Williams Fight for Equal Pay
In 2005, Venus Williams appealed to the Grand Slam governing board and then wrote an op-ed, fighting for equal monetary awards for men and women at Wimbledon and the French Open. Shortly after, Venus won at Wimbledon — and netted the same prize as the men's champ.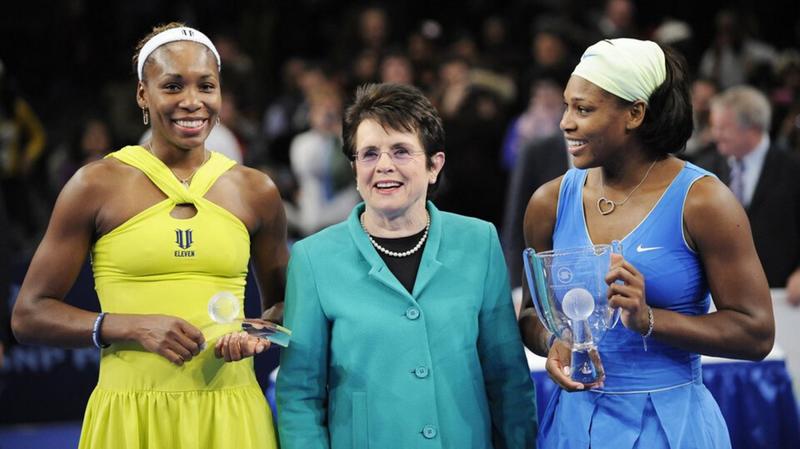 Meanwhile, Serena Williams has vowed to fight for equal pay too — especially for Black women. "The cycles of poverty, discrimination, and sexism are much, much harder to break than the record for Grand Slam titles," she wrote in Fortune. Both sisters are on the advisory board for the Billie Jean King Leadership Initiative.
Enes Kanter Speaks Out Against Authoritarian Regime in Turkey
Boston Celtics center Enes Kanter was born in Switzerland and raised in Turkey. But despite his family's Turkish roots, Turkey's government revoked his passport in 2017 and accused Kanter and his relatives of terrorism. That said, Kanter hasn't visited the country in years — and his games are censored on Turkish television.
How'd this come about? Kanter has been openly — and often — critical of (authoritarian) Turkish President Recep Tayyip Erdoğan. In September 2019, Kanter told Vox, "I think the NBA gives me a big platform, and so that's why I'm trying to be a voice for all those innocent people who don't have one."
LeBron James Protests Police Brutality & Racial Inequality — & Advocates for Education
Unlike the NFL, the NBA has a written rule about standing for the national anthem — and the league made sure to remind players of this stipulation. But three-time NBA champ LeBron James said he "will not shut up and dribble."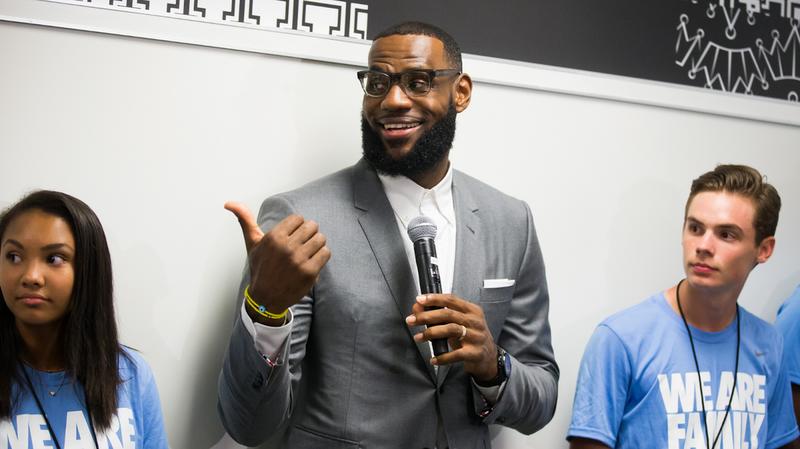 By speaking out about racial inequality, police brutality and the president's bigotry, James has emboldened other players to take a stand as well. In addition to donating to various nonprofits and establishing his own foundation, James also helped establish the I Promise School, a public elementary school in Akron, Ohio, that aims to help struggling students.
Reggie Bullock Becomes an Advocate for Transgender Folks & the LGBTQ Community
In 2019, Vice Sports debuted a documentary about NBA star Reggie Bullock and his journey to becoming an LGBTQ activist in the wake of his sister's murder in 2014. Bullock's sister, Mia Henderson, was a transgender woman living in Baltimore and, one night, she was stabbed to death.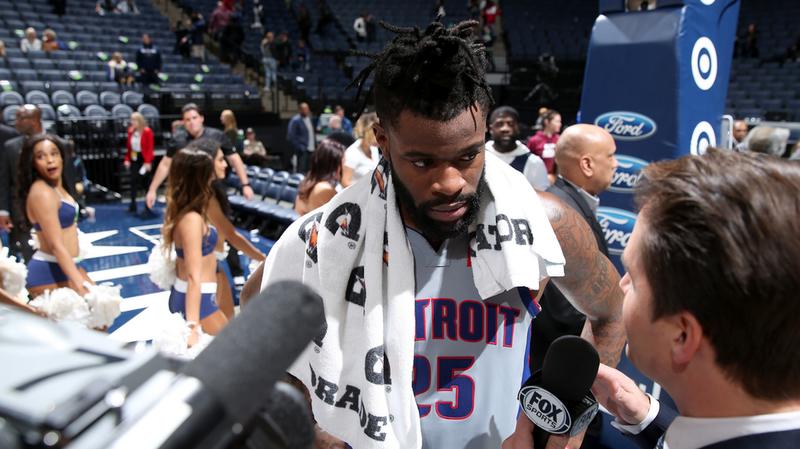 Bullock has made it his mission to speak out about how violence and murder disproportionately impact trans women of color. At games, he wears sneakers with "equality" written on them and with his sister's name etched on the soles to honor her and the LGBTQ community.
U.S. Women's National Soccer Team Fights for Equal Pay
In 2016, several high-profile members of the U.S. Women's National Team (USWNT) filed a complaint against U.S. Soccer with the Equal Employment Opportunity Commission. Among those members? Carli Lloyd, Alex Morgan, Becky Sauerbrunn and Megan Rapinoe.
Thanks to the 2019 World Cup, the USWNT's fight for equal pay gained even more traction — and visibility. In July, the team celebrated their victory at a ticker-tape parade in New York City where legions of fans chanted "Equal pay!" and held signs. Just to reiterate: The USWNT won their fourth title whereas the men's team's best finish happened in 1930…when they placed third.
Muhammad Ali Protests the Vietnam War by Refusing the Draft
Muhammad Ali won a gold medal at the 1960 Summer Olympics. A year later he turned pro and converted to Islam, which led him to take the name we know him by today. A few years later in 1966, "The Greatest" refused to be drafted into the military because he opposed the Vietnam War.
Ali was subsequently arrested, found guilty of draft evasion and stripped of his boxing titles. Although the Supreme Court overturned his conviction in 1971, the conscientious objector still sacrificed some of his best years as an athlete. Nonetheless, his activism turned him into a counterculture icon.
Jesse Owens Stands Up to Nazi Germany — & Wins Big
The New York Times dubbed Jesse Owens "perhaps the greatest and most famous athlete in track and field history." At the 1936 Summer Olympics, which were held in Nazi Germany, Owens achieved international fame by winning an impressive four gold medals.
These victories made him the most successful athlete at the Games. And being the most successful athlete at the Games, as a Black man, was taking a stand in and of itself. ESPN noted that Owens' bravery and achievements "single-handedly crush[ed] Hitler's myth of Aryan supremacy."
Megan Rapinoe Kneels to Protest Police Brutality & Racial Inequality
The first professional athlete to kneel in solidarity with Colin Kaepernick was soccer star Megan Rapinoe, who knelt during the anthem prior to a Seattle Reign match. She wrote in The Players' Tribune, "I am kneeling because I have to do something. Anything. We all do."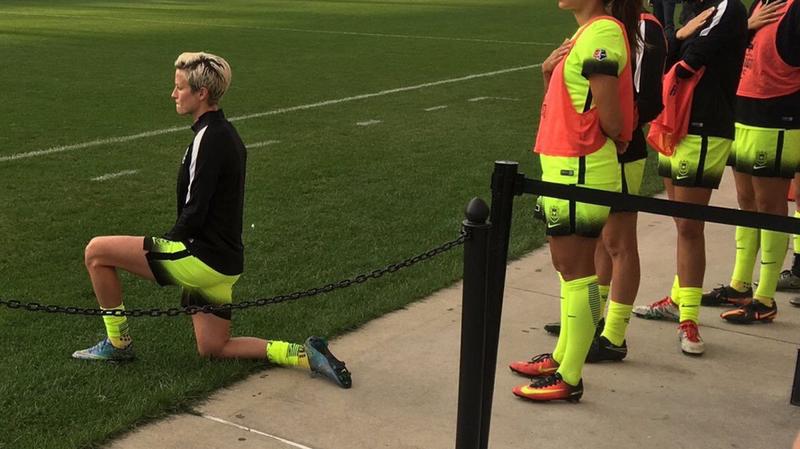 During the 2019 FIFA Women's World Cup, Rapinoe stood with her arms at her sides, mouth unmoving while the anthem played. "I haven't experienced over-policing, racial profiling, police brutality or the sight of a family member's body lying dead in the street," the two-time World Cup champ once wrote. "But I cannot stand idly by."
Mahmoud Abdul-Rauf Holds True to Religious Beliefs, Refuses to Stand for Anthem
Denver Nuggets player Mahmoud Abdul-Rauf converted to Islam in 1991 and, during a 1996 game, he refused to stand during the national anthem. He stated that the U.S. flag was a "symbol of oppression [and] of tyranny."
"I don't criticize those who stand [for the anthem], so don't criticize me for sitting," Abdul-Rauf said. "I won't waver from my decision." After he was fined and suspended for one game, Abdul-Rauf struck a deal with the NBA, allowing him to bow his head and close his eyes during the anthem. Just two years later, Abdul-Rauf left the league.
The Black 14 Plan to Protest Racism in the Mormon Church
The University of Wyoming kicked 14 Black players off the football team in 1969. During a game against Brigham Young University — a Mormon-owned and -operated school — said players were planning to protest a Mormon policy that forbade Black members from the priesthood.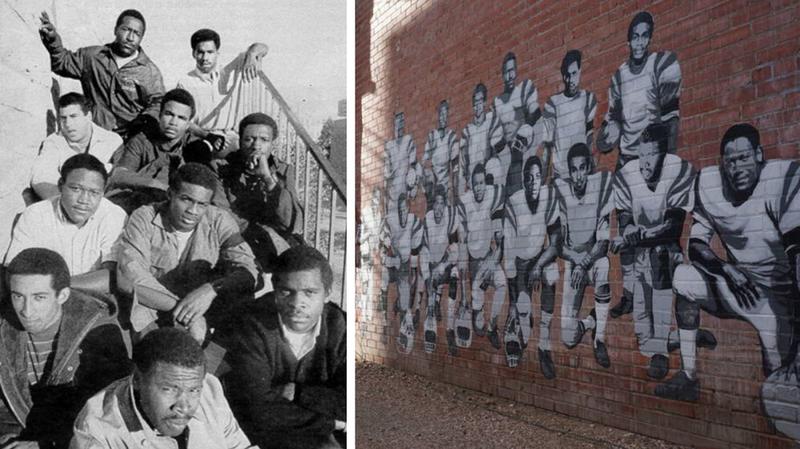 Wearing black armbands, the players approached their coach before the game but were promptly dismissed — which caused other student athletes to take up the cause. Unfortunately, the Black 14 were not reinstated, but, nine years later, the Mormon church finally allowed Black members to attain leadership positions.
Indiana Fever Become the First Entire Team to Kneel to Protest Police Brutality & Racial Inequality
In September of 2016, the Indiana Fever WNBA team joined other athletes — inspired by Colin Kaepernick — to kneel during the national anthem to protest ongoing police brutality against Black folks in America. But this protest was unique.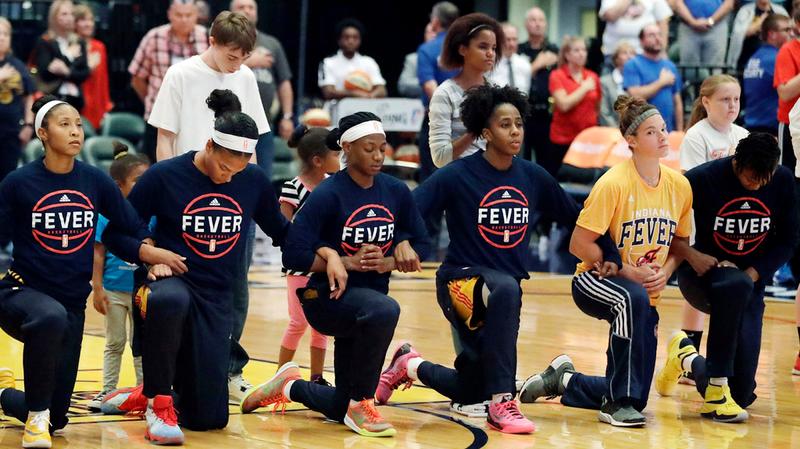 The players took action just before a WNBA playoff game — a high-stakes event with higher viewership — and every single member of the Fever knelt, arms linked. This marked the first time an entire team protested during the anthem. The team's coach, Stephanie White, said that she was proud of her players.
Aly Raisman Speaks Out About Being a Survivor
Gymnast Aly Raisman won six Olympic medals and was captain of both the 2012 "Fierce Five" and 2016 "Final Five" U.S. women's Olympic gymnastics teams. Off the floor, Raisman has also set an example by speaking her truth.
In 2017, she came forward as one of the many young women who were sexually abused by the former Olympic team physician Larry Nassar. Raisman later filed a lawsuit against U.S.A. Gymnastics and the U.S. Olympic Committee, claiming both organizations "knew or should have known" about the abuse. The Olympian and other survivors received the Arthur Ashe Courage Award.
Adam Rippon Becomes the First Openly Gay Athlete to Win for the U.S. at the Winter Games
In 2015, Adam Rippon publicly came out as gay and, three years later, he was one of three men selected to represent the U.S. in the 2018 Winter Olympics. Long before his events aired, a lot of pressure — and attention — were placed on the skater.
Rippon also aired his concerns about Mike Pence being chosen to lead the U.S. delegation at the Games due to Pence's long history of anti-gay legislation and homophobia. At Pyeongchang, Rippon won the bronze for a team event, making him the country's first openly gay athlete to win a medal at a Winter Olympics.
Albert Wolff, Milton Green, Norman Cahners, Halet Çambel & Suat Fetgeri Așani Among Athletes to Protest the 1936 Olympics
Although fencer Albert Wolff qualified for the French Olympic team, he chose to boycott the 1936 Summer Games due to his Jewish heritage. That year, the games were were being held in Nazi Germany. Wolff said, "I cannot participate in anything sponsored by Adolf Hitler, [not] even for France."
Jewish athletes from the U.S., including world-class hurdler Milton Green and track and field athlete Norman Cahners, also boycotted the Games that year. Other athletes protested differently: Fencers Halet Çambel and Suat Fetgeri Așani, the first Turkish women to participate in the Olympics, refused an invitation to meet with Hitler due to their political viewpoints.
Caster Semenya Challenges IAAF's New "Sex Verification Testing"
Caster Semenya, a South African middle-distance runner, is an Olympic gold medalist and has won several World Championship titles. However, her time as a world-class athlete has been plagued by invasive "sex verification testing" since 2009. In 2018, the International Association of Athletics Federations (IAAF) announced new "differences of sex development" rules.
Essentially, this meant that women and people who have higher testosterone levels and a certain androgen sensitivity would be required to take medicine to adjust those levels. Semenya announced that she would challenge this ruling, even bringing it to the Federal Supreme Court of Switzerland.
Dutee Chand Challenges Hyperandrogenism Ruling & Comes Out Publicly
Despite winning two gold medals at the Asian Junior Athletics Championships in 2014, Chand was disqualified from the Commonwealth Games in a last-minute decision by the Athletic Federation of India. The Federation determined that Chand's hyperandrogenism — her high levels of naturally occurring androgens — made her unable to compete in women's sports.
Chand appealed the ruling and was eventually allowed to compete again, but she still stands in solidarity with friend Caster Semenya, who is still fighting the testosterone rule change. Moreover, Chand also became India's first-ever openly LGBTQ athlete in 2019 when she came out about her same-sex relationship.
Arthur Ashe Educates the Public About HIV & AIDS
Three-time Grand Slam winner Arthur Ashe became the first Black man to win singles titles at Wimbledon, the U.S. Open and the Australian Open. Off the court, Ashe used his platform to educate others about HIV and AIDS and founded the Arthur Ashe Foundation for the Defeat of AIDS and the Arthur Ashe Institute for Urban Health.
In the 1980s, Ashe reportedly contracted HIV from a blood transfusion he received during heart bypass surgery and publicly announced his illness in 1992. Tragically, he passed the following year but was posthumously awarded the Presidential Medal of Freedom by President Clinton.
Jackie Robinson Breaks Down Racial Barriers On & Off the Field
Famously, Jackie Robinson became the first Black baseball player to play in the MLB when he signed with the Brooklyn Dodgers in 1947. Before then, professional baseball had been segregated, relegating Black players to the Negro leagues since the 1880s.
Robinson has been quoted as telling younger player Hank Aaron that "the game of baseball is great, but the greatest thing is what you do after your career is over." A vocal supporter of the civil rights movement, Robinson was in a unique position: He advocated for change and became a symbol of it. Posthumously, he was awarded the Presidential Medal of Freedom.
Bronson Koenig Stands in Solidarity with Protestors at Standing Rock
Currently, Bronson Koenig plays for the NBA G League team the Erie BayHawks — the New Orleans Pelicans affiliate. Although his platform may not be as far-reaching as those of NBA players, Koenig, a member of the Ho-Chunk Nation, is still aiming to make a far-reaching difference.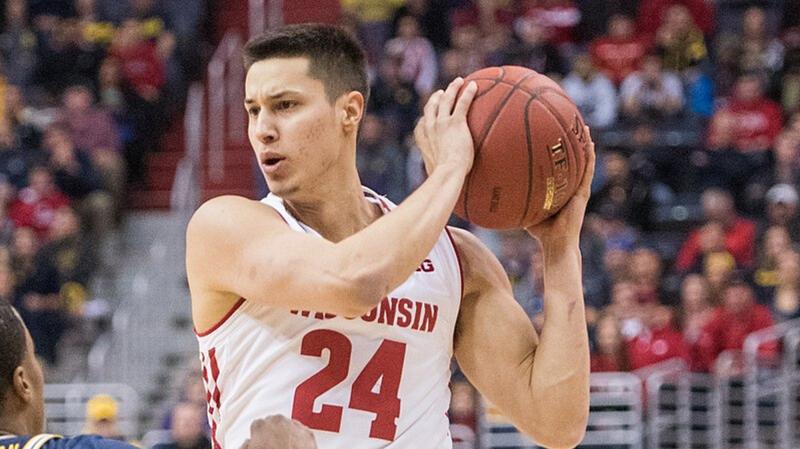 In September 2016, Koenig and his brother joined the protest at Standing Rock. After driving 14 hours from Madison, the brothers stood in solidarity with those opposing the Dakota Access Pipeline. Moreover, Koenig has been outspoken in his opposition to using Native names and mascots, particularly when it comes to the Washington football team's offensive name.
The Phoenix Suns & Los Angeles Clippers Take Part in Very Uniform Protests
When it comes to uniforms, some teams have added new meaning to the phrase "statement piece." In 2010, the Phoenix Suns wore uniforms that read "Los Suns" to protest Arizona's new immigration law. Then-star Steve Nash said the bill "opens up the potential for racial profiling and racism."
In 2014, the Los Angeles Clippers used their pregame warmup uniforms as a form of silent protest. After the team's owner, Donald Sterling, made racist remarks, the players wore their warmup shirts inside-out so that the Clippers' logo didn't show. Chris Paul, the star guard, was heard telling his teammates "we're all we got."
Bruce Maxwell Becomes First MLB Player to Kneel
On September 23, 2017, Bruce Maxwell became the first MLB player to kneel during the national anthem. The former Oakland Athletics' catcher made history protesting racial inequality and police brutality on the diamond — and the decision certainly had ramifications.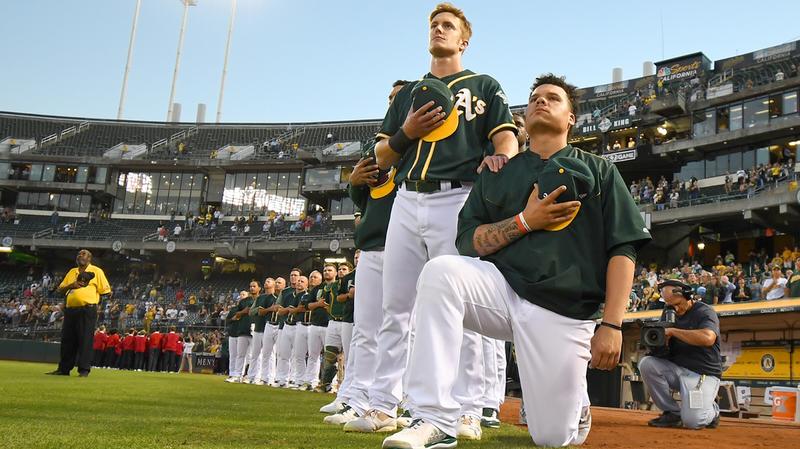 While Maxwell knelt, teammate Mark Canha put a hand on the catcher's shoulder as a show of support. The A's issued a statement, saying the team "[prides itself] on being inclusive." Even if the team supported Maxwell's constitutional rights, it's also true that Maxwell has since gone unsigned by an MLB team and now plays for a Mexican League team.
Pat Tillman Trades One Uniform for Another
In the aftermath of 9/11, the Arizona Cardinals' Pat Tillman left the NFL to enlist in the U.S. Army in June of 2002. While serving with the Army Rangers, Tillman was killed in Afghanistan under nebulous circumstances. In the end, the Department of Defense admitted Tillman was killed by friendly fire.
After right-wing bloggers misappropriated Tillman's legacy in response to Colin Kaepernick's decision to kneel, Pat's wife, Marie, said "The very action of self expression…is what Pat and so many other Americans have given their lives for." Jon Krakauer, Tillman's biographer, agreed, adding "I have no doubt if he was in the NFL today, he would be the first to kneel."