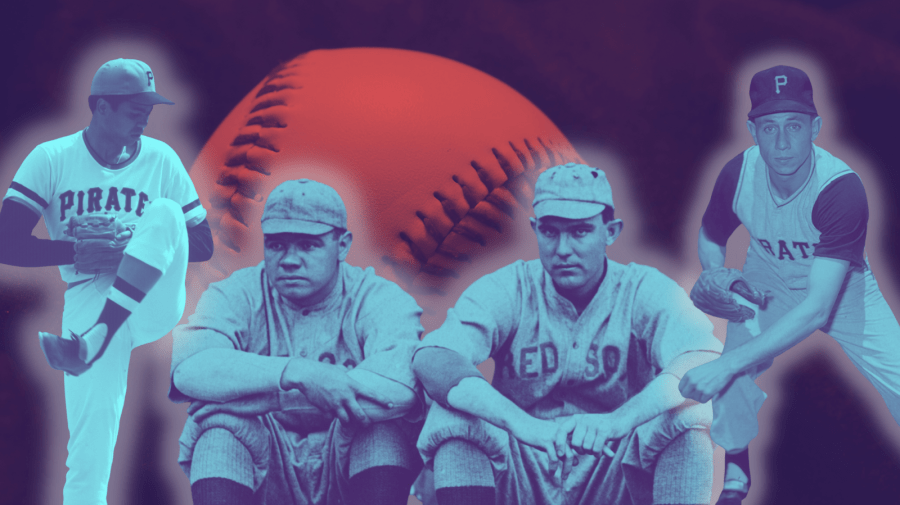 Every year, the Major League Baseball (MLB) All-Star Game is a celebration of some of the most fun parts of baseball. The Home Run Derby gives the game's best sluggers a chance to put on their own July fireworks show. The All-Star Futures Game gives fans a look at some of the best up-and-coming talent the game has to offer. And the All-Star Game itself is often a really fun chance to see the best players in the game go up against each other.
But baseball's long history — especially in comparison to the other major sports in the U.S. — means that there's more to the sport than superstars and home run blasts into the night. There have been enough baseball games played over the years that pretty much everything has happened at least once. The All-Star Game might be special, but one of the exciting things about baseball is that on any given night you might see something you've never seen before.
With that in mind, we thought we'd take a look at some of the most unique one-game feats in the history of the sport. For this article, we'll stick to the pitchers. There have been some really strange pitching performances in the more than 150 years since the Cincinnati Red Stockings became the first professional team in 1869. Here are three of the strangest — and greatest — ones.
Harvey Haddix and the 12 Perfect Innings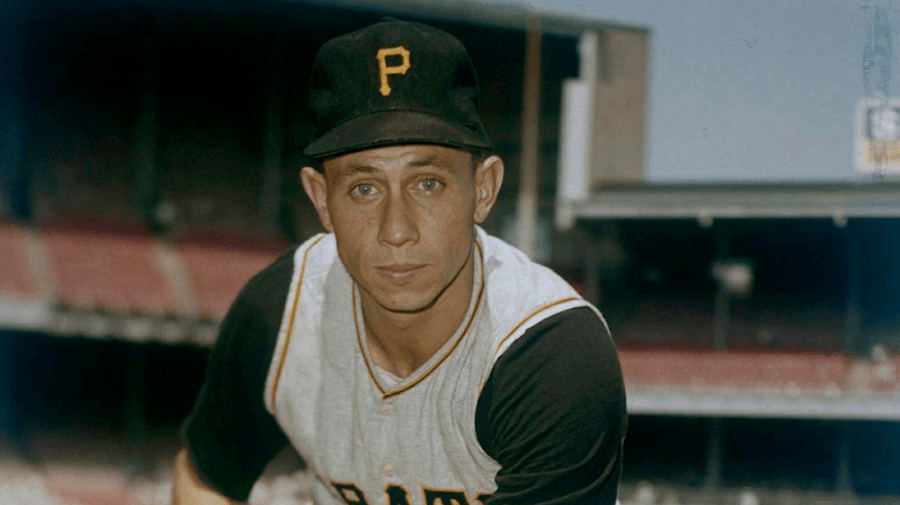 Here's a perfect example of the truth that something amazing can happen on any night in MLB. On May 26, 1959, in what could have been a meaningless game between a mediocre Pittsburgh Pirates team and a decent Milwaukee Braves team, Pirates pitcher Harvey Haddix pitched what might have been the best game of all time. And his team lost.
Here's how it happened. Through the 9 innings of regulation, Haddix was pitching a perfect game — that means he hadn't allowed a single base runner yet. If that seems amazing, it's because it is: there have still only been 23 perfect games in MLB history — none since 2012. The problem is, his own teammates hadn't scored any runs yet either. Braves pitcher Lew Burdette managed to spread out 12 Pirates hits over the course of the game without allowing anyone to score.
Through three extra innings, that situation stayed the same. Burdette managed to prevent runs while Haddix kept throwing perfect innings. Finally, after the Pirates yet again failed to score in the 13th, Haddix cracked. He intentionally walked legendary slugger Hank Aaron — hard to blame him! — to end his perfect game bid, and then gave up a double to first baseman Joe Adcock, which brought the run in.
In the end, the only statistical evidence for Haddix's incredible performance of 12 perfect innings is the loss he earned. Burdette got the win for his Houdini act of managing not to give up a single run despite allowing 12 men to reach base.
The game has remained legendary for other reasons though. For one thing, former Braves pitcher Bob Buhl admitted to Haddix at a banquet in 1989 that the Braves had been using a pair of binoculars from out in the bullpen to steal signals from Pirates catcher Smoky Burgess. Haddix had no idea — in fact, he spent pretty much the whole night throwing whatever pitch Burgess told him to throw, and Burgess made only three trips to the mound over the course of the whole game. Just one more reason why Haddix's performance on May 26, 1959 was one of the greatest pitching performances in baseball history.
Dock Ellis and the LSD No-Hitter
This one, strangely enough, also involves the Pittsburgh Pirates, and took place on June 12, 1970. That evening, during the first game of a double-header, Pirates starting pitcher Dock Ellis put in one of the strangest performances in the history of professional sports.
You might know this story if you watched the 2014 film No No: A Dockumentary, which chronicles Dock's life, his struggles with alcohol and amphetamines, his post-playing career helping other people living with substance use disorder (SUD), and the 1970 game that made him famous.
The way the story goes, Dock was in his hometown of Los Angeles, spending an off-day visiting. The team had a double-header in San Diego against the Padres that evening, but Dock didn't think he was pitching. So he decided to drop some acid. A little while later, the woman he was with let him know that he was, in fact, scheduled to pitch. That was around 2pm; Dock managed to get a taxi to the airport and catch a 3:30 flight to San Diego. Heroically, he made it to the ballpark in time to pitch, but he was still incredibly high.
The game itself was even weirder. Dock was wild, and couldn't seem to hit the strike zone, but the Padres couldn't seem to get any hits, either. Dock walked eight batters over the course of nine innings — that's more baserunners than his own Pirates, who won the game, managed to put on. At one point, Dock dove out of the way of a line drive that wasn't there. He briefly thought the home plate umpire was Richard Nixon.
Dock kept the fact that he was high as a kite during his no-hitter a secret for many years, but later in life he put the story on the record. Dock died in 2008 of cirrhosis, but prior to that he was interviewed about his famous no-hitter by NPR. The audio from that interview was used for a wonderful animation by James Blagden, and that video brought Dock's story much more mainstream attention, eventually leading to the feature-length documentary in 2014.
Though history remembers Dock Ellis mostly for his psychedelic no-hitter in 1970, he should be remembered for more than that. He entered drug treatment in 1980 at the end of his playing days, and went on to work as a drug counselor and a prison counselor. He was an activist and an advocate for sobriety. He's certainly a human being worth remembering — and celebrating.
Babe Ruth and Ernie Shore: The Almost-Perfect Game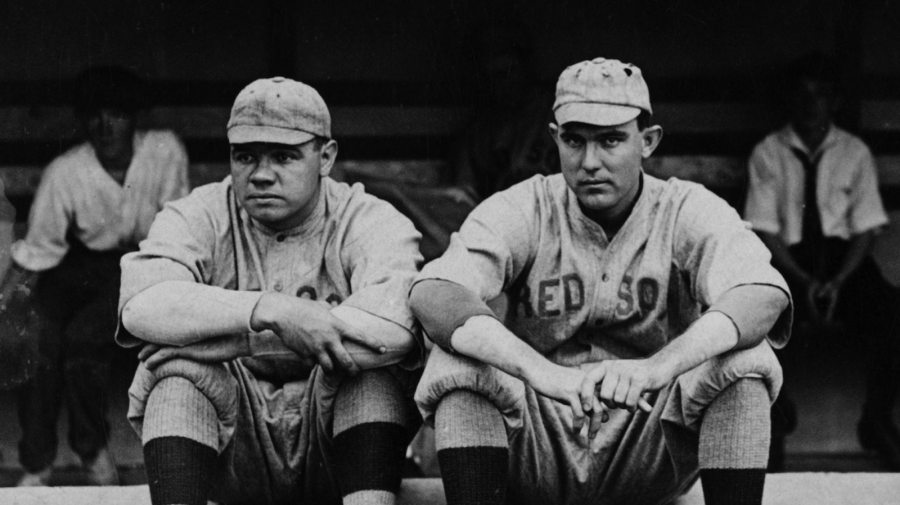 We'll wrap up with this special game from June 23, 1917 in which Ernie Shore managed to pitch nine full innings and retire all 27 batters he faced without getting credit for a perfect game. That's because Babe Ruth — ever heard of him? — was actually the Red Sox starting pitcher that day.
Of course, Ruth's Red Sox tenure is mostly remembered for the fact that after the team traded him to the New York Yankees before the 1920 season they didn't win another World Series until 2004. And though he's remembered for clobbering over 700 home runs over the course of his career, he was a starting pitcher for the Red Sox. When he set out to face the Washington Senators in June of 1917, he walked the first batter he faced on four consecutive pitches.
He proceeded to lose it, rushing to home plate to argue with umpire Brick Owens. Owens threatened to throw him out of the game, causing Ruth to say that if Owens threw him out of the game, he'd punch Owens in the face. And that's exactly what happened. Players broke up the fight, but with Ruth out of the game, Ernie Shore came in to pitch.
Straight away, the Sox managed to throw out the baserunner Ruth walked while he was trying to steal second base. Shore proceeded to summarily send down each of the subsequent 26 batters he faced. Ultimately, Shore was credited with nine full innings — 27 outs — without allowing a hit or walk. But it couldn't be a perfect game because it wasn't — the first batter of the game did reach base, after all.
Strangely enough, Ruth and Shore both went on to play for the 1920 New York Yankees. That was Shore's last season, and Ruth went on to be pretty much the most legendary athlete in the history of American sports. That's baseball for ya.