Is it finally time to plan that romantic getaway you've been talking about for months — maybe even years? If you're ready to take the plunge and experience some grown-up luxury designed specifically for you and your sweetheart, take a look at these best all-inclusive resorts for couples around the world.
Pros and Cons of All-Inclusive Resorts
If you're contemplating a once-in-a-lifetime, no-holds-barred vacation with your significant other, chances are you've considered all-inclusive resorts as potential destinations. These types of resorts allow you to pay for (almost) everything up front so that when you arrive, you don't have to worry about following your budget or having some unexpected expenses popping up — because vacation is supposed to be stress-free, right? 
At some resorts, there may be extra fees for certain activities or privileges. If you want to enjoy a top-notch spa treatment, for example, that may be an extra cost. Some resorts also have restaurants that require an upcharge or high-quality alcohol that won't be served unless you dish out a little extra cash. The fees also don't cover tips for resort staff. 
Despite these extra expenses, the price for an all-inclusive resort will usually cover your room, access to resort amenities (office space, gym, pool, and more), and all regular meals and drinks. The specifics of what's included will vary from one resort to another, so make sure you do plenty of research before booking your stay. 
All-inclusive resorts are loved by many couples as a place to truly unwind and forget about everything, money included. If you're looking for adventure and spontaneity, however, you'll probably want to leave the resort for next time — guests typically don't spend much time outside of the resort simply because they're looking to maximize their enjoyment of all those benefits they paid for.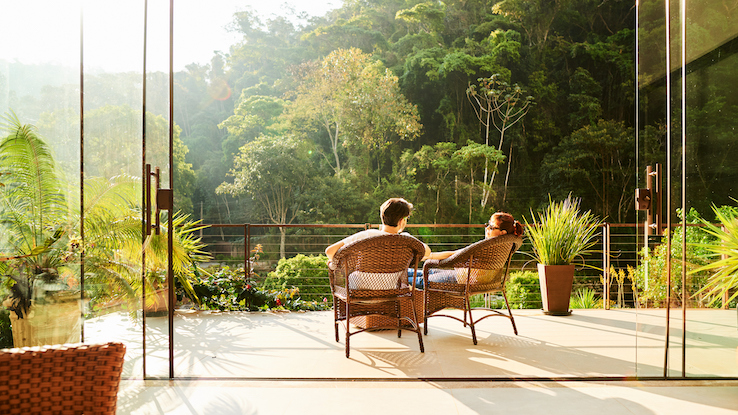 Marquis Los Cabos, San Jose del Cabo, Mexico
Tranquility and relaxation are the focus of this all-inclusive resort overlooking the Sea of Cortez. Every room at this location has a balcony or terrace, so you won't miss the breathtaking view. This location is adults-only, too — that means this spot isn't family-friendly or packed with activities for youngsters. 
Enjoy three infinity pools, five on-site restaurants, and an enormous, 13,000-square-foot spa (keeping in mind that treatments are extra). You may even wake up to fresh pastries delivered to your room. If you're looking to impress your spouse, you can't do much better than this. 
Hard Rock Hotel, Punta Cana, Dominican Republic
This one is for couples looking to party and have a good time. Hard Rock has a reputation for its bustling nightlife, with 23 different clubs and bars and a rotating calendar of live performances from well-known musicians. Yes, Rihanna and Justin Bieber have performed here. Oh, and how could we forget the casino? 
At Hard Rock Punta Cana, you'll be given a Rock Royalty Personal Assistant to handle all your vacation needs. Talk about quality service! You can dance the night away and spend the next day recuperating next to turquoise waters, all with attentive care from professional staff. Hard Rock is not exclusive to adults, however, so keep that in mind when booking. 
Lake Austin Spa Resort, Texas, USA
You don't have to leave the United States to have a spectacular resort experience. At Lake Austin Spa Resort, you'll find peace tucked away in the hills of Texas. Its all-inclusive options include access to spa rooms and lake equipment, gourmet dining, and even cooking classes. 
This is a great option for couples looking to have healthy food choices and outdoor activities in the rotation — think kayaking, paddle boarding, private couples' boating with a picnic and wine, and hiking. Why not give a mountainous adventure a try this time around? 
Jade Mountain, Saint Lucia
Jade Mountain is a spectacular resort emerging out of the Caribbean. The focus here is on nature, something that is reflected in its unique architecture. High columns and connecting bridges frame the majesty of the Caribbean Sea. Your room is considered your sanctuary, so you won't find any televisions, radios, or phones.
Many guests come here looking to leave their smartphones behind and connect with the natural environment. If you're feeling adventurous, you can also book a snorkeling or scuba diving session by the offshore reefs or take a hike through the surrounding jungle.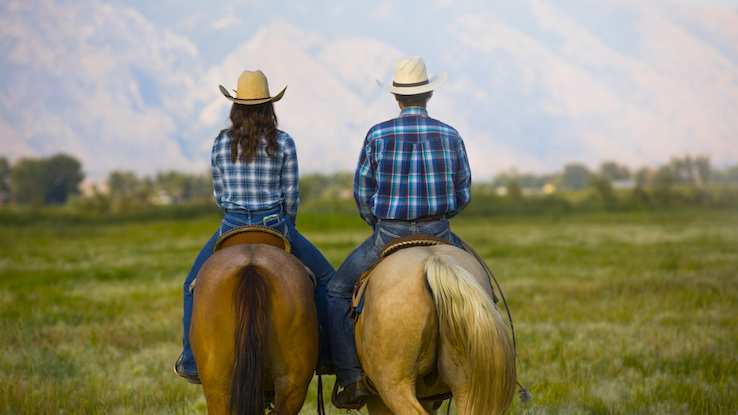 Triple Creek Ranch, Montana, USA
Looking to satiate your hunger for the mountains? Look no further than Triple Creek Ranch in Montana. What may sound like an uninspiring location is anything but. You can enjoy spectacular views from private cabins complete with fireplaces and hot tubs. It's the ultimate location for couples — there are no kids allowed.
Some of the activities offered include horseback riding, archery, fishing, cattle drives, and yoga. You will also find all kinds of events, from holiday-themed celebrations to artist workshops. The price tag is higher on this one, but, according to guests, the experience is worth it. 
Live Aqua Beach Resort, Cancun, Mexico
Live Aqua Beach Resort is for couples looking for a classic resort experience. Another adults-only property, this resort offers a spa with treatments inspired by practices from India, Australia, and Morocco. Included in your package is access to nine on-site restaurants. 
Don't forget to choose your very own "room scent" from the aromatherapy menu and adjust the lights to your desired brightness. This Cancun resort has it all when it comes to a luxury vacation. 
From tropical beaches to American mountainsides, there are plenty of romantic, all-inclusive resort destinations for couples out there. Whatever your partnership needs might be — a healthy adventure, some serious partying, or a little time spent basking in nature's serenity — you can find a resort offering it. The best part? This is only the tip of the iceberg. Once you book your first all-inclusive resort vacation, you'll probably be coming back for more — and you'll have so many possibilities to choose from.