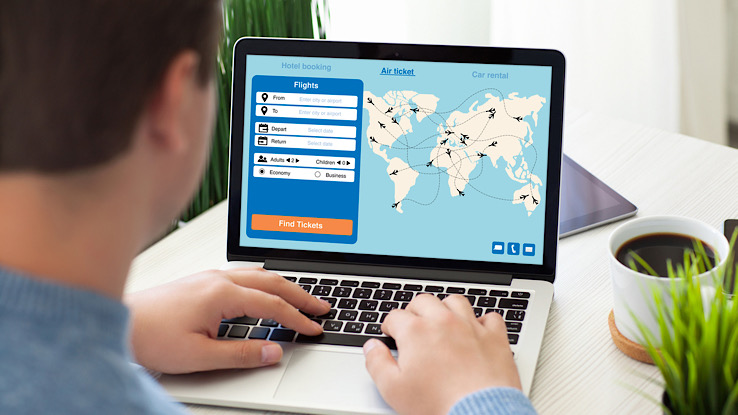 Budget airlines companies are no-frills companies. When you purchase low-budget carriers, you generally buy your presence on board. This means you have to pay for any other service you need. For instance, some companies charge you for carry-on bags, while others ask you to pay a fee for priority boarding. And then, some carriers, like Ryanair and Wizzair, charge you for airport check-in. But there are still advantages to choosing a low-budget company. For example, tickets are pretty cheap, and you only pay for the services you need. These carriers even push full-service airlines to lower their fares sometimes.Of course, there are some cases where it pays to spend more from the start. Yet, it is still worth learning more about the best budget airlines before booking your flight.
About Low-Budget Airline Security
Despite what many believe, low-cost carriers are safe. These airlines have to follow the same standards other companies do regarding technical requirements and limitations.
The difference is typically in comfort. For instance, budget airlines usually feature non-reclinable seats, and some do not offer many options to eat or drink on the flight.
Budget Airline: Southwest
Southwest, founded in 1967, is probably the oldest and one of the best budget airline in the US. It flies to many different destistinations within the US and has some international routes in the Caribbean and Central America. People love it for its bag policy.
Cost
Compared to other low-cost companies, Southwest's fares are higher. However, the ticket price includes perks many other budget airlines don't. Southwest passengers:
Can board a carry-on and personal item for free in the cabin with size requirements.
Get Two Free Checked Bags. Southwest ticket prices included checked bags that must weigh less than 50 pounds maximum. A third bag costs $75.
Can change their flight anytime with no change fee. You only have to pay the difference if the new flight is more expensive. Does your chosen flight cost less than the previous one? Then purchase credits will be issued for future travels!
Flight Options
Southwest offers three kinds of fares:
Wanna Get Away – it's non-refundable, but if you cancel your flight within 10 minutes before departure, you are still entitled to a credit that you can use in the next 12 months.
Anytime – it's fully refundable, and the amount will be credited on the same method you used to purchase the ticket. This fare also features the Same day change and Same day standby service.
Business Select – fully refundable. Passengers are entitled to priority onboarding, priority access to security checks, and a premium drink (available on 176 + miles routes only).
Earning Miles
Southwest mileage program is simple, as the amount of points you earn depends on the fare you choose. For instance, when you purchase a Wanna Get Away fare, you earn 6 points for every dollar spent. Instead, if you buy an Anytime ticket, you earn 10 points, and if you buy a Business Select ticket, you earn 12 points. The cool thing? You can earn points with your family members' flights, too.
Comfort
The airline offers:
Streaming entertainment to your device – Southwest planes don't have screens on board. However, you can watch movies and live TV on your smartphone by downloading the Southwest app and connecting to their wi-fi. Do you need wi-fi to read the newspaper or check your email? Then you have to pay a small fee (at the moment, Southwest charges $8 per device).
Snacks and drinks (including alcohol) for free – This service is only available for 176+ mile flights. If your flight is less than 175 miles, you can still bring your food and drinks on board. In this case, though, alcohol is not allowed!
What People Say About Southwest
People are generally satisfied with Southwest's service. Yet, their seat policy is peculiar. When you book your flight, you do not get a seat assignment, nor do they give you one when you check-in. How does it work then? Basically, you can pick a seat the moment you board. And this is the reason why many customers pay for Earlybird check-in.
Paying For Extra Services
There are a few things you pay extra for like:
Earlybird check-in service, you have to pay (the cost is about $15 per person). With Earlybird, you'll be checked-in automatically 36 hours before departure and board early. In other words, with this service, you'll get priority access to the overhead bin and the opportunity to choose better seats.
upgraded boarding; allows those who purchase it to get priority boarding and a seat in rows A1 – A 15.
Budget Airline: Ryanair
Ryanair was the first low-budget airline company to connect European cities. It is one of the best budget airlines in Europe. In time, new destinations were added, and now the carrier also serves Israel, Morocco, and Jordania. Where can you fly in Europe? Basically, everywhere.
Cost
Ryanair became famous because of its low fares, which are still its main competitive advantage. The problem is they try to sell you all kinds of extra services. When you buy online, you get an endless series of services throughout the booking process.
Flight options
The company offers five different fares. In particular, customers can choose among:
Value – it's very cheap, but it only allows you to bring a personal item with a specific size, like a computer bag and a purse. like a computer bag and a purse. Plus, if your personal bag is oversized, the airline may place it in the hold and charge you up to €69.99 for the service!
Regular – You get the same perks as value passengers. Moreover, you are entitled to priority boarding, a 10 kg carry-on bag, and a reserved seat.
Plus – you can check-in for free at the airport at least 40 minutes before your flight departure. You also get a 20 kg checked-in bag and a reserved seat.
Family Plus – You get one 20 kg checked-in bag per family, one 10 kg carry-on bag per person, and one personal item per passenger. In addition, children under the age of 12 travel free of charge! Finally, you can also book adjacent seats.
Flexi plus – The fare features priority boarding, one personal item, two carry-on bags, and a flexible ticket. In addition, you'll skip the queues at the security checkpoint, and you can choose any seat on the plane.
Earning miles
The miles program of this company is particular. To earn flight points, you must book a stay through Rooms, Ryanair's room finder service. Every time you book with Ryanair, 5% of the cost of the room is converted into flight points. And once booked, the credits will be transferred to your personal Ryanair account.
Comfort
Entertainment – Ryanair flights are mainly short distances, and onboard entertainment is not provided. The company does not supply wi-fi connection for its guests either.
Getaway Cafe – the carrier offers snacks, drinks, sandwiches, and alcohol. All of this, however, comes with a fee. Don't want to purchase extras? You can still bring your food onboard. But remember, alcohol or hot drinks from the outboard are not allowed.
What People Say About Ryanair
This company's prices inevitably attract people. Yet, if you travel with them, there are some disadvantages you need to know.
First and foremost, Ryanair does not serve major airports. This means that reaching the city center may be harder than expected. Second, the company does not use jet bridges, so you must walk to the aircraft. Yes, even in the rain. Finally, if you'd like to have extra services, like adjacent seats, you have to pay (a few fares allow you to get them for free, though). What are the most common fees? We listed a few below.
Paying For Extra Services
Bags fees: When it comes to size and weight, Ryanair is pretty strict. Specifically, if your bag is overweight, they charge 9 £/€ for each kg in excess. And if you want to check-in a last-minute suitcase, you have to pay €69.99.
Flight changes/cancellation: There may be some difficulties with changing your flight, too. For starters, you can change the destination and departure time. However, you cannot switch from domestic to international and vice versa. Plus, changes come with a fee, and if you apply changes online, they charge €45. Instead, if you contact the reservation center or make the change at the desk, the fee is €60.
How to avoid paying extras? You can use 24 hours grace, a free service reserved for people who purchased tickets on Ryanair website. Specifically, when you buy online, you have 24 extra hours to change the date/time of departure and reverse the departure and arrival airports if you switched them by mistake.
Please note that the fees we presented here are not the whole picture. If you need more information, visit https://www.ryanair.com/sr/en/useful-info/help-centre/fees.
Budget Airline: Jetblue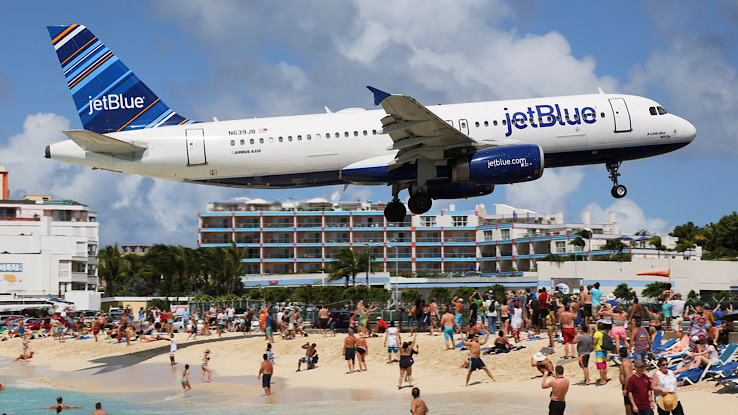 With Jetblue, you can fly across the US. Moreover, the airline features connections to Canada, the Caribbean, Mexico, South America, and London.
Cost
Is flying with this company convenient? Well, it all depends on fares. Mint may seem pretty expensive, but it provides many services. On the other hand, Jetblue Blue basic ticket is cheaper with fewer services. However, there is one thing that does not change depending on the fare, and that is comfort. All Jetblue seats are quite large. Plus, all passengers get entertainment for free.
Flight Options
Jetblue features five fares. Here is what you should know about them.
Blue Basic – The cheapest one, but it only allows you to carry a personal item (size info here). Thus, if you have other bags, you'll have to pay an extra fee.
Blue – it allows you to bring on board a personal item and a carry-on bag. In addition, you can choose your seat in advance and board earlier than with Blue basic fare. Finally, you can change and cancel your flight free of charge.
Blue Plus – It includes the same perks as Blue fare. Plus, you get a checked-in bag for free.
Mint – It includes everything in Blue Plus fare, and you also get priority boarding and an extra checked-in bag (70 pounds maximum).
Blue Extra – In addition to other services we already listed, it allows customers to get Same Day Switches, Same Day Standby, and Even More Speed services free of charge. And, of course, passengers are entitled to priority boarding.
Want to add more baggage? You can become a Mosaic member. This option entitles you to one personal item, one carry-on bag, and two checked-in bags regardless of fare. Plus, you get priority boarding and Even More Speed for free.
Earning miles
With Jetblue's miles program, you can always earn points, regardless of the fare you choose. What changes is the amount. Specifically, with Blue Basic, you get 1 point for every dollar spent, while all other fares allow you to get 3 points. The good side is they never expire, so you can use them whenever you want. Plus, you can pool with your friends and family to earn points faster.
Comfort
Onboard entertainment – The company offers free wi-fi and seat-back entertainment. In addition, each seat comes with a screen to enjoy live TV and movie selection.
Free food and drinks – Jetblue offers a wide range of branded beverages and snacks. You can purchase an Eat Up box, including various snack packages if you want more. The price range? It goes from $6 to $12. Moreover, people traveling to/from London are entitled to a hot meal and a pre-arrival light bite. And if you are 21+, you can also have wine, beer, or spirits.
Relax – If you'd like to take a nap, you can ask for a pillow or a blanket (a $6 fee)
What People Say About Jetblue
Customers are usually satisfied with seat quality and onboard entertainment. But the company has some major flaws too. An example? When Jetblue planes are delayed by several hours, customer reviews say that their customer care does not handle things well. They don't send emails about the situation until several hours later. They do not provide correct information via phone to the customers.
Paying For Extra Services
Checking-in additional bags
This is expensive. Depending on the destination and the fare, you pay between $35 and $105 for each piece. Your third bag costs $150, but Blue basic passengers pay $200.
Have you decided to fly with Jetblue? Then we suggest checking all the possible applicable fees here: https://www.jetblue.com/legal/fees.
Budget Airline: Frontier
With Frontier, you can reach both the main cities of the United States and exotic destinations in Central America. The carrier connects Mexico, Puerto Rico, Jamaica, Guatemala, El Salvador, and the Dominican Republic. Finally, they also serve Canada.
Cost
Frontier domestic flights are cheap (sometimes, tickets start at $25). The main inconvenience? Unfortunately, like other low-budget carriers, the company often has delays.
Flight Options
Frontier has two fares:
The Standard – This only features a free personal item (8 in x 18 in x 14 in maximum)
The Discount Den – This is Frontier exclusive membership guarantees customers to fly at the lowest fare. And it only costs $59.99 annually ($99.99 for new members). Other advantages? You can fly an under-15 with you for free and add up to 9 travel companions. Plus, they all get the same discount as you do. Of course, there are some restrictions. In particular, minors fly for free only on domestic flights marked with the Kids Fly Free logo. Also, bags are not included.
The only way to bring on board or check-in a bag is by purchasing Bundles, packages which include several services. Which ones? Well, Perks Bundle offers a carry-on bag, a checked bag, seat selection, and priority boarding. With WORKS, you get the same services and you are also entitled to premium seats and flight flexibility.
Warning: be careful how you pack, because if your luggage is oversized, you will be charged $75 for each piece! Info about baggage restrictions here.
Earning miles
Frontier also has a miles program, where 1 mile flown equals 1 point, regardless of the fare. And with 10,000 points, you are entitled to a free domestic flight. Moreover, you can earn points by purchasing services with Frontier's partners, such as Hertz, Teleflora, and Home Chef.
Comfort
Frontier offers neither onboard entertainment nor wi-fi. Also, on Frontier planes, they serve no free food or drinks. If you want to, however, you can purchase stuff from their menu.
What People Way About Frontier
When it comes to Frontier, people usually say they like the price. But there are other benefits as well. This airline is known for being on time and having clean planes. However, there are drawbacks as well. Frontier's basic seats, in particular, are not very cushioned. Also, these seats generally have poor leg space.
Paying For Extra Services
Flight changes and cancellation: You change or cancel your flight within 60 days before departure at no cost. On the other hand, if you do it within one week before departure, you will have to pay $49. Did you forget to cancel or change data until the very end? No problem, you can still ask for a change. It will cost you $79, though. Of course, all fees are charged per passenger per route.
Flight Flexibility: The service costs between $15 and $55 and allows you to change your flight for free within 24 hours from departure. What are the restrictions? First, you must purchase the service together with your ticket. Second, there is only one free change.
Priority boarding: This is pretty cheap. If you want to board early, you only have to pay $5.99 – $9.99 more.
Pesky costs: Among these, we list checking in at the airport ($10 per person) and booking through the reservation center (the fee is $35 per person).
Budget Airline: Wizz Air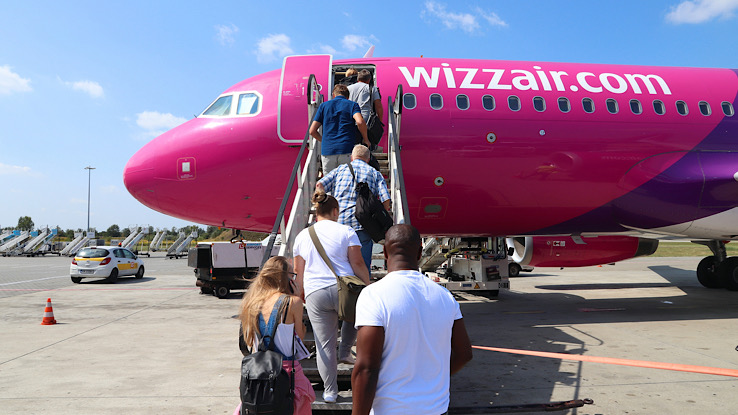 Wizz Air was established in 2003. The company serves all European countries and also offers flights to Africa and Asia. In particular, with Wizz Air, you can reach Morocco, Egypt, Emirates, Bahrain, Jordan, Kazakhstan, Oman, and Georgia.
Cost
Fares are pretty low, and the company offers lots of perks. The airline's flaw? Wizz Air flights are often several hours late. Moreover, they will charge additional costs if you make a mistake, like forgetting to check in online.
Flight Options
Basic – It includes a personal item and the online check-in. Note: the only articles recognized as personal items by the company are backpacks, women's handbags, and laptop bags. All trolleys, instead, will be checked-in, regardless of size.
Wizz GO – You are entitled to a personal item, carry-on bag, and checked bag (size and weight info here). You also get seat selection, free online and airport check-in, priority boarding, and priority check-in. The downside? You are not entitled to book premium seats.
Wizz PLUS – People who purchase this option get the same perks Wizz GO passengers do. And there are further advantages too. The checked-in bag, in particular, is bigger (max weight 32 kg and max size 149x119x171 cm). Plus, you can choose premium seats and change the departure date for free. Finally, you will receive flight updates via email.
Families can take advantage of the WIZZ Discount Club subscription service, which allows you to save €10 on every ticket purchased and €5 on checked baggage. The subscription is pretty cheap, and discounts also apply to your fellow passengers. The €29.99 subscription, in particular, provides advantages to the holder and one travel companion. The €69.99 annual pass, on the other hand, allows you to add up to 5 travel companions.
If you travel alone and want to purchase a membership, you can choose the Privilege pass. This costs €199 and entitles you to seat selection (including premium seats), carry-on baggage, priority boarding, and a personal item.
Earning Miles
Wizz Air is the only company we listed in this article that does not feature any miles program.
Comfort
Comfort is the main issue for this airline. Wizz Air does not offer its passengers wi-fi nor in-flight entertainment. Also, negative note on the food. True, the airline offers a good menu, but all meals and drinks are subject to a fee.
What People Say About Wizz Air
izz Air's punctuality, and many passengers think the planes are nice and clean. However, there are some downsides. For starters, the company often flies to budget airports that are poorly connected to the city. Which means you have to rent a car to get to the city. Second, boarding is chaotic. Wizz Air flights are very crowded, and failing to purchase priority boarding means waiting a long time to get on the plane. Finally, you pay for any extra service, from SMS notifications to seat selection.
Paying For Extra Services
Fare lock: Not sure if you want to fly with this company or not? If you pay a small fee (ranging from €3 to €7), you can lock the price for 2 days. This way, you'll have some time to think about it. But be careful, you can only do this if the flight you choose will depart at least one week away. Plus, if you'd like to get tickets for that price, you must finalize payment before the 48 hours have passed.
Seat choice: If two adults purchase Basic tickets and want to sit next to each other, they must pay a 6 € supplement per person (per route). Plus, passengers can't choose seats before checking in, and all they can do is book their presence on the plane.
Flight changes: Changing your flight with Wizz Air is pretty cheap. Fees range from €31 to €41 per person, depending on flight departure.