When there are so many dog food brands and products on the market, finding the right option for your four-legged friend can be a real challenge. Fortunately, a few dog food brands — and specific products — stand out from the pack. If you're looking for the right option for your pup, here are 10 of the best dog food brands on the market in 2022, sorted by some of the most common needs and sensitivities you should take into consideration.
Best Dog Food for Food Sensitivities
Hill's Prescription Diet for Skin and Food Sensitivities
Hill's Prescription Diet for Skin and Food Sensitivities is often recommended by veterinarians for dogs with various allergies. It's both grain- and soy-free, and there are salmon, duck, and venison options, allowing you to choose the one that features the right protein for your pup's needs. Best of all, Hill's makes dry and wet versions of some of the most popular recipes, allowing you to mix it up or stay consistent with the texture your pooch prefers.
Best Dry Dog Food (Kibble)
Open Farm Dry Dog Food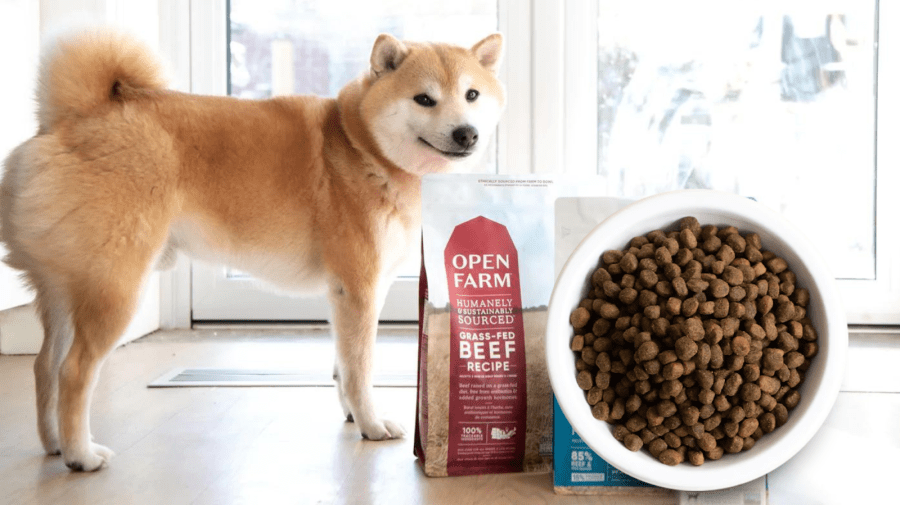 Open Farm is committed to offering high-quality nutrition. The brand uses a top-notch variety of protein options — whitefish, venison, salmon or lamb — in its products. Plus, Open Farm offers both grain-free and grain-inclusive varieties. While Open Farm offers a more standard dry food, it's certainly of higher quality than most kibbles. If you prefer something a little fresher, Open Farm makes freeze-dried raw food, too.
No matter the product line, the company is incredibly transparent about ingredient sourcing, making it a solid choice for most dogs, even if they have allergies.
Best Air-Dried Dog Food
Sundays Dry Dog Food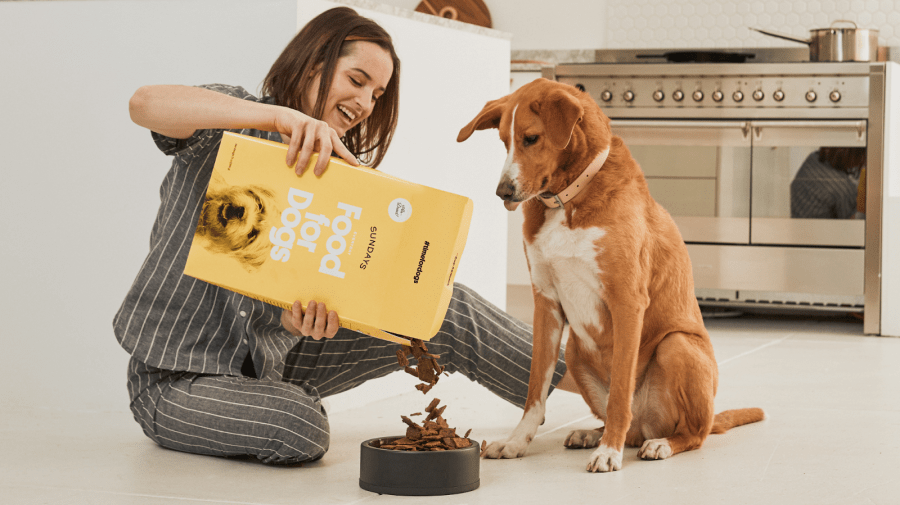 Sundays Dry Dog Food was actually created by a veterinarian and an engineer — and, when it comes to mixing up the best possible dog food recipe, it doesn't get much more "expert" than that. The company focuses on creating healthier air-dried kibble options — quite a few steps above the burnt-looking kibble you might picture in your head.
The benefit of raw air-dried food? It packs way more protein — making it closer to dogs' ancestral diets — than regular old kibble, but it's also a great alternative for pet parents who don't have time to make home-cooked meals for the pups. Since it focuses on high-protein servings, Sundays doesn't include any potatoes or legumes in its recipes, which contain natural, human-grade and synthetic-free ingredients.
Best Dog Food for Puppies
Purina Pro Plan High Protein Puppy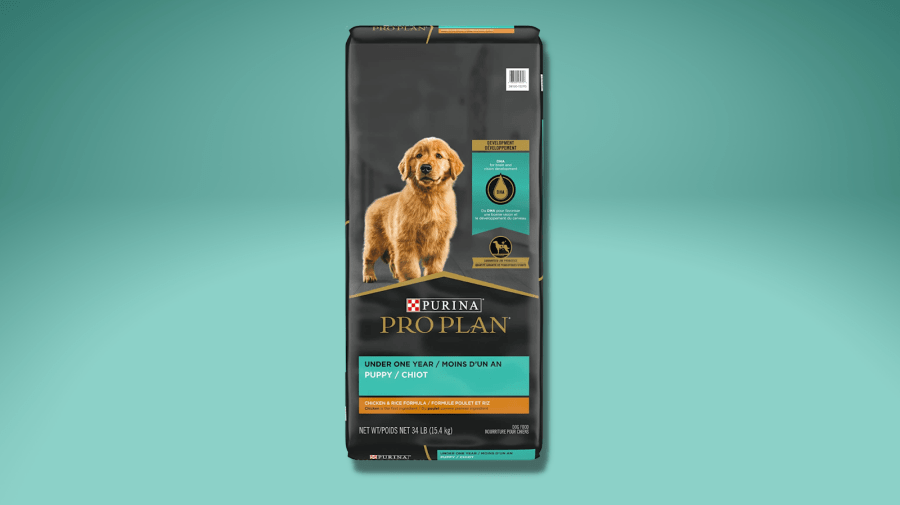 Since puppies grow quickly, having high-calorie meals with extra protein works in their favor. Purina Pro Plan High-Protein Puppy food takes this all into account, offering not just more protein but the right ratio of carbohydrates to fat, too. When taken as a whole, this recipe promotes healthy growth.
Not to mention, there are different versions of the product for large and small breed puppies, allowing you to select a formula based on your puppy's specific needs. If you're new to being a dog parent, be sure to hold on to the food bag, which features a serving-size chart to help you adapt meal sizes to your growing puppy's changing needs.
Best Wet Dog Food
Royal Canin Beauty Healthy Skin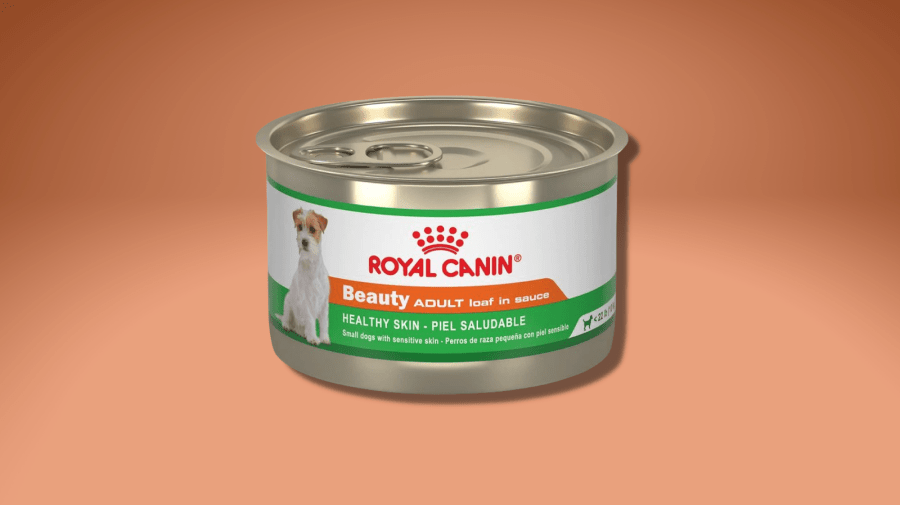 While there are several varieties of Royal Canin wet dog food that could do the trick, the Royal Canin Beauty Healthy Skin option is a top pick. It contains ingredients that lead to healthier skin and coats. For dogs with sensitive skin, or those that experience dryness, it's a simple, high-quality option that can help combat those issues. However, if your dog doesn't contend with skin problems, you can't go wrong with the rest of the Royal Canin line.
Best Fresh Dog Food
The Farmer's Dog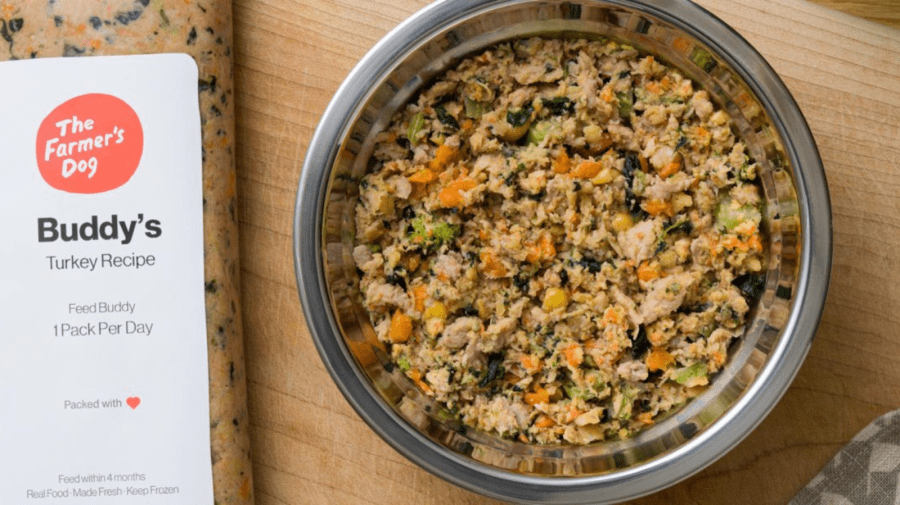 If you're open to a subscription service, The Farmer's Dog is a high-quality fresh dog food option. The New York-based company's recipes — which come in turkey, chicken, pork and beef protein varieties — feature ingredients you'll actually recognize.
Seriously: you'll literally see what your dog is eating, but the extremely tailored delivery service, which takes into account your dog's weight, age, breed, dietary restrictions, goals and activity level, also eliminates the need to cook food for your dog. All of these human-grade ingredients are pre-cooked and pre-portioned for your convenience, and, to make matters even better, up to 40 days worth of meals at a time can be delivered straight to your door.
Best Dog Food for Sensitive Stomach
Wellness Simple Limited Ingredient Diet
For dogs with sensitive stomachs, Wellness Simple Limited Ingredient Diet dog food can be a great choice. Along with ingredients that are gentle on stomachs, this food also includes probiotics to aid digestion. This one is also great for dogs with uncommon allergies, or allergies to proteins that are most commonly found in dog food — chicken, beef and lamb, for example.
The only drawback? Wellness Simple Limited Ingredient Diet dog food does contain grains and peas, so that might lead to skin troubles for your pet.
Best Freeze Dried Raw Food
Ultimate Pet Nutrition — Nutra Complete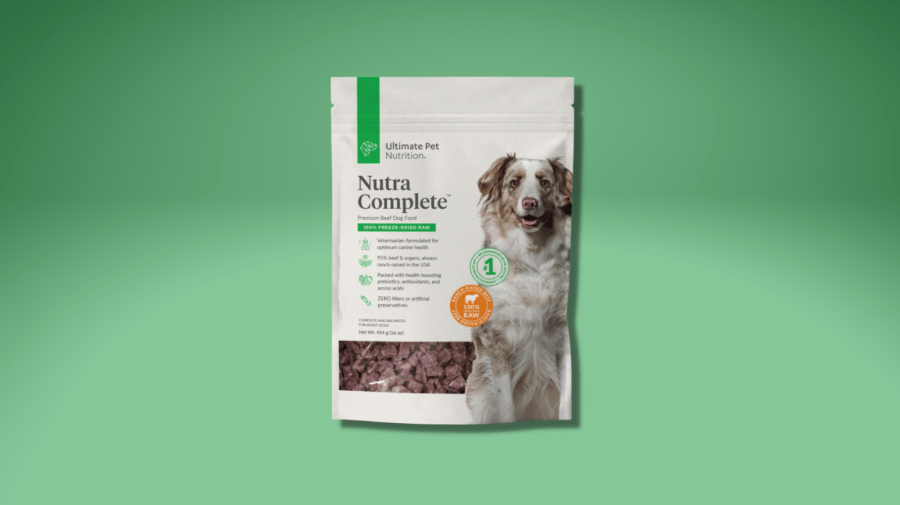 Many people feel that raw dog food is the most nutritionally appropriate option for dogs since it most closely resembles a dog's ancestral diet. That is, it's high in protein, resembling the prey dogs once hunted before being domesticated. As far as raw foods go, Nutra Complete is one of the best on the market; it's freeze-dried, which locks in the maximum amount of nutrition all while extending the shelf life of these fresh ingredients.
A top-notch blend of beef, veggies and vitamins, Nutra Complete contains "40 ultra-healthy ingredients," many of which support your pup's coat, aid in digestion and give them the energy boost they need to stay active and healthy.
Best for Small Breeds
Blue Buffalo Life Protection Formula for Small Breeds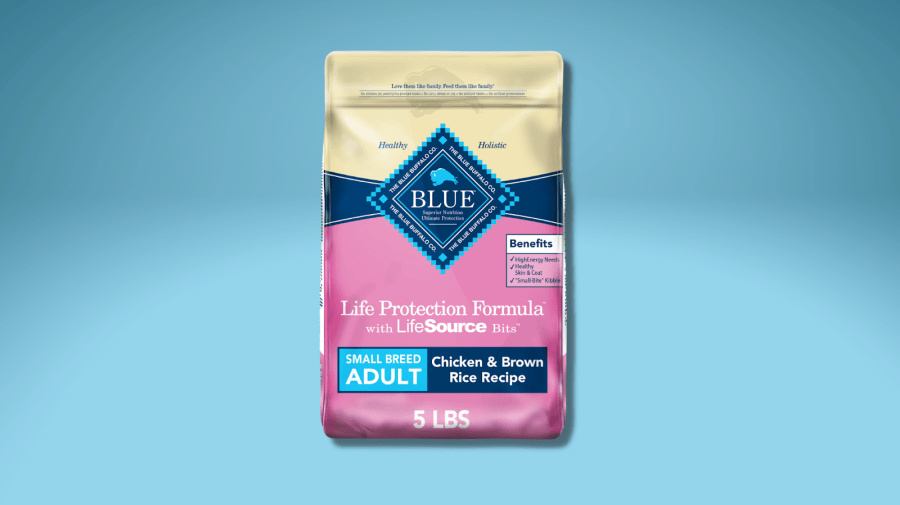 With small breed dogs, having more calories per pound can be essential for proper nutrition; these smaller breeds tend to have higher metabolic rates and can't consume as much at once. That's where Blue Buffalo Life Protection Formula for Small Breeds comes in. This one features both high-quality proteins and some carbs for quick energy boost.
As an added bonus, this blend contains omega-3 fatty acids for skin and coat health, glucosamine for joint health.
Best for Large Breeds
Hill's Science Diet Large Breed Adult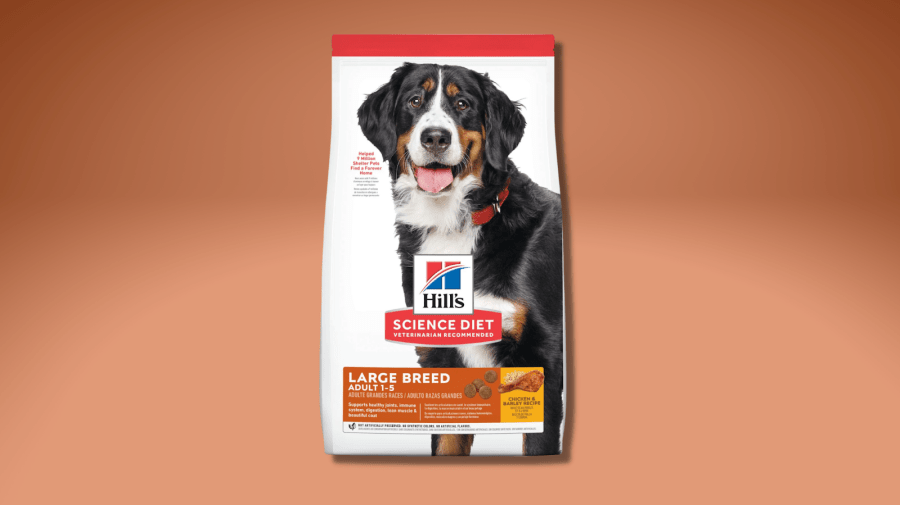 For large breed dogs, finding dog food that's not overloaded with calories is often a must, as larger dogs can eat quite a bit in one sitting. With Hill's Science Diet Large Breed Adult, you'll get high-quality ingredients, natural sources of glucosamine and chondroitin for joint health, omega-3 fatty acids for skin and coat health and more.
Plus, there are no artificial preservatives, flavors or colors — and it's available in both wet and dry versions.
So, What's the Best One Overall?
Ultimately, the best dog food brand is one that meets your pet's unique dietary needs. Still, if you aren't sure where to start, consider a subscription to The Farmer's Dog and see how fresh, home-cooked food does wonders for your pooch. If that's a tad out of your price range, we recommend Open Farm and Sundays if you're looking for kibble — or a dry, kibble-like — option.