Over the past couple of years — especially recently, with his Los Angeles Lakers eliminated from the playoffs — LeBron James has been pretty open with the media about his desire to play with his son, Bronny, before he retires from the National Basketball Association (NBA). Fathers and sons appearing in the same professional sports league isn't unheard of — as you'll see if you read on! — but it is pretty rare. Even more rare is when they get to play together.
LeBron's combination of greatness and longevity makes this kind of thing possible. He's still great at age 37 after 19 seasons of professional basketball, and he's not really showing any signs of slowing down. Bronny will play his senior season of high school hoops at Sierra Canyon in Los Angeles next season, and then he'll likely attend one year of college before he's eligible for the 2024 NBA Draft. Personally, I'm not going to be the one who bets against LeBron's ability to play three more NBA seasons.
Of course, it's not necessarily a given that Bronny will make it to the NBA. He's currently ranked 40th in the class of 2023 on ESPN's recruiting rankings. If he makes it, he likely won't get to choose his team, but LeBron will probably still have enough sway to get where he needs to be to make the dream a reality. And then they'll join the rest of the great father/son duos in sports history. For now, let's look at some of the others.
Bobby and Brett Hull
Back in 2017, when the National Hockey League (NHL) honored the 100 greatest players in the league's history, there was only one father/son duo that made the list: Bobby and Brett Hull. That makes them the rare duo on this list; both men were considered historically great in the context of their sport.
Despite the fact that Bobby played seven seasons in the '70s outside of the NHL in the World Hockey Association (WHA), both Bobby and his son Brett — who played in the NHL from 1986 until 2006 — are among the top 20 goal scorers in NHL history. In fact, they are the only father/son duo to each score 600 goals in a career and 50 goals in a single season — a feat that exemplifies both their greatness and their longevity in the sport.
Ken Griffey Sr. and Ken Griffey Jr.
On a special day in August of 1990, the Griffeys became the first father and son to play together on the same team in the history of Major League Baseball (MLB). This may not seem so impressive at first, but there are lots of reasons why it's such a rare phenomenon. The simplest? It requires a lot of longevity. Ken Griffey Sr. played in over 2000 MLB games over 19 seasons, which meant he stuck around long enough to be there when his phenom son made it to the big leagues.
But while Sr. was a good player in his own right — with a .296 batting average, over 150 home runs and 200 stolen bases — it was Jr. who would go on to be one of the greatest baseball players ever. Despite struggling with injuries at points in his career, Ken Griffey Jr. was one of the greatest two-way players the game has ever seen, making spectacular plays in the outfield and smashing 630 home runs — good for 7th all time.
Rick and Brent Barry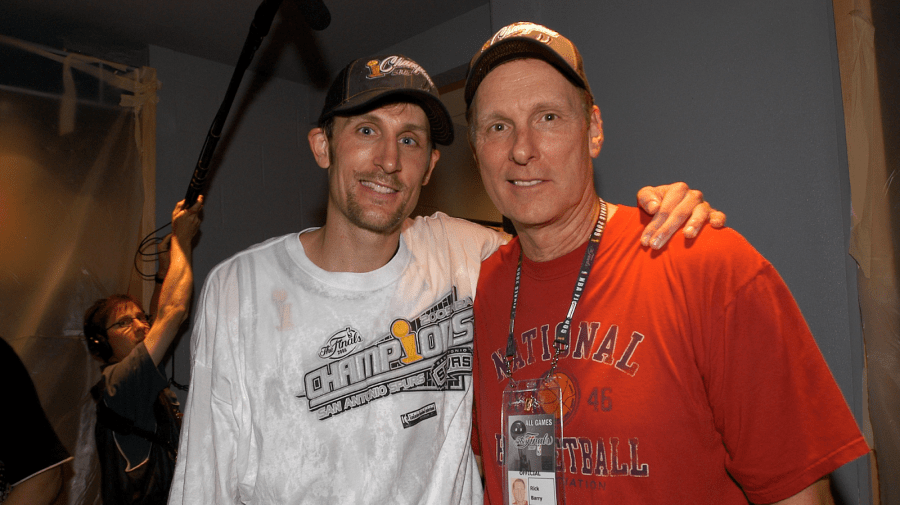 NBA Hall of Famer Rick Barry actually had many sons who played in the NBA. Jon played over 800 games over the course of 14 NBA seasons. Drew had a cup of coffee with the Atlanta Hawks and Seattle Supersonics in the late '90s, but never played a full season. Canyon played last season for the Iowa Wolves of the NBA G-League. But it was Brent who came closest to matching at least a little bit of his father's greatness.
Rick, if you didn't know, was an all-time great scorer who averaged over 30 points per game for the 1975 NBA Championship-winning Golden State Warriors. He was also the best free throw shooter ever — at 89.3% for his career — until Steve Nash, Stephen Curry and others passed him in recent years. Not to mention, Rick's famous, under-handed free throw form has long been a hot topic of debate.
Brent, like his brother Jon, played 14 seasons, but had the privilege of being a key player on two championship teams: the 2005 and 2007 San Antonio Spurs. Brent, who was nicknamed "Bones" due to his skinny build, also has the distinction of having participated in both the NBA's dunk contest and 3-point shootout at NBA All-Star Weekend. (To put it in perspective, other NBA greats who've accomplished this feat include Michael Jordan and Damian Lillard.) In fact, Brent won the dunk contest in 1996 with an almost-from-the-foul-line dunk that shocked the crowd.
Mario and Michael Andretti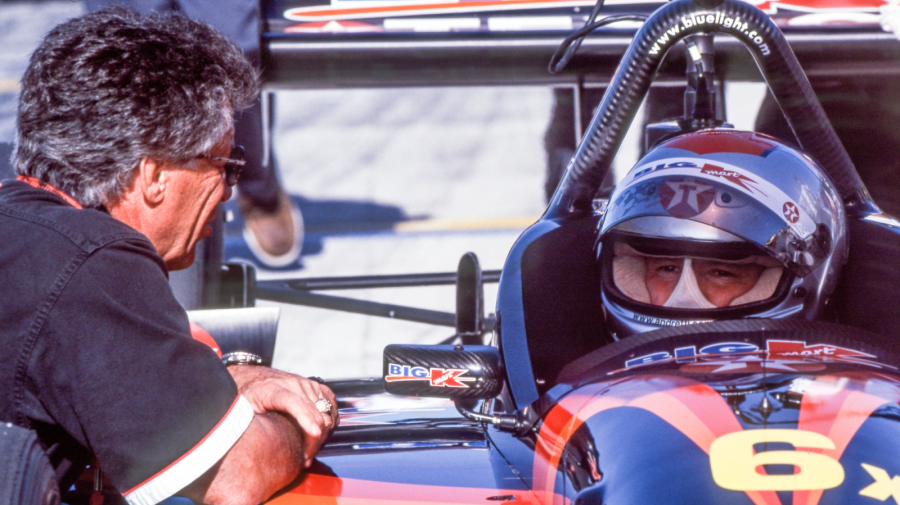 In the world of auto racing, there aren't many families with more impressive resumes than the Andrettis. Mario began stock car racing in the U.S. in the '60s, winning the Daytona 500 in 1967. He didn't stop there. He ended up shifting to IndyCar racing and then Formula One, and he kept winning no matter where he raced. He's the only driver to win Driver of the Year in three decades (1967, 1974 and 1984), and he's the only driver to win the Daytona 500, the Indy 500, and the Formula One world title.
His son Michael did not have quite the career his father had, but was successful nonetheless. He won the 1991 IndyCar World Series and 42 race victories — 4th all time, but second in his family to Mario's 52. Since Michael retired, his Andretti Autosport team has kept winning, too — they've won four IndyCar Series championships and five Indy 500s.
Tim Hardaway Sr. and Tim Hardaway Jr.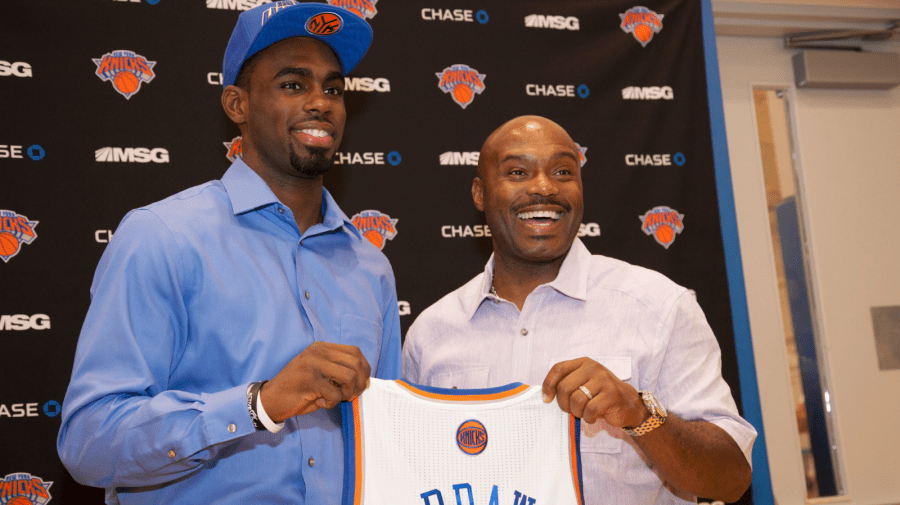 Tim Hardaway Sr. was one of the most exciting basketball players of his era. A tough-nosed point guard who played with a ton of flash, he averaged right around 18 points and eight assists per game over his 14 years in the NBA. He'll be inducted into the NBA's Hall of Fame this September, finally, and that's great. Still, for me, he'll always be most famous for his signature killer crossover move, the UTEP Two-Step (named after his alma mater, the University of Texas El Paso).
His son, Tim Jr., had a stellar college career at Michigan, where he started in the Final Four during his junior year. His NBA career hasn't been quite as good as his father's, but he's still made a name for himself with a silky smooth jump shot and his ability to play off the ball alongside his great teammate, Luka Dončić. He'll never match his father's 7,000 career assists, but it's not out of the question that he'll catch up to dad's 15,000 career points.
Dell, Stephen and Seth Curry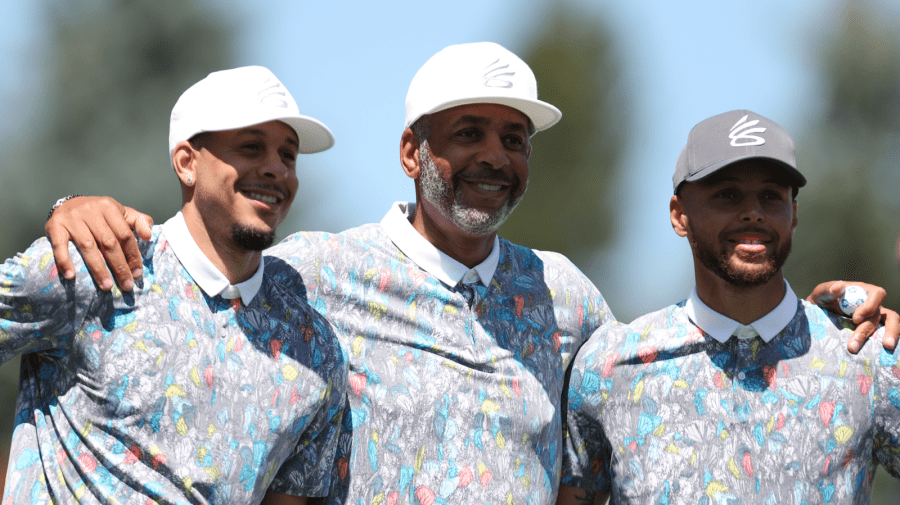 Dell Curry — one of the greatest NBA shooters of all time — seems to have been able to teach the skill pretty well. His sons Seth and Steph have somehow both surpassed Dell's career percentages of 40% on 3-pointers and 84% on free throws. Dell mostly came off the bench over the course of his career, starting fewer than 10% of his games, and that's pretty similar to Seth, who has carved out a nice career for himself as a spot-up shooter like dad.
Steph, on the other hand, is something else entirely. He's currently shooting for his fourth NBA title in this year's NBA Finals, but whatever the result, he's already considered one of the 20 best basketball players ever. He also probably gets the distinction of being the greatest shooter ever. He's first in free throw percentage at 90.8%, but even more impressive might be the fact that he's 12th in 3-point percentage at 42.8% despite the fact that he frequently shoots contested shots from further away than just about anyone.
Genetics isn't everything, but the Curry family's shooting — Seth is actually third all time in 3-point percentage at 43.9% — is absolutely one of the most unique things we've ever seen in sports.
Clay Matthews Jr. and Clay Matthews III
You're going to need a family tree in hand if you want to really track the lineage of the Matthews football family. It begins with Clay Matthews Sr., who began playing for the San Francisco 49ers in 1950, and it continues to this day — Clay Matthews III still hasn't officially announced his retirement, though he hasn't played since 2019.
Probably the best player in the family was Clay Jr.'s brother, Bruce, who made 14 Pro Bowls in 19 seasons as an NFL offensive lineman. Clay Jr. played mostly for the Cleveland Browns, and made four Pro Bowls in his own right. Clay III, though, was the best player in the recent generation. He's the Green Bay Packers all-time leader in sacks, and holds the distinction of being the only member of the Matthews family to win a Super Bowl, which he did in 2011 against the Pittsburgh Steelers.
Archie, Peyton and Eli Manning
Peyton Manning is, without a doubt, one of the greatest football players ever, but his brother Eli and his dad Archie weren't so bad either. Archie kicked things off winning SEC Player of the Year at Ole Miss in 1969, and then had a career a little longer than a decade in which he managed to get selected to two Pro Bowls.
Archie's sons definitely outdid him. Eli was never one of the best quarterbacks in the NFL during his career, but he did manage to win a couple of Super Bowls for the New York Giants. Both of Eli's Super Bowl wins came against Tom Brady, Bill Belichick and the New England Patriots.
Like Eli, Peyton won two Super Bowls — 2006 for the Indianapolis Colts and 2015 for the Denver Broncos — but that's pretty much where the similarities end. Peyton holds so many NFL passing records it's hard to know where to start. In 2013 he set the records for most touchdown passes in a season (55) and most passing yards in a season (5,477). His most impressive feat, however, was winning five MVP awards, which is two more than any other NFL player has ever won.
Bobby and Barry Bonds
Bobby Bonds was one of the great baseball players of the '70s during his career with the San Francisco Giants. In lots of ways, he was ahead of his time in terms of his combination of power and speed. He was the first player to have 30 home runs and 30 stolen bases in a season, and he did that five times between 1969 and 1978 (narrowly missing on a few other occasions as well). At the end of his career, he was the first player since fellow San Francisco Giants star Willie Mays to have 300 home runs and 300 stolen bases in his career.
Somehow, Bobby's son Barry ended up being even better than his father. Actually, he might have been the best player ever, though he's still not in the Hall of Fame due to his role in the steroids scandal that rocked baseball over the past few decades. Still, Barry took his father's records one step further, putting together a season with over 40 home runs and 40 steals in 1996. Most impressively, Barry is baseball's all-time leader in both home runs (762) and walks (2,558). It's unlikely those records will fall any time soon.
Gordie and Mark Howe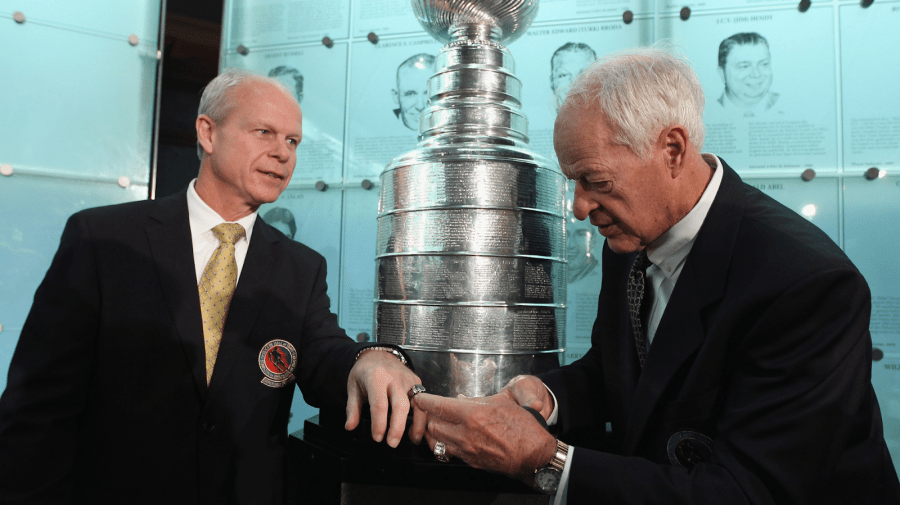 One of the rare father/son duos to actually get to play together on the same team, Gordie and Mark Howe were hockey legends. Gordie — a.k.a. "Mr. Hockey" — played professional hockey for 32 seasons. I promise that's not a typo. He played 26 NHL seasons and six seasons in the WHA. When he retired from the NHL, he was the all-time leader in goals, assists, and of course total points (records that ended up being broken by Wayne "The Great One" Gretsky).
Gordie finally got to play with his sons Mark and Marty for the Houston Aeros of the WHL from 1973 until 1977. Mark went on to have a 16-year NHL career of his own after playing with his dad. He was one of the great defensemen of his era, and ended up getting inducted into the Hockey Hall of Fame in 2011.