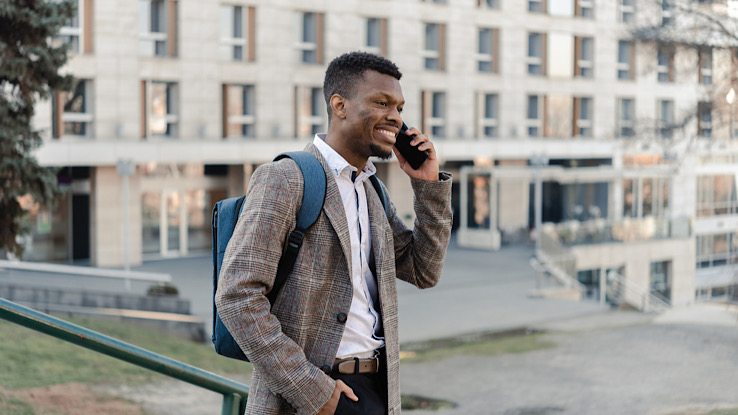 Getting the right international phone plans is essential when heading out of the country. Otherwise, a lack of connectivity could lead to some issues, or regular activity on your devices may trigger outrageous charges. Fortunately, with some of the best international phone plans on the market, you can easily communicate without breaking the bank. Ultimately, you have a multitude of options available. If you want to make it easier to choose, here's a look at why you could benefit from some of the best international cell phone plans.
When To Get a International Phone Plan?
There are a few reasons why having reliable international phone plans is a smart move while you're traveling, including:
Stay in contact: It helps ensure you can communicate with loved ones who travel with you or back home.
Emergencies: You can reach businesses at your destination, which may be critical if you get lost while trying to find your hotel or need to speak with a local embassy during an emergency.
Working while away: For anyone who plans on working while out of the country, the right international cell phone plans can keep you connected to the office. You won't have to worry about missing critical messages, ensuring you can respond to important matters immediately.
Texting: If you're using credit or debit cards and your activity might seem suspicious to your bank or lender, you'll be able to receive messages about your account, ensuring you aren't locked out. If you choose one of the plans with ample data, you'll also be able to monitor your spending, ensuring you stay on budget.
Best International Phone Plans
AT&T International Day Pass
With the AT&T International Day Pass, you pay $10 per day to get unlimited talk, text, and high-speed data in over 210 countries. Essentially, you can use your device just as you would at home without worrying about usage charges beyond the $10, making it a great option for shorter trips abroad. Plus, you don't have to remove the International Day Pass plan when you get home. It only triggers when you use the device abroad, so it won't result in any charges while it's on your account until you travel. However, if you're going to be out of the country longer, other international cell phone plans are available.
Traveling to Mexico and Canada doesn't require a different plan at all, so you won't need to use the International Day pass or other options there. There's also an option for Latin America specifically, covering 19 countries, making this one of the best international phone plans if you're heading to that area.
Boost International Connect Plus
With Boost International Connect Plus plans, you can pay a little more to get more capabilities. For example, the Todo Mexico plan costs an extra $5 per month (based on September 2022 pricing). It allows unlimited calling to Mexico and Canada from the US and unlimited calling and texting while roaming in Mexico. Plus, you get 8GB of roaming data in Mexico.
For an extra $10 per month, you get unlimited calls to landlines in more than 70 countries and 200 minutes of calls to mobile phones in over 50 countries. There's also unlimited international texting in more than 200 countries.
Google Fi
Google Fi is worth considering if you're looking for one of the best international phone plans that's a competitively priced alternative to traditional carriers. You get unlimited calls, texts, and data in Canada and Mexico with Simple Unlimited. If you upgrade to Unlimited Plus, you get unlimited data in over 200 countries, along with free texts and Wi-Fi calling.
Overall, the cost is usually far below what you'd expect to pay, with pricing coming in the $20 to $40 range (based on pricing in September 2022). Otherwise, you can go with the Flexible plan, which uses closer to a pay-as-you-go approach, which could result in more savings if your trip isn't particularly long.
T-Mobile Magenta
If you're already a T-Mobile Magenta subscriber, you're in luck. You'll get automatic unlimited 2G data and texting while you travel to any of more than 200 countries. Plus, if you're in Canada or Mexico, 5GB of high-speed data is also included, all without having to pay extra. A small add-on plan extends the 5GB data option to 11 European countries, giving you more options. If you're a Magenta Max subscriber, 5 GB of high-speed data is available in 215+ countries. As a result, it's a solid option for frequent international travelers.
When it comes to traditional calling – including Wi-Fi calling – it is a bit expensive, coming in at $0.25 per minute. However, if you use an alternative option like the Skype app, you're relying on data, which can help you bypass that cost.
There are also some other nice perks of going this route. For example, T-Mobile customers can get free Wi-Fi on Alaska, American, and Delta Airlines flights. That benefit is coming to United Airlines, too.
Plus, you can add an international pass to your account, which can work well for longer overseas stays. With the 5GB of high-speed data, you get unlimited calling in qualifying countries, giving you a voice option that won't break the bank.
Verizon Unlimited Plans
Verizon offers several options to cover your needs when traveling internationally. Most of Verizon's unlimited plans include unlimited international texting to over 200 countries and data if you're traveling in Mexico and Canada (limited to 0.5GB per day before you're slowed to 2G). However, there can be some usage restrictions.
If you want something more comprehensive or for extended stays overseas, you can try options like TravelPass or the International Monthly Plan. The TravelPass is $10 per day and covers more than 210 countries, giving you unlimited calling, texting, and 4G LTE data. Plus, the charge only happens if you use your device abroad, so you can leave the option on at all times.
The International Monthly Plan allows you to add 250 minutes, 1000 outgoing SMS messages, unlimited incoming SMS messages, and 5GB of data. It's designed to cover longer stays and runs $100 per line per month, plus taxes and fees.
Other Options for International Calls
Along with having one of the best international phone plans for traveling, you can make calls using other options. For example, Skype, WhatsApp, FaceTime, Facebook Messenger, and Discord can all be used to communicate with other users over Wi-Fi. As a result, you can avoid purchasing a separate plan or incurring per-minute call charges. If you use these options, make sure to turn your cellular data off. That way, you can ensure that the activity is limited to Wi-Fi only, so you don't trigger usage charges by mistake.