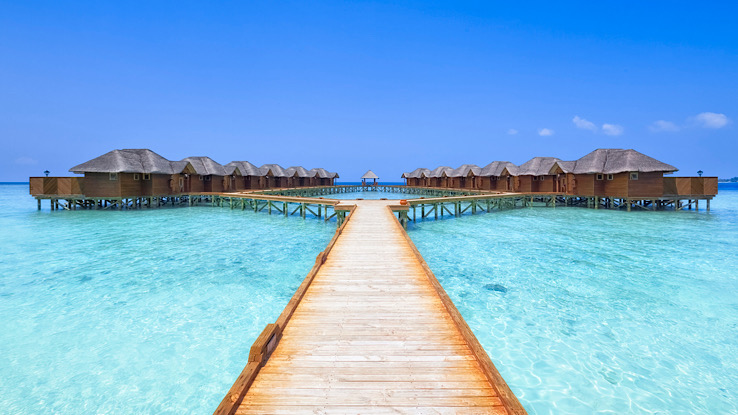 Have you ever wanted to stay in an overwater bungalow resort? These unique resorts offer some of the most beautiful and luxurious accommodations available. But they can also be quite pricey. So if you're looking for a budget-friendly option or just want to know about all the different overwater bungalow resorts out there, read on. We've compiled a list of the best luxury and budget-friendly overwater bungalow resorts in the world!
El Dorado Maroma Palafitos- Cancún, México
El Dorado Maroma Palafitos was one of the first resorts to build a overwater bungalow resort in Mexico, pioneering a luxury style for tourists from around the world. The bungalows cover about 600 square feet in area and feature glass bottom floors for a beautiful view of the ocean life below. The rooms have spacious double beds for peaceful rest. You can also watch the sun rise and set over the blue expanse from this bed. 
Depending on the room you book, you could have a jacuzzi, a tub, or a swimming pool that you can take a dip in and relax in after spending a day wandering around the coast.
The adults-only aspect ensures you can enjoy time with your spouse in the cabanas, go for a spa day or explore the beach. The glass floor panels give breathtaking views of the sea. With an infinity pool and access to the ocean, you are guaranteed to experience aqua paradise. Starting from $531 per night, you can book your stay at El Dorado Maroma.
Likuliku Lagoon Resort- Mamanuca Archipelago, Fiji
Fiji is home to captivating volcanoes, white sandy beaches, and clear blue waters. From the Likuliku Lagoon Resort, you can experience all three. This 5-star, adults-only overwater bungalow resort is on a private island, ensuring you enjoy the experience peacefully. The property prides itself on upholding the Fijian culture, which is evident in the bungalow's architecture. With exquisite tubs, bathrooms, swimming pools, and an outside terrace, you could end up staying indoors for your entire trip.
You can access the ocean from your private balcony, which sits atop a beautiful coral reef teeming with life. The high ceilings made from natural materials breathe life into the bungalow, making it a great space to spend time with your loved one. There are outdoor showers to guarantee the feeling of being one with nature, and a private plunge pool on the terrace cements the feeling. If you live for water sports and other water-based activities, you can windsurf, snorkel, or take part in other sailing excursions offered at Likuliku Lagoon Resort. The spa will relieve stress if you are looking for a more relaxing venture. You can spend a night at this resort starting at $1047 per night.
Hotel Palafitte-Monruz, Switzerland
Located in the Three Lakes Region in Switzerland, this is a particularly different experience, considering the overwater bungalow resort is built on columns over Lake Neuchatel. It is the only overwater Bungalow resort in Europe. The Hotel Palafitte overwater resort offers luxurious accommodations with terrific lake views. Residents don't have to worry about being close to each other as the architecture allows each one an unobstructed view of the lake.
Tourists have a wide selection of activities to try out, both on and off the water. They include but are not limited to sailing, tours around vineyards, hiking, fishing, and more. The bungalows have five-star amenities, including tubs, spacious beds, wifi, state-of-the-art showers, and so much more. In addition, residents can enjoy a full-service restaurant in the special hotel area with a seasonal menu that uses locally sourced ingredients. The glass-to-floor windows offer a spectacular sunrise view as the rays touches the water. Nature puts on a show on the moonlit nights, and you are in for a magical night to behold as the light shimmers on the water and the alps stand tall in the distance. The cost of staying at this beautiful resort starts at $371 per night.
Sun Siyam Iru Fushi- Noonu Atoll, Maldives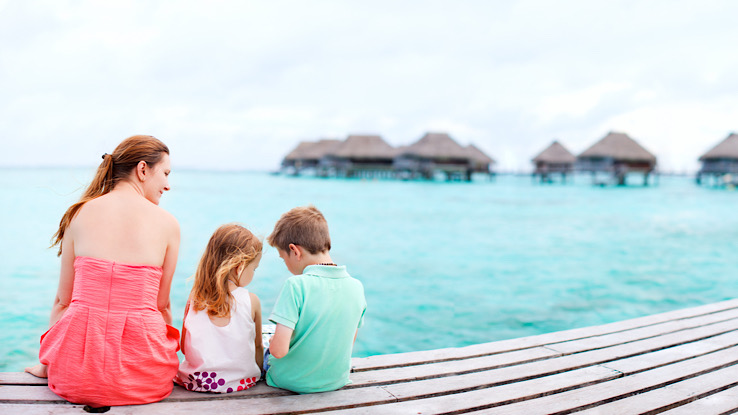 This 5-star overwater bungalow resort sits on a 21 Hectare private island in the Noonu Atoll, Maldives. The property has built a name for itself as a top destination for family vacations. The Sun Siyam Iru Fushi was crowned the Best Family Resort in the Indian Ocean from 2016 to 2019 by the World Travel Awards. With dedicated adult-only zones, it also serves as a great romantic getaway, ideal for honeymoons and anniversaries.
Residents can stay in villa-style accommodations, beach homes, or overwater bungalows. Each structure can fit up to two adults and two children up to age 12. This can serve smaller families or those who choose to book as couples. The sleek but traditional style of architecture delivers the luxurious feeling of class and excellent service. The bungalows provide stunning views of the ocean that could be enjoyed from a private pool or a jacuzzi. The resort offers guided diving activities, recreational grounds to play on, sailing, and other engaging water sports. An overnight stay here will cost anything from $448.
Constance Prince Maurice- Poste De Flacq, Mauritius
This is arguably Mauritius's best hotel and only luxury overwater bungalow resort. The 5-star resort is just an hour from Port Luis airport and boasts eleven top-of-the-range bungalows. Eight of the bungalows are junior suites, while three of them are super spacious luxury water villas. The drawback to these stunning villas at Constance Prince Maurice is that they are perched atop a lagoon fish sanctuary. Because of this feature, unlike many of the properties on the list, you cannot freely swim outside your door. Once you overcome this drawback, you are in for an unforgettable experience.
Parents traveling with their kids can enjoy alone time as the Prince Maurice Kids Club offers babysitting services. A culinary journey awaits courtesy of either Le Barachois (the floating restaurant), the Archipel, or the Asian Kitchen. The 753-square-foot junior suites offer a double room with sitting areas, outdoor terraces, and fantastic bathrooms.
The Overwater villas are twice the size of the junior suites. They feature larger bedrooms, separate living rooms with a dining area, a whirlpool jacuzzi designed into the bathroom area, and a soak-in tub on the outdoor terrace. Depending on whether you want to spend time on the water or the shore, there are amazing activities you could try out. You can choose to engage in golf at a nearby world-class 18-hole golf course, exercise at the high-class gym, sail, snorkel, dive, or explore other water sports. Starting at $292, a night at this five-star resort is well worth it.