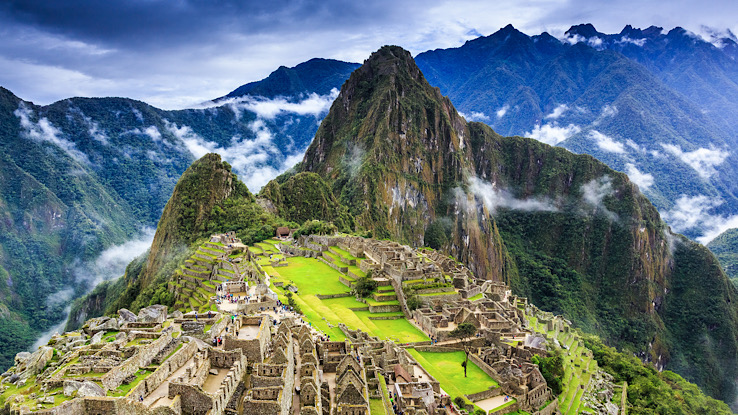 Have you dreamed of visiting Machu Picchu? If so, you are not alone. More than 2,500 people a day visit the ancient ruins during different months. Many visitors are outdoor lovers who enjoy the challenge of hiking to the famous ruins. Others just want to see Machu Picchu first-hand, having read about it or seen it on TV. Whatever your reason, a visit to Machu Picchu is an experience you will never forget. To help you plan your trip to Machu Picchu, learn when the best months are to visit this incredible destination.
About Machu Picchu?
Machu Picchu is in the mountains of Peru. These Incan ruins are one of the New Seven Wonders of the World and UNESCO World Heritage Site. Machu Picchu was built in the 15th Centruy, and is also known as the Lost City of the Incas. It's one of the most extraordinary examples of ancient architecture in the world because of the unique technique the Incas used to shape rocks until they fit snugly together.
A Little History About Machu Picchu
Back in the day, about 1000 people lived at Machu Picchu. Nobody knows why the city was built, but it was likely used as a religious site or a royal retreat. Luckily, Machu Picchu was never discovered by the Spanish conquistadors because it was well hidden. The city was abandoned in the 16th century, and the outside world didn't know about it until 1911. This was when it was discovered by the American explorer Hiram Bingham.
Exploring Machu Picchu
Machu Picchu is situated between two mountains 2430 meters above sea level. The city has about 200 buildings surrounded by terraces that were used to grow crops like maize and potatoes. There are temples to explore and many steps to scramble up and down — each with different viewpoints. You are also likely to encounter wandering lamas while you are there.
Getting to Machu Picchu
Machu Picchu is about 50 miles away from the historical city of Cusco. You can take a train from Cusco, but the other option is to hike the four-day Inca Trail. This ancient pathway passes through spectacular landscapes from cloud forests to subtropical jungles. The hike finishes at the Sun Gate (Inti Punku). If the skies are clear, you will be treated to a fantastic view of Machu Picchu.
The Seasons
Peru has 2 main seasons because of its proximity to the equator– rainy or wet and dry.
Wet or Rainy Season: November to April
Dry Season: May to October
Peru's wet season occurs in the summer, and its dry season is during the winter. Also, it is important to know that when it's winter in Peru, it's summer in Europe and the USA.
Deciding when to take your Machu Picchu trip depends on your personal preferences because each season has pros and cons. Here's what to expect during the different seasons:
Dry Season (Peak Season)
Weather: For sunshine and clear blue skies, it is best to visit Machu Picchu in June, July, or August. Temperatures during these months range from 73 to 77 Fahrenheit (23 – 25 centigrade). The days are sunny, but temperatures drop to 50-54 Fahrenheit (10-12 centigrade) at night.
Crowds: But if you visit at this time, there will be crowds — these months coincide with vacation time in the USA and Europe.
Considerations: If you are hiking the Inca Trail, June, July, and August have excellent weather conditions. You will have a good chance of witnessing the sunrise from the Sun Gate without mists often seen in other months. Although it's cold at night, the moon is bright, the skies are clear, and it's the perfect season for stargazing.
Rainy Season
Weather: The month of November starts the rainy season. Rain doesn't constantly fall from December to April, but January and February are the wettest months. Instead, it rains early in the morning and late afternoon. If you visit during the wet season, temperatures are warm, everything is green –and even the prices are lower.
Crowds: If you go to Machu Picchu during the rainy months, you will have a tranquil crowd-free experience.
Considerations: It's the best time of year to see orchids. The drawbacks are:
The trail is likely to be slippery
Landslides can occur
Mountain passes occasionally become blocked.
Also, keep in mind that the Inca Trail is off-limits in February when it closes each year for maintenance, and it re-opens again on March 1st.
Shoulder Season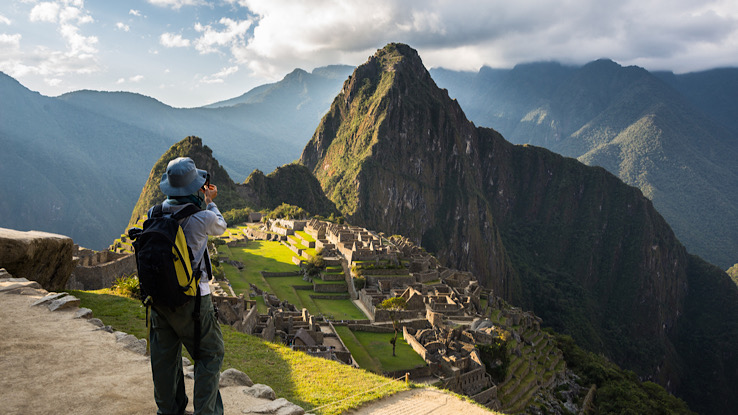 Weather: The shoulder season is the time of year between a destination's low and high seasons. For Machu Picchu, shoulder season includes the months of April, May, September, October, and November. During these months, the temperatures are pleasant with occasional light rain.
Crowds: It's still busy, but it's much quieter than the dry season. If you dislike the idea of crowds of people clogging up the trail, and you don't mind light rain, the shoulder season is your best bet.
Considerations: The trail is relatively peaceful in April and May, just before the peak season begins. The rain eases off, and the cloud forests are lush and green. Waterfalls gush rather than trickle, and blossoming flowers line the trail.
September and October bring more chance of rain, but the trail gradually becomes less busy, and temperatures rise. November can be pretty rainy, but there are far fewer people hiking.
Best Time of Day to Visit Machu Picchu
Not only do you have to consider the best months to visit Machu Picchu, but the best time of day is also important. The site is open from 6 a.m. to 5 p.m. daily. Your experience of a Machu Picchu trip depends on the time of day that you visit.
It's a good idea to stay at a local hotel, rise early and arrive around 6 a.m. Even then, you won't be able to escape the crowds entirely, as this time clashes with when the hikers arrive. It does, however, beat trying to swerve the swarms of people who roll up on the train a little later. Early morning also gives you a chance to capture a photograph of the sun rising over the mountains.
The busiest time of the day at Machu Picchu is 11 a.m. to 3. p.m. So, arriving after 3 p.m. is a good alternative. By then, the majority of the hikers and day-trippers are on their way back to Cusco on the train. Not only are you likely to be able to get some excellent people-free shots and a little solitude, but the late afternoon glow is exquisite.

Resource Links