For many folks, glimpsing the Northern Lights is a top-tier bucket list dream — and for good reason. Even in pictures, the sight is simply mesmerizing. On the other hand, photographs are a safe bet: we've all heard the tales of folks traveling to faraway places only to end up disappointed because they didn't plan accordingly.
Here, we're giving you a chance to see the Northern Lights virtually, but we're also delving into the best livestreams, tours, and must-book accommodations to fulfill all of your Aurora Borealis-viewing dreams. Start daydreaming now so that, one day soon, you'll be able to turn that wanderlust into an unforgettable trip to see the Northern Lights.
What Are the Northern Lights?
Before you go on your virtual or real-life visit, it's always good to brush up on your knowledge, especially when that knowledge pertains to an astrological phenomenon. So, what exactly happens during a Northern Lights show?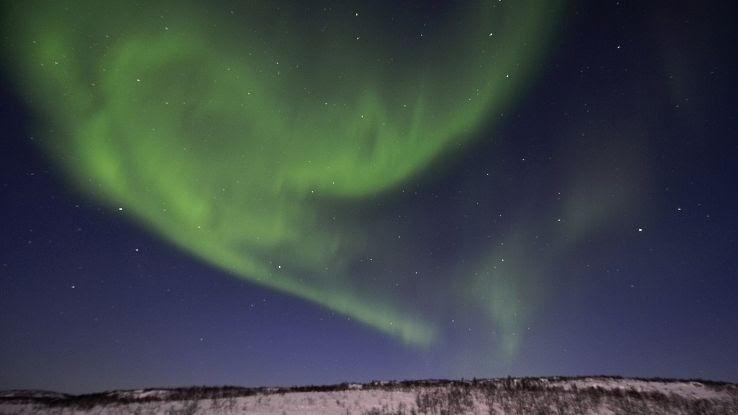 Known as Aurora Borealis, the Northern Lights occur when sun particles collide with the Earth's magnetic field. The top and bottom of the field are curved, touching the Earth at its poles since the magnetic field is weaker in those places.
Once the collision occurs, the particles make the unique light spectacle we known as the Northern Lights. The lights are typically yellow and green — the color is produced by oxygen molecules, which can be found 60 miles above Earth's surface. However, there are many other (slightly rarer) colors associated with the Aurora Borealis. For example, oxygen located 200 miles above Earth's surface produces red auroras, while nitrogen produces blue or purple auroras.
These Are the Ideal Conditions for the Northern Lights
Most often, the lights are visible from early August to late April. But, the truth is, you'll need to strategically plan your visit to get the most out of this phenomenon. If you're not a fan of long, cold nights, this won't work in your favor since the best time to take a trip is some time between November and March. However, these months also tend to have the most snow, which could make your trip slightly unpredictable.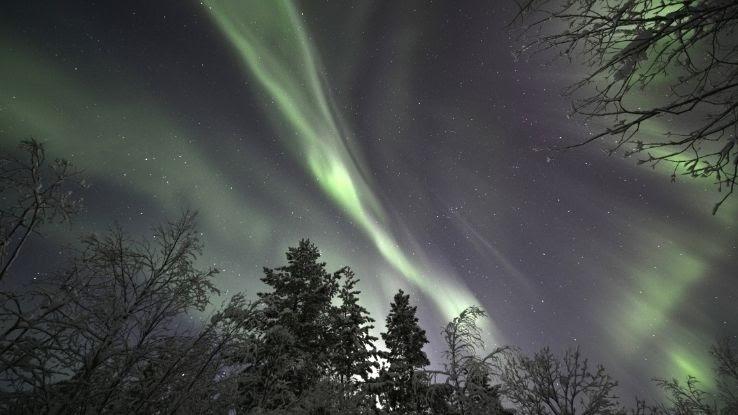 To see the best of the Aurora Borealis you'll need:
A clear, cloudless night
A good location, away from cities and light pollution
Warm clothes
Patience — after all, you may need to wait for quite a while!
As we all know, weather can be very unpredictable. With this in mind, it's a good idea to follow the Aurora Borealis forecast in order to truly determine whether or not your visit will reward you with a clear sight of the Northern Lights.
Captivating Places to Watch Aurora Borealis From
If virtual isn't your thing and you still prefer to see the lights live, there are a couple of places that will give you the best possible views of the Northern Lights. Known as the "Aurora Zone," these places include Finland, Sweden, Norway, Iceland, Greenland, and Canada. Each country has a couple of places that will give you a clear view of the lights — well, so long as the conditions are working in your favor, of course.
No matter where you try, you should always get as far away from nearby cities; even the slightest pollution can impact visibility. If you feel uncomfortable embarking on a Northern Lights trek on your own, we recommend taking a tour. After all, sometimes that professional guide can really give you a leg up in securing the best available view.
Finland: In Finland, the Northern Lights are visible 200 days a year. In fact, it's considered one of the best locations to get a magical view. If you want the best spot possible, go north and visit the Utsjoki village. One of the best accommodations to enjoy a private view of the lights is the charming Aurora River House.
Sweden: September is an ideal time for watching the Northern Lights in Sweden. For the best view, you should head far north to the town of Kiruna. If you're looking to enjoy the Aurora Borealis from your doorstep (and cuddle with some huskies while doing so), book your stay at Husky Dreams.
Norway: From September to April, Norway is a fabulous spot to see the Northern Lights. Without a doubt, the most popular location is Tromso, which boasts many wonderful accommodations that allow you to watch the show from a fireside window.
Iceland: Iceland is a popular destination for Aurora Borealis enthusiasts. Reykjavík is a perfect location; however, as it's a city, you may find that taking a Northern Lights tour with a professional will allow you to get the best possible view.
Greenland: With 300 clear nights per year, Greenland's Kangerlussuaq is one of the most popular Aurora Borealis destinations. Because you can't stay at Kangerlussuaq, a guided tour is best.
Canada: Last but not least, is Canada, which also gives you a chance to see the lights in action. Yellowknife is reportedly one of the best places in the world to witness the Northern Lights in person. In fact, you can find accommodations that allow you to enjoy the view right from your balcony.
Take a Virtual Vacation Instead
So, what if you really want to see the Northern Lights in the summer? Well, thanks to some innovative technology, you can! We recommend trying a 360 virtual tour or watching one of many high-definition Aurora Borealis videos, all of which will leave a lasting impression.
Looking for something a little more spur of the moment? You can also enjoy livestreams of the Northern Lights from many locations described above. Not only is this a fun way to enjoy the spectacle from home, but livestreams are a great way to learn more about planning an in-person trip. Thanks to the power of YouTube's livestreams, you can see the Aurora Borealis from several different perspectives and easily travel from one place to another, all from the comfort of your sofa.