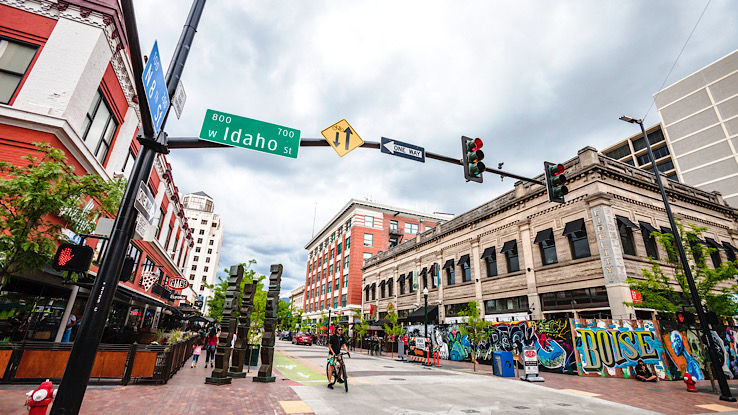 While Idaho may not top your list of vacation spots, its tourism is more engaging than most know. With feats of scenic beauty and hubs of art and culture across the state, Idaho has plenty of worthwhile attractions to visit. Check out these places to visit in Idaho that will make you want to journey through the Gem State.
Trek through the Sawtooth Mountains in Central Idaho
Perhaps the most beautiful laces to visit in Idaho is the Sawtooth Mountains, a scenic marvel. The jagged mountain range in the Rocky Mountains spans 678 miles. The location was once a favorite spot for beloved author Ernest Hemingway to hang out. Now, it sees thousands of visitors turn out each year to hike its ranges in Sawtooth National Forest.
Along the trails surrounding Sawtooth, visitors can expect to see glowing blue lakes, thick green vegetation, tall trees, and vast wilderness. The attraction draws in all types of outdoor adventurers and offers opportunities for backpacking, camping, climbing, and more. The Sawtooth Mountains are a must-see destination if you're looking for an outdoor trip to restore your wonder in the world.
Costs
Passes are required to enter the Sawtooth National Forest via vehicle or bike. You may also need to purchase permits for camping or professional photography within Sawtooth National Forest. For overnight travelers, many guests look for lodging in the nearby towns of Ketchum and Stanley.
Pros
Allows you to stay active on your vacation
Stunning sights and scenery
Cons
Requires an extensive amount of walking, which may not be good for someone with physical limitations
Some trails are not accessible to beginner hikers
Adventure Through the Heart of Boise, Idaho
About Boise
If you're looking for a mix of nature and urban, Boise one of the best places to visit in Idaho. This buzzing tourist destination hosts Idaho's most significant city population. It's a great spot to try local cuisine, visit art and culture museums and check out the phenomenal architecture of the capital.
Boise is between several scenic sites. This nature-friendly city allows you to bike the stunning Greenbelt, raft down the Boise River (or go north to raft the rapids of Payette River), and hike to local rock formations. Since it's near Boise National Forest, traveling north of Boise offers winding roads through the landscape.
Spend a fun day in the town, then enjoy pleasant drives through thick forests and alongside running rapids. Whether your ideal vacation day looks like a nature walk or a museum tour, Boise has you covered.
Costs
The attraction-filled setting offers a mixture of free and paid activities. You can expect to shell out money for food, hotel/rentals, and activities like water rafting. But scenic walks exploring the cityscape will only cost you energy.
Pros
A range of activities for every type of tourist
It offers a city-exploring adventure
Cons
Hard to do and see it all during a short trip
More expensive food/board than other Idaho destinations
Take an Intergalactic Journey Through Craters of the Moon National Monument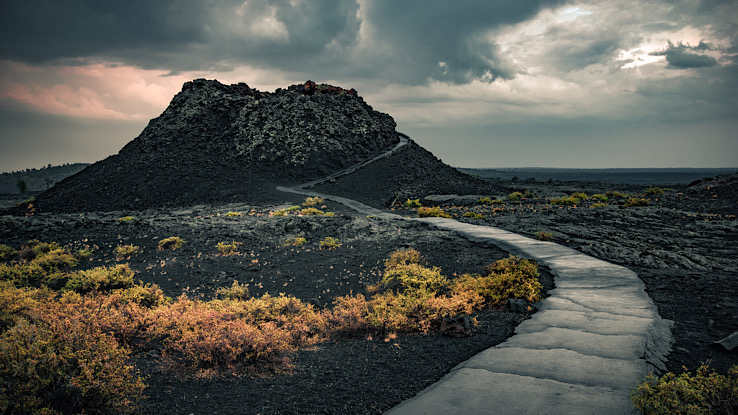 About Moon National Monument
You'll feel like you've entered another world at the Craters of the Moon National Monument in Central Idaho. The 750,000-acre park is an eerie cousin to the moon's surface. Historic lava fields from the past have created a textured landscape covered in lava tubes, cinder cones, craters, and more.
Visitors to this spot can walk through miles of fascinating formations from the past (though be careful not to fall into a crater!). Those interested in science, nature, or outer space will love this chunk of planetary greatness.
Costs
Entrance fees are the main cost. It costs $20 to bring in a vehicle, $15 for a motorcycle, and $10 to walk in. If you plan to bring in a passenger van (7+ people), you'll be looking at a $40 charge. Camping costs $15 a night, and some days are fee-free.
Pros
A seven-mile trail through the park lets you observe the setting safely
Unique in its appearance/unlike any other spot like it in Idaho
Cons
First come, first serve camping; no reservations
Not accessible to those with limited mobility
Boat Through One of the World's Most Beautiful Lakes at Lake Coeur d'Alene in Northern Idaho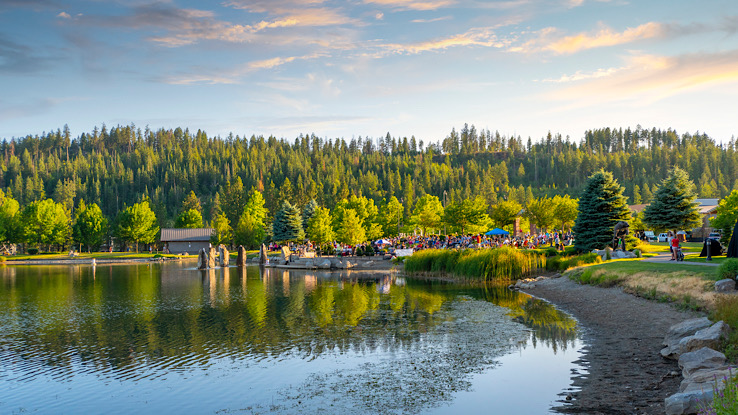 National Geographic once cited this breathtaking lake in Coeur d'Alene as one of the most beautiful lakes in the world. This is also one of the best places to visit in Idaho. This high honor is well-deserved, as its crystal blue waters, mountainous backdrop, and coastal beachfront draw in travelers from far and wide. Boating and swimming are encouraged in the open lake, with cruises frequently offered.
The nearby town of Coeur d'Alene has a rich background in Native American history and French colonization. With tourism providing much of its current economy, visitors can find numerous theme parks, outdoor sports (including skiing!), and water-based activities. This charming lake town is a perfect retreat for couples, families, and solo travelers looking to get in touch with the wilderness.
Costs
Hotels and resorts in Coeur d'Alene vary in pricing, with chain hotels costing less than lodge-style resorts and rentals. Daily river cruises can cost approximately $20 to $30, while brunch/dinner and holiday cruises will increase from this base price.
Pros
Scenic lakeside views and countless outdoor activities
Positioned by walkable areas with food/lodging in close distance
Cons
Limited options for shopping outside of local businesses
Very busy during tourist season (summertime)
Very cold during winter
Hit the Springs and the Slopes in McCall, Idaho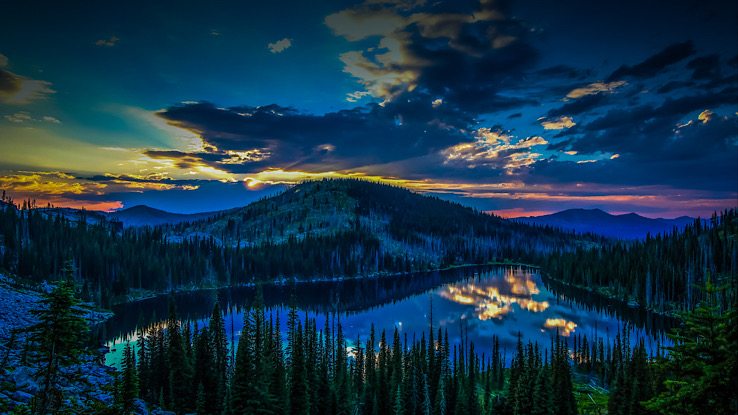 Can't decide between soaking in a hot spring or riding the slopes? Why not both? McCall, Idaho is one of the best places to visit in Idaho, it offers the chance to engage with the outdoors every season. Skiiers, snowboarders, and tubers will love Brundage Mountain Resort, where McCall's high winter snowfall has lent itself to a snow-centric tourism culture.
Including areas for experts and beginners, this spot will satisfy travelers of all ages and skill sets.
Once you've cooled off, there's nothing more refreshing than slipping into the warm waters of the Gold Fork Hot Springs. The springs offer crystal clear pools with varying heat ranges, adding relaxation between your adventures.
Costs
Tickets to ride the lift at Brundage cost between $64 and $88 for adults. You'll need to pay $10 a head (including children) to enter the Gold Fork Hot Springs.
Pros
It offers a range of recreational activities for all ages
One of the best spots in Idaho to visit in the wintertime
Cons
It may not be ideal for those looking to do things outside of a touristy lens.