Few things are as challenging as buying a swimsuit. Fortunately, some companies are striving to make the whole process easier — and a lot less taxing on your mental health and sense of self. So many more brands are creating swimwear that's body-inclusive, stylish and comfortable. If that sounds like a perfect trifecta, one of these brands might be the right fit for you. Here's a look at some of the best swimsuits and swimwear brands for summer 2022.
Nomads
Created by a plus-size model, Nomads aims to make stylish swimwear accessible to everyone, offering sizes up to 5X. Plus, the company actually incorporates customer feedback, updates its products and creates new designs to ensure those Nomads serves get a better experience with some of the best swimsuits around.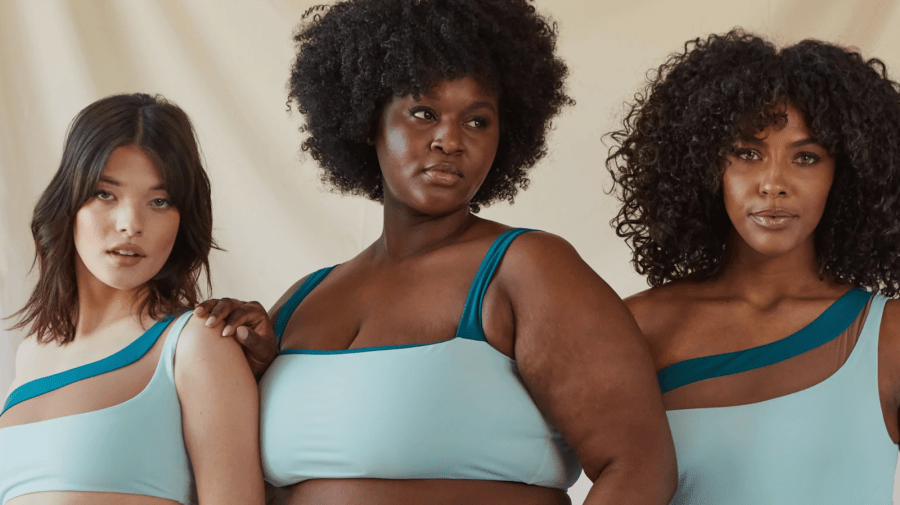 Another pro? You can view suits on models of different sizes and body shapes, making it easier to envision how one may fit on you before you hit purchase.
Kitty and Vibe
A sustainable, body-inclusive swimwear brand with a bold, youthful energy, Kitty and Vibe is never short on style — no matter your size. You can get tops in up to size G and bottoms in up to a 3XL. Plus, swim bottoms aren't just measured in hip size. Instead, there are two different options for each hip size, allowing you to get the right fit based on your shape.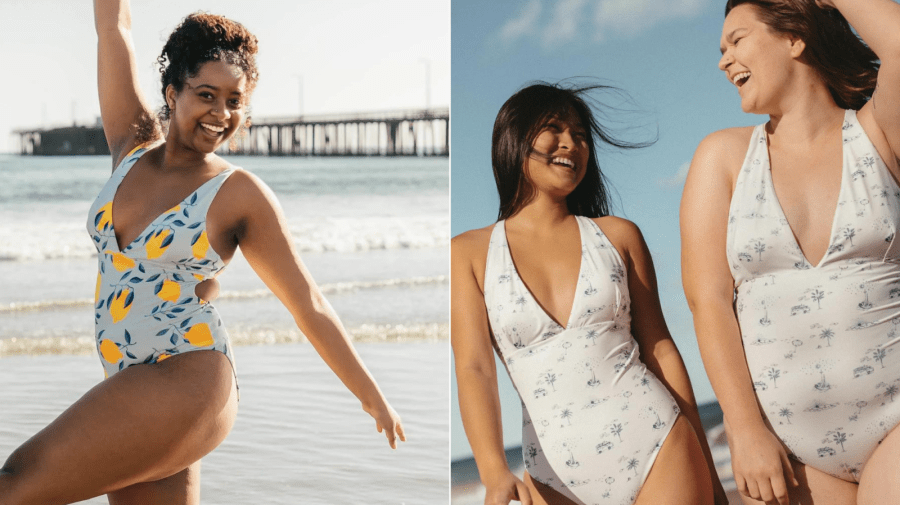 But that's not the only reason these are some of 2022's best swimsuits. When it comes to prints and colors, you'll find everything from classic gingham check to bold florals and bright lemons. Ultimately, there's something for everyone thanks to Kitty and Vibe's impressive selection.
Knix
Offering sizes up to 3XL, Knix originally made a name for itself in the world of lingerie. However, the brand's foray into swimwear was celebrated by customers who appreciate Knix's body-conscious, inclusive designs. Everything is designed with both style and comfort in mind. What more do you need out of one of the year's best swimsuits?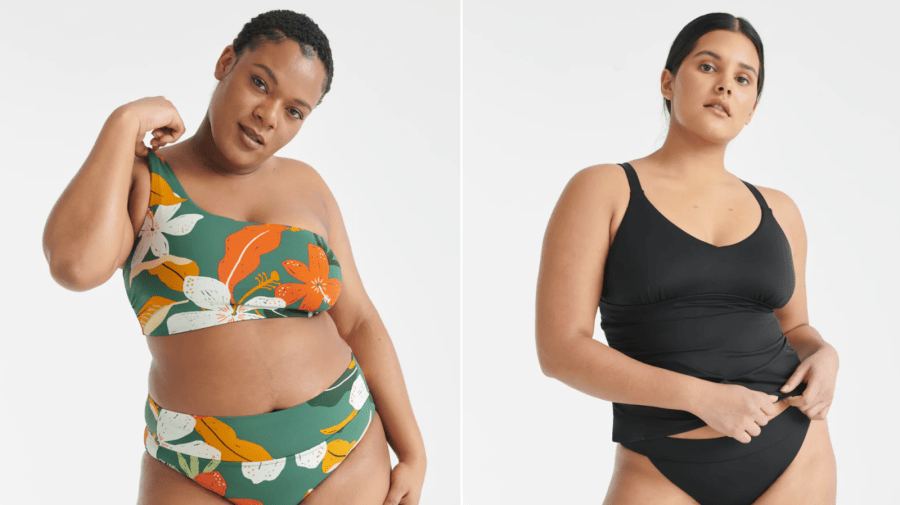 Plus, even though you wouldn't guess it, many of the brand's offerings are leak-proof suits, which is great for folks who have periods. After all, nothing ruins a day at the pool like not having enough coverage.
Humankind
A gender-inclusive swimwear brand, Humankind truly boasts some of the best swimsuits for people of all genders. The quality certainly stems from the brand's belief that everyone should be able to find their perfect swimsuit.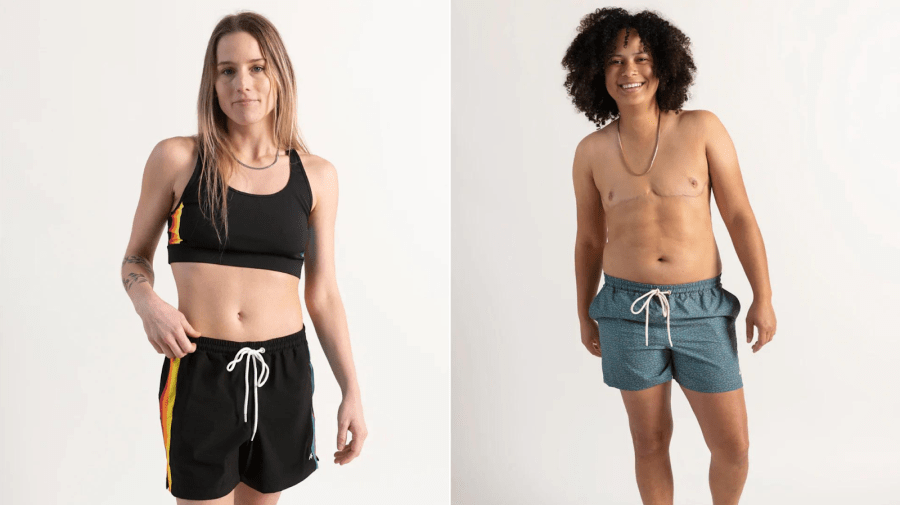 Comfort, style and confidence are all things the company aims to offer, especially for queer and trans customers who may not be able to find swimwear with their needs in mind. Plus, many of the designs are sporty, making them ideal for swimming, beach volleyball and more.
MIGA
MIGA is a crowd-designed brand made specifically for people with certain chronic illnesses and disabilities. The suits come in vibrant colors and stylish designs but they're also adaptive, offering features like easy-to-reach zippers for those with mobility challenges or adjustable belts to accommodate medical devices.
TomboyX
Another sustainable brand that focuses on inclusivity, TomboyX makes finding a swimsuit that fits nearly any body type a breeze. Every swimsuit is fit-tested, ensuring the sizes are listed correctly — and if you've ever had a bad experience in a fitting room, you know what a relief that is to hear.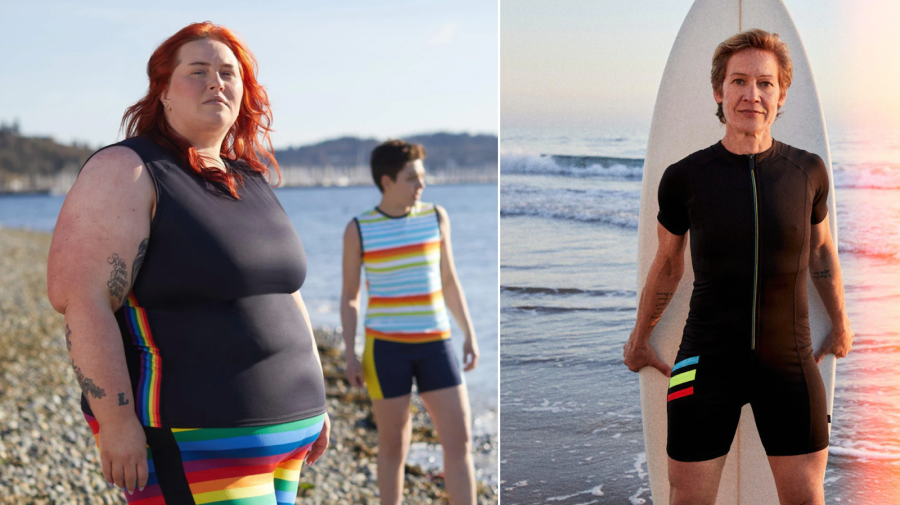 Like Humankind's offerings, the designs from TomboyX are sportier, offering plenty of coverage and support for those who want it. Plus, the pieces come in a range of vibrant colors and different patterns. Queer-owned and run, TomboyX puts queer, trans, nonbinary and gender nonconforming customers first.
Eloquii
Proving that plus-size swimwear doesn't have to be boring, Eloquii has an amazing line that focuses on people who wear sizes 14 to 28 in swimwear. Offering up exceptional style, bold prints and eye-catching designs for those of us with curves, you'll find options here that you won't see elsewhere.
Whether you want a one-piece with mesh, a bikini with ruffles, fun swim rompers, or even sleeves, there's bound to be something for you among the brand's best swimsuits.
Unika
At Unika, inclusivity goes beyond size. The swimwear line also accommodates individuals with a range of needs, including those who've undergone surgical procedures, like mastectomies. Plus, there's adaptive swimwear for transgender and nonbinary customers, giving them options in sizes ranging up to 4XL.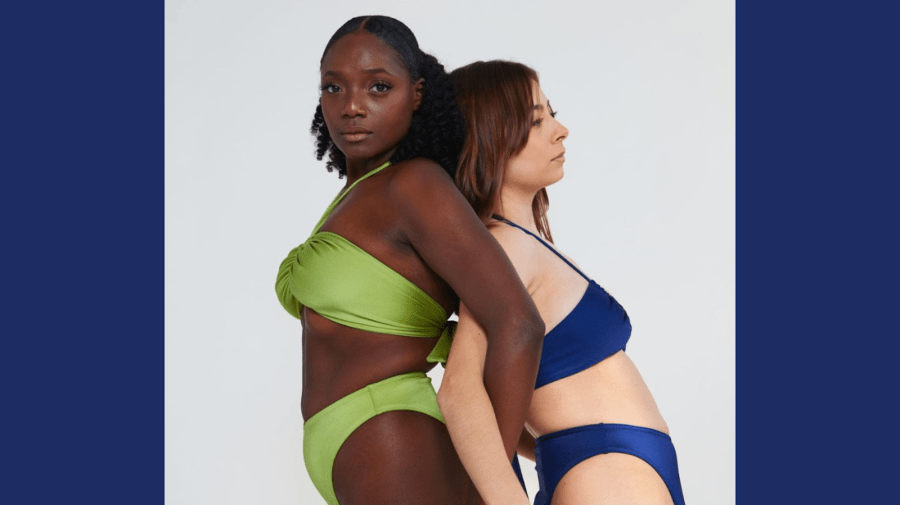 One unique thing about Unika? The ability to order custom swimwear. While you do have to make a trip to a brick-and-mortar store, it's an option that's worth exploring if getting something off-the-rack isn't viable.
Chromat
Chromat doesn't just offer up great style; inclusion is also at the heart of the brand. The brand boasts designs — all in sizes up to 4X — that are made with performance and comfort in mind, but the intent behind each piece remains the same: reaffirming that beauty comes in many shapes, sizes and expressions.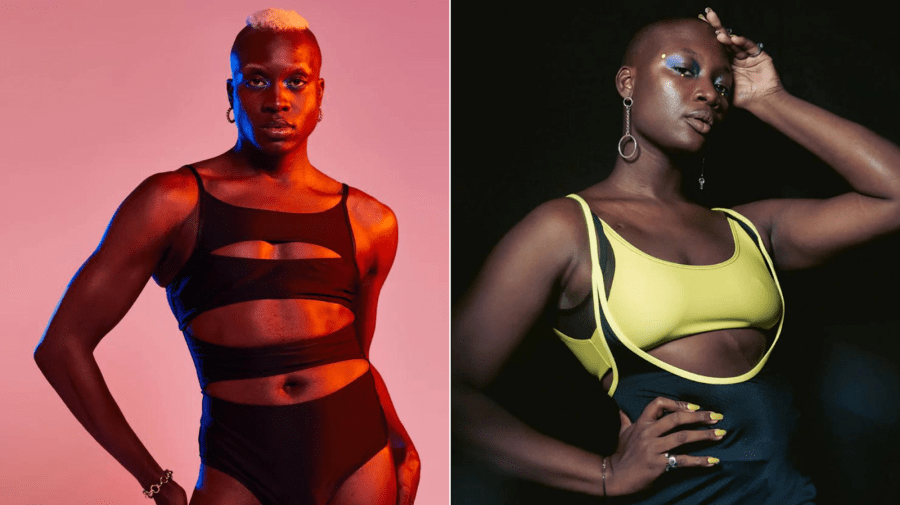 In fact, diversity isn't just part of what the company supports, or a marketing opportunity. Instead, it's at the heart of how Chromat operates, giving the brand a great perspective in what can often feel like a restrictive space.
Lands' End
In the world of inclusive swimwear, Lands' End has long been a leader. The company's "swim solutions" approach helps customers find their ideal suit, regardless of their needs, body type or preferences. Whether you're looking to accentuate or minimize curves, there's an option available, making these some of the best swimsuits year after year.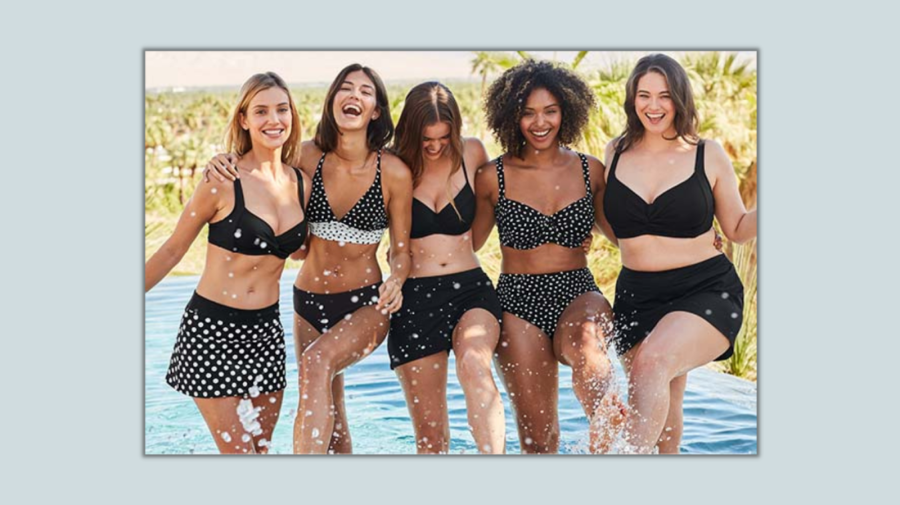 Additionally, Lands' End has products designed for different body proportions — folks with long torsos, fuller busts and so on — which makes "buying off the rack" a possibility for more customers. Plus, the brand boasts one of the largest selections of swimwear for those who've had mastectomies.
Girlfriend Collective
With Girlfriend Collective, you get a sustainable, eco-friendly suit — and built-in UV protection. Plus, the designs are inclusive, coming in sizes up to 6XL. Whether you're looking for vibrant or neutral, bikinis or one-pieces, this brand has you covered.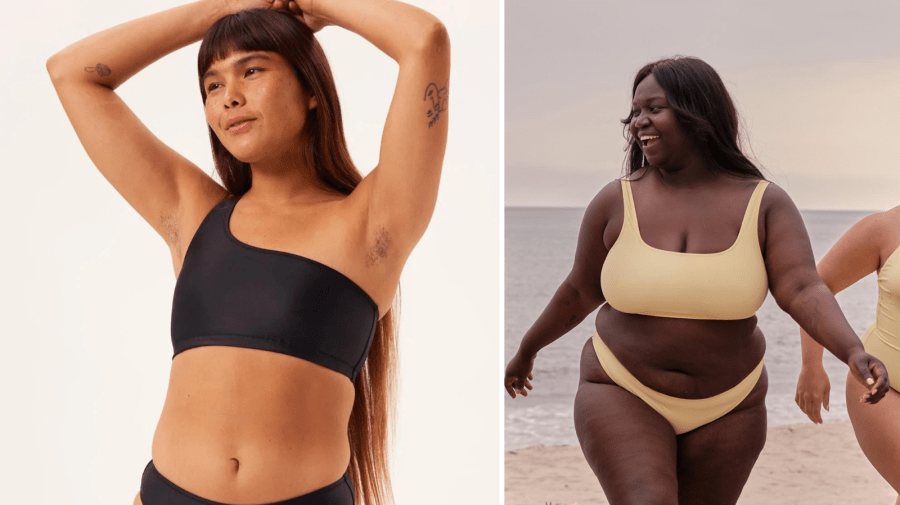 Girlfriend Collective is also dedicated to employing models of all sizes and body types, making it easier to see how some designs may fit on you. In addition to offering some of 2022's best swimsuits, the brand also boasts an incredible range of bras.
Beefcake
Featuring androgynous styling, Beefcake's suits are inspired by 1920s designs. And though looking to the past for more inclusive swimwear may seem strange at first, it's clear that these extremely gender-neutral suits are great for people of all genders. Not to mention, sizes go up to 5X.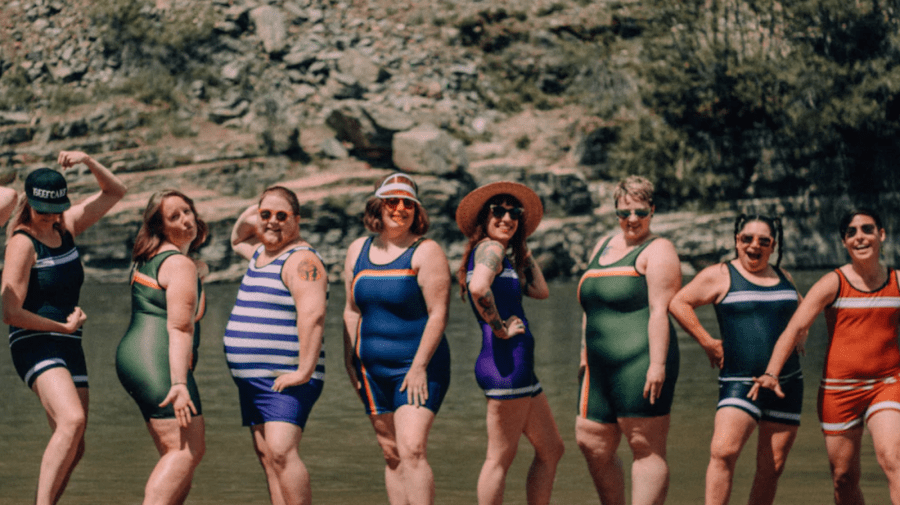 Along with being fully lined, the suits feature compression fabric that is supportive and smooth without being restrictive, making it easy to feel confident while swimming, lounging, or taking part in nearly any beach activity.
Outplay
Another gender-neutral option, Outplay aims to empower everyone who purchases one of its swimsuits. The company offers everything from relaxed board shorts and bikini bottoms to compression tops and rash guards. The sporty designs come in both bold and neutral colors, but the coverage levels and styles vary, allowing you to find the most affirming and best swimsuits for your needs.