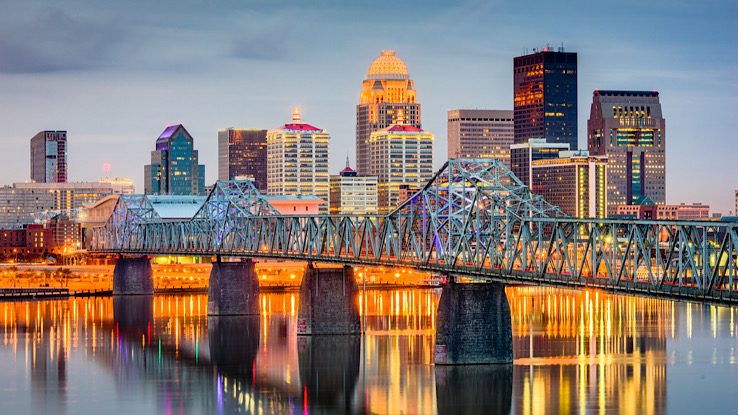 Louisville, Kentucky is the proud hometown of the Kentucky Derby, the most famous horse race in the U.S. It is a fast-growing tourist destination, and it's not hard to see why—the city has far more to offer than its equestrian activities. What other incredible entertainment, history, food, and tourism can you find in Louisville? Check out the best things to do in Louisville, KY.
About Louisville, KY
Louisville is the largest city in Kentucky and is rich in culture, history, and entertainment. It is most well known for hosting the Kentucky Derby, yet it has unique features that expand beyond this annual event. For starters, Louisville is the hometown of legendary boxer Muhammad Ali, actress Jennifer Lawrence (Hunger Games), actor Josh Dallas (Once Upon a Time), and other celebrities. Kentucky's food and drink scenes are also off the charts.
Fun Fact: Kentucky is responsible for 95% of bourbon worldwide and is home to cuisines from across the globe, including Thai, Vietnamese, Mexican and French dishes.
How To Get There
There are many accessible travel options to visit Louisville.
Airport: Those that live a considerable distance away can fly into Louiseville's Muhammad Ali International Airport.
Road Trip: Citizens of states bordering Northern Kentucky—such as Indiana, Ohio, or Illinois—may opt for a road trip.
Public Transportation: For more eco-friendly travel, you might consider taking a train into the city. There are three routes available via Amtrak. They make 14 daily trips into Louisville from places like Chicago, Syracuse, Poughkeepsie, and Springfield. Greyhound buses are also a more eco-friendly road trip option. All Greyhounds are geared toward clean fuel burning and have more routes available from different states.
Best Things To Do: Entertainment
Go Racing to the Churchill Downs
When people think of Louisville, Churchill Downs Racetrack is the first attraction that comes to mind. This famed spot is home to the Kentucky Derby, yet it hosts a variety of races throughout the year. This is a great place to stop and watch some lively horse races while you eat, drink, and relax. You can check their calendar to see their races and activities on the docket. They also offer themed experiences, including the kid-friendly Family Adventure Day and holiday-specific race brunches. It's not hard to see why this is the prize gem of the city!
Louisville Game
Even if you are not a Louisville Cardinal fan, attending one of these athletic events will be amazing. As a division 1 school with no professional sports in the city, you will have a great time. No matter when you go to Louisville, be sure to check out any of the sports, from basketball, football, volleyball, soccer, and swimming. No matter what sport you watch, you will likely watch the next top olympian or professional player.
Check Out the Slugger Museum
Despite lacking a Major League Baseball team, Louisville is proud of its storied sports history. The Louisville Slugger, the best-known bat in baseball, is produced out of Louisville. Want to know the history of this great bat? Check out the Slugger Museum, where you can learn about the Slugger's conception, production, and legacy. Plus, you'll see the world's largest baseball bat—a 68,000-pound, 120-foot tall steel replica of Babe Ruth's famous hitter.
Best Things To Do: Food
Eat Your Way Through Louisville's Neighborhoods
Louisville is home to food from a range of cultures. You can find everything from barbeque to chicken to oysters.
In historic Old Louisville, vintage diners and parlors draw tourists for burgers, fries, and shakes.
Crescent Hill is a hub of comfort food
Clifton's neighborly atmosphere is home to barbeque, fried chicken, and Benedictine cuisine.
In Middletown, you'll find high-end restaurants perfect for celebrating special occasions. All this said, Downtown is the true foodie hub, with countless five-star restaurants and bars. For true Kentucky local cuisine, try a hot brown sandwich, burgoo stew, beer cheese, or Benedictine spread.
Go to a Bourbon Distillery
Remember what we said about Kentucky producing most of the world's bourbon? Fortunately, there are plenty of distilleries within Louisville that offer tastings and tours to the general public. Some popular locations for touring are Angel's Envy Distillery, Kentucky Peerless Distilling, and Stitzel-Weller Distillery.
To try a variety of bourbons, take the Bourbon Urban Trail Tour. This tour takes you through numerous distilleries—historic and new—within downtown Louisville. They provide both bourbon tasting and historical commentary on bourbon production. You can also try the Kentucky Bourbon Tours. This company lets you customize the number of distilleries you visit. If you don't want a full tour, don't sweat it—you can pop into the nearest bar for a famed Mint Julep or a classic bourbon.
Best Things To Do: Nature
Soak Up Sunshine at Jefferson Memorial Forest
For tourists who appreciate the outdoors, Louisville has plenty to offer. One of the most popular natural attractions is the Jefferson Memorial Forest. This 6,500-acre stretch of forestland is a gorgeous area for hiking, horseriding, picnicking, and other outdoor activities. Follow peaceful trails through the woods to see wildlife, natural bodies of water, and historical structures. You can also scale the trees on an epic rope-ladder course with Ape Treetop Adventure.
Cycle Through the Louisville Mega Cavern
Of all the bike trails in the United States, this may be one of the coolest. The Louisville Mega Cavern is an underground bike park and is the largest in the world. In the cavern, you'll see beginners and pros traversing the range of bicycle courses. For tourists, they offer electric bike rentals, bike tours, and zip lines to sail over the action. If you get tired, you can ride their Tram Tour through the fascinating network of underground passageways.
Best Things To Do: Off the Beaten Path
Experience Dark Tourism at Waverly Hills Sanatorium
If you're a fan of ghost-hunting shows, cemeteries, or other dark tourist activities, you'll want to visit Waverly Hills Sanatorium. This frightening spot, located a half-hour outside Louisville, is a feat of Gothic architecture. It has a history rooted in one of the U.S.'s worst plagues: tuberculosis. Those who dare can take a guided tour through the haunting structure. If you're lucky, you may see some paranormal activity!
Learn the Spooky Tale of the Witches' Tree
From a distance, the Witches' Tree may look like a normal tree, but it has a disturbing history. According to local lore, the tree hosted a coven of witches in the 19th century. During May Day, despite warnings, locals chopped the tree to the ground. The vengeful witches cast a curse on the city, and eleven months later, a tornado tore through Louisville. The storm struck the tree's stump with lightning and a new tree sprouted. Now, the tree is a hearty (yet mangled) landmark, covered in beads and other offerings from locals and tourists.