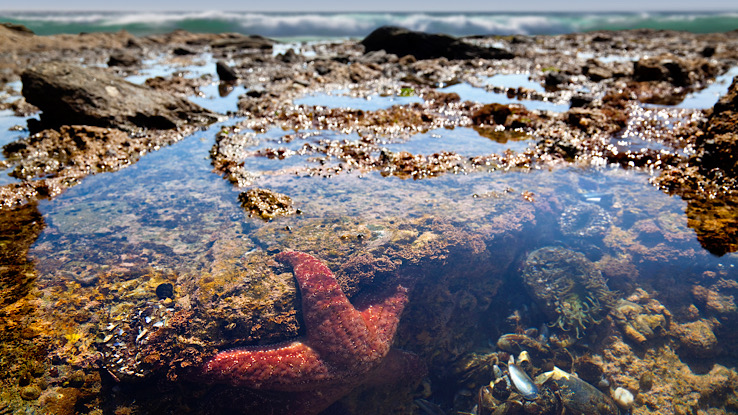 Along many of the rocky shorelines in the United States, visitors can observe unique natural habitats called tide pools. Tide pools provide an up-close look at some of the marine life that occupies our vast oceans. Within every tide pool is a tiny ecosystem of its own that works to support the sea life that gets stuck in these crops of rocks. What is a tide pool—and where are the best ones to visit in the U.S.?
What Is a Tide Pool?
Tide pools form along rocky shorelines. They are created during low tide when the tide recedes, and seawater gets trapped in natural rock pools. Tide pools can be shallow or deep and have a range of marine creatures. Diverse sea life, including sea stars, anemones, snails, crabs, and urchins, can get stuck in them. Tide pools exist in coastal areas across the US, though they are most common along the West Coast, the Pacific Northwest, and the Northeast.
The best time to visit tide pools is during low tide. It is the safest time and gives you the best look at the critters in the pools. You'll also want to wear closed-toe or no-slip shoes. The rocky outcroppings, dips, and holes that create tide pools can be dangerous to navigate without them.
So check out some of the best tide pools in the US.
La Jolla Tide Pools—San Diego, California
This stunning beach on the coastal stretch of La Jolla in San Diego is a hotbed for marine life. La Jolla has a number of tide pools, and some are very close to the shore. There are different tiers of tide pools where you can see different animals:
Supratidal zone: you're likely to see smaller animals like acorn barnacles and limpets.
Intertidal zone: contains mussels, gooseneck barnacles, and anemones.
Subtidal zone: you'll catch sea stars, urchins, and large anemones.
As a bonus, you're also likely to catch glimpses of seals around the tide pools. These seals are most active on the Children's Beach during wintertime and spring, but it's not safe to approach them during these seasons.
Yaquina Head Outstanding Natural Area—Newport, Oregon
Yaquina Head Outstanding Natural Area is home to some of the most vibrant tide pools in the United States. Situated along Oregon's coastline, this park is a wonderful spot to learn about the marine animals that inhabit the West Coast. Some of the sea life you can expect to see in the area are giant green anemones, acorn barnacles, and sea stars, with a lucky few getting glimpses of rarer animals like sea urchins. With seals and whale watching experiences also in the area, Yaquina is a dream tide pool visit for any avid sea-life adorers.
Acadia National Park—Bar Harbor, Maine
Acadia National Park is the treasure of Maine's landscape and is home to some of the best Eastern tide pools. These pools, collected along the rocky groves of the park, are formed by the large waves breaking on the cliffs of the Gulf of Maine. In Acadia's more active tide pools, you might see animals such as shelled dog whelks, sea cucumbers, and blue mussels. Some tide pools that are hit by fewer waves feature other animals, including jellyfish, marine worms, and smatterings of sea plants.
Shi Shi Beach—Clallam Bay, Washington
Washington is arguably one of the most scenic states in the Pacific Northwest. The breathtaking scenery of the rocky Shi Shi Beach includes plenty of tide pools to explore. Shi Shi Beach sits within the Olympic National Park. During low tide, the location features a gorgeous array of colorful wildlife in its tide pools. This includes green aggregating anemones, large purple sea stars, and Pacific geoducks, a type of burrowing clam. These tide pools are a great spot to visit if you want to spend a full day in nature. The only possible downside is long hikes to the beach from some of the parking zones, yet the sights of the tide pools are worth the walk!
Bahia Honda State Park—Bahia Honda, Florida
For those who live in the South, one of the best places to view natural tide pools is in Bahia Honda State Park in Florida. With bright teal water and gentle waves, this is a great area to snorkel, swim, and seek out tide pools. Because the water is so clear, the tide pools around Little Bahia Honda Island (accessible by kayak) are super easy to view. The surrounding areas are rich with coral life, so you might see animals from these biomes in the pools, including conch, angelfish, and octopi. The warmer water of Florida starkly contrasts the temperatures of most tide pool locations in the Northeast or the Pacific Northwest. That said, this spot is ideal for those who want to wade in the waves.
First Encounter Beach—Eastham, Massachusetts
The breathtaking scenery of this tourist destination in Massachusetts hosts a wide variety of tide pools. Running along Cape Cod Bay, First Encounter Beach is home to many shallow tide pools teeming with ocean life. One of the most popular animals you're likely to spot is crabs, though you might also see sea squirts, starfish, and sea cucumbers. The location is especially inviting for those who want to take kiddos along with them, as the gentle waves and wide beaches make this an easy location to traverse.