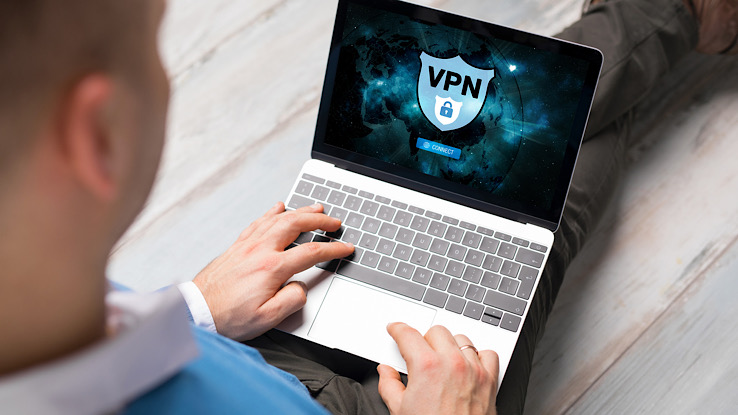 Using a VPN is not only a way to cover your digital tracks and disguise yourself online, preventing unwanted eyes from prying on your internet usage. There are also benefits to using a VPN when you travel, and we are here to tell you how this works and why you may want to get a VPN on your next trip.
What Is a VPN, and What Does It Do?
Most people don't want to share everything they do on the internet with everyone around them. Unfortunately, in some situations, just about anyone can access that information if they have the knowledge and resources to do so. Government officials, your Internet Service Providers (ISPs), and cybercriminals can all find ways to access your personal information online if they try to do so. So how do you prevent them from accessing your data?
VPN stands for Virtual Private Network. It is a technology that helps you access the internet via a secure and private connection. Everyone who uses the internet leaves a digital trail of their online activities. This trail means anyone from another location can know the websites you've visited and the information you've stored online.
Often, it's your internet service providers (ISPs) and people you share a Wi-Fi hotspot with who are predisposed to monitoring these activities.
A VPN solves this problem by creating a secure access line through which you can access the internet. More specifically, a VPN does the following:
Changes your IP address
Encrypts your internet activity
Changes your physical location (Keep this in mind for when we talk about travel)
Creates a secure internet connection
How Does a VPN Service Work?
A VPN service performs the functions above by encrypting data and routing your device requests through a virtual tunnel before accessing the internet. It serves as a barrier or intermediary between your device and the internet.
That virtual tunnel implies that every time you send an internet request, the VPN runs the request through a virtual route and then through its private servers before sending it to the desired location.
Pros of Using a VPN
Online Safety: Encrypting your online activity with a VPN can ensure the safety of your confidential details like passwords and account information. It'll also keep you safe from the purview of cyber criminals and prying ISPs.
Anonymity: A VPN will cloak your true identity. Anonymity allows you to use public Wi-Fi for any online activity without broadcasting the information to those around you on the same internet service.
Exclusive Access: You can get exclusive access to any website, irrespective of firewalls or geo-blocking.
Avoiding Discrimination: Anonymity helps you avoid any form of online discrimination because websites can't ascertain your identity.
Cons of Using a VPN
Slow Internet Speed: You might experience slow internet speed because your internet activity is encrypted. It's almost like re-routing your trajectory through a different route.
Cost: Authentic VPN services can be a little pricey. Not all VPNs provide the same services or quality, so prices may vary depending on your chosen service provider.
Activity Logs: VPN services can sometimes keep a log of your encrypted online activity. Some of them are monitored by the government, while some sell this information to companies that need them.
Using VPN on Trips
Using VPN on trips is fast becoming a necessity for adequate internet protection while on the road. A VPN protects you from numerous data and information threats from cyber criminals, government agencies, and anyone who may try to access your sensitive information.
Therefore, you should consider using VPN when you go on trips.
VPNs serve the following purposes while traveling:
It keeps your browsing traffic safe.
It helps you access content from anywhere in the world. This includes allowing you to watch your favorite shows that would not be viewable outside of your country.
It'll help you access your accounts irrespective of your location.
Top Five VPN Services You Can Use for Travel
The following VPN services are top options that can help you access the benefits listed above and more:
IPVanish
IPVanish gives you the freedom to surf the web with privacy and peace of mind whenever you travel. The service providers built their network server infrastructure of about 2000 servers independently from the ground up.
This independence guarantees faster internet speed and greater information integrity when traveling. You can enjoy IPVanish for just $3.99 a month for a year with a 30-day risk-free guarantee on all Windows 7 and above devices, mac 10 and up, iOS 11 and up, and android 5 up to the latest stable versions.
Pros
Unmetered devices
24/7 customer support
Fast connections
No-logs policy
Cons
US-based, so may not work outside the US
Identified registration
ExpressVPN
ExpressVPN encrypts your network data using Advanced Encryption Standard with 256-bit keys (AES-256), so nobody sees what you're doing online whenever you travel. This "military-grade" encryption ensures your anonymity anywhere on the web.
You can use ExpressVPN for $6.67 a month on a one-year plan. This subscription grants you access to all your devices, including routers.
Pros
Quality military-grade encryption
Vast server network
Fast speed
Multi-platform compatibility
Cons
NordVPN
You can quickly access your desired content from anywhere in the world with NordVPN. This service offers you multiple benefits based on Nordic ideals of confidence, innovation, and trust.
You'll get access to all geo-restricted content irrespective of your location. Furthermore, you can trust them with your information and online details because of their numerous security features.
All these amazing features and more go for just $3.99 a month on a 2-year plan. The best part is that this single subscription can cover up to six of your devices and is compatible with Windows, Linux, macOS, iOS, and many other operating systems.
Pros
Cross-platform compatibility
High Speed
Top-notch security
Low cost
Kill-switch functionality
Cons
CyberGhost
CyberGhost gives your online activity privacy a strong layer of protection using excellent security features. The VPN service guarantees privacy and anonymity with top-notch VPN security and a strict no-log policy, ensuring that none of your online activity is stored on their platform.
You can use a single subscription on up to seven other devices. They also have a state-of-the-art server network that guarantees your internet speed anywhere you may be.
You can start using CyberGhost at a monthly cost of just $3.25 if you get on the two-year plan.
Pros
No-log policy
User-friendly interface
Ideal for quality video streaming
Seven simultaneous connections
Cons
Locations get crowded for connections
SurfShark
You should consider using Surfshark when going on a trip because they focus on enhancing your online privacy and security at any location in the world. With multiple advanced security features like the AES-256, they also do not keep a log of your online activities.
You can use Surfshark on all your devices for $2.49 a month on a two-year plan.
Pros
No-log policy
Economical
Limitless device usage
AES-256 security
Cons