Experts expect the legal cannabis market in the United States to top $30 billion in 2022. With more and more states legalizing cannabis, it seems like a solid projection. Such a lucrative and growing industry attracts all kinds of folks looking to start their own businesses — and some of those savvy folks just happen to be big-name celebrities.
In fact, between the marijuana industry and the equally up-and-coming CBD (Cannabidiol) boom, a number of celebrities are making a name for themselves as "cannapreneurs." With this in mind, we've rounded up some of the most well-known budristas making a name for themselves in the cannabis industry.
Snoop Dogg
Snoop Dogg has been an open weed smoker since long before recreational marijuana legalization spread across the U.S. However, once states started to legalize, the global rap icon decided to take his passion a step further by starting his own cannabis company, Leafs by Snoop. The company's specialties? Cannabis flower, concentrates, and a range of edibles.
Launched in 2015 in Colorado, Leafs by Snoop was co-founded by Tweed, a subsidiary of the Canadian cannabis corporation Canopy Growth. Today, Leafs by Snoop is distributed through Canopy Growth and can be found in dispensaries throughout the U.S. and Canada. As a well-known weed connoisseur, Snoop Dogg is proud of the work he's done to contribute to the now-booming industry.
Martha Stewart
Next up: Snoop Dogg's pal, Martha Stewart. As you likely know, Stewart has been a champion of homemaking for as long as anyone can remember. Now, she has a new line of CBD wellness products to add to her list of accomplishments. Developed through one of the world's leading cannabis companies, Canopy Growth, Stewart's line offers gourmet CBD gummies, CBD oil, CBD soft gels, and CBD for pets. Made with 100 percent U.S.-grown natural hemp, her products hit the shelves in September 2020.
For Stewart, this business venture has more to do with well-being than making money. "CBD supplements are a simple way to enhance my own health and wellness," Stewart said in an article on her site, "especially when it comes to managing the stresses of daily life." The best part? Stewart has said the flavors of her gummy recipes take inspiration from what's growing in her personal garden.
Willie Nelson
The country music legend, actor, writer, and activist Willie Nelson founded Willie's Reserve in the state of Washington in 2015. This cannabis production firm uses cannabis grown from independent U.S.-based farmers in order to make its versatile selection of products, which includes flowers, edibles, and vape cartridges.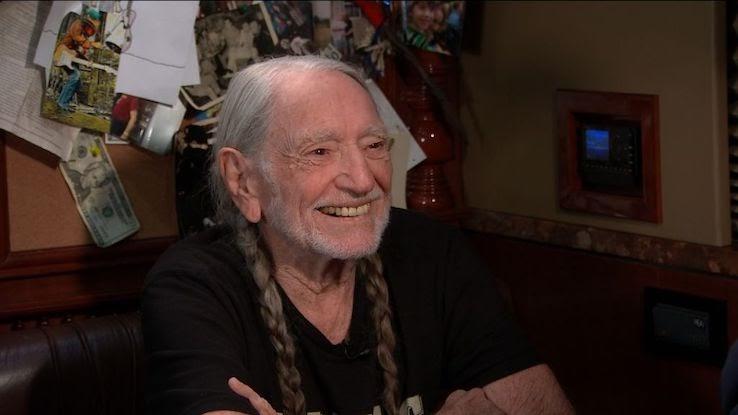 Thanks to the high-quality of his products and Nelson's true-to-self American "Old West" branding, Willie's Reserve is still going strong. On an episode of The Tonight Show with Jimmy Fallon in 2019, the now-87-year-old cannabis lover revealed that he has a unique position in the company aside from being its founder: Nelson is the "chief tester," meaning that he tries all the products himself. "I haven't run across any that I didn't like," Nelson told Fallon.
Chelsea Handler
One of the largest cannabis operators in California, NorCal Cannabis, began working with well-known comedian and activist Chelsea Handler to develop three specific vape lines and one edible brand, all made with women in mind. Handler not only supports complete cannabis legalization, but she's also a proud and outspoken feminist. For this reason, she wants to use her cannabis line to celebrate sisterhood and the benefits of cannabis at the same time.
Moreover, the comedian's personal experience with marijuana influenced her decision to get into the industry. "It helped me get through some tough times, and it helped me get off sleeping pills," she says in an excerpt on NorCal Cannabis' website. "I now see it as part of my overall wellness regime." In particular, she wants to help educate other women about the wellness potential of cannabis with her line and points toward responsible micro-dosing as a way to do so. Handler's line launched in January 2021 and includes cannabis-infused beverages, pre-rolls, chocolates, and even a beauty mask.
Seth Rogen
Actor, director, and comedian Seth Rogen might be one of the most famous weed smokers in the world. This is partly because of the fact that many of his films heavily feature marijuana. Offscreen, he's also been an outspoken pothead since his career began. Unsurprisingly, his expertise in everything cannabis led him to launch the recreational cannabis company Houseplant, which is a collaborative endeavor with Canadian cannabis giant Canopy Growth.
To Rogen and his partner Evan Goldberg, the company is more than just a way to sell cannabis flowers and original paraphernalia. It's also a way to share their passion for cannabis with the world through education. Their goal is to be "the most thoughtful weed company in the world." To that end, the website provides helpful and informative videos about cannabis. Furthermore, they use their platform at large to educate folks about the history of marijuana and to promote responsible weed use.
Kristen Bell
Actress Kristen Bell partnered up with Lord Jones, a trusted name and industry leader in the world of CBD, to produce her own brand of CBD-infused skincare products. Together, she and the founders of Lord Jones came up with Happy Dance, the name representing how much she loves the products they've created.
Bell says she had been using Lord Jones CBD products for two years before deciding to invest in her own line. It was the "quality, integrity, and consistency in all of the products" that impressed her enough to get involved. Happy Dance CBD skincare comes from hemp-derived CBD and is rooted in the self-care side of CBD. What's more, Bell is devoted to ensuring her line is price-conscious, making it accessible to anyone who wants it.
Mike Tyson
In recent years, boxing icon Mike Tyson has opened up about the substance abuse issues that plagued his life for quite a while. He says marijuana was the medicine that brought him out of those addictions. In particular, Tyson firmly believes that the CBD in cannabis is a powerful antidote to opiate addiction.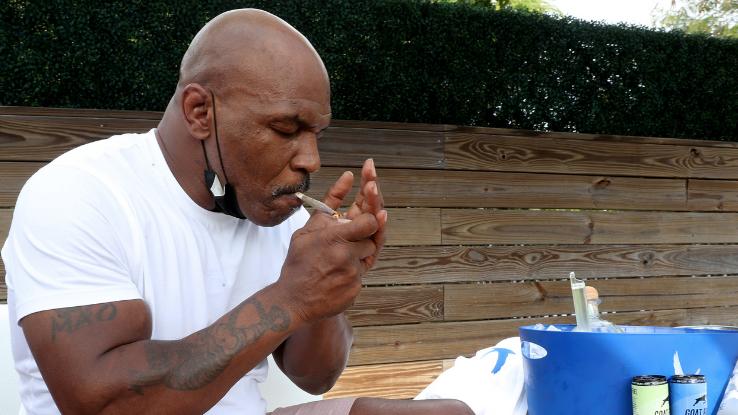 His deeply personal relationship with marijuana led him to selling his own cannabis products through his company Tyson Ranch. Tyson Ranch packages and licenses flowers from esteemed growers, which means they'll always be top-notch. His company's packaging and marketing are also important in that they aim to ensure consumers are aware of cannabis' potential benefits. That is, Tyson is committed to helping his customers find peace in marijuana use — just as he did.