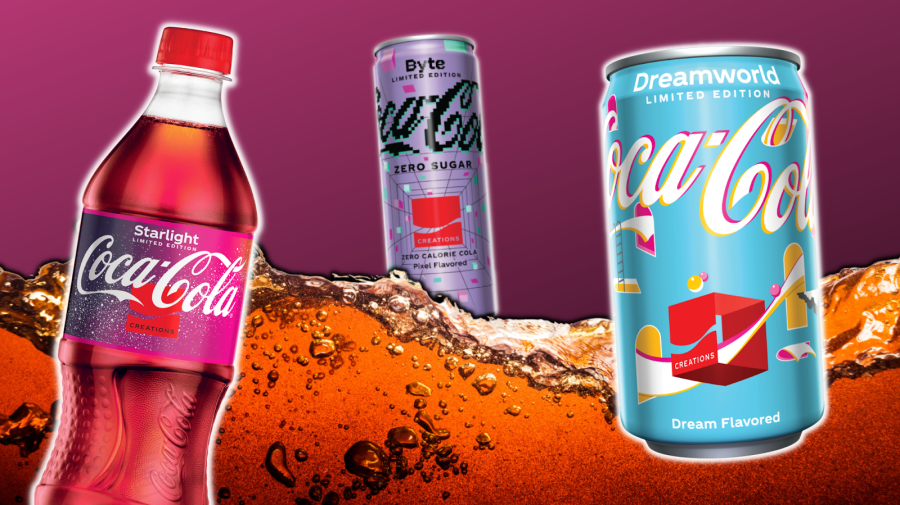 Have you ever wondered what your dreams taste like? Well, the Coca-Cola Company sure has — and the inventive folks over there have even bottled the flavor. Dreamworld, the newest in Coke's limited edition Creations series, "bottles up the technicolor tastes and surrealism of the subconscious", according to the soda maker. To coincide with Coca-Cola's dreamy new beverage, we've rounded up some weird novelty soda flavors — some of which we'd never want to try.
20. Lester's Fixins Bacon Soda
If you've ever wished you could drink your bacon — and with a healthy dose of carbonation — you're in luck. Lester's Fixins makes all kinds of uniquely flavored sodas; bacon happens to be one of those weird novelty soda flavors.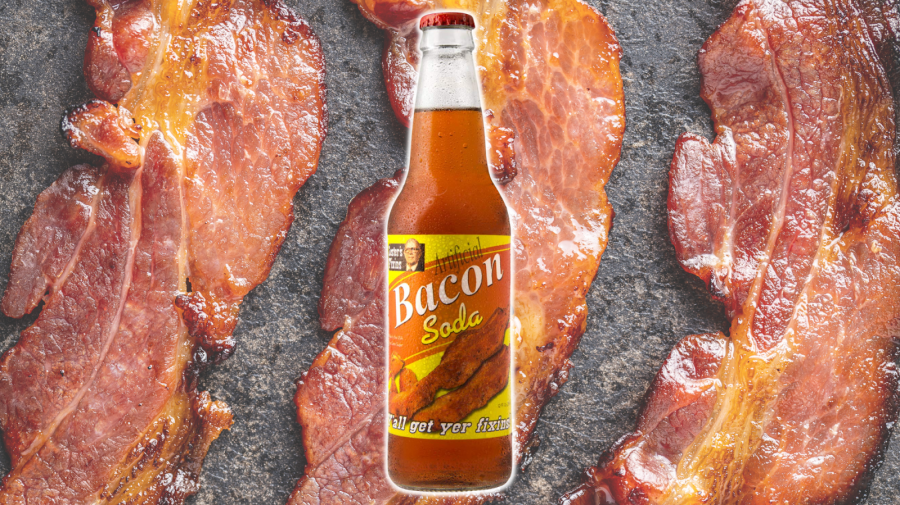 There was once an online hoax floating around that Coca-Cola made a bacon-flavored soda, but it wasn't Coke that got in on the bacon trend. Lester's Fixins, on the other hand, went all in. Not only does the brand offer bacon-flavored soda, but they also make a bacon-flavored soda with chocolate. Or, if you prefer a more traditional flavor combination (you know, outside of soda form), you can opt for their bacon-flavored soda with maple syrup.
19. Fanta Moo Moo White
You may not think yogurt and soft drinks go together; Fanta Moo Moo White aims to prove that line of thinking wrong. The Fanta brand, which is owned by Coca-Cola and typically known for its fruit-flavored sodas, launched a yogurt-type carbonated beverage in Japan in 2010.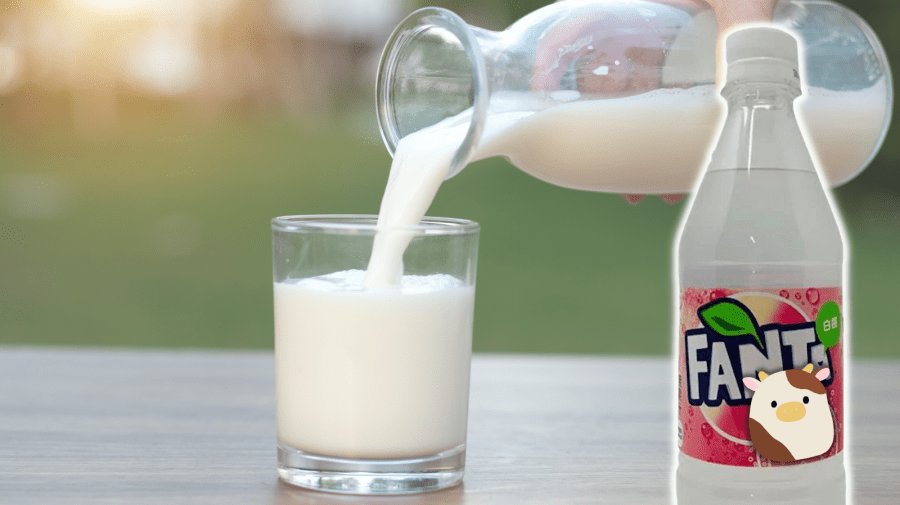 It was like a sweet, flavored milk — but with carbonation. Or Yoo-hoo but with actual milk instead of chocolate flavoring and corn syrup. The popular Japanese dairy drink Calpi is somewhat similar, so that's probably where Fanta was headed with this one. As an added bonus, a 100 ml serving has 60 mg of calcium. That's about half the amount you'd find in the same serving size of milk.
18. Unagi or Grilled Eel-Flavored Cola
Another entry that's Japan-specific, this cola tries to pair seafood and soft drinks. Kimura Inryou, a Japanese drink manufacturer, launched grilled eel-flavored soda — also called unagi, the Japanese word for eel — as one of their limited edition and weird novelty soda flavors in July 2015. According to the brand, it was meant to be a "refreshing summer treat".
As with a traditional soft drink, you'll see that the ingredients list includes corn syrup and carbonated water, but it also touts "eel essence" as one of its main add-ins.
The drink is supposed to taste like kabayaki — eel marinated in soy sauce — and, honestly, it's hard to imagine how that flavor would mix with sugar and carbonation. Not to mention, it's strange to imagine kabayaki in liquid form. One reviewer described it as having a "punch of eel", which stayed in his throat like he had "just eaten a plate of raw eel".
17. Lester's Fixins Ranch Dressing Soda
From Lester's Fixins, the makers of everyone's favorite bacon-flavored soda, comes a soft drink based around one of America's favorite condiments. As you might know, Ranch Dressing was invented in the '50s; since then, it's become the most popular salad dressing in the country. But ranch is more than just a salad dressing — it's a great dip, too.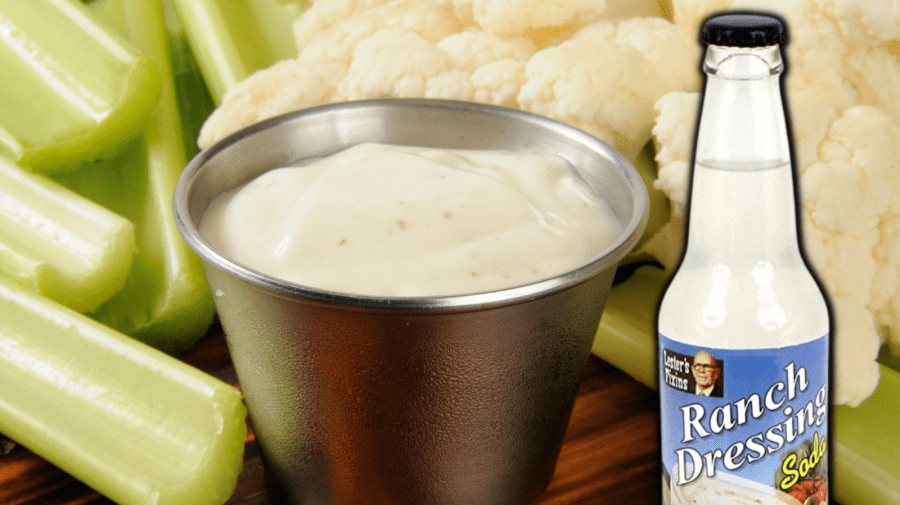 Despite its popularity, it's hard to believe all that many people are craving their Ranch dressing in a fizzy cold beverage form. However, thanks to Lester's, you can at least give this, and other weird novelty soda flavors, a try.
16. Avery's Kitty Piddle Soda
It's not the flavor of Connecticut-based Avery's Kitty Piddle Soda that's unusual — after all, it's an orange-pineapple drink made with real sugar. Instead, the drink's name and subsequent marketing campaign make it strange enough to appear on our list.
With the name Kitty Piddle, and the pale yellow coloring to match, this soda is meant to be gross. Avery's says its line of Totally Gross Sodas was inspired by its Make Your Own Soda program, where children did what children do, designing some truly gross-sounding, weird novelty soda flavors. Avery's decided to bottle some of these concoctions and sell them. Now, thanks to them and some inventive kids, we can all drink kitty piddle-themed soda.
15. Mountain Dew Dewitos
Pepsi's Mountain Dew has introduced a wild amount of flavors over the years, many of which are now discontinued. Mountain Dew likes to use college campuses as test markets, and that's exactly what the brand did with its Doritos-inspired concoction, Dewitos.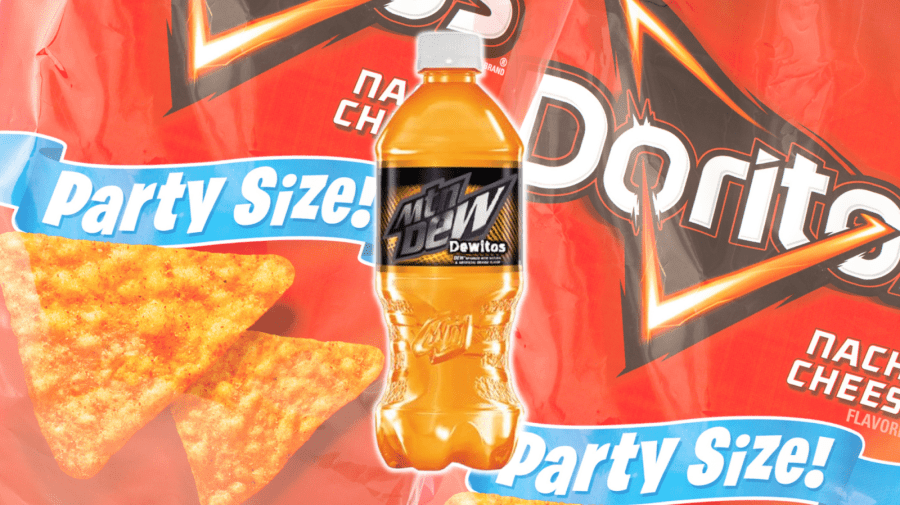 Sadly, for those of you who want to drink an orange-colored soft drink that, reportedly, tastes like nacho cheese, it's likely not possible. Apparently it wasn't so hot with the students who test it because Dewitos never made it past the testing phase and to the national market.
14. Pepsi Salty Watermelon
Pepsi Salty Watermelon was only available for a limited time in Japan. Just like the summertime eel-flavored soda, this one was released as a special seasonal treat. Some customers were surprised at the combination, but salt sprinkled on watermelon is a tradition in various places, including states in the Southern U.S. (Don't knock it until you've tried it!)
The salt here dampens any bitter flavors and increases the watermelon's sweetness. Knowing that, this drink sounds like a winning combination, right? Unfortunately, this one never made it beyond its limited release in Japan.
13. Rocket Fizz Dirt Soda
If you were that kid — the one who scooped up clumps of dirt on the playground and shoved them into your mouth — Rocket Fizz's Dirt Soda might just take you back to your younger days. Funnily enough, this one contains real cane sugar, which is always a plus.
What makes the soda taste like dirt is, however, unclear. Even now, you can buy a pack on Amazon and try it for yourself. If you aren't brave enough, reading the reviews is fun, with one customer saying that drinking a bottle of dirt-flavored soda is the same as drinking from a "mud puddle".
12. Rocket Fizz Grass Soda Pop
No, it's not that kind of grass. It's actual grass — you know, from a lawn. If you enjoy drinking mud puddles, maybe sipping some grass would appeal to you, too. Grass Soda Pop is another one of the bizarre novelty soda flavors made by Rocket Fizz. The objective? Replicate the taste and smell of freshly cut lawn clippings.
Although the smell of a just-mowed lawn evokes a perfect, lazy summer day for many of us, that doesn't mean we want to bottle that feeling up and drink it in fizzy beverage form. Of course, we're just speaking for ourselves at the end of the day. If you're interested, you can still find this one for sale on Amazon.
11. Pepsi Maple Syrup
Another limited edition entry, Pepsi Maple Syrup was made by the pop brand in collaboration with IHOP. You couldn't buy it in stores. You couldn't order one at IHOP. These special edition bottles were only available through a social media giveaway.
According to a news release from Pepsi, the drink "combines the indulgent flavor profile of maple syrup with the crisp, refreshing caramel notes of a Pepsi." But, sadly, only a select few were able to try this concoction, with this article from Today describing the drink as a "familiar Pepsi with an acceptably convincing maple finish."
10. Jones Soda Co.'s Thanksgiving Sodas
Making Thanksgiving dinner is a lot of work. Why spend an entire day over a hot oven making the traditional feast — turkey, gravy, mashed potatoes and all the fixings — if you could just pop open a few sodas for all those flavors instead? That's the question Jones Soda Co. is asking, anyway.
Jones Soda Co.'s Thanksgiving Sodas were available for a limited time in 2003, though they were brought back again in 2021 for the holiday season. Past flavors have included green bean casserole, mashed potato, fruitcake, cranberry and turkey with gravy.
9. Coca-Cola Green Tea
In Japan, Green Tea Coca-Cola was launched in 2009 in an attempt to ride the trend of wellness products. A spokesperson for the company said the flavor was aimed toward health-conscious women in their 20s and 30s; it's more than just a green tea flavor — the soda contains tea antioxidants called catechins.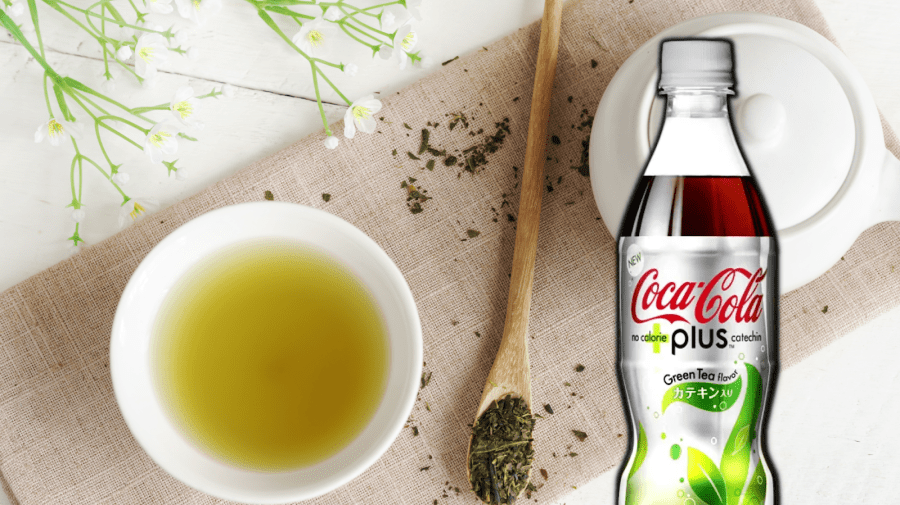 The flavor was reported to be subtle, with a slight green tea aftertaste. Whether this soda was popular among health-conscious consumers remains to be seen. After all, why not just make a cup of tea?
8. Orbitz Soda by Clearly Canadian
The '90s were an odd time for food and drinks. No other era offered such an assortment of vibrant, unnatural options. (We're thinking of you, Heinz green ketchup.) It was on this colorful landscape that the ill-fated Orbitz beverage was launched by Clearly Canadian.
Also known as "lava lamp juice", this beverage from Orbitz contained brightly colored balls of gelatin. However, unlike the popular and tasty bubble tea, these balls didn't sink to the bottom of your drink. Instead, they stayed unnaturally suspended, no matter how much you shook the bottle.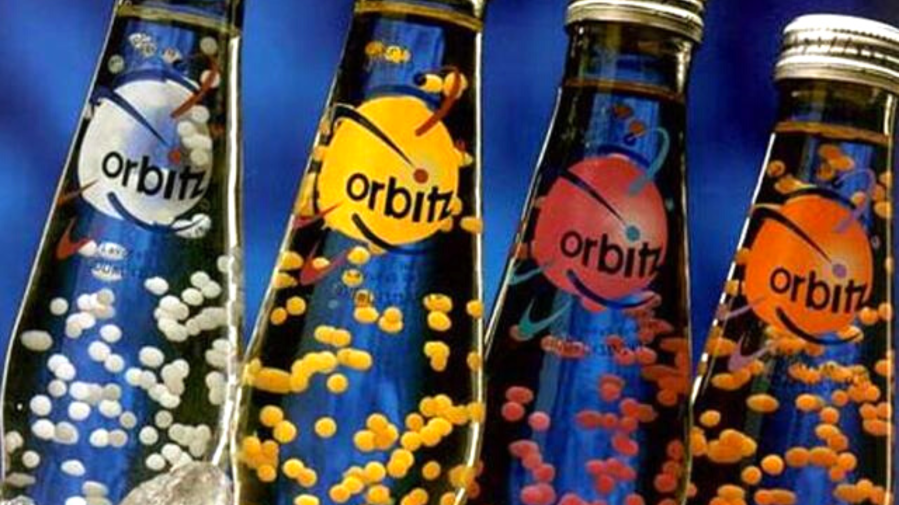 The public was nearly universally united in its distaste for Orbitz, and it was discontinued shortly after it launched. Although, if you're feeling nostalgic, you can still find unopened bottles from the '90s for sale on eBay.
7. Tru Blood Soda
True Blood, HBO's iconic vampire series, was at the height of its popularity in its second season in 2009. In that same year, Omni Consumer Products struck a deal with HBO to create a drink based on the series.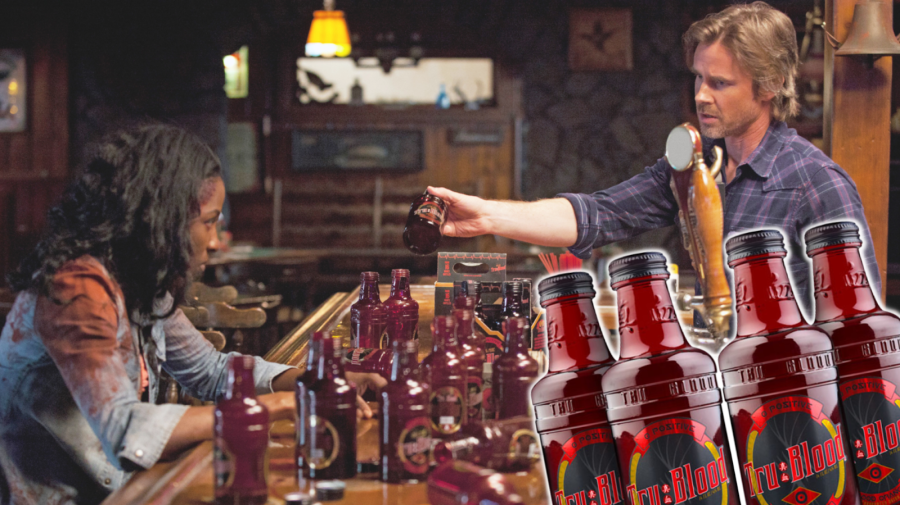 In the show — and in Charlaine Harris vampire book series that serves as the show's source material — Tru Blood is a synthetic version of blood that's consumed by vampires. Although it goes by the same name, we're taking a guess that the soda is A) FDA-approved, and B) made for humans — not of them. In lieu of iron-rich flavor, Tru Blood gets its rich taste from blood oranges. (Clever, right?)
6. Pepsi Blue
Pepsi Blue was only around for two years — from 2002 to 2004 — and was sold in clear bottles so that you could easily see the beverage's vibrant blue color. Not available in 2-liter bottles, it was only sold as single-serve drinks; marketers were hoping teens would buy them in droves.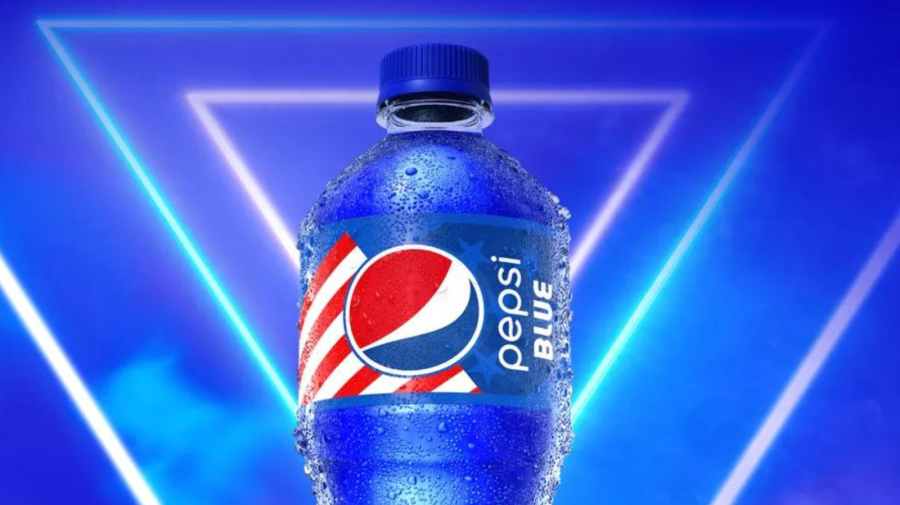 While teens of the aughts may have liked the color and flavor, Mental Floss reports that they may have been the only age group that did. One older reviewer even claimed, "It tastes like a Crayola but not as good." (Which, um, is a little concerning in and of itself.) Needless to say, Pepsi Blue was another short-lived product.
5. Mountain Dew Liberty Brew
If you've ever wished you could drink 50 flavors at once in your soda, rush out and buy yourself a Mountain Dew Liberty Brew. This concoction contains 50 flavors — inspired by all 50 states — and has been released as a summertime flavor for the past few years.
With a midnight blue hue, this soda is said to have a berry flavor. And, hey, it can be that bad if it keeps coming back time and again.
4. Pepsi Ghost
In 2015, just in time for Halloween, Pepsi rolled out a promotional soda called Pepsi Ghost. Let's just say that it's a real mystery. The packaging held absolutely no clues as to what flavor you were getting. The only way to find out? Crack open a bottle and take a taste.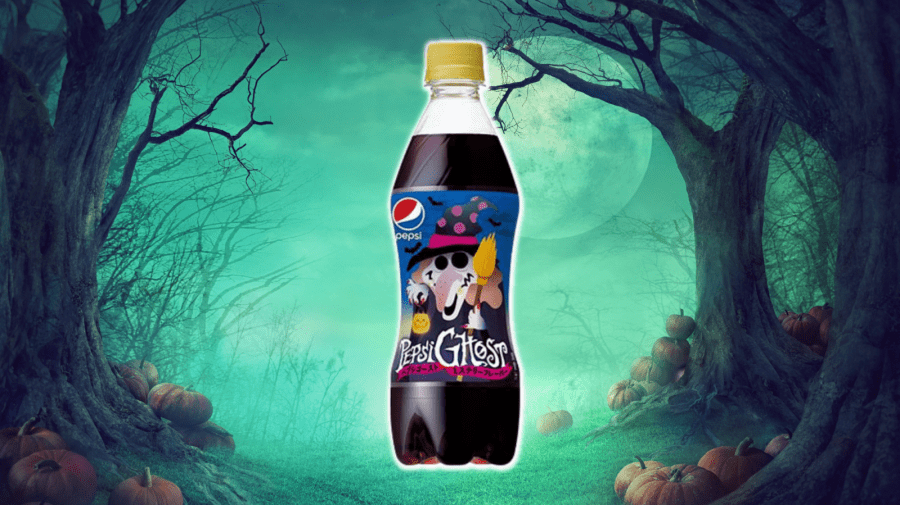 According to Business Insider, there were 14 different flavors of Pepsi Ghost. It's like the Russian Roulette of sodas. And, again, only for the bravest among us.
3. Pepsi Azuki (Bean-Flavored Soda)
Another Japan-only offering, Pepsi Azuki launched in the summer of 2009. Reportedly, it combines the azuki flavor with the tang of a carbonated drink.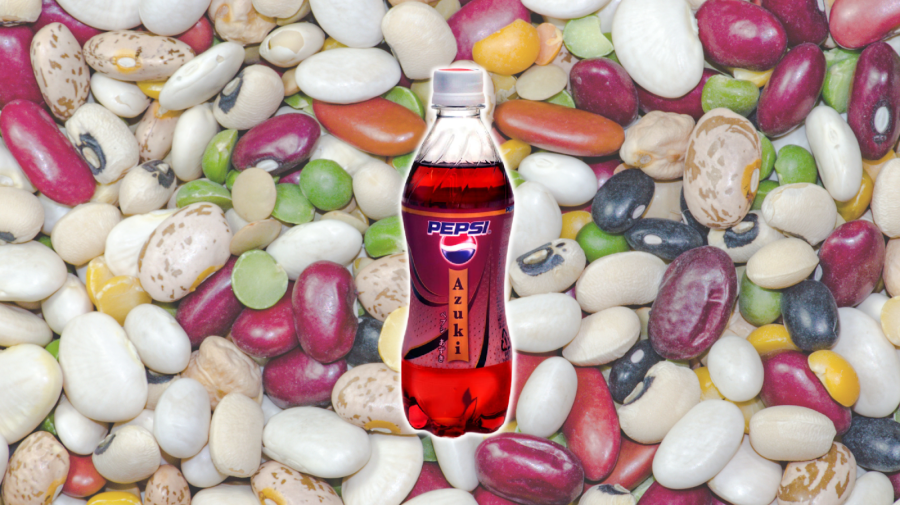 Azuki beans, which are what red bean paste is made of, are a popular ingredient in Japanese cooking. Whether or not the flavor of red bean paste mixed with Pepsi was a good one is unclear, especially as this soda was only available to the Japanese market for a short time.
2. Hubba Bubba Original Bubble Gum Soda
For those who don't think soda is sugary enough, the '80s were for you. In particular, the bubblegum-flavored Hubba Bubba Soda might've been worth a try. Originally, it was created using snow cone syrup and only distributed throughout the Chicago area.
Somehow, it did so well in Chicago that it ended up on the national market. But the rest of the country must not have been as excited about the fizzy bubble-gum beverage as Chicagoans; the product didn't even make it into the '90s before being discontinued. If you're lucky, you might be able to find an unopened can for sale on eBay. And, if not, you'll always have the jingle…
1. New Coke
Although there's nothing too unusual about the flavor of New Coke, it was such a well-known and stunning marketing misstep by one of the world's most elite brands that we simply had to add it to our list of weird novelty soda flavors. Launched in 1985 to compete with Pepsi, New Coke wasn't just a new flavor. Instead, Coca-Cola replaced its tried-and-true recipe and announced that the beloved drink, as it was originally made, would be gone forever.
Let's just say, the reactions were big, ranging from panic to outrage. Some folks even staged protests, hoarded "old" Coke in their basements and flooded Coca-Cola's hotline with angry calls. Needless to say, within a few months, the company relented and brought back the original recipe, dubbing it Coca-Cola Classic. For a while, New Coke was sold alongside the Classic version, but it never took off and was eventually discontinued.