Everyone knows that breakfast is the most important meal of the day, but having the same bowl of cereal every morning can leave you feeling uninspired. Switch up your routine and try something new, like one of these five unique breakfast ideas from celebrated chefs. Here's a look at their recipes, featuring sweet and savory meals that'll help you start your day with some pizzazz.
Breakfast Carbonara with Sausage
Chef Alton Brown, the mastermind behind the successful Food Network TV show, Good Eats, crafted this dish. His commendable career goes beyond Good Eats with published books and Broadway variety shows. Using his knowledge of the culinary world, spanning 20 years, Alton Brown took a staple in Italian cuisine and gave it a breakfast-inspired twist.
His breakfast carbonara with sausage recipe utilizes minimal ingredients like sausage, eggs, and cheese while injecting the mixture with aromatic green onion, pepper, and orange zest flavors. The recipe calls for linguine, so the other ingredients perfectly cling to the pasta noodles. It also recommends reserving some of the pasta's starchy water to help thin the egg mixture. The added breadcrumbs provide a delightful crunch, giving the carbonara the iconic breakfast taste of toast. This recipe takes 20 minutes to cook, making it a simple meal for working professionals or families to enjoy without taking up too much morning time.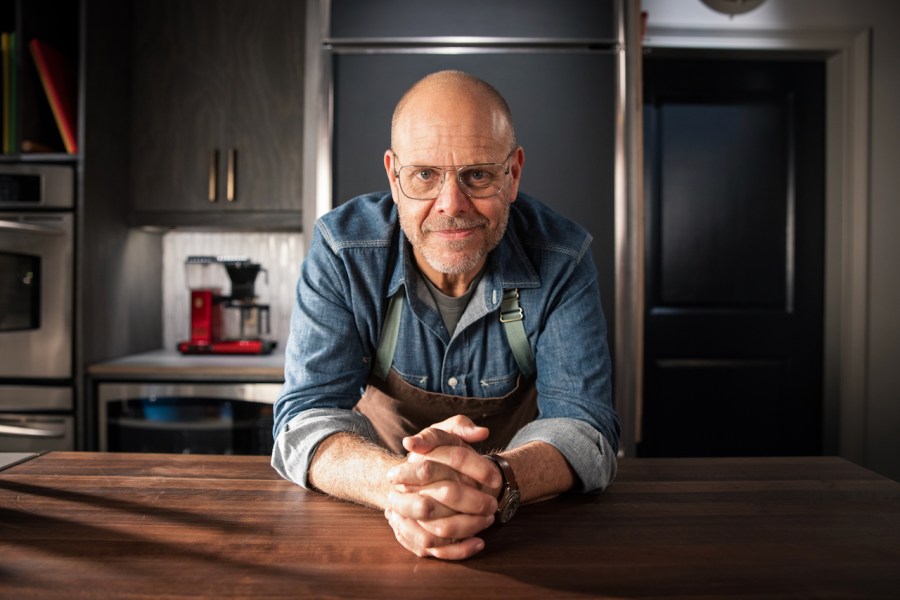 Auflauf Pancakes with Berries
Bring a taste of Europe into your kitchen with a German-style pancake designed by the world-renowned Chef Andrew Zimmern. Looking beyond his four James Beard awards and illustrious cooking career, Andrew Zimmern returns to his roots with a breakfast dish influenced by his grandma.
His auflauf pancakes with berries recipe takes 30 minutes to make and starts with heating a cast-iron skillet in the oven. Before pouring in the pancake batter, remove the skillet from the oven and swirl some butter around to melt it. This will ensure the pancake has a golden brown crust and won't stick to the skillet. This dish serves four, perfect for feeding the family or saving as leftovers for the following morning. You can trust that it will satisfy sweet tooth cravings as the recipe calls for fresh berries and confectioners' sugar for toppings. However, you can substitute these ingredients with brown sugar, cinnamon, and roasted apple slices, just like Andrew Zimmern's mom would make for family breakfast.
Turmeric-Poached Eggs with Chive Biscuits and Lobster Gravy
Chef Brooke Williamson wowed food lovers everywhere when she won Bravo's Top Chef season 14. Her culinary career began when she was 17 years old and has blossomed into receiving awards and running her own restaurant. She prides herself in creating dishes that will make others happy, often infusing West Coast California style with fresh ingredients and worldly flavors.
Brooke Williamson's turmeric-poached eggs with chive biscuits and lobster gravy recipe requires a total time investment of four and a half hours, but the incredible result is worthwhile. She recommends making the lobster gravy the day before and reheating it in the morning for easier cooking. The recipe requires several tablespoons butter for the biscuits and lobster, both cooked to a pale golden brown. This breakfast dish is ideal for anyone who shares a passion for cooking because it takes patience to create. Fans of this dish call it decadent and divine because it focuses on delectable tastes like buttermilk, paprika, cayenne pepper, fennel, and white wine.
Maple Chicken and Waffles Casserole
Known for her classic comfort food cuisine, Chef Sunny Anderson mastered using her background to her advantage. Her experience as an award-winning broadcaster in the Air Force and a radio DJ in New York allowed her to travel the world, garnishing inspiration from everywhere she went. Her culinary career began as a hobby, became a catering company, and launched into a noteworthy television career with Food Network.
Try Sunny Anderson's maple chicken and waffles casserole recipe for breakfast the next time you're craving comfort food. This dish is easy to cook with a prep time of 5 minutes. The waffle batter requires a pleasant mix of brown sugar, lemon extract, and orange zest, guaranteed to fill your home with delicious scents in the morning. Cook them in a waffle iron for 5 to 6 minutes until they are a gorgeous, golden brown. The custard calls for a blend of even more flavor with maple syrup, scallions, Hungarian paprika, thyme, garlic, and coarse black pepper. Adding the chicken to the mix is uncomplicated since the recipe calls for a rotisserie chicken. Put it all together in a casserole dish and bake for 25 to 30 minutes with a cooling time of 10.
Maine Lobster Omelette
One of the most highly-decorated chefs in the world is Chef Gordon Ramsay, earning 17 Michelin Stars throughout his 30-year culinary career. He has taken his love of cooking from his roots in the UK and spread it over the globe through acclaimed restaurants, top-rated TV shows, and bestselling books. He often uses his travels to inspire the dishes he creates.
Aspiring chefs can feel his passion for food when trying his recipes, like the savory Maine lobster omelette. This breakfast dish has a handful of steps, deeming it straightforward to create yet stunning in taste. Don't worry about planning a trip to Maine for lobster, as the recipe simply calls for 1 1/2 cups of lobster meat. Instead, the star of the dish is the seaweed butter, comprised of unsalted butter, edible seaweed, tarragon leaves, lemon zest, paprika, garlic, and salt. This combination of ingredients was crafted to cook the lobster meat, ensuring plenty of flavor infusion. Then, the lobster mixture is placed in the middle of the egg omelette, while it is starting to cook through, and folded in gently.

Any of these mouth-watering breakfast ideas will prove to be a fantastic way to start your day. Each notable chef-approved dish provides multiple servings, which is ideal for friends, families, or leftover lovers. Indulge in the world flavors they possess with each bite.