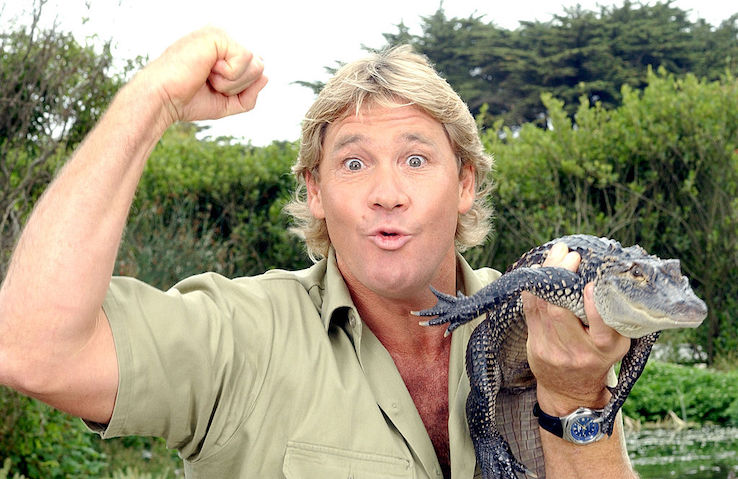 The late Steve Irwin is known worldwide for his love of wildlife and extensive conservation work. Before his untimely passing, he and his wife, Terri Irwin, ran the Australia Zoo and hosted the international hit wildlife TV series, The Crocodile Hunter. Irwin's wild encounters with animals on the show reached hundreds of millions of people around the globe.
Irwin dedicated his life to educating the public about wildlife and the importance of protecting threatened and endangered species, and he lives on through this vital work — and through the efforts of Terri and the couple's children, Bindi and Robert. Continue reading to learn more about the famed Crocodile Hunter and how his family carries on his legacy.
Steve Irwin Loved Nature and Wildlife From a Young Age
Originally from Australia, Steve Irwin's passion for wildlife was inspired and nurtured early on by his parents, Bob and Lyn Irwin. The couple was active in protecting Australia's reptiles and founded the Beerwah Reptile Park, a rehabilitation and conservation center and reptile sanctuary, in Queensland in 1970.
Irwin often traveled with his father through the Outback to find lizards, snakes and crocodiles as part of the park's East Coast Crocodile Management Program. This effort was dedicated to reducing hunting by relocating reptiles, particularly crocodiles, to safer areas and to animal sanctuaries like the Beerwah Reptile Park. It was on these adventures that Irwin began to subdue small crocodiles by jumping on them and wrestling them into boats to transfer them to safety.
The park also worked to nurse injured, sick and abandoned kangaroos, wallabies and birds back to health. As a child, Irwin was actively involved with the animals at Beerwah, which was later renamed the Queensland Reptile and Fauna Park. Over time, Irwin's responsibilities at the park increased as he and his best friend, Wes Mannion, worked to maintain the grounds and care for the animals.
Irwin Became The Crocodile Hunter by "Vlogging"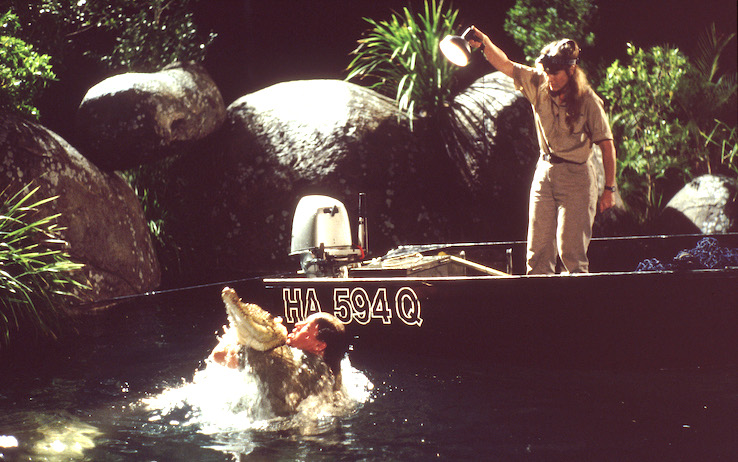 Throughout the 1980s, Irwin continued to help with the Crocodile Management Program, catching some of the biggest and baddest crocodiles around. At times, he recorded his captures with a video camera on a tripod. He eventually built up hours and hours of great footage and ended up showing some tapes to a producer at Australia's Channel 10 network. The videos were turned into a 10-hour wildlife documentary series, which became The Crocodile Hunter. The show first aired in Australia in 1992.
Around that time, Irwin also took over managing the reptile and fauna park, renaming it the Australian Zoo. It was here that he met his wife, Terri, whom he married in 1992. The show became a regular series on Channel 10, which allowed Irwin to travel around Australia and the world. Eventually, the show was picked up by the Discovery Channel, and it went on to broadcast in over 100 countries.
Steve Irwin Focused on Educating the Public About Conservation
Though Irwin continued his work on the show, he also did interviews with various television and news hosts like Jay Leno and Oprah Winfrey about his work and the importance of conservation. "My job, my mission, the reason I've been put onto this planet, is to save wildlife," he once said in an interview. He appeared in the film Dr. Doolittle 2 (2001) alongside Eddie Murphy and even starred in his own movie, The Crocodile Hunter: Collision Course (2002).
Additionally, Irwin founded organizations and raised funds for animal rights. He and Terri founded Wildlife Warriors Worldwide (formerly the Steve Irwin Conservation Foundation), which works to protect habitats and wildlife while sponsoring breeding and rescue programs for endangered species. This program also uses scientific research to aid conservation efforts. He also helped found International Crocodile Rescue and the Lyn Irwin Memorial Fund in honor of his mother. The proceeds from the fund go to the Iron Bark Station Wildlife Rehabilitation Center, a 3,450-acre wildlife sanctuary. Irwin even purchased land of his own throughout Australia with the hopes of creating habitats for animals.
Irwin's Wife and Kids Are Continuing His Amazing Conservation Work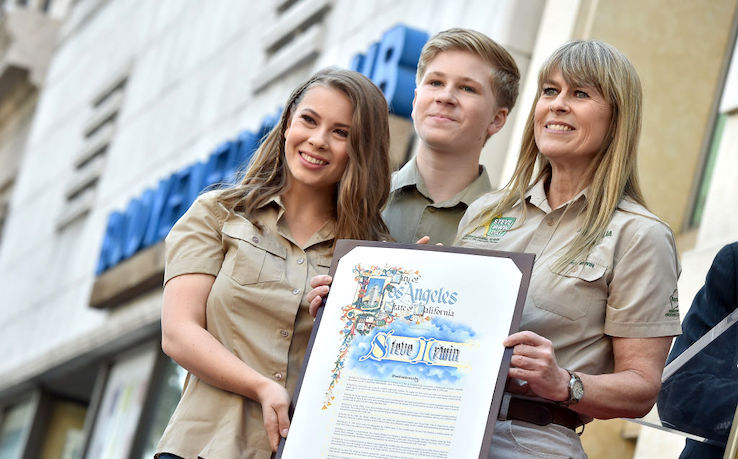 Sadly, Irwin's love of nature led to an accident that resulted in his tragic passing. In September 2006, he was filming a documentary, Ocean's Deadliest, around Australia's Great Barrier Reef. While passing time, Irwin and his close friend and cameraman Justin Lyons went boating to capture extra footage. During filming, Irwin swam over a stingray in shallow water, and the stingray stung him repeatedly in the chest. "There's always hope. We hoped for a miracle. I literally did CPR on him for over an hour," Lyons shared. Unfortunately, the attack caused the conservationist to go into cardiac arrest, and he died at the age of 44.
After Irwin's passing, Terri made it a point to continue his legacy and conservation work. Irwin and Terri fostered their love of animals in their children, Bindi and Robert, and the family still works together at the Australia Zoo. They're also still blending education and entertainment with various films and TV programs.
With the same love of wildlife and showmanship as her dad, Bindi led her own wildlife show, Bindi, the Jungle Girl (2007–2008), and starred in several movies. Currently, Terri, Bindi and Robert have their own wildlife adventure show, Crikey! It's the Irwins. In 2022 the show is entering its fourth season, highlighting the family's work at the Australia Zoo and also the more personal parts of their lives. Season four takes a look at the Irwins working through the Australian wildfires of 2020 and the pandemic, as well as Bindi becoming a mom to daughter Grace. "It's definitely the most real and raw true look into our families," Robert said.
While the family greatly misses Irwin, they're happy that they have a chance to continue the work he — and the world — loved so much. The show gives them a chance to honor that. "It's a great balance of two wonderful kids who are wanting to keep their dad's legacy alive," Terri said. "And I know he'd be proud."