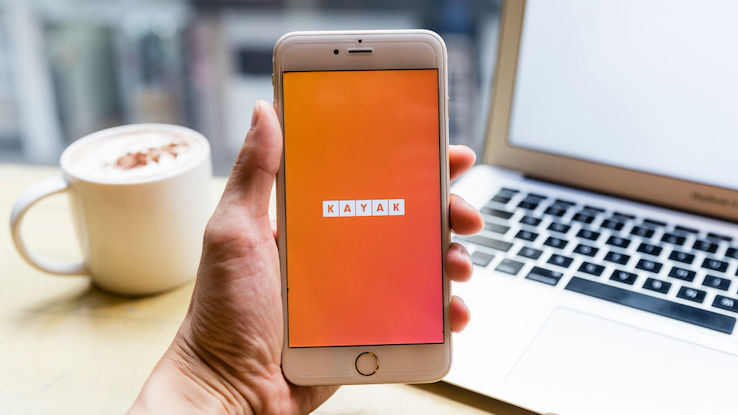 Technology has not only made traveling convenient, but it has also made it undeniably easy to book and takes away most of the complications involved in planning your trip. Much more than relying on a travel agent's wisdom, you could embrace the flexibility technology offers by using flight tracker apps. Some pre-planning is always worth it to have the most fun and exciting trip that delivers the benefits of travel.
These easily downloadable and helpful software apps are the perfect answer to all your travel needs. They track your flight info and give you much-needed, up-to-date tracking information on take-off or landing at the airport. And they can also save you time and money. Here are some tips on scoring the best deals with various apps to ensure you know what you're signing up for while looking for cheap airline flights online.
5 Flight Tracker Apps You Should Consider
1. Hopper
Hopper is one of the oft-mentioned apps for traveling, and it's designed to make the whole process much easier for you. Hopper prides itself on providing innovative technology that'll save you money on flights, hotels, and rentals. You can download this exclusive mobile app on both iOS and Android devices.
Pros
The focus is to make you spend less while making the most out of your journey.
They emphasize indicating prices and nightly rates, making it open for you to decide the best fit for your journey within your budget.
Hopper can give you time and room to plan — your fares and fees can be held until you're ready to proceed with your arrangements.
Cons
Given that the services provided by Hopper are only on mobile apps, the lack of a sound system for customer support is often mentioned, as customer support is solely through email and is available to people who have made a purchase. Unfortunately, this means you can't easily ask questions about anything if you haven't used the services before.
There have been reports of unfavorable travel packages and bugs in the app.
2. Kayak
Booking Holdings owns and operates this online travel agency and metasearch engine, and Kayak's mobile apps and website are available in over 18 languages. Kayak offers you the opportunity to find, compare, and book flights, hotels, and car rentals.
Pros
One great point that makes Kayak stand out is its booking flexibility, making it easy for you to search, filter, and sort out the suitable travel options for you.
You can change flights at no charge, and hotels, rentals, and even car rentals are available with free cancellations, comfortable seats, and affordable deals.
It takes stress off travel planning by providing over 900+ sites to compare and filter options; you can easily search, filter, and book a rental car that suits your trip and explore new destinations within your budget.
Cons
Reviewers note they've experienced fluctuating customer service and errors in hotel descriptions that they then noticed upon arrival.
3. Google Flights
Google launched Google Flights in 2011 as a part of Google Travel's plans to facilitate online flight-booking search services. This allows open-ended searches for flights based on criteria rather than a destination. In addition, it works within your budget, enabling you to spot the cheapest date to fly to your destination.
Pros
Google Flights boasts a fast flight search engine.
It allows you to see results for tickets and reservations up to 12 months in advance.
It affords you the opportunity of traveling within the cheapest of budgets while having direct contact with the airlines rather than third parties.
You can find and book round trips; use the interactive calendar and price graph to find the best fares; and filter your flight search by cabin class, airlines, and the number of stops.
Cons
It's lacking in the number of available airlines.
It also lacks customer support, which means you are left on your own to figure out answers to your questions when you have them.
4. FlightStats
FlightStats is a free, real-time flight-status and airport-tracking app that allows you to check your flight status online. It's ideal for tracking booked flights, seeing whether your flight is delayed, and monitoring your trip.
Pros
It affords you the opportunity to track flights anywhere in the world via a specific flight number, route, or airport.
It allows you to share your flight right from the flight overview screen and get in-depth descriptions and essential information on current airport conditions and all travel activities.
The information obtained after searching for a flight is saved in the My Flights tab and can be easily accessed at any time.
Cons
Reviewers provide an indication of dissatisfaction, especially with some basic functionality lacking in certain areas of the app.
5. FlightRadar24
As you can probably tell from its name, FlightRadar24 is an app that provides the service of showing you your aircraft as you move around the world. Selecting a flight reveals information that includes its route, speed, altitude, and estimated arrival time.
Pros
Provides flight-tracking information.
Provides information on take-off locations and destinations.
Information on aircraft types and flight numbers is available.
Cons
As a rule, the data source for tracking the airplane is to be obtained from the airport website, which sabotages the entire idea.
There is also a problem with the promptness of status updates and a lack of clarity on what the airplane might be doing at a particular time.
Our lives and the world have been revolutionized by technology that has created amazing tools like these tracking apps that make things easier, better, faster, and more fun. Using one of these apps or sites could help save you time and money, make your tracking of an airline flight a lot easier no matter where you are, and even help you find cheap travel tickets within your budget.