Every year, it's fun to garnish your home with winter greenery and holiday decorations, but this year — one that's seen us all spending much more time around the house — it feels particularly exciting to freshen things up. Whether you're putting up a Christmas tree or just looking to make your space a bit more evergreen, there are plenty of wonderful, wintry adornments to choose from. One of the most popular, and timeless, is the wreath. Sure, picking one up from the local farmer's market does the trick, but wreaths also make great DIY projects. We've rounded up some of our favorite types of wreaths so that, no matter your personal style, you can craft your way into some festive decor.
For the Classic Look: A Traditional Evergreen Wreath
Nothing helps ring in the holidays like an evergreen wreath. It's a classic look — and such wreaths look great both indoors and outdoors. Although price tags on premade live wreaths can get quite high, making your own can be surprisingly inexpensive, especially if you use excess trimmings from your Christmas tree.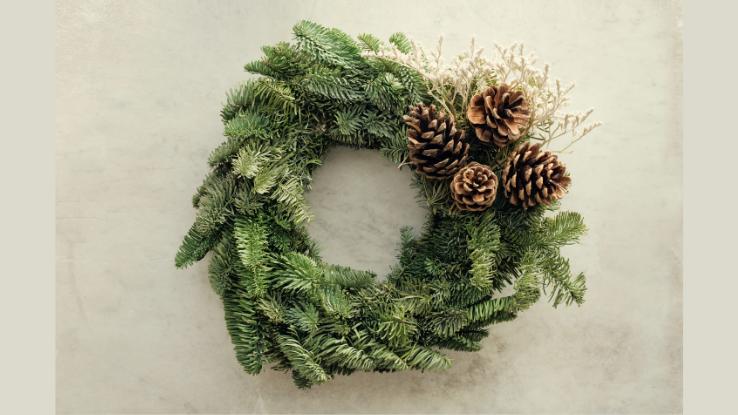 Apart from evergreen boughs, you'll need to pick up a wire wreath form, floral wire, pruning shears and a wire cutter. According to a full tutorial from Delia Creates, using a small wreath form is just fine because the volume of the boughs will certainly add to your wreath's size and fullness. To get started, you'll want to cut "8-10 inch sprigs of evergreen needles and group them together into small bundles."
Next, you'll lay a bundle inside the groove of the wreath form and secure it using floral wire. Then it's a bit of a rinse and repeat scenario: You'll just lay another evergreen bundle on top of the first, "staggering the spacing a couple of inches." When you come back around to that first bundle, you can add more evergreen sprigs beneath it to increase the wreath's volume. When you're finished, cut the floral wire and twist the end into the wire wreath form to both hide and secure it. If you're so inclined, you can add embellishments like pine cones, red berries or battery-powered lights.
For the Minimalist: A Scandinavian-Style Wreath
Feeling less Christmas-flashy and more minimalist this year? Well, even without boughs or baubles, you can still make a truly beautiful and festive wreath that serves as the perfect at-home decoration all winter long. Known as a Scandinavian-style wreath, this simple twist on the adornment doesn't necessarily require branches and twigs — in fact, all you need to get started is an embroidery hoop.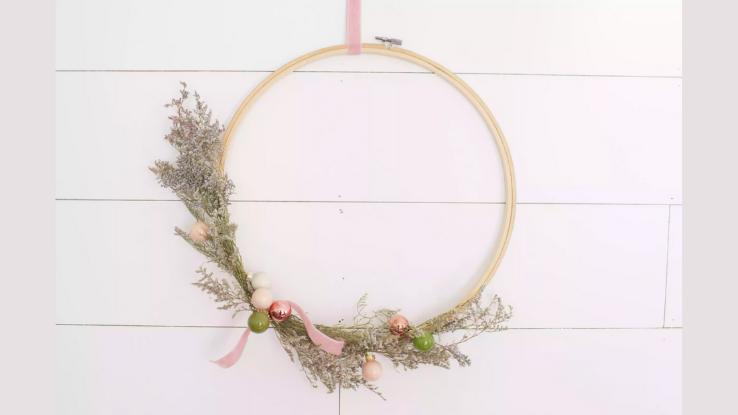 Much like a wire wreath form, the hoop serves as the foundation for this type of wreath, but, unlike the wire form, part of the beauty here is that the hoop remains mostly visible, even in the final product. The Spruce has a complete walkthrough on this one, but let's just say the possibilities are endless. We recommend attaching some sprigs of evergreen, bits of lavender or other dried flowers and securing them with floral wire. Although natural-looking adornments, like berries and pine cones, are most often used, ribbons and small baubles can add some extra-festive flair.
For the Flashy Look: An Ornament Wreath
If minimalism isn't your thing, you can always go the "merry and bright" route by fashioning a wreath out of Christmas ornaments. That's right: Skip the evergreen sprigs, berries, twigs and other natural elements altogether and opt for something different this year. Unless you don't mind contending with the elements, an ornament wreath is probably best hung indoors, which means it's also the perfect way to add a pop of color to your living room or kitchen. While the end product looks stunning, it isn't actually that complex, even for folks who aren't serious about arts and crafts.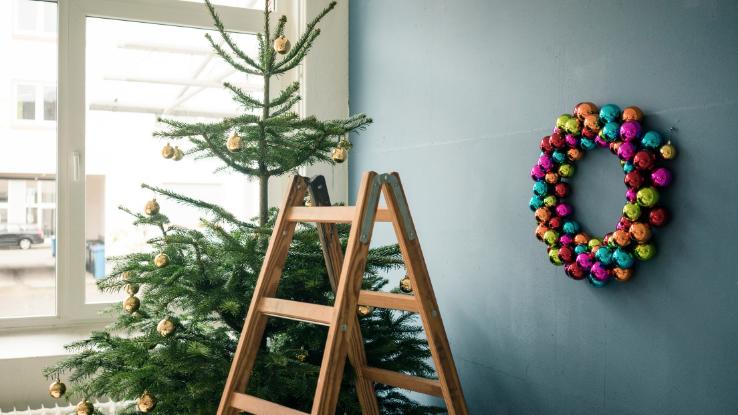 All you'll need is a wire wreath form, a hot glue gun and, of course, some Christmas baubles in various sizes — bonus points if they're shatterproof or plastic. When hot gluing your first bauble to the wire form, The Spruce recommends finding a joint on the wreath and gluing said bauble in place there. Essentially, you'll continue gluing ornaments around the form in clusters, and, once you have a base layer, you can add more — preferably smaller — baubles on top of that foundation to give the wreath volume and depth. Pro tip: Try removing the baubles' hangers, or place the ornaments on the form so the hanger side is hidden.
For the Crafty Person: A Paper Holiday Wreath
Feeling extra crafty this holiday season? A wreath made of beautifully folded paper is the one for you. As with the other wreaths on our list, you don't need too much to get started. To make something similar to the one pictured below, pick up some foam core board, green card stock or craft-worthy paper and a hot glue gun. If you're looking for a more colorful paper wreath that's still green in the environmental sense, you can use all of those weirdly shaped wrapping paper scraps in lieu of green paper.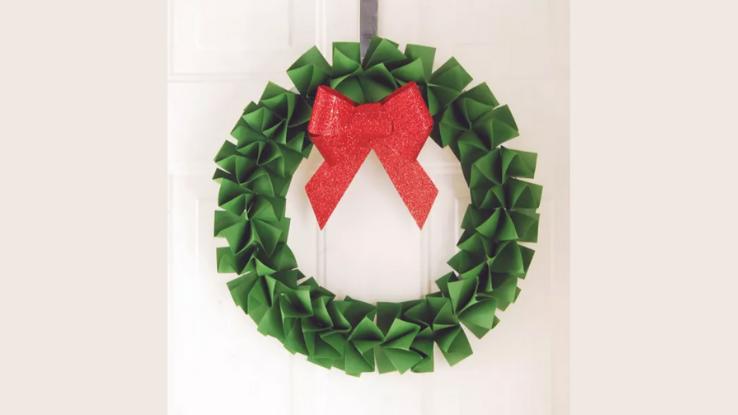 No matter the materials, this paper wreath is likely the most challenging to make on our list — though maybe I'm just speaking for myself. Luckily, Proper has a solid step-by-step breakdown of how to craft one of these beauties. First, cut out a foam core circle to use as the base; next, fold your strips of green paper (or gift wrap) accordion-style. Finally, glue one end flat to the form core and "gently twist and fold the paper until you can hot glue that other end… both ends [should be] flat against the foam core." Soon enough, you'll have a wreath of faux greenery!
For the Festive Person With No Time: Premade Wreaths
Some years there just isn't enough time to deck the halls and create all those adornments with which you'll be decking. And that's where pre-made wreaths come in. Of course, even when someone else does the work of fashioning one, you'll still have the tough task of selecting which evergreen decoration you want to nail to your door or hang above the fireplace.
That's why we'll help you narrow things down. If you're looking for a fresh wreath — one that smells like a Maine forest — then you'll be pleased to discover that Home Depot delivers real ones, like Worcester's Fresh Balsam Fir Wreath. Maybe you'd rather invest in a wreath you'll use year after year? That's where things get a bit tricky.
For the person who doesn't have time for the full crafting experience but still wants to add their own bows, berries and other adornments, we recommend something a bit plain and customizable, like Northlight's Unlit Canadian Pine Artificial Christmas Wreath. If the phrase "merry and bright" really speaks to you, try the National Tree Company's Prelit Artificial Wreath With Silver Ornaments, and if you want that classic look with all the trimmings — including lights! — opt for the Woodmoore Battery Operated Mixed Pine LED Pre-Lit Artificial Wreath With Timer. Whichever wreath you choose — or choose to craft — it's sure to make your holidays all the more fun and festive!
Advertiser Disclosure: When you purchase through links on our site, we may earn an affiliate commission.