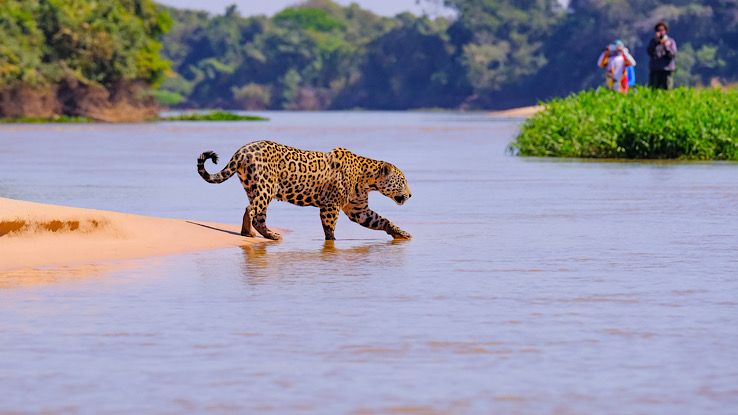 The first guess for a remote place in South America teeming with wildlife, primordial in its wildness? Likely the Galapagos Islands. They offer outstanding biodiversity and an appealing setting to see animals in their habitat. The problem, though, is that secret has been out for a while now. The Galapagos suffers from overtourism, with throngs of visitors surrounding every tortoise they can find or getting way too close to resident sea lions, hoping to get that Instagram-worthy shot no matter the shock they cause. Pollution, environmental damage, and draining resources are all side effects. So, where can you go instead? Try the Pantanal in Brazil, where you can find much of the fascinating appeal of the Galapagos while limiting your impact on the land and local culture.
About Brazil's Pantanal
The Pantanal is massive. It is the world's largest tropical wetlands, covering an area of more than 42 million acres. Located primarily in Brazil, it sprawls into parts of Bolivia and Paraguay, providing water, land, and countless resources to millions of people and animals. The significance of this type of land is underappreciated, and half of the world's wetlands have quietly disappeared without much uproar. The Pantanal Brazil is an excellent chance for people to visit and help protect these places forever.
Best Time To Travel To Brazil's Pantanal
The Pantanal is largely undeveloped, and traveling around can be challenging. However, everything is easier in the dry season. From May to September, moving from one place to another is much simpler because roads stay above water, which is the best time to visit Pantanal Brazil. Also, these are the best months for wildlife viewing, as countless numbers of animals flock to limited waterholes, giving you the best chance to see those species you hope to spot. Caimans, jaguars, and the largest parrot on the planet – the hyacinth macaw – are just some of the exotic wildlife you'll see.
What To Expect
Most visitors fly to a city near the outskirts of the park, typically Campo Grande, Cuiabá, or Corumbá, and then travel to a remote lodge or ranch that serves as a base camp to explore the Pantanal. These rural spots have the basics you'll need, usually providing all the food and drink during your stay. These lodges range from rustic to luxurious, from simple tents to air-conditioned suites with private verandas.
Language: Portuguese is the primary language, but Spanish is widely understood, so if you can speak essential phrases in either, you should get by okay.
Wi-Fi and Cell Phone Service: You will find Wi-Fi at the lodges, but cell service can be spotty in much of the Pantanal.
Currency: American dollars are a good idea for tipping guides, but the main currency throughout Brazil is the Brazilian real.
Card Use: Most places accept credit cards, particularly MasterCard and Visa. American Express is generally accepted, but Discover and others may not be.
Plugs: The electric plugs are often compatible with North American devices, but you can contact your specific lodge in advance to see what types of plugs they have.
Health: Once you are out in the wilderness, you may encounter wild and dangerous animals, so sticking with a guide is the safest bet. Additionally, you should get a yellow fever vaccination and take malaria pills before visiting the Pantanal.
Top Places To Visit Brazil's Pantanal
The Pantanal wetlands are vast and diverse, and where you choose depends on your interests. Many people want to center their trip around finding the elusive jaguar, and the Porto Jofre and northern Pantanal regions are ideal for spotting these big cats. Most visitors focus on the northern and southern portions of the wetlands for easier access and the probability of finding exotic plants and animals in high concentrations. The Estrada Parque is the main pathway if you come into the region from the south. If you enter from the north, the Transpantaneira runs deep into the area, giving you access to prime, unspoiled wilderness. In the wet season, visitors need to take a boat or small airplane, opening up the potential to go anywhere they can dream. You won't be disappointed if you seek Pantanal Brazil alligators, river otters, coati, or toucans.
Sustainable Travel Destinations
As an alternative to the Galapagos, the Pantanal is perfect if you want to decrease your footprint when traveling. Brazil, Paraguay, and Bolivia have significantly increased sustainability in their lodging, tours, and transportation methods. Some examples include:
Bucket List Experiences
The Pantanal wetlands give tourists endless bucket list potential. This area offers the densest concentration of jaguars in the world, and your odds of finding one (or more) are very good. You can:
Go on a jaguar safari to see these predators in the wild, a rare experience you will never forget.
Take a boat, canoe, or kayak the endless rivers of the Pantanal to observe giant otters, capybara, and the impressive caimans, with hundreds of them lining the banks at a time.
Fish for piranhas with a local fishing guide, frying them up for dinner – with their teeth intact!
Take a 4×4 off-road safari at night to find caimans, giant anteaters, and many other creatures.
Go on an exciting horseback ride deep into the wild for a unique adventure.
No matter how you spend your time in the Pantanal, you can do it responsibly and sustainably without negatively impacting local communities and the planet. So, the next time you consider a wildlife-rich, exotic South American destination, skip the Galapagos – check out the Pantanal instead.