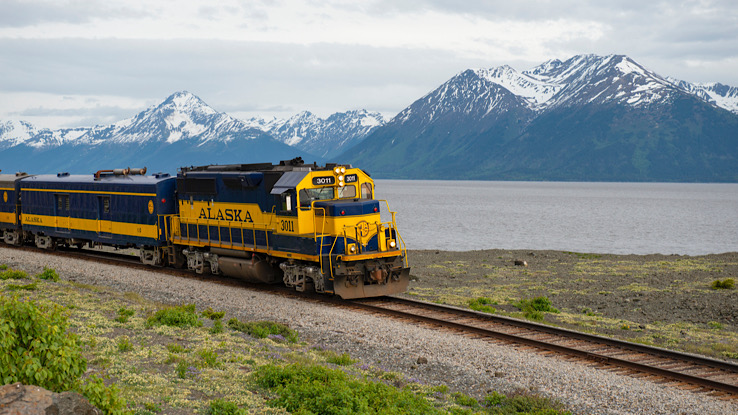 When you think of exploring Alaska, you probably think of exploring Alaska via cruise or boat excursion. And, of course, exploring the Alaskan shoreline on the sea is the best way to see native ocean life, like humpback whales. However, there are hundreds of land animals native to Alaska that you can't see from the water, like moose and black bears. Perhaps the best way to catch a glimpse of these creatures is by exploring Alaska by train.
About the Alaska Railroad
The Alaska Railroad is a railway that stretches over 400 miles from Seward to Fairbanks, cutting right through the lower half of Alaska. This railroad was built in 1903, and initially, it only included a route from Seward to Anchorage. However, the train was vital to getting passengers, supplies, and mail to Alaska's largest cities at the time. Historically, dog sleds and small boats would carry supplies farther north at the end of the railroad. However, over the 20th century, the U.S. government funded the railroad expansion so that it could make stops in Talkeetna and Fairbanks, which it still does today.
Travel Alaska by Rail
Those who choose to explore the Alaskan landscape from a comfortable train car can see native wildlife along with picturesque views of mountains and glaciers. The Alaska Railroad offers two classes of passenger travel: Adventure Class and Goldstar Service.
The Adventure Class is a more budget-friendly travel option. But, it still includes tickets for comfortable seats with wide windows and access to onboard dining options in the Wilderness Café train car. In the summer, Adventure Class passengers can also sit in a lounge area on the Vista Dome cars.
As for Goldstar Service passengers, the seats are unassigned on double-decker train cars with domed ceilings and walls made entirely of glass for amazing views. These passengers also receive full dining experiences with their tickets on the lower levels of these double-decker cars. When you dine through Goldstar Service, you'll be able to eat in booths by wide windows with fine dining menu options. Each Goldstar passenger will also receive tickets to have two complimentary drinks from the bar while en route. Lastly, these passengers can access the outdoor deck viewing areas in the summer months.
Best Alaska Railroad Trips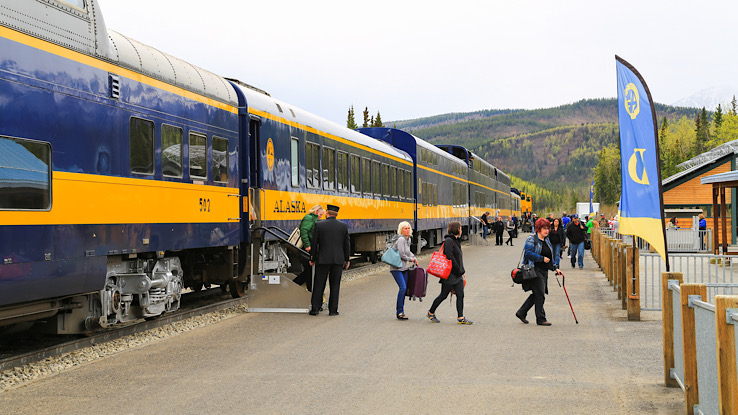 Aurora Winter Train
If you want to experience the beauty of the Alaskan wintertime, consider taking the Aurora Winter Train route which travels to and from Fairbanks and Anchorage from November to March. The entire length of this route takes a total of 12 hours to travel, and it is sometimes offered as an overnight trip. However, you can also take the shorter version of the route between Talkeetna and Anchorage for only 3 hours. However, only by taking the 12-hour trip can you experience views of Mount Denali and get a chance to see the Aurora Borealis, or the Northern Lights, in the dark sky.
Tickets for the entire length of the Aurora Winter route start at $223 one-way for adults and $112 for children and seniors. However, you can get some discounted tickets during the value seasons, usually during the months of October and April. Children ages 2 to 11 can qualify for child tickets while seniors 65 and up can purchase senior tickets; children under age 2 ride free.
Princess Rail Tours
The Alaska Railroad offers Princess Rail packages for multi-day train travel experiences to and from Anchorage and Fairbanks any time of year. The Princess Rail includes Goldstar Service double-decker domed cars with onboard dining options. The Princess Rail packages include stays at area lodges or hotels along the route with shuttles to and from the train depots. These tours allow passengers to take a day or two to explore Denali National Park on their own or with a tour group.
When you want to purchase Princess Rail packages, you can choose between yellow packages or blue packages. Yellow packages include hotel accommodations at your starting and ending destinations, while blue packages do not. Yellow packages start at $1249 when you travel from Fairbanks to Anchorage and $1149 when you travel from Anchorage to Fairbanks, while blue packages start at $599 for travel both from Fairbanks to Anchorage and Anchorage to Fairbanks. All tickets for these packages are one-way only, and many riders choose to fly into Fairbanks, take the train to Anchorage, and then fly out from Anchorage or vise-versa.
Hurricane Turn Train
The Hurricane Turn Train route is unlike any other; it is a flagstop train that makes stops at mile markers that passengers request. Most riders of this route are regulars who own cabins and homes along the railroad track. However, the train also takes passengers to Hurricane Gulch, where a bridge sits 296 feet above Hurricane Creek. Many passengers enjoy getting off the train at Chase and exploring the Sustina River with the Denali View Rafting service. With this service, you will float 10 miles down the river and stop for lunch on glacial silt islands before making your way back to Talkeetna. Pricing for this route changes seasonally. You can expect to pay about $114 for adult round-trip tickets and $57 for child round-trip tickets in the summer. While winter prices are just $108 for adults and $54 for children.
Coastal Classic Train
Perhaps the most scenic train route in Alaska is the Coastal Classic route from Anchorage to Seward. Along this route, passengers travel through steep mountain passes and get glimpses of native animals like Dall sheep, bald eagles, moose, and even beluga whales along the coastline. The Coastal Classic route stops at Seward and Girdwood, both of which offer overnight accommodations and daytime excursions. For a full round-trip with Goldstar Service, you can expect a ticket cost of $393 for adults and $231 for children; full breakfast and dinner meals are included in this price. You can also purchase full round-trip tickets with Adventure Class service for $173 per adult and $87 per child.
When you travel to Seward from Anchorage, you can book a round-trip with a 7-hour visitation period in Seward. While in Seward, you can take a short Glacier & Wildlife Cruise to get out on the sea. You can also go to the official Alaska Sealife Center and hike to Exit Glacier to get on your feet.
If you'd like to travel from Anchorage to Girdwood, you can take the train for about 2 hours, then stop for a day or two to spend time at a ski resort. Also located in Girdwood is Crow Creek Mine, a preserved mining town from the late 1800s that offers prospect tours and guided gold panning activities for visitors.
The Pros & Cons of Exploring Alaska by Train
As mentioned before, you won't likely see as much sea life as you would on a cruise traveling on the Alaska Railroad. However, you can combine a short cruise with a day on the train to get a varied experience. Lengthy trips on the Alaska Railroad with Goldstar Service can be quite pricey, but taking a trip from Seward to Fairbanks via Adventure Class is much more comfortable than traveling on your own in either a car or bus.
By taking the Alaska Railroad to any city, you can see the vast Alaskan wilderness for yourself, with views inaccessible by regular roads. This railroad company offers multiple routes and packages so that you can choose your own adventure, too. Some routes feature local guides that will help you learn about the landscape's history as you travel. Needless to say, choosing to take the train in Alaska is an experience you will never forget or regret.