Hemingway: An Adventurous Author
"Every man's life ends the same way. It is only the details of how he lived and how he died that distinguish one man from another."
These words from literary giant, Ernest Hemingway, illuminate his dedication to a life well lived. The adventure-seeking author hailed from Oak Park, Illinois, and his life as a reporter, soldier, and novelist took him all over the world. Hemingway's life reads like fiction and his unique relationship with the Florida Keys is a true love story. Much like his writing, with subtext brimming under its minimalist exterior, Hemingway's relationship with Key West goes deeper than a quick getaway.
In the early 1930s, Hemingway stopped over in Key West's Old Town while waiting for his car to be delivered from Cuba. Before moving into the legendary Hemingway house, the prolific writer and his first wife Pauline stayed in the Trev-Mor Hotel, where Casa Antigua now stands. In order to travel through Key West, Hemingway-style, let's start with his first home.
Casa Antigua
Hemingway lived on the second floor which currently houses a private home. Though the Pelican Poop Shoppe on the first floor is closed and the property is not currently offering tours, there are walking tours that include visiting the modest storefront of this historical site where Hemingway first fell in love with Key West and worked on Farewell to Arms.
Key West Historic Memorial Sculpture Garden
Hemingway was absolutely inspired by Key West and continued to write throughout his years there. The natural beauty of Key West is one of the things that drew Hemingway to the idyllic location, and the Key West Historic Memorial Sculpture Garden captures a bit of that natural beauty and features the busts of a number of historical figures including Hemingway himself. Affectionately regarded as "Papa's Bust," the depiction of Hemingway among the beauty of the garden is an exquisite site.
Dry Tortugas National Park
Dry Tortugas National Park is another gem where the natural splendor of Key West is on full display. Hemingway loved these breathtaking islands even after being marooned with his friends after a fishing trip took an unexpected turn. Embark on your own adventure as you explore the park and even take some time and plan a camping trip. The mainland has plenty to offer and so does the tropical water. Take it all in on a fishing trip and get in touch with your inner Hemingway as you embark on the open water.
A part of the beauty of fishing is enjoying the fruits of your labor. But even if your fishing trip doesn't yield a great catch, there are plenty of places to enjoy seafood and bask in the beauty of Key West like the late author.
Blue Heaven
This Thomas Street restaurant features the seafood staples that the Keys are known for and has a rich history as well. Blue Heaven sits on the property where Hemingway used to officiate boxing matches. Condé Nast's Traveler calls it "one of Key West's best restaurants." In addition to stunning natural landscapes and delectable food, you can also visit more of Hemingway's haunts, which are still staples in Key West's rich nightlife.
Captain Tony's Saloon
Starting with Captain Tony's Saloon, which sits on the property where the original Sloppy Joe's was located. Hemingway frequented that original location and Captain Tony's holds that history proudly. The bar is named after former Key West mayor, Anthony "Captain Tony" Tarracino, and is the perfect location for a balmy Key West night.
Sloppy Joe's
If you're looking for a Papa Doble, also known as the Hemingway Daiquiri, don't look any further than the local watering hole. Rumor has it that Hemingway himself is responsible for the name Sloppy Joe's. Though the classic bar has relocated, Sloppy Joe's is still famous for its association with Ernest Hemingway and even hosts a Hemingway look-alike competition. Have a Papa Doble or maybe enjoy a minty Hemingway Mojito and connect with the local community in this bastion of Key West's resilience and fun-loving culture.
Custom House Museum
If you're interested in learning more about the symbiotic relationship between Key West and Hemingway, the Custom House Museum is a great place to start. Among other historically significant exhibits, visitors can find fascinating information about Hemingway and his time in the Keys.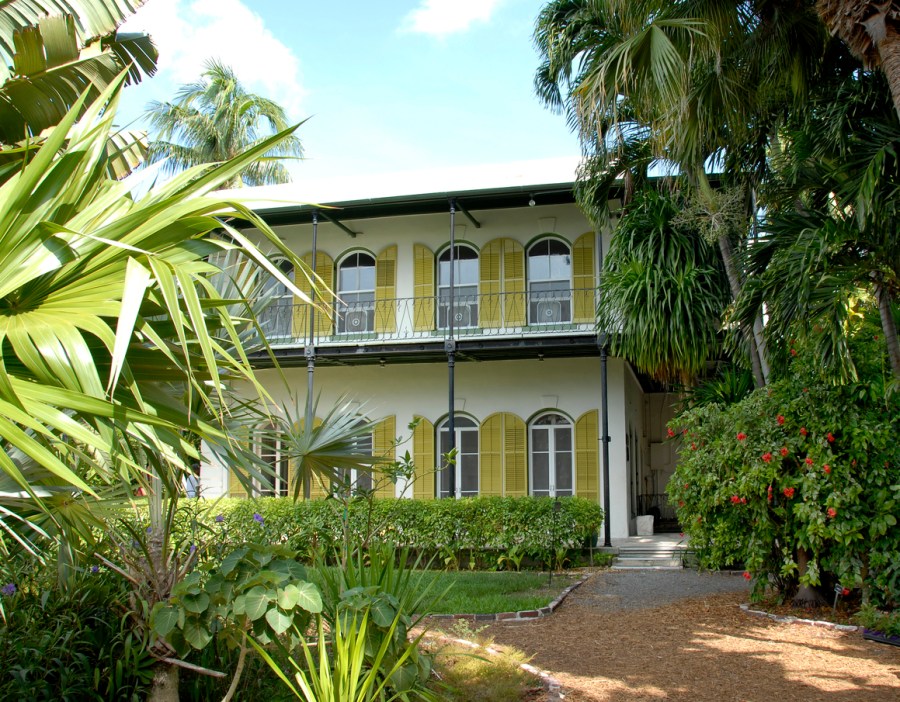 The Hemingway Home and Museum
Looking to immerse yourself further in the Hemingway experience? Take a trip to the famous Hemingway house and explore the grounds. Keep an eye out for the descendants of Hemingway's six-toed cat, Snow White, that can be seen roaming the grounds. Explore the property informally, do a little shopping, or schedule a tour.
Read To Have and Have Not
Let your mind drift away into the tale of a fishing captain in Key West while indulging in all of the incredible attractions that the sunny locale has to offer. Though it is not one of his most acclaimed works, To Have and Have Not gives a glimpse into the sociopolitical issues that Hemingway was interested in and shows how Key West influenced Hemingway's life and work.
Hemingway Days
If you want to have a truly immersive experience, consider exploring Key West in the spirit of the late Noble prize-winning author during Hemingway days. In late July, Key West recognizes the life and legacy in a days-long celebration that includes the look-alike contest at Sloppy Joe's, exhibits, readings, a street festival, and more!
Choose Your Own Adventure
Whether you explore the natural splendor of Key West, stick to Hemingway's stomping grounds in Old Town, focus on visiting museums, or some combination of the three, what's most important is that you craft an adventure of your own. Just as Hemingway brought fiction to life, let Key West inspire you to create your own experience and maybe even try your hand at doing something creative like writing a story or painting a sunset.
After all, whether you spend time at the Hemingway house, at your favorite bar, or out on the water catching dinner, tapping into your sense of adventure is the true key to having the Hemingway experience in Key West.