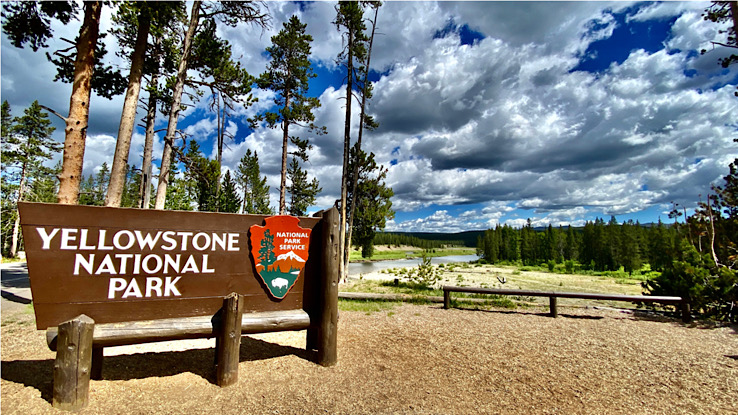 Yellowstone National Park is a fascinating combination of raw wilderness and attractive recreation areas. This expansive park stretches across 3,500 square miles above a volcanic hot spot. Located mainly in Wyoming, Yellowstone also extends into Montana and Idaho.
This vast park will offer spectacular canyons, lush green forests, sparkling alpine rivers, healing hot springs, and active geysers, including the celebrated Old Faithful. Guests enjoy sighting nearby bears, bison, and antelope, as revealed in the Yellowstone visitors guide.
Brief History of Yellowstone Park
Yellowstone National Park originated in 1872 and became the first U.S. national park when U.S. President Ulysses S. Grant signed the Yellowstone National Park Protection Act. Yellowstone started the global practice of protecting areas of natural beauty for their inherent value and public enjoyment.
How To Get To Yellowstone
Bozeman Yellowstone International Airport (BZN) in Montana is the nearest airport to Yellowstone with global connections. In fact, advertisements for this airport call it the "Gateway to Yellowstone." Bozeman is the most active airport in Montana, offering nonstop flights to 21 cities across the country.
United, Delta, and American Airlines all offer nonstop flights to Bozeman. This airport is a two-hour drive to the West Entrance of Yellowstone, and this is the park's busiest entrance, although the North Entrance is the one that is open year-round.
Airlines offering flights to Yellowstone from major U.S. airports include American Airlines, Alaska Airlines, Delta, United, and Sun Country Airlines. These airlines provide flights to Jackson Hole Airport (JAC) in Grand Teton. This is the only commercial airport in the country that is located inside the boundaries of a national park.
The closest Amtrak station to Yellowstone National Park is Salt Lake Central. From this station, Yellowstone's West Entrance near the geysers is about a five-hour drive away. This information is detailed in the Yellowstone visitors guide.
No public transportation service is available within the park. However, Xanterra Parks Resorts offers bus tours inside the park throughout the summer season. During winter, some local companies offer snow coach tours on most of the park roads. There is also some bus transportation along the Mammoth Hot Springs road toward Cooke City. You can also easily get around the park when participating in one of the Jackson Hole Yellowstone Tours.
When To Visit Yellowstone
The ideal times to visit Grand Teton and Yellowstone are from the last week in April through May and from September through early October. During these periods, the weather is relatively mild. There are fewer visitors and very few road closures inside the park.
Visitor volumes peak during July and August since schools are closed, and the weather is warm enough for outdoor sleeping. For this reason, you may wisely decide to visit Yellowstone in June. For more information on schedules for exciting tours and activities, you can consult a representative from Jackson Hole Yellowstone Tours, BrushBuck Wildlife Tours, Yellowstone Geyser Kayak Tours, or Globe Trekkers Tours.
Yet temperatures can plummet into the 30s during summer in the park's high elevation venues. In winter, temperatures vary greatly, from subzero to upper 20s. But if you and your family members or travel buddies can weather the cold, you can actually witness jets of steam rising high through a blanket of snow and ice while you stay warm RVing Yellowstone.
Where To Stay Near Yellowstone
There are excellent choices for scenic and comfortable accommodations during your visit to Grand Teton and Yellowstone, including the following:
Madison Campground
Named after the nearby Madison River, Madison Campground is located in a beautiful mountain setting with plenty of wildlife. It is in a partially wooded locale at an elevation of 6,800 feet. This campground is 13.4 miles away from Yellowstone National Park.
Close to Old Faithful, this convenient campground is also near the Upper, Midway, and Lower Geyser Basins. This is the perfect location for visitors who love camping in the spectacular, great outdoors or RVing Yellowstone, especially if you visit Yellowstone in June or soon after. Nightly rates start at $29.
Old Faithful Inn
Old Faithful Inn is a national historical landmark offering the most popular guest accommodations in the park. It was constructed of local logs and stone from 1903-1904 and is noted as the largest log structure worldwide. This charming inn is 30.4 miles away from Yellowstone.
The lofty lobby houses a huge stone fireplace plus a handmade clock of wood, copper, and wrought iron. Suites in the East Wing with a window overlooking Geyser Basin have a breathtaking scenic view. Nightly rates start at $229.
Mammoth Hot Springs Hotel & Cabins
Mammoth Hot Springs Hotel & Cabins is a charming hotel, named after nearby springs. It warmly welcomes both summer and winter guests who are visiting Grand Teton and Yellowstone. The current hotel was built in 1936 and still includes a section of guest rooms that were constructed in 1911. This historic hotel with adjoining cabins is only 4.8 miles away from Yellowstone.
Some guest accommodations and public spaces were recently renovated in keeping with the original style. The hotel's well-known Map Room displays a large U.S. map made of 15 varied species of wood from nine different countries. Guests often see elk grazing in the hotel's scenic setting, as explained in the Yellowstone visitors guide. Nightly rates start at $306.
Best Western Weston Inn
This Best Western Weston Inn is popular among leisure travelers. These individuals, couples, families, and groups visiting Yellowstone like convenience and creature comforts. They are delighted with the inn's business center, pet-friendly policy, complimentary breakfast buffet, and many other amenities. Guests also favor the inn's location, just five blocks away from the favorite West Entrance to the park.
A major park attraction, the Old Faithful geyser, is just 30 miles away. The friendly, experienced hotel staff supplies visitors with full information about Yellowstone and nearby attractions like the Grand Teton National Park. Nightly room rates start at $370.
Holiday Inn West Yellowstone, an IHG Hotel
The Holiday Inn West Yellowstone is rated as the seventh-best place of value to stay out of 208 different guest accommodations at Yellowstone National Park. Located 16.1 miles from Yellowstone's West Entrance, this friendly, attractive hotel is near the park for day-trippers and longer-term guests.
This Holiday Inn is a favorite place to stay for many park visitors. It is conveniently located for exploring all areas of Yellowstone. This famous inn offers guests such amenities as a heated indoor swimming pool, hot tubs, a fitness center, and a communal game room. A full-service Montana-style restaurant is on the premises. Nightly room rates start at $352 to $368.
Days Inn by Wyndham West Yellowstone
Located in the center of town, the Days Inn West Yellowstone Hotel provides relaxing and inviting resort-style guest accommodations. This attractive inn is located just 16.1 miles from Yellowstone National Park. Every attractively designed room includes several appealing amenities, and there is something for every age and type of guest.
There is an indoor swimming pool with a 100-foot water slide along with two hot tubs available for guests' enjoyment. The hotel's Trapper's Restaurant starts serving breakfast each day at 6:30 a.m. One call to the excellent staff will schedule and confirm your accommodations while visiting Yellowstone. Nightly room rates start at $218 to $239.
These large commercial hotels and inns often offer special seasonal rates for guests who book long-term stays. Reduced rates may also be available for large group tours of Yellowstone, including accommodations for tour participants.
What to Do and Must-Sees
Grand Canyon of the Yellowstone River
The Grand Canyon of the Yellowstone River reveals the complicated historical geology of the park in colorful, dynamic detail. The hydrothermal aspects of the canyon walls are highlighted by puffs of steam.
The grandeur and splendor of Yellowstone are accented further by the spectacular Upper and Lower Falls of Yellowstone River. Plenty of walkways and trails follow along the canyon's rims leading downward into part of the canyon. These walkways offer fabulous photo-op vantage points.
The Grand Canyon is in the northern section of Yellowstone, and the nearest park entrance is the Northen Entrance near Gardiner, Montana. After entering the park, the best way to access the canyon is to drive to North Rim Drive, which starts 1.2 miles (1.9km) south of Canyon Junction.
The road to Brink of Upper Falls is 1.6 miles (2.6 km) southward from Canyon Junction on the Grand Loop Road. Here, you can walk along a paved path to experience the dramatic view of the Yellowstone River cascading over Upper Falls.
The beginning of South Rim Drive is 2.3 miles (3.7 km) to the south of Canyon Junction. Following this drive, you can enjoy spectacular views of Upper Falls at Upper Falls Viewpoint, Lower Falls, and other areas of the canyon at Artist Point.
Old Faithful Geyser
Travelers from around the globe visit Yellowstone to see this world-famous geyser. In fact, Old Faithful Geyser was a major inspiration for establishing Yellowstone National Park. As one of almost 500 geysers in the park, Old Faithful is one of six with eruptions that the park rangers can predict.
Although accurately predicting eruption times for most geysers is rare, Old Faithful has only varied the time between its regular eruptions by 30 minutes during the past 30 years. You can access Old Faithful most easily from the park's West Entrance. Although the distance from West Yellowstone near the park's West Entrance to Old Faithful is only 20 miles, the driving distance is 31.4 miles.
Sight Wild Animals
Look for the park's noted large animals starting in Hayden or Lamar valleys. With the aid of a spotting scope or binoculars, you can enjoy viewing bears, bison, elk, moose, antelope, wolves, and mountain goats from a safe distance. Of course, there are plenty of smaller animals to observe as well, including pelicans, geese, swans, bald eagles, ottos, trout, and other fish.
Lamar Valley: Magical Lamar Valley is easily reachable through the Northeast or North Entrances to the park. It is along the road from Pebble Creek Campground to Tower Junction. Driving west on Northeast Entrance Road, you will reach Lamar Valley within about ten miles.
Hayden Valley: Stunning Hayden Valley is in the central section of Yellowstone on the road from Canyon Village to Fishing Bridge. It is just nine miles south of the Grand Canyon, and you can access this locale most easily through the North Entrance to the park.
Picnic
There are various scenic and inviting picnicking areas throughout Yellowstone, including the following popular sites:
Nez Perce Ford Picnic Area: The Nez Perce Ford picnic area adjacent to the Yellowstone River can be reached by traveling along Routes I-80 W and I-90 W to the edge of Hayden Valley just south of the Grand Canyon. You can access this area through the North Entrance to Yellowstone. At this location, Chief Joseph crossed the Yellowstone River in 1877 during the flight of the Nez Perce Indian tribe from the U.S. Army. This picturesque area is one of Yellowstone's most popular picnicking venues, especially if you visit Yellowstone in June. Here, you can have breakfast with the bison and lunch with the pelicans in this scenic riverside setting.
Gibbon Meadows Picnic Area: You can reach the Gibbon Meadows picnic area near Gibbon Falls along the road from Madison Junction to Norris Geyser Basin in Yellowstone. It is slightly south of Back Basin in Norris and a little northward from Artist Paintpots. Here, you can view stately elk passing by while picnicking in a beautiful meadow bordered by lush green woodlands. This is one of the best spots to view elk and many other forms of wildlife in Yellowstone.
Go Kayaking
You can experience a captivating kayak tour at Yellowstone locations like:
West Thumb Geyser Basin: A West Thumb Geyser Basin kayaking tour will lead you on a fascinating exploration of many geothermal features, both underwater and on the land. Single and double kayaks are available, and beginning kayakers and those more experienced are welcome. Yellowstone National Park is one of the leading worldwide kayaking locations, and West Thumb Geyser Basin is a favorite spot among kayakers. This well-known venue is the most extensive geyser basin on the shoreline of Yellowstone Lake. The East Entrance to Yellowstone will lead you to this stunning, scenic lake.
Lewis and Shoshone Lakes: A Lewis and Shoshone Lakes kayaking excursion is truly fascinating when visiting Yellowstone in June. Shoshone Lake is Yellowstone's second-largest lake. It is located in the backcountry at the head of the Lewis River. As the biggest backcountry lake across the United States, Shoshone is without road access. In fact, only hand-propelled boats can travel this lake. The Shoshone Geyser Basin is at the most distant point of Shoshone Lake, and you can reach it only by hiking 17 miles or by kayaking. On a three or four-day kayaking tour, you can get an unforgettable perspective of an intriguing part of the park that only a few of the many visitors ever experience.
Best Yellowstone Hiking Trails
The best of the numerous well-known hiking trails of Yellowstone Park include the following:
Biscuit Basin Trailhead
At Biscuit Basin Trailhead you can enjoy a six-hour hike from this splendid trailhead along the Firehole River, catching sight of multiple bison, bears, and other wild animals. There are plenty of spots along the way to rest while having a snack or refreshing beverage.
You can reach this trailhead from Old Faithful by driving north on Grand Loop Road (Route 89) for 2.5 miles, then making a left turn westward into the Biscuit Basin parking section. You can also access the trail by driving southward from Madison Junction for 14 miles on Grand Loop Road.
Fairy Falls Trail
Tje Fairy Falls Trail is Yellowstone's most popular hiking trail. If you are up for a four or five-hour trek, you can marvel at the scenic route over a bridge across the Firehole River. Here, you enter the Midway Geyser Basin, one of the three primary geyser basins in the park.
You can access Fairy Falls by two different trailheads and two separate routes. You can get there by parking at the end of Fountain Flat Drive or one mile (1.6 km) south of Midway Geyser Basin at the Fairy Falls Parking area.
A visit to Yellowstone National Park is a joy, a fascination, and a true treasure. Once you have been there, you will feel compelled to go back again to experience more of the natural beauty and allure that this historic park offers to one and all.
Protect Our National Parks
Our beautiful national parks contain the largest variety of wildlife and naturally growing plants throughout the U.S. Visiting these parks should always be cherished, and we should all help protect these outstanding natural environments.
As park visitors, our mission and commitment should be to keep them as clean as possible while enjoying their great diversity and beauty. We should:
Plan ahead to leave no litter whatsoever behind.
Adopt a strict rule to "carry in, carry out," especially since we may not have convenient access to garbage cans or paper trash receptacles.
Limit our food waste and refrain from using disposable plastic cups, plates, dishes, bags, or containers.
Replace all plastics with reusable items made of other materials. The national parks are also introducing composting programs to help alleviate the accumulation of food waste.
Driving inside the boundaries of Yellowstone and other national parks in a gasoline-powered vehicle upsets the local ecosystem. Even if you only drive in and out of a park, remember that millions of visitors do the same every year. This results in a massive amount of harmful carbon emissions.
By using the park's free shuttle buses during your visit, you can help promote an eco-friendly environment. You can ensure a very enjoyable and sustainable trip by consulting the official visitor guide for Yellowstone and other national parks before you arrive. This will help protect our treasured parks today and for future generations.