When you're watching your favorite TV show or movie, it's easy to forget that the backdrops — mundane diners, cabins in the woods, otherworldly planets, you name it — often exist in real life. In fact, some of pop culture's most iconic filming locations are way closer to home than you might think.
Whether you want to experience some movie magic in real life on your next stateside road trip or if you're otherwise just looking to get some fresh air, these 29 famous filming locations are certainly worth exploring. And don't worry: our picks aren't all based in Los Angeles.
Editor's Note: For information on the latest pandemic-related travel requirements and advisories, be sure to check the Centers for Disease Control and Prevention (CDC) and World Health Organization (WHO) websites, as well as airline and destination requirements regarding mask-wearing, quarantine, and COVID-19 testing.
Beverly Wilshire Hotel – Pretty Woman | Beverly Hills, CA
Pretty Woman (1990) has the distinction of being one of the highest-grossing romantic comedies of all time. Ironically, one of its most iconic filming locations happens to be one of the highest-grossing luxury hotels of all time — the Beverly Wilshire Hotel, nestled in the ritzy neighborhood known as Beverly Hills.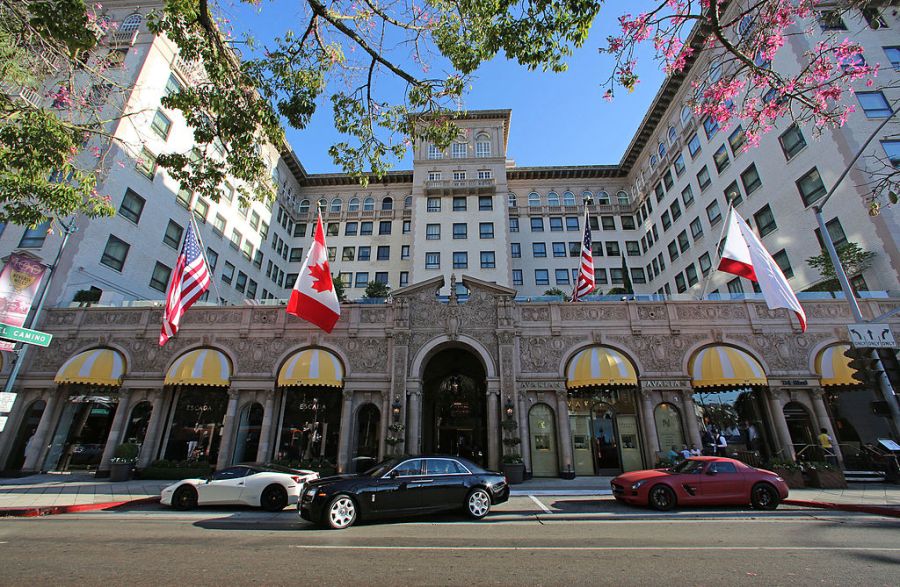 In the film, Julia Roberts plays Vivian Ward, a Hollywood sex worker who is hired as an escort by businessman Edward Lewis who is portrayed by Richard Gere. Hilarity ensues — as does (un)expected romance. Super fans can do more than just snap photos of the hotel. The Beverly Wilshire offers the "Pretty Woman for a Day" experience, complete with a Rodeo Drive shopping spree.
Mrs. Doubtfire's House – Mrs. Doubtfire | San Francisco, CA
Located at 2640 Steiner Street in San Francisco's Pacific Heights neighborhood, the iconic house from the Robin Williams comedy Mrs. Doubtfire (1993) stands out, even amid the other showy homes in the area. After Williams' tragic passing in 2014, fans have made a habit of leaving flowers and other mementos on the sidewalk.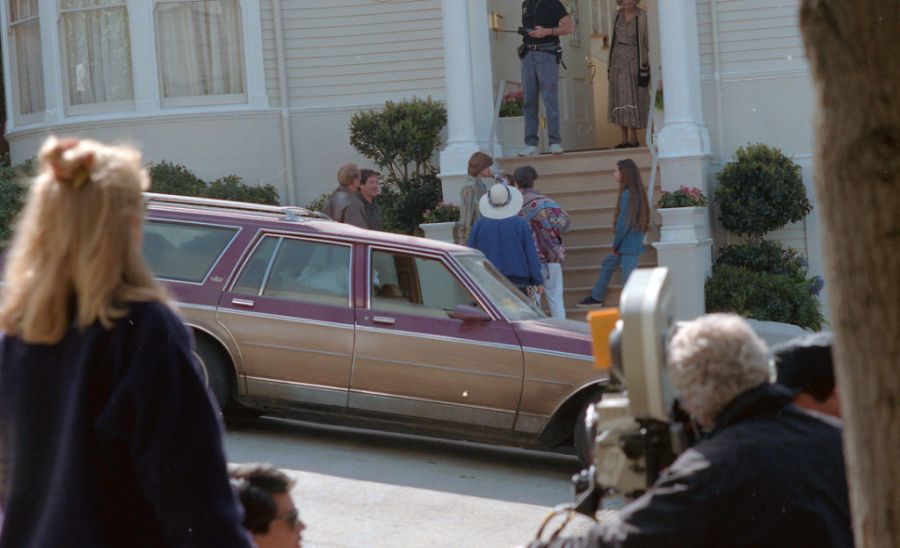 In 2016, the three-story Victorian went on the market for a cool $4.45 million. Even with royalties from her successful children's show, it's unlikely that even Euphegenia Doubtfire could afford it.
The Griffith Observatory – The Terminator | Los Angeles, CA
Ahead of 2019's latest sequel to The Terminator (1984), Terminator: Dark Fate fans may want to revisit some of the notable locations featured in the original films. For those who've missed the first film, it stars Arnold Schwarzenegger as the titular cyborg assassin who is sent back in time to kill Sarah Connor (Linda Hamilton), the mother of humanity's future savior.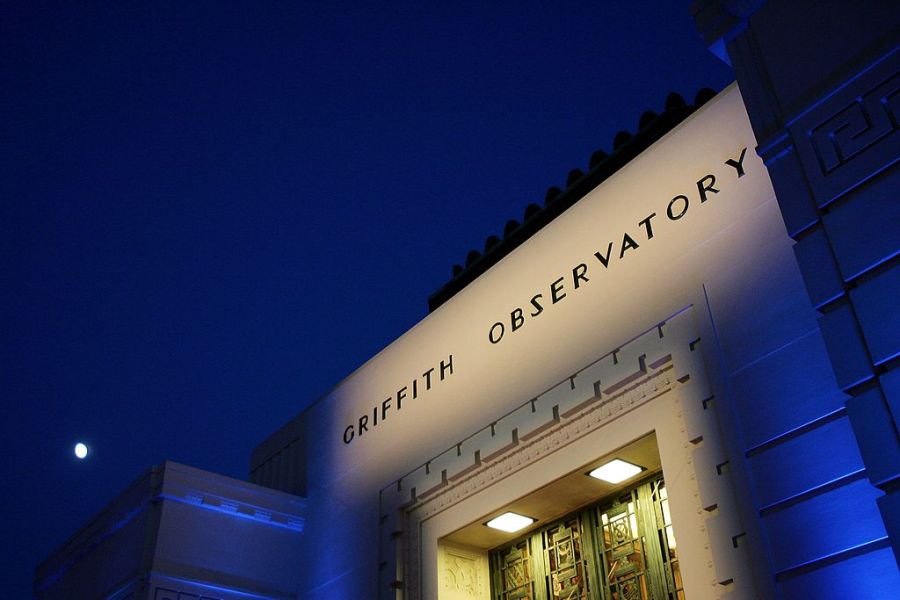 Although all this sounds grim, one of The Terminator's most iconic filming locations is also one of Los Angeles' most beautiful vistas. In the film, Schwarzenegger arrives in 1984 and emerges from the Griffith Observatory, located in LA's Griffith Park. Nice night for a walk, eh?
Baseball Diamond – Field of Dreams | Dyersville, IA
"If you build it, they will come" is beyond apropos for this site. Yes, Universal Pictures actually built the baseball diamond for Field of Dreams (1989). Located just outside Dyersville, Iowa, on farmland owned by two separate families, the field has certainly become a fun tourist stop.
In the '90s, the Upper Deck Company hosted charity games featuring celebrities and Hall of Famers, and stars from the film — including Kevin Coster — played an exhibition match on the field to commemorate the film's 25th anniversary. Additionally, in 2020, the Chicago White Sox and New York Yankees played on the iconic diamond for the "MLB at Field of Dreams" event.
Steps & Rocky Statue – Rocky | Philadelphia, PA
Unlike other over-hyped sites that aren't all that they're cracked up to be — yes, that's directed at you, Liberty Bell — the Rocky series has ties to two winning sites. Considered two of the most-visited tourist attractions in Philadelphia, the Rocky Statue and "Rocky Steps" complete any Insta post.
The Rocky Statue was actually created for the third installment in the series, but due to the famous running-up-the-stairs scene from the franchise, the statue has taken on a new life. The influence is so great, that VisitPhilly.com even calls climbing the stairs and striking that famous two-arms-raised victory pose a "rite of passage."
Circus Liquor – Clueless | North Hollywood, CA
Unlike Cher Horowitz (Alicia Silverstone), hopefully, you don't find yourself stranded — or, you know, mugged for your Alaia at gunpoint — when you visit this Clueless (1995) filming location. Located at 5600 Vineland Avenue, Circus Liquor is now a North Hollywood landmark.
While the flashing neon sign makes for a great photo opp, there isn't much else to do in this run-of-the-mill plaza. As Cher would say, it's a full-on Monet — "From far away, it's okay, but up close, it's a big old mess."
RR Diner & The Great Northern – Twin Peaks | North Bend/Snoqualmie, WA
Featured prominently in David Lynch's landmark TV series Twin Peaks, the Double R Diner is known for being "where pies go when they die." In reality, Twede's Cafe located in North Bend, Washington, does serve up some heavenly cherry pie — as well as a themed mural and souvenirs.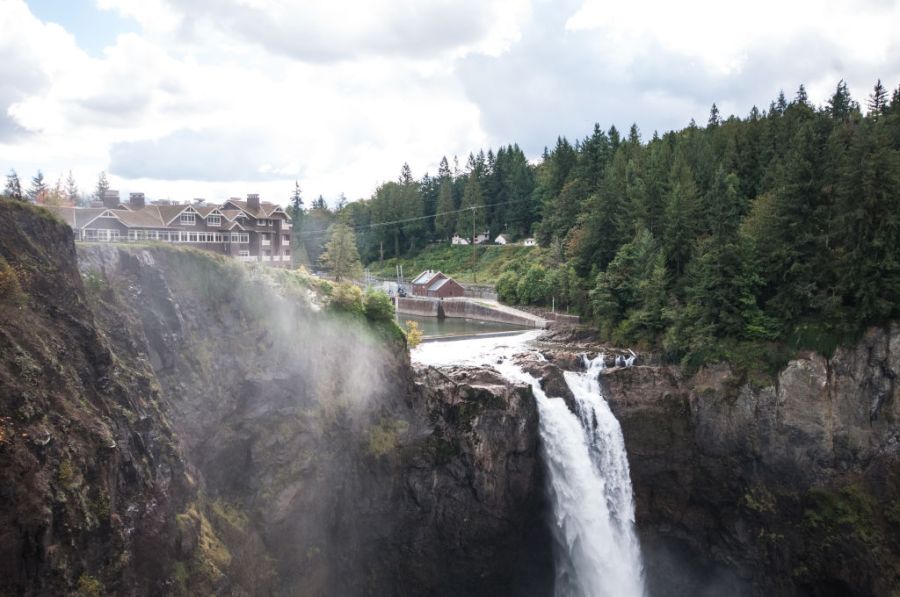 In the neighboring town of Snoqualmie, the show's Great Northern hotel stands above a waterfall. Known as the Salish Lodge & Spa, the real-life hotel makes its own honey and offers a Twin Peaks-themed stay package, complete with a map of other locations fans can visit.
Nakatomi Plaza – Die Hard | Los Angeles, CA
In Century City, Los Angeles, California, the 34-story Fox Plaza skyscraper towers against the skyline. Aside from a few scenes portraying the infamous Christmas party, most of Die Hard (1988) was shot there, in what was portrayed as the fictional Nakatomi Plaza. Of course, a scale model was used to shoot scenes of the damaged skyscraper.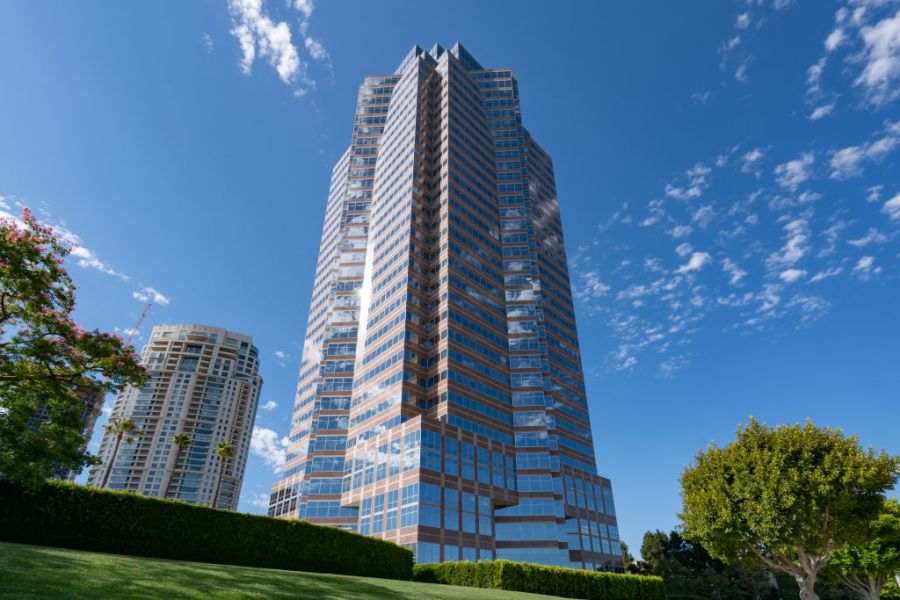 The building looks almost exactly as it did when the film was made, but there aren't any official Die Hard tours, unfortunately. Not a John McClane fan? Fox Plaza was also featured in Fight Club (1999) as well as episodes of The X-Files and Brooklyn Nine-Nine.
Carrie Bradshaw's Apartment – Sex and the City | New York, NY
If you agree with the masses that New York City is Sex and the City's "fifth character," then you probably can't help but wonder… is Carrie Bradshaw's apartment the sixth member of the ensemble? Contrary to what viewers are told, Carrie didn't live on the Upper East Side for filming purposes.
The apartment — with its iconic stoop — stands in the West Village at 66 Perry Street. The apartment's owners aren't too thrilled with all the fanfare, roping off the stoop so gawkers can't sit. Moreover, they have even gone so far as to ask Google to blur the building on "street view" to prevent any unwanted, would-be visitors.
Apartment Complex – Mulholland Dr | Los Angeles, CA
The fictitious Sierra Bonita apartment complex from David Lynch's Mulholland Dr (2001) is located at 2900 Griffith Park Boulevard. Although it's a source of horror in the film — what with the main characters finding a decomposing corpse there — the complex isn't all that creepy in real life.
In fact, while working on Snow White and the Seven Dwarfs (1937), several prominent Disney animators lived in the complex and reportedly based the dwarves' cottage on the fairy-tale-like architecture. Mulholland Dr fans can also visit Pink's Hotdogs in Hollywood and the titular street itself for more David Lynch-inspired thrills.
Cabazon Dinosaurs – Pee-wee's Big Adventure | Cabazon, CA
Formerly called Claude Bell's Dinosaurs, the Cabazon Dinosaurs from Tim Burton's Pee-wee's Big Adventure (1985) are located just west of Palm Springs. Both the 65-foot-tall T-rex and the 150-foot-long Brontosaurus (Dinny) are visible from Interstate 10 — and for good reason too.
Claude Bell, who formerly worked as a sculptor for Knott's Berry Farm theme park, created the dinosaurs to attract more patrons to his nearby restaurant. Bell called Dinny "the first dinosaur in history… to be used as a building." Now, a so-called "creationist museum" has moved in at the site.
Grand Central Market – Blade Runner | Los Angeles, CA
Are you a replicant who has always wanted to replicate scenes from Blade Runner (1982)? Well, don't fret. Although Ridley Scott shot most of the scenes featuring dystopian downtown Los Angeles on the Warner Bros. Studio backlot, a few memorable sequences were filmed on-location.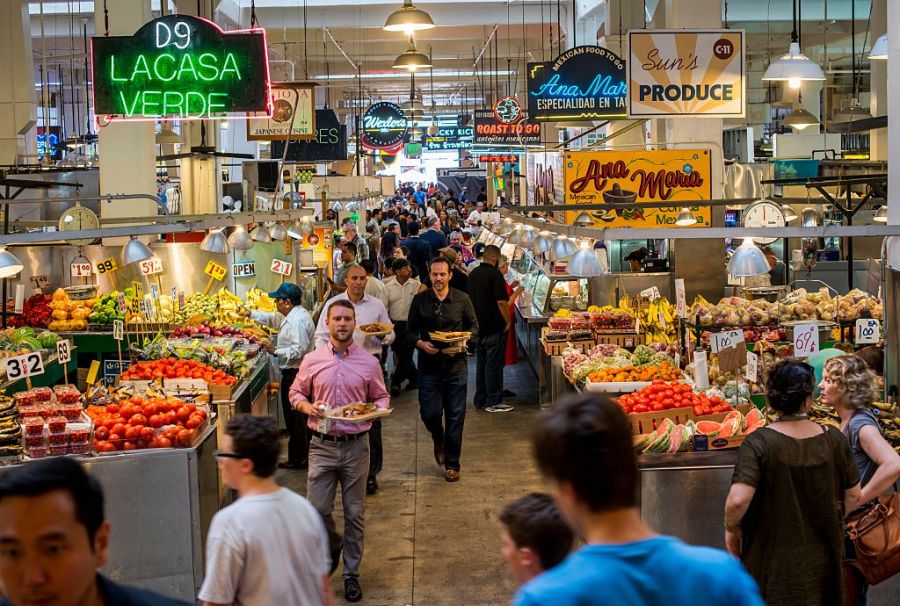 If you visit the Santee Alley at 317 South Broadway, you may recognize it from the chase scene featuring Deckard (Harrison Ford) and replicant Zhora (Joanna Cassidy). About a mile north, you can find yourself shoulder-to-shoulder with other replicants – er, tourists, in Grand Central Market.
Monk's Diner – Seinfeld | New York, NY
Located at the corner of West 112th Street and Broadway, Tom's Restaurant has been serving up diner fare since the 1940s. Although the family-owned restaurant was featured in the Suzane Vega song "Tom's Diner" in 1987, it rose to pop culture fame thanks to Seinfeld (1989 – 1998).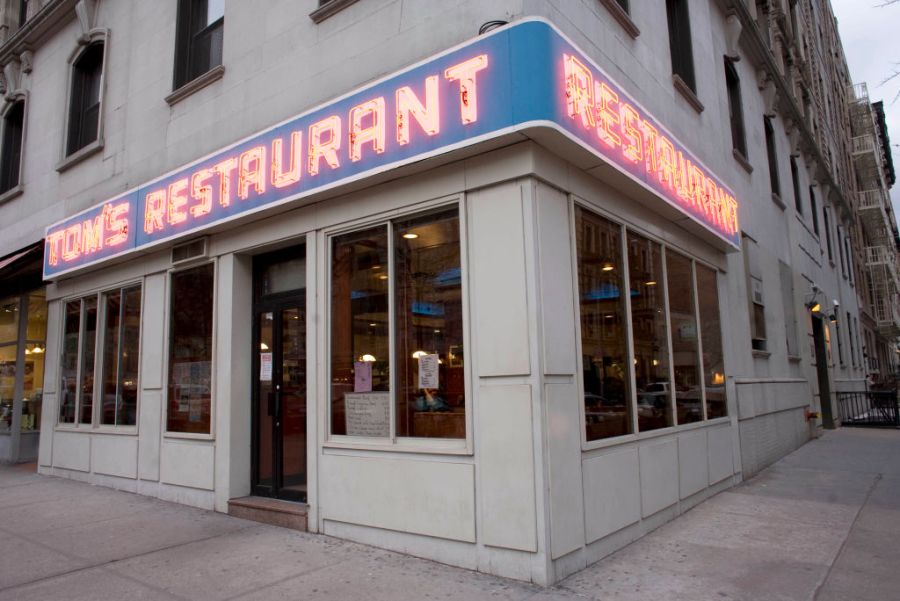 In the show, the main cast hung out at Monk's constantly, and all those exterior shots of Monk's were really of Tom's. Fans may be surprised by the interior — those scenes were filmed on a soundstage. Still, stop in and order a "big salad" to go.
Crain Communications Building – Adventures in Babysitting | Chicago, IL
The diamond-shaped, 41-story Crain Communications Building is undoubtedly a fixture of Chicago's recognizable skyline. In the 1987 cult classic Adventures in Babysitting, the film's climactic chase scene takes place on Michigan Avenue, in full view of the skyscraper.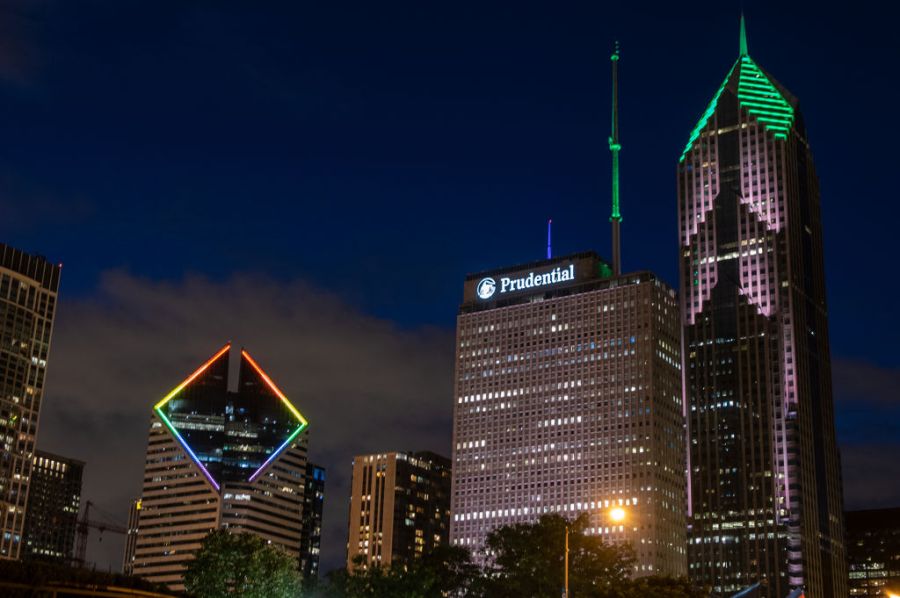 Although it has frequently slipped into Chicago-based features, the building has a more obvious role — and takes a beating — in Transformers: Dark of the Moon (2011). In 2017, a Los Angeles-based investment manager struck a $132 million deal to buy the building.
Point Dume – Iron Man and Planet of the Apes | Malibu, CA
Located on Malibu's coast, Point Dume juts out over the Pacific Ocean. If you've never been to Malibu, you may still recognize this location from several blockbusters, including the sci-fi classic Planet of the Apes (1968).
In Apes, the Point's cliff face is famously obscured by a matte painting of a destroyed Statue of Liberty, which seemingly washed ashore. In more recent years, Marvel fans will recognize Point Dume as the fictional location of Tony Stark's seaside mansion in the Iron Man and Avengers films.
The Getty Museum – Star Trek: Into Darkness | Los Angeles, CA
There are plenty of reasons to visit The Getty Museum — art, culture, and Star Trek. In earlier iterations of the sci-fi series, the facade of the original StarFleet Academy was shot farther north at the Donald C. Tillman Water Reclamation Plant & Japanese Garden.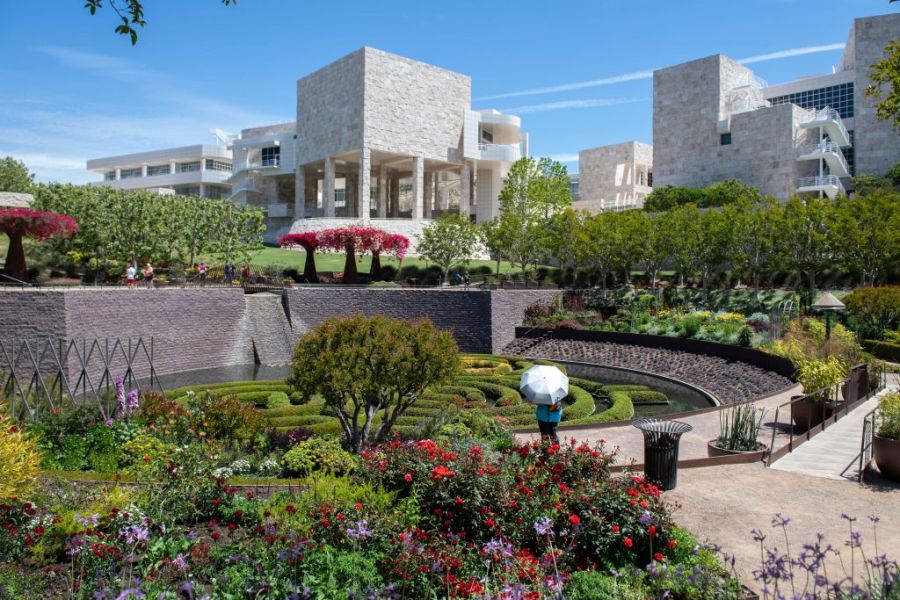 Thanks to J.J. Abram's more recent installments in the Star Trek series, StarFleet Academy set up shop at The Getty Museum in LA proper. While in the Hollywood area, Trekkies may also want to visit Bronson Canyon and Griffith Observatory in Griffith Park.
Hook & Ladder Company 8 Firehouse – Ghostbusters | New York, NY
The Hook & Ladder Company 8 is a fire station in New York City, located in the Tribeca neighborhood of Manhattan at 14 North Moore Street. The firehouse's exterior became famous after being featured in the supernatural comedy Ghostbusters (1984).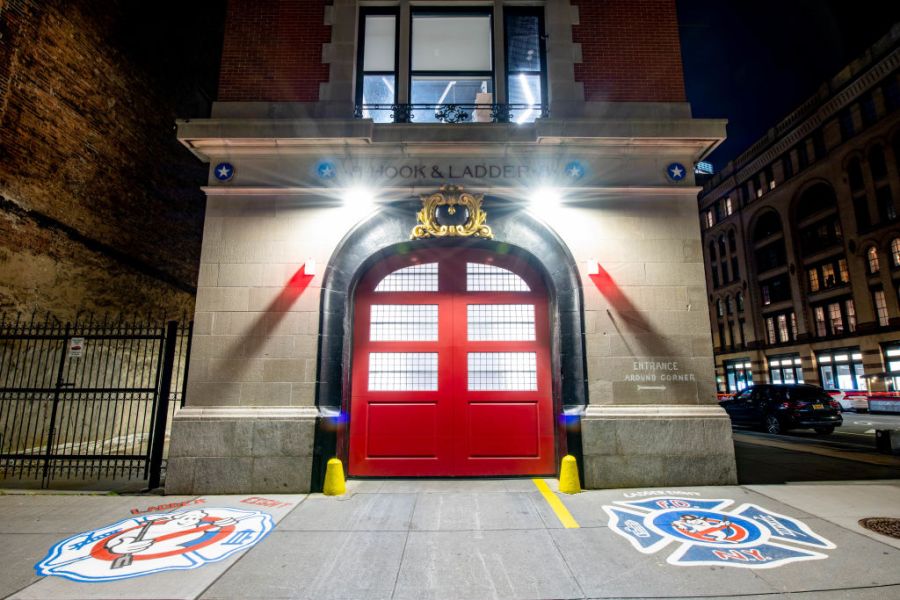 In an early draft of the script, writers envisioned the Ghostbusters crew as a public service of sorts, like a fire department. Reportedly, Dan Aykroyd knew about the firehouse and suggested it. Today, visitors are free to snap pictures of the location, which embraces its Ghostbusters lineage.
Randy's Donuts – Mars Attacks | Los Angeles, CA
Randy's Donuts — a building topped with a giant version of the much-loved breakfast item — is a great example of novelty architecture, which was popular in Southern California from the 1920s through the 1950s. The drive-in donut shop has been featured in everything from Iron Man 2 (2010) to Arrested Development (2003 – 2019).
However, its use in Tim Burton's Mars Attacks! (1996) is one of the most memorable. Despite being an LA landmark since 1953, Burton transports the donut shop to the Midwest in his alien attack satire.
The Swan House –The Hunger Games | Atlanta, GA
May the location scouting be ever in your favor — especially if you're shooting a project in the Atlanta area, where the film industry is booming. Luckily, the odds were good for the folks behind The Hunger Games: Catching Fire (2013) when they stumbled upon the city's Swan House.
Although the 1920s-era house is usually home to the Atlanta Historical Society, it became a temporary home for Hunger Games' villain President Snow (Donald Sutherland). The crew found ways to protect the historic home while filming and even built sets on the surrounding grounds.
Katz's Deli –When Harry Met Sally | New York, NY
Katz's Delicatessen is accustomed to film-lovers and neighborhood regulars stopping by. In the deli's 131-year history, no film has made more of an impact on the restaurant than When Harry Met Sally… (1989). Famously, Meg Ryan's Sally shows Billy Crystal's Harry how easy it is for women to fake having a good time in bed.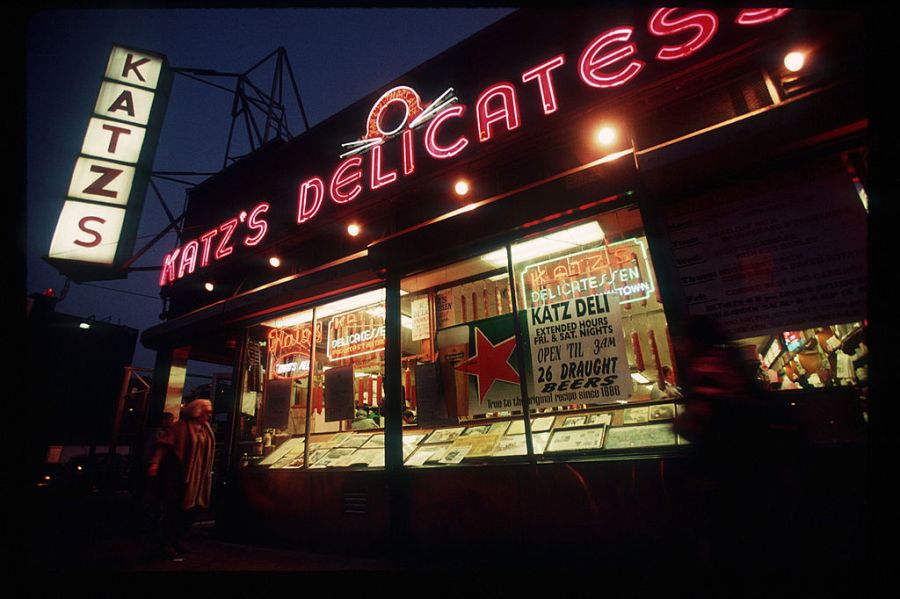 Today, Katz's proudly hangs a sign over the booth the duo filmed the scene in and even hosted a reenactment contest to honor the film's 30th anniversary. And if you can't have what she's having, you could always go for the pastrami on rye.
Timberline Lodge –The Shining | Mount Hood, OR
The Timberline Lodge is located on Mount Hood, about 60 miles east of Portland, Oregon. The lodge was part of a Works Progress Administration project during the late 1930s. In 1937, President Franklin D. Roosevelt performed a dedication for the lodge.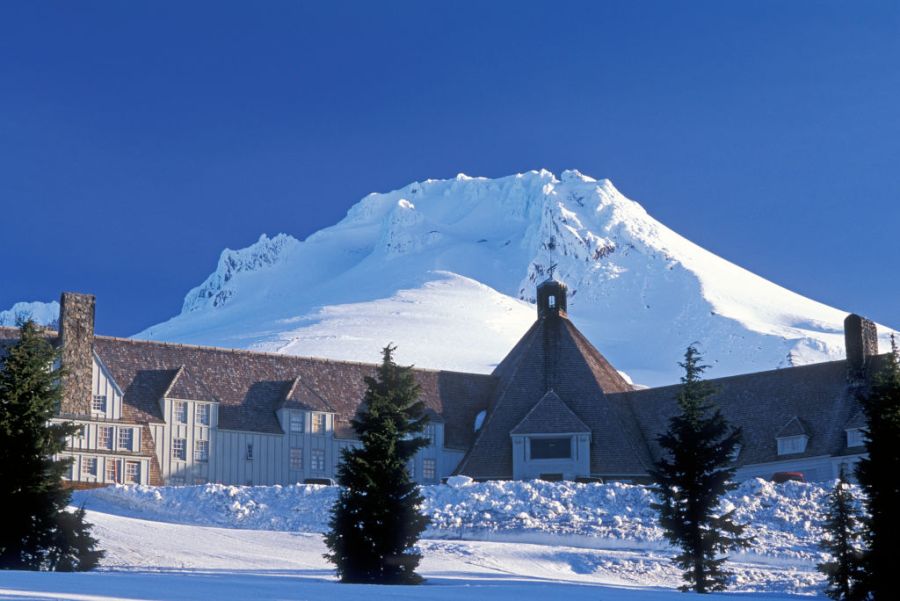 These days, the Timberline Lodge rakes in upwards of 2 million visitors a year. Look familiar? It served as the exterior of the Overlook Hotel in Stanley Kubrick's film version of The Shining (1980). Fun Fact: The Overlook's interior was inspired by a hotel in Yosemite National Park.
Public Garden Bench – Good Will Hunting | Boston, MA
Sure, 500 Days of Summer (2009) might have an iconic bench scene, but Good Will Hunting (1997) has the iconic bench scene to end all bench scenes (if that's the kind of thing you're into tallying). As you might recall, Robin Williams and Matt Damon's characters share an emotional moment on the famous bench.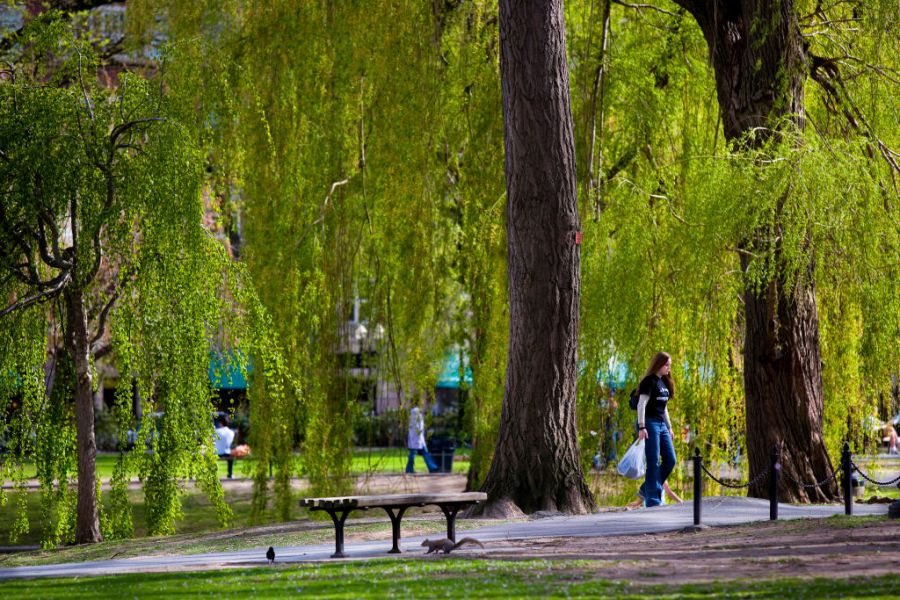 Located in Boston's Public Garden, the bench is an easy site to check off your list. Following Williams' sudden passing in 2014, Bostonians turned the bench into a memorial for the late actor. There's even a petition to add a bronze statue of Williams to the site.
Mandrake Falls' Main Street – Mr. Deeds | New Milford, CT
Mr. Deeds (2002) starring Adam Sandler is set in the small town of Mandrake Falls, New Hampshire. However, most of the sequences that take place in that scenic New England setting were actually shot in New Milford, Connecticut.
Comparable to Disneyland's Main Street, U.S.A., New Milford's Bank Street and nearby town green are the epitome of small town America. All signs of filming have been removed but visitors can still stroll down the quaint streets and even catch a movie at the historic Bank Street Theater.
Amity Island – Jaws | Martha's Vineyard, MA
Known for its white sand beaches and deadly shark attacks, the fictional Amity Island from Steven Spielberg's Jaws (1975) is located off the coast of New England. Although Amity is based on Long Island in the book, the film was shot at the quaint vacation spot known as Martha's Vineyard.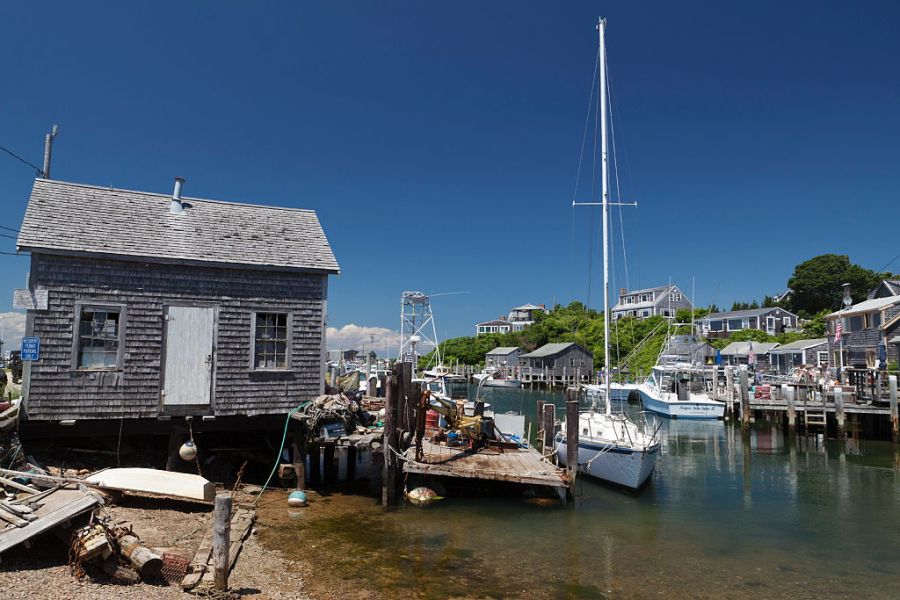 Located off the coast of Massachusetts, Martha's Vineyard is a much quieter alternative to the Cape. The crew decided filming on the less-crowded island would be easier than setting up shop on a heavily-populated Montauk beach.
Thelma & Louise Point – Thelma & Louise | Dead Horse Point State Park, Moab, UT
Spoiler Alert: If you haven't seen the ending of Thelma & Louise (1991) — or stumbled upon a gif about it — then skip this one for now. At the end of the film, the iconic duo make a last ditch effort to escape the law — and drive right off a cliff, hands clasped.
Although Thelma and Louise wonder if they've driven all the way to the Grand Canyon, the scene was shot in Utah's Dead Horse Point State Park. For a small fee, visitors can stand thousands of feet above the Colorado River. Google Maps even marks the location as Thelma & Louise Point.
Sandstone Buttes – Forrest Gump | Monument Valley, UT
After enduring some real heartbreak, Tom Hanks' titular character in Forrest Gump (1994) just starts running — and doesn't stop. Starting in Greenbow, Alabama, he sets off aimlessly on a cross-country marathon. Over three years, he garners a legion of followers, not to mention the beard to end all beards.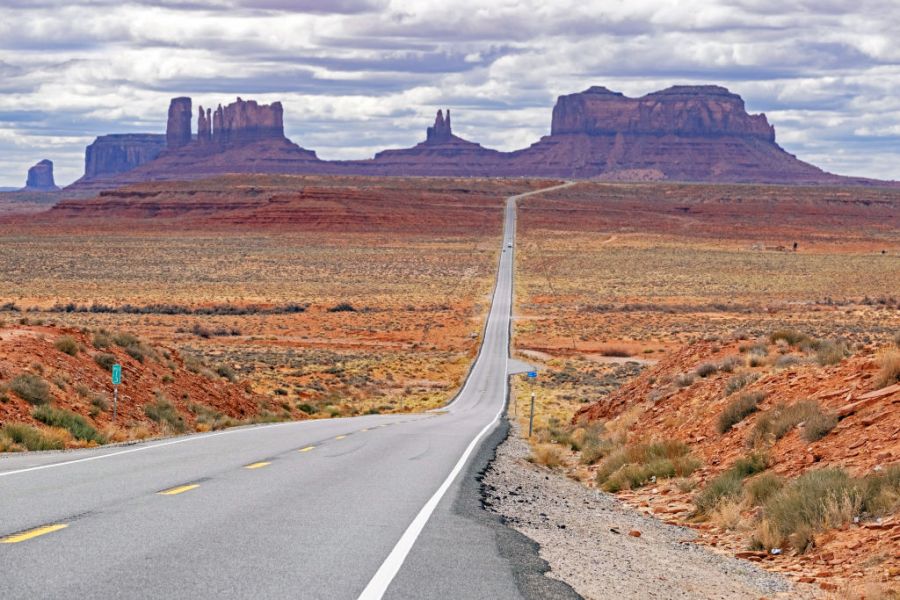 And then, one day, Forrest decides he's done and just stops running. Behind him, you can see the backdrop of Monument Valley with its giant sandstone buttes. Of course, if you visit Monument Valley Park, you will recognize it from almost every old Western film, plus Back to the Future Part III (1990), 2001: A Space Odyssey (1968), and more.
Goonies' House –The Goonies | Astoria, OR
Located at 732 Duane Street in Astoria, Oregon, the house from the cult classic film The Goonies (1985) is listed as "Closed" on Yelp. In fact, while visitors can stop by the iconic house, they might find it completely unrecognizable. No, it hasn't been remodeled. The owners just don't want visitors snapping photos.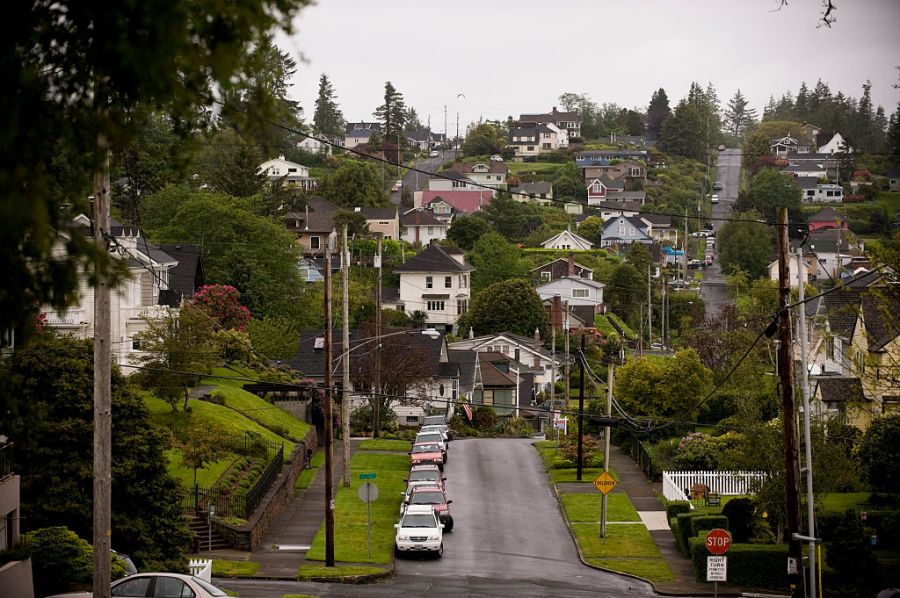 To dissuade gawkers, the owners of the "Goonies' House" have covered the building in blue tarps, obscuring the facade. A sign posted near the driveway warns tourists to turn around — or the police will be called. Although Goonies never say die, it's still a good idea to be cautious if you visit this location.
Endor – Star Wars: Episode VI – Return of the Jedi | Redwood National Park, CA
Although giant redwoods may feel familiar to Californians and Pacific Northwesterners, Star Wars creator George Lucas thought the immense trees looked otherworldly. So alien, in fact, that a grove in Redwood National Park in California served as the setting for the forest moon of Endor.
Home to the teddy bear-like Ewoks, Endor is probably one of the most inviting planets in the Galaxy — by Star Wars' standards — and the park is much the same. You won't see any filming relics in this Humboldt County park, but it's still fun to picture speeder bikes whizzing between the redwood trunks and AT-STs falling victim to Ewok-made snares.