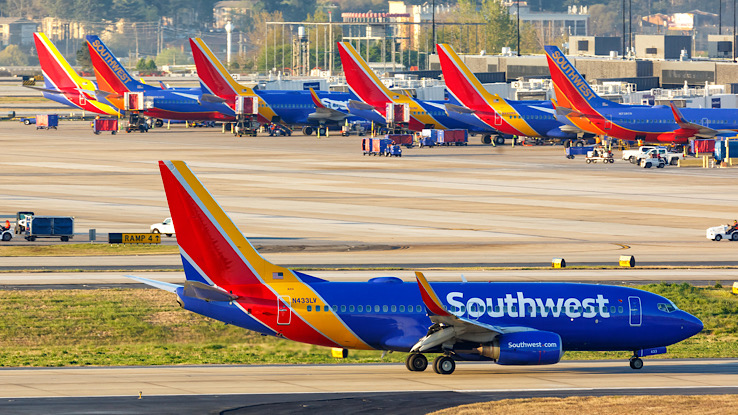 Cheap airfare can be hard to find, especially with a growing number of cancellations caused by employee shortages. But Southwest does still have some great deals on airfare. Not to mention Southwest also offers some of the best terms out of any airline with their two free checked bag policy. Regardless of where and when you are traveling, you are sure to find a good Southwest fare sale with just a few tips.
What Are Southwest Fare Sales? 
Southwest regularly offers deep discounts on their flights. Three sales called "wanna get away" are offered three times per year. Traditionally this happens in the Spring, Fall, and Winter. However, sometimes the timeframes can be random.
Unfortunately, low airfare prices are more difficult since the pandemic as there are shortages of workers, leading to fewer flights. For travelers, this means fewer discounts. 
Prices on Southwest's popular "Wanna get away" sale are usually advertised at a low price of $49, but in the past, some faires went for $39 and even $29. Flights at these prices were very limited and only included a few destinations from select cities. Travel times were generally less popular: early morning and late night flights.
Even though a low-cost airline, Southwest still offers free essentials such as free checked bags and in-flight snacks that are not available with other budget alternatives. Southwest has one of the most lenient luggage policies of any airline, as it allows you to bring two checked bags, a carry-on, and a personal item. You can also bring a stroller and a car seat as a checked bag in addition to your two checked bags as long as you are traveling with a child. Southwest's sales do not take away any of the perks that customers are familiar with, including rapid rewards.
Are Southwest Fare Sales a Good Deal? 
Even if you miss one of Southwest's major sales, don't worry. They run specials throughout the year, and prices are constantly changing. Sometimes you can find rates even cheaper than they offer during these sales or at least better travel times. Generally, Southwest lowers fares on Tuesdays at 3 PM Eastern time, similar to other airlines. So, you should check every week at this time to get the best deal.
Overall, Southwest's sales are a good deal, but they are not always the cheapest, and there is no way to know how cheap a flight will go. Waiting on flights to get cheaper is always a gamble, and you risk paying a higher price by waiting for a cheaper option. Luckily Southwest allows you to book a flight and rebook for a cheaper flight with no penalty.
One drawback for many travelers is Southwest's boarding system which does not use a reserved seat system. Instead, the first-to-use online check-in gets boarded first, which can be difficult if families are forced to split up. Flyers on Southwest also can upgrade to a higher level ticket which gets you early check-in and priority boarding but is not included in their "wanna get away" sales.
You will have to decide what is a comfortable balance between price and optimal travel times. If the price is a little high, you may want to consider booking as long as the times are good.
How To Get the Best Southwest Fare Sale
You can find good deals with Southwest, even if no sales are going on. However, you can still save some money with some simple tricks.
Check every Tuesday at 3 PM. If possible, check flight costs for the lowest rates of the week. Prices usually change at 3 PM Eastern time and will stay the same at least through that evening, but low rates sometimes sell out quickly.
Skip the upgrades. You may not need to upgrade to higher classes since Southwest has no first or business class. Also, the good thing about Southwest is that they allow you to modify your flight without a fee, no matter what ticket type you buy. Not to mention, if it is just you traveling, then priority boarding may only help get you a window seat since there isn't much of a difference where you sit. Even if you are worried about boarding early, it is usually pretty easy to get an early boarding group by doing online check-in at the moment it becomes available.
Use the low-fare calendar. The low-fare is one of Southwest's best tools for finding cheap rates. Simply put in your destination and arrival airports and select the low fare calendar to skip picking dates for your travel. This will bring up a calendar with the lowest fares each day on it. Click on the day to find out when flights for that rate are available. If you choose a round-trip flight, you will be brought to another calendar with the same choices to see your return flight options. This is a quick and easy way to check all of your options.