If you ever find yourself in the vicinity of Spring Green, Wisconsin, make sure and set aside an hour or two to visit Frank Lloyd Wright's Taliesin Preservation. Renowned as quite possibly the greatest architect in American history, Wright designed over 1,000 structures throughout his lifetime.
Famous for pioneering "organic architecture," Wright built a home, studio, and school on the 800-acre Taliesin estate, which is now dedicated to preserving his legacy. So, what you can expect from a tour of Taliesin? We've delved into both its history and its present — read on to find out more about this unique piece of Americana.
Editor's Note: For information on the latest pandemic-related travel requirements and advisories, be sure to check the Centers for Disease Control and Prevention (CDC) and official local and state websites. Due to the surge in Delta variant-related cases, all travelers should check into destination requirements regarding mask wearing, quarantine, and COVID-19 testing, even when traveling by car.
Wright's Childhood Ties to Taliesin
Taliesin estate was many things to Frank Lloyd Wright throughout his life. Not only did he call Taliesin home, but he used the property to experiment with new architectural designs and ideas on a pretty constant basis. From the time he moved to the property in 1911 until he passed away in 1959, Wright used Taliesin's grounds as a sort of architectural laboratory, making 200 documented renovations and changes.
But what brought him to Wisconsin in the first place? The iconic architect was actually born just 20 miles from Spring Green, Wisconsin, and completed some of his earliest projects on — or near — the Taliesin property.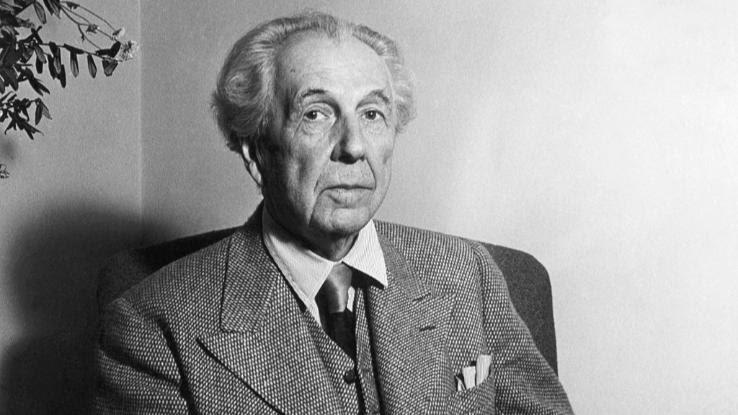 Taliesin means "brow" in Welsh, serving as a nod to Wright's Welsh ancestors who settled in the surrounding valley. "This hill on which Taliesin now stands as 'brow' was one of my favorite places when I was a boy, for pasque flowers grew there in March sun while snow still streaked the hillsides," Wright once said of his choice of location.
Today, Taliesin, which is now open to the public, features structures from every decade of Wright's career. Visitors can also get a better sense of his singular creativity by exploring his home, studio and school as well as the estate's courtyards and gardens.
The Dark Side of Taliesin's History
While Taliesin may now be a shrine to the genius of Frank Lloyd Wright, its history isn't all one of creativity and innovation. In fact, when Wright first moved to the property, he was met with a less-than-warm welcome. To understand why, let's rewind a bit. In 1903, Wright was commissioned for a Chicago-based project. At the time, he lived in the city with his wife and six children.
But, during the course of the project, Wright fell in love with his client's wife, Martha "Mamah" Borthwick Cheney. The lovers eventually ran off to Europe together for a year. When they returned to the United States in 1911, the couple moved to Taliesin to begin a new life together. The press was less than kind, labeling the property Wright's "Love Cottage" or "Castle of Love."
Things went from scandalous to horrifying, however, on August 15, 1914. While Wright was away in Chicago on business, a handyman at Taliesin, Julian Carlton, went on a murderous, ax-wielding rampage, killing Martha, her two children, and four other people. Carlton then set the house on fire and retreated to the basement, where he was later discovered, barely alive after swallowing muriatic acid. The handyman-turned-murderer died seven weeks later — and never revealed his motive.
Grief-stricken, Wright rebuilt the destroyed section of the house, only to have it burn down again in 1925 due to faulty wiring. Wright then built the current incarnation, which is formally known as Taliesin III. If you look closely today, you can still see charring on some of the house's ceiling beams — a stark reminder of the property's past.
Taliesin Becomes a Training Ground
When work was slow during the Great Depression, Wright wrote his now-classic books, An Autobiography and The Disappearing City. Little did Wright know, he'd become more of a hands-on mentor, too. After numerous architects expressed interest in training with him, Wright and his third wife, Olgivanna Lloyd Wright, decided to establish an architectural training school on the Taliesin property.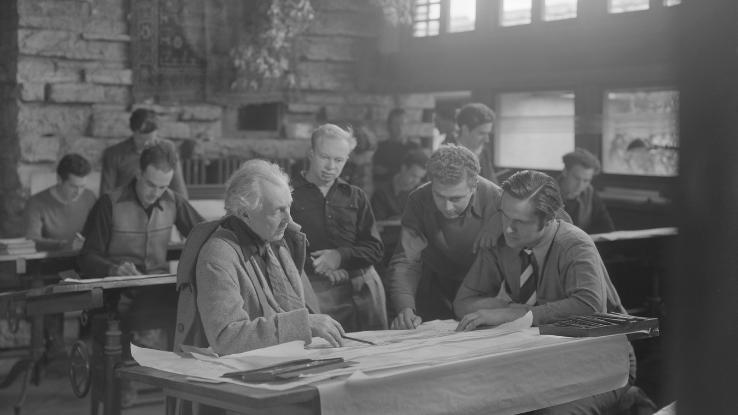 Wright transformed a preexisting building on the property, which he had initially built for his aunts in 1902, into the school's central campus. Instead of employing traditional teaching methods and relying on books, Frank Lloyd Wright's School of Architecture — a.k.a. the "Taliesin Fellowship" — focused on a "learning by doing" mentality.
The fellowship survived for many years after Wright's death. But, in 2020, the school officially severed ties with the Frank Lloyd Wright Foundation due to internal differences. Today, the institution lives on today in Arizona as The School of Architecture.
Tours of Taliesin
These days, visitors can feast their eyes on all Taliesin has to offer. Several different kinds of tours, ranging in length from one to four hours, are available if you'd prefer a guided experience. On the other hand, you can choose to tour the house on your own if you'd prefer to wander, museum-style. Since Wright was an expert when it came to organically integrating nature into his designs, Taliesin also offers an all-outdoor tour option, too. Other structures on the property include the Midway Barn, Water Gardens, and Taliesin Dam.
If you're up for a more immersive experience, try the four-hour estate tour. If you've got the time, it makes for a pretty fascinating afternoon. In addition to seeing the house, studio and school inside-and-out, you'll also get to see some of Wright's oldest designs, including the Romeo and Juliet Windmill Tower (1897) and Tan-y-Deri, a home that Wright built for his sister, Jane Porter, and her family in 1907.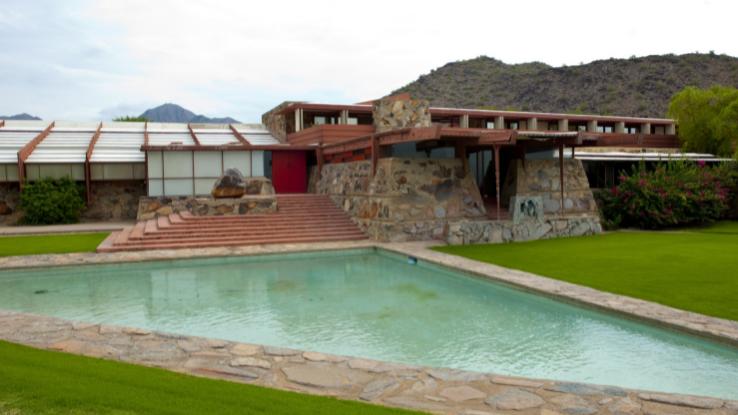 Although Wright's school no longer operates on the property, Taliesin honors that legacy by offering tours for educators and students alike. The estate also hosts summer camps for kids who are interested in architecture. And, if you happen to live nearby, you can check out the wide variety of events that Taliesin holds year-round, which range from book signings and readings to cookouts and photography classes.