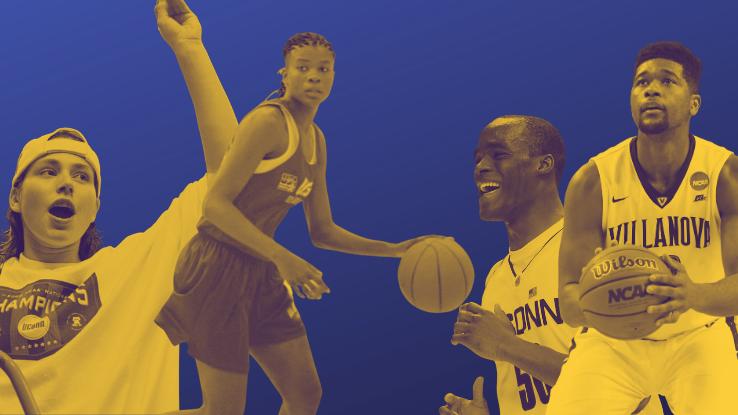 After taking a year off due to the COVID-19 pandemic, the National College Athletics Association (NCAA) Tournaments are back to the delight of basketball fans. Since 1939, the NCAA has held a Men's Basketball Tournament, and, since the 1981-1982 season, the association has hosted a Women's Basketball Tournament, too. While busted brackets might be the first thing we think of when it comes to March Madness, we can also thank the "Big Dance" for giving us some incredible match-ups — Magic vs. Bird in 1979, anyone? — and history-making moments.
From Darvin Ham breaking the backboard glass in 1996 to Sheryl Swoopes scoring a national final record of 47 points in the 1993 title game, there's a lot to celebrate when it comes to March Madness history. And, while it's difficult to pick just a few, here are some of our favorite highlights from college basketball's biggest tournaments.
1995: The Huskies End the Season on a High Note
When you think of college basketball, there's a good chance the University of Connecticut comes to mind. And, most likely, you're thinking of the women of UConn, who, alongside long-time coach Geno Auriemma, have consistently pushed the game to new heights. But there was a time when the program wasn't known for breaking records or shaping some of the greatest basketball players of all time. In fact, UConn's now-iconic legacy really took shape in 1995.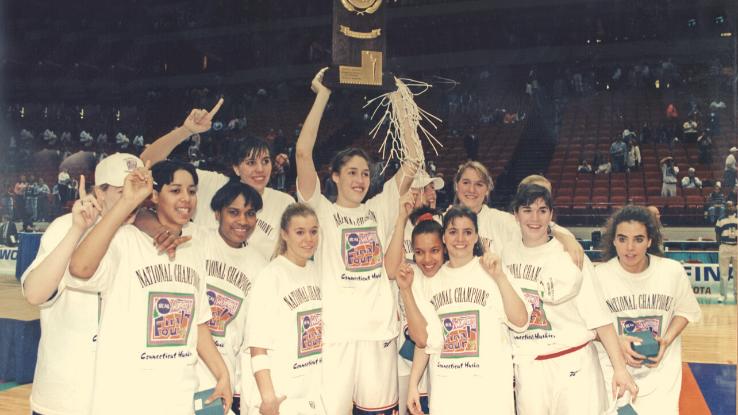 Just over 25 years ago, the Huskies had an all-star team, led by greats like Jamelle Elliott, Jennifer Rizzotti, Kara Wolters, Nykesha Sales, and, of course, Rebecca Lobo. During regular season play, the '94-'95 Huskies dethroned the seemingly insurmountable (and then-No. 1) Tennessee, which helped the team clinch an undefeated season. The first 35-0 season record in NCAA history is reason enough to celebrate, right? Well, UConn did one better when March Madness rolled around by winning their first national title — and, to do so, they once again defeated Tennessee.
While UConn's win was monumental for the program, the reverberations extended far beyond Storrs, Connecticut. "Two years after the title, Lobo became a pillar of the newly created WNBA," Alexa Philippou writes in the Hartford Courant, "a league whose very existence owed in part to how the '95 Huskies inspired the country to embrace women's basketball in a way it hadn't before."
1982, 2010 & 2016: Our Favorite Buzzer Beaters
Without a doubt, nothing gets fans on the edges of their seats like a well-placed buzzer beater. For those unfamiliar with the term, it describes a shot that's taken before the game clock expires, but said shot doesn't go in until time runs out and that namesake buzzer sounds. Throughout March Madness history, there are quite a few buzzer beaters that we could point to, but a few really stand out.
First up, we've got Kris Jenkins' incredible shot from the 2016 championship game, which saw Jenkins and Villanova taking on North Carolina. With under five seconds to play, the Tar Heels tied the game with an impressive three-pointer. It seemed like overtime was inevitable, but, on the next possession, Jenkins sank his own three-pointer, winning the game for Villanova in what can only be described as the sports hero moment we all dream of having on the court.
That buzzer beater doesn't have many rivals. But we do have a few other favorite, end-of-game shots. While not a traditional buzzer beater, the shot taken by then-19-year-old Michael Jordan in the 1982 championship game comes to mind. With 15 seconds left on the clock, the future NBA legend hit a game-winning shot against Georgetown, earning North Carolina its first title in decades.
Of course, a lot of folks attempt buzzer beaters, but just because the shots are full of drama and excitement doesn't mean they all end in a movie-like fashion. Take the 2010 championship game, for example. Butler, a five seed, took on top-ranked Duke. With one second left on the clock, Butler's Gordon Hayward shot the ball from half court. The score? 61-59, Duke. Everyone in the audience watched with bated breath. Hayward's attempted buzzer beater would clinch a Hollywood-like victory. Sadly, Gordon missed — barely. Better luck next time, Butler.
1993: Things Go Foul for the Michigan Wolverines
The Michigan Wolverines went into the 1993 men's NCAA tournament as a one-seed in the West Division. On the way to the title game against North Carolina, the Wolverines bested Coastal Carolina, UCLA, George Washington, Temple and Kentucky, but that final game is what proved tricky — for a surprising (and memorable) reason.
With seconds left in the game, North Carolina led 73-71, but Michigan legend Chris Webber had possession of the ball. Trapped in the corner of the opposing team's side of the court, Webber just couldn't get a shot off, so he did what seemed like the best course of action: He called for a timeout with 11 seconds left on the clock. Normally, a timeout would give a team the chance to regroup, draw up a play, and, hopefully, sink a game-tying (or game-winning) basket. Unfortunately, things didn't go as planned. What Webber failed to realize in the heat of the moment? Michigan was out of timeouts, so his calling for one resulted in a technical foul and a loss of possession. With the ball back in their possession, the Tar Heels just had to run out the clock to clinch the game.
Needless to say, it was one of the most startling mistakes in March Madness history — and one of the most anti-climactic ends to a championship game. Although he's known as one of Michigan's legendary "Fab Five" — alongside Jalen Rose, Juwon Howard, Jimmy King and Ray Jackson — Webber never won a national title.
2006: Candace Parker Makes History
The first-known dunk in basketball history happened back in 1944 when, according to legend, Oklahoma A&M's Bob Kurland accidentally dunked the ball. Decades later, the first dunk in a women's March Madness game was no accident. In 2006, Candace Parker of the Tennessee Lady Vols made history while playing against Army. After catching a long outlet pass from teammate Sidney Spencer, Parker dribbled and, with a defender trailing her, dunked the ball. Later in the game, Parker would dunk for a second time.
At the time, Parker was a freshman player, but, since her unforgettable college ball days, she's gone on to carve out a name for herself in the Women's National Basketball Association (WNBA). Picked first overall by the Los Angeles Sparks in the 2008 WNBA draft, Parker earned an MVP award and Rookie of the Year in her first season. The basketball icon would go on to win a WNBA championship in 2016 as well as two Olympic gold medals alongside team U.S.A.
2004: The UConn Women's & Men's Teams Make History — Together
While the UConn women established themselves as the team to beat back in 1995, the men's squad didn't clinch an NCAA title until 1999. After a cold streak, the women went on to win championship titles in 2000, 2002 and 2003, proving that the Huskies had real staying power. But, for UConn fans, the real March Madness excitement came in 2004 when both teams made history.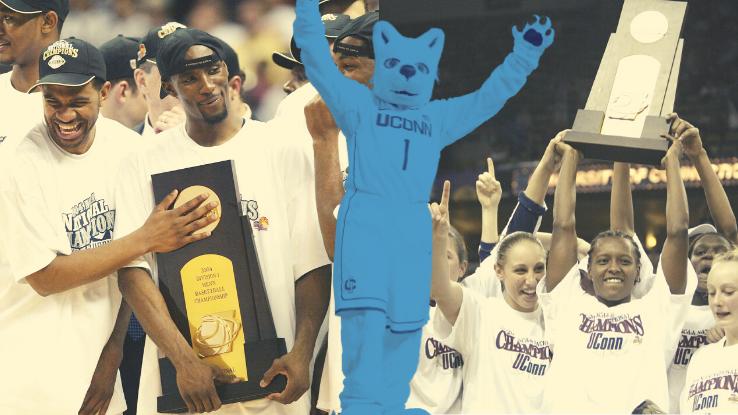 How so? Well, the women were hoping for a "three-peat" — that is, three back-to-back championship titles. Led by legendary Husky and WNBA player Diana Taurasi, the women's squad clinched their fifth championship title, once again defeating Tennessee in the final. But that's not where the history-making wins stop. Led by UConn greats Emeka Okafor and Ben Gordon, the men's team toppled Georgia Tech and clinched a second championship title. When the UConn women won their title a day later, the university made history by becoming the first and only school in NCAA Division I history to have both of its basketball programs win national championships in the same season.
In total, the UConn men have earned four championship titles, while the UConn women have a record 11 championship titles. And that three-peat? The Huskies topped it, winning four back-to-back championships from 2013 through 2016, thanks in large part to Breanna Stewart. The Huskies even repeated their dual championship feat with both teams bringing NCAA trophies home to Storrs in 2014.
2021: A Shakespearean Shake-Up
There were a lot of stunning, electrifying moments in 2021 – as well as some major upsets, depending on who you were rooting for (and betting on). The North Texas Mean Green faced off against Purdue Boilermakers in the first round of the tournament. This match was the epitome of a back and forth battle; the Mean Green set the pace in the first half with 32 points to Purdue's 24. But Purdue came roaring back in the second half, racking up a staggering 37 points to North Texas' 29.
The game went into OT with sky-high stakes and both teams were extremely eager to win. In another life, Purdue may have maintained momentum and taken this game. But in this like, Javion Hamlet stole the show. Hamlet scored a whopping 24 points and picked up 12 rebounds as his father cheered him on from the stands.