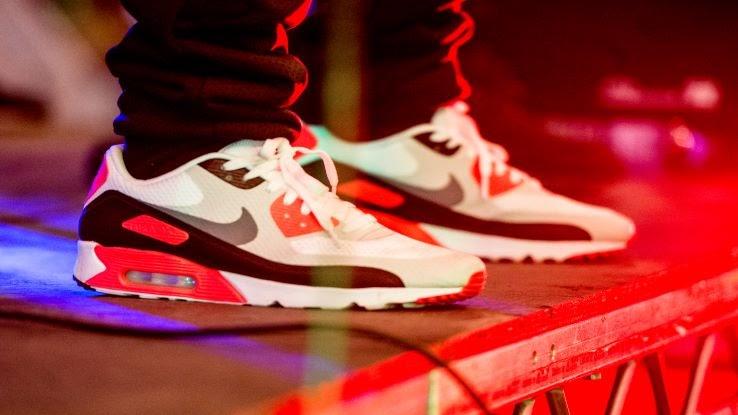 With the rise of fashion trends like athleisure and the special editions, limited releases and new colorways that keep sneakerheads in a frenzy, athletic shoes are in like never before. And why not? After all, they're functional and comfortable, and they go with pretty much any casual outfit. When it comes to brands, however, it seems that Nike long ago unlocked the key to producing sneakers that never go out of style. Athletic footwear wouldn't be what it is today without this company, and consumers can't seem to get enough.
Case in point? Recently, a pair of Nike Air Jordan 1 High shoes once worn by Michael Jordan went for $615,000, officially making them the most expensive pair of sneakers ever sold at an auction. Most Nike shoe styles, including the newer Nike Air Max 90, routinely retail for over $100 per pair in stores and online. So what is it about Nike that seems to keep this company and its gear so firmly positioned at the top of the footwear food chain? It turns out a blend of different decisions helped Nike secure its place on the sportswear throne.
The Company Beefed Up Performance Features Early On
Nike executives realized early on that creating a great brand starts with designing an incredible product — one that has practical uses for its target audience. Marketing can only go so far, and if a product doesn't work as advertised, consumers won't put their trust in the brand. This explains why, since the outset, Nike has focused on creating shoes with innovative features that help athletes perform better.
The same technology currently used in the Nike Air Max 90 first debuted back in 1978. That was the year that Nike initially produced the Air Tailwind, the first sneaker ever to feature Nike's now-famous Air Technology. Inspired by former NASA engineer Frank Rudy, Air Technology involves encapsulating flexible sacs of compressed air into sneaker soles for cushioning.
The idea turned out to be a revolutionary one, as air-pocketed soles made Nike's shoes much more lightweight — and thus easier for athletes to move around in — than competitors' shoes without sacrificing foot support and comfort. Rather than simply marketing their shoes to athletes, Nike has a history of developing products that aim to actually improve athletic performance.
According to an article by Venkat Ramaswamy, Marketing Professor at the University of Michigan, Ann Arbor, one of Nike's most successful strategies is to "co-create value," meaning it actively seeks to connect with and get first-hand feedback from customers to build their trust and design products that meet their needs. Consumers have the chance to explain which performance features are most helpful, in turn giving Nike the opportunity to refine those features. This helps the brand build superior products, creating confidence and community among its buyers.
Air Technology impressed not only athletes but pretty much everyone else, too. By using air-filled soles in everything from sports-specific shoes to everyday lifestyle footwear, Nike gives people the chance to walk on air. This effectively put its marketing money where its mouth was by helping the company produce shoes that give real results.
Emotional Marketing Strategies Resonate With Consumers
Whether you consistently purchase Nike sneakers or not, odds are that you're familiar with its marketing. That's because Nike is one of the few brands producing ads that are less focused on the money-product exchange and more focused on celebrating the target audience's love of sports. In an interview with the Harvard Business Review, Nike co-founder Phil Knight explained, "Our advertising tries to link consumers to the Nike brand through the emotions of sports and fitness. We show competition, determination, achievement, fun and even the spiritual rewards of participating in those activities."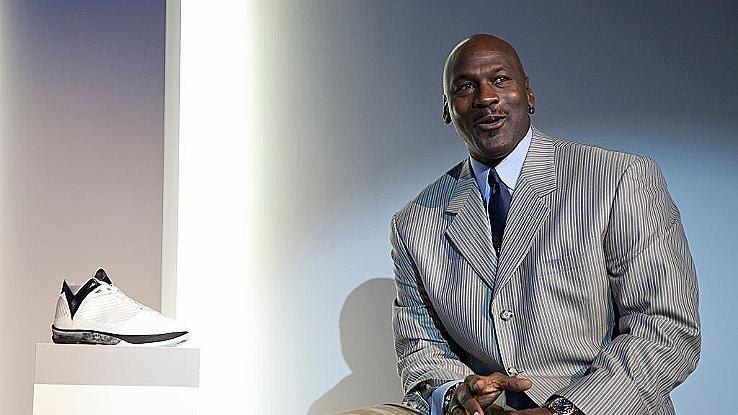 Knight went on to explain that this was the strategy behind the brand's history of aligning itself with top athletes. "Sports is at the heart of American culture, so a lot of emotion already exists around it," Knight said. "Emotions are always hard to explain, but there's something inspirational about watching athletes push the limits of performance. You can't explain much in 60 seconds, but when you show Michael Jordan, you don't have to. People already know a lot about him. It's that simple." The visual imagery of triumph, of overcoming obstacles and of power resonates with consumers and makes them feel deeper emotions, and they associate that emotional connection with Nike's products in turn.
It's worth mentioning that seeing a professional athlete stand behind a given brand is also a very fast way to establish the brand's credibility. It's hard to imagine our favorite players attaching their names to a product that doesn't live up to its hype. If a shoe is good enough for Michael Jordan, who are we to argue?
Nike Adopts "Category Offense" as a Marketing Model
Despite years of success, Nike began seeing its sales flatten out somewhat back in 2008. That's when the company's then-newly appointed CEO, Mark Palmer, stepped up to the plate with a brilliant new business model: a strategy called "category offense." This involved restructuring the ways the brand developed and marketed different types of products. Previously, Nike had grouped its products into broad general categories, such as footwear, apparel and accessories.
With category offense, however, Nike began organizing products into sport-specific categories. By dividing products into categories such as basketball, running and football, each division of the company became far more focused on the individual needs of specific types of athletes and what their sports could benefit from in terms of footwear features. This specialization was also another way to focus on boosting performance.
To say that the strategy worked is a massive understatement: Nike enjoyed a 70% increase in sales by 2016. In 2017, Nike took things a step further by announcing its new Consumer Direct Offense, which was designed to use digital technology to connect the company even more directly with its consumers. "The future of sport will be decided by the company that obsesses the needs of the evolving consumer," said Mark Parker, Nike's then-Chairman, President and CEO. "Through the Consumer Direct Offense, we're getting even more aggressive in the digital marketplace, targeting key markets and delivering product faster than ever."
Sneakerheads, Hypebeasts, and Footwear Nostalgia
As the Air Max gracefully ages into its third decade, classic sneakers like the Air Max 90, Jordan 1, and the Nike Dunk continue to attract fans of all age groups. Some folks love seeing a shoe that they grew up with. A pair of sneakers can remind someone of a different era.
Younger folks see some of these shoes and love how it transports them to a different time, in the same way a poodle skirt might invoke the 1950s or a tye-dye shirt can invoke the 1960s. Nike even has a line of sneakers called Retro in their Jordan brand as a result of this. If Hollywood can remake movies and shows, Nike can remake shoes. The Air Max 90, for example, has been released in over 100 colorways.
For some, footwear is more than a part of their outfit, it's a way of life. Nike has been instrumental in constructing that culture through its innovative marketing, technological advancement, and diverse appeal. The term 'sneakerhead' can be applied to those who collect shoes, often vintage footwear and other coveted sneakers. Many of these designer sneakers remain boxed and in closets because wearing them can devalue the product the same way dog ears and rips devalue classic comic books.
With limited releases, celebrity endorsements, collaborations, and other intense marketing, the sneakerhead culture can be competitive. Some folks will wait in lines outside stores for a chance at, as some say, 'copping a pair.' Members of the community receive criticism for their passion at times. The term "hypebeast" refers to someone who is more excited about a trend and the excitement around it than they are to wear the shoe itself.
The Brand Makes a High Fashion Foray
These days, spotting a pair of Nikes on a fashion runway is no longer the shocker it might have been even a decade or two ago. Nike is now considered a fashion label with some prestige in its own right, even though this was never a goal the company set out to achieve.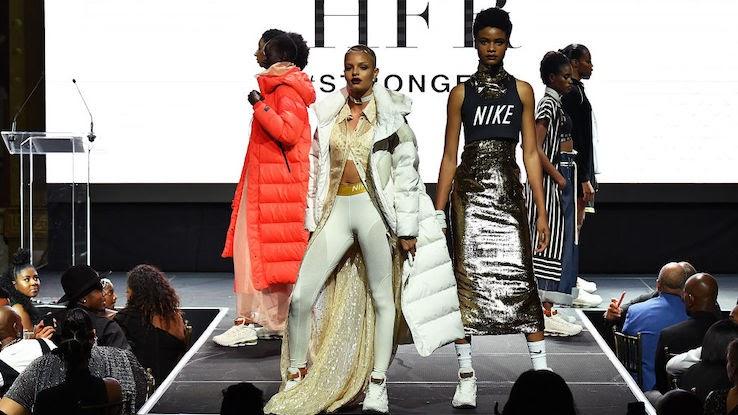 By connecting with culture on such an emotional level, it should perhaps come as no surprise that Nike has managed to garner millions of diehard fans over the years. When some of those fans entered the fashion world, it only made sense that they'd bring their favorite shoes along for the ride. As Cam Wolf at GQ put it, "A generation of new guard designers who grew up obsessing over Nikes have come of age and are now lovingly crafting the shoes in their image. And the current culture prefers to dress for the everyday in perfect-with-sneakers sweats and hoodies." It seems only natural, then, that Nike fits in everywhere from the runway to the sidewalk to the basketball court.
While Nike still insists that its main focus is developing technology geared towards empowering its customers, a little high fashion recognition certainly hasn't hurt. As fashion and culture continue to become more entwined, it seems fitting to include a sneaker brand that's been tapping into pop culture for decades. And if that shoe fits, why not wear it?