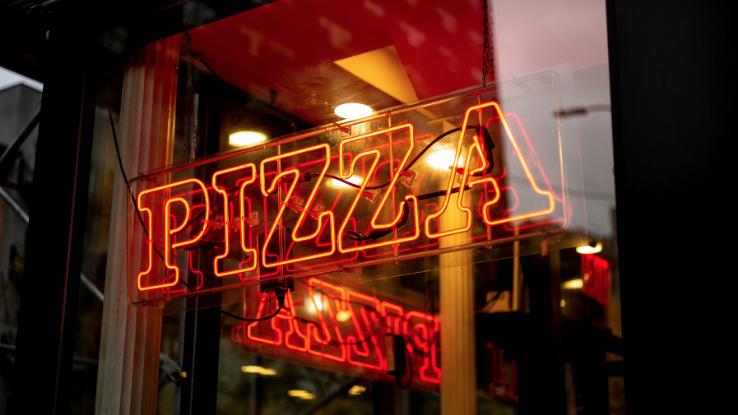 When thousands of Italian immigrants started arriving in the United States during the late 1800s, they brought their culture, traditions, and food with them. And that included pizza. However, 'za didn't emerge on the culinary scene right away. In fact, it wouldn't make a real cultural impact until the mid-20th century or so. Of course, these days Americans love this dish so much that there are over 75,000 pizzerias across the country.
But those pizzerias aren't all churning out the same cheese pies. And many of them aren't really interested in replicating Italian versions of the dish. Depending upon where you are in the U.S., you'll encounter region-specific variations. We're highlighting some of the most notable styles of pizza in the U.S. to celebrate National Pizza week.
New York-Style Pizza
Descended from Neapolitan-style pizza, New York-style pies are famous across the globe — and for good reason. Each slice is so thin and wide that, for many, folding it is the most effective way to eat it. And that paper plate? It'll be soaked through with grease, which makes it a perfect late-night snack.
Hand-tossed, light on the sauce, and loaded with cheese, New York-style pizza is baked in a coal or deck oven, which makes for a crust that's crunchy, but not too stiff. After all, you need to be able to fold it.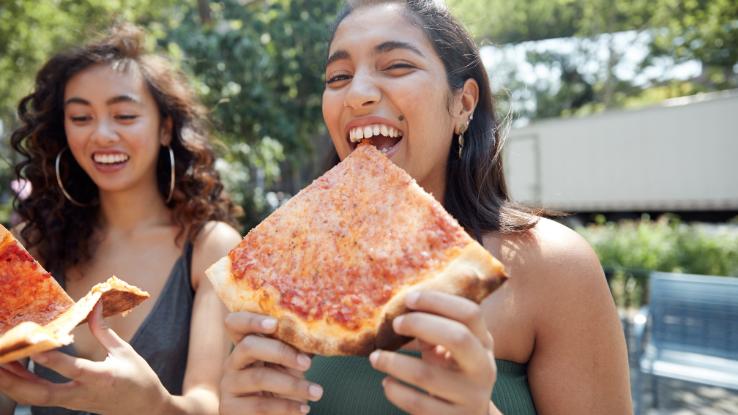 Chicago-Style Deep Dish Pizza
In 1943, a Chicago-based pizza-making duo served up a new style of pie — one that had a deeper dish and inverted layers. And, with that deeper dish, came crunchier, thicker crust. As for that pizza-making duo? Well, the birthplace of deep dish, Pizzeria Uno, is perhaps better known today by its brand of cookie-cutter chains, Uno Chicago Grill.
That two-to-three-inch crust not only takes a while to cook, but it also fills you up pretty quickly, especially since the pie is loaded with tomato sauce, cheese and plenty of other toppings. Now, deep dish is one of the most well-known types of pizza in the U.S. — and a real pull for all who visit the Windy City. All you need is a knife and fork!
New Haven-Style Pizza
If you like your pizza with a charred crust, New Haven-style pie is the way to go. New Haven, Connecticut's take on pizza — or, as it's locally called, "apizza" — is similar to a thin-crust, coal-fired Neapolitan-style pizza — and it originated in one of the country's oldest pizza places, Frank Pepe Pizzeria Napoletana, which opened its doors in 1925. Fun Fact: Pepe himself also invented the pizzeria's ever-popular white clam pie, a must-try if seafood is your thing.
Often, these pies are oval-shaped — or, to folks used to circular 'za, a bit misshapen — and topped with oregano, tomato sauce and a bit of grated pecorino romano cheese. If you want mozzarella, you'll have to ask for it. Adding to the fun, locals often debate who does pizza better: Frank Pepe's or the nearby Sally's Apizza. What can we say for certain? All of these pies pair very well with Foxon Park's white birch beer, which has been made locally in East Haven since 1922.
St. Louis-Style Pizza
St. Louis-style pizza differentiates itself from other American takes on 'za in several ways. First of all, the crust is as thin and crunchy as a cracker. A lot of people compare eating a St. Louis-style pie to eating cheese and crackers — that's how thin the crust is on this type of pie.
Like New Haven-style pie, a St. Louis-style pizza is also cut into irregular shapes and sizes. Most often, you'll get square-shaped slices, as opposed to triangles. Unlike other pizza types, a St. Louis-style pizza's toppings go all the way to the pie's edges; the sauce has a slight sweetness to it; and it's topped with a regional cheese, Provel. Invented in St. Louis, Missouri, Provel combines provolone, cheddar, Swiss, and liquid smoke.
Stuffed Pizza
Like deep dish, stuffed pizza originated in Chicago and boasts a thick, chewy crust. So, what makes it stand out? A thin layer of pizza dough covers the top and seals it, much like a dessert pie. Yes, this is veering dangerously close to calzone territory, but it's definitely still a pie.
On the inside, stuffed pizza is filled with lots of ingredients — really, anything you want to stuff in there — so, without its handy top layer, the pie might lack the structural integrity needed to stay together while it's being eaten. Once pulled from the oven, stuffed pizza is topped with a generous amount of warm tomato sauce.
Detroit-Style Pizza
True to its city's roots, Detroit-style pizza started because of the blue-steel pans it was baked in. These square pans, which are similar to cast-iron skillets in use, have their origins in the auto industry, at least design-wise. And, when it comes to pizza, these infamous pans help make an extra-crispy crust. Detroit-style pie is still occasionally baked in these pans today — though, at other times, it's simply shaped into that compact, square look.
Another unique feature? This style of pie is made with a blend of mozzarella and Wisconsin-based brick cheese, which is purposefully pushed up against the walls of the pan, allowing for some great caramelization. If the pizza maker is a traditionalist, they'll bake the pie once, take it out of the oven to add the sauce, and then pop it back in the oven a bit longer to ensure that the crust is as crispy as possible.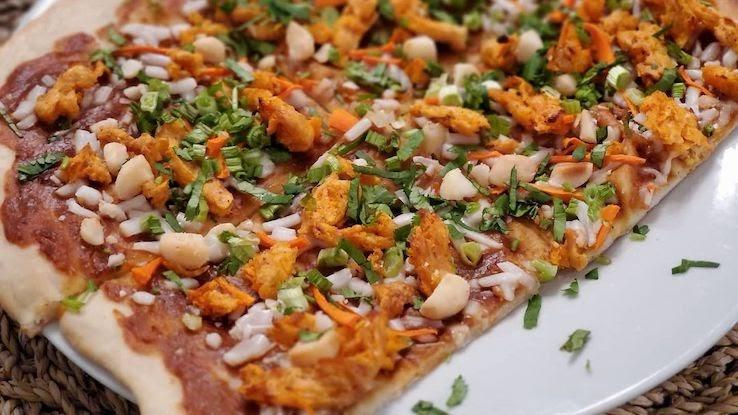 Quad Cities-Style Pizza
You might be wondering, "What are the Quad Cities?" For those who haven't been to the region, the Quad Cities encompasses several cities in Iowa and Illinois, including Davenport and Bettendorf, both of which are in southeastern Iowa, and Rock Island, Moline, and East Moline, all of which are located in northwestern Illinois. (Yes, that's technically five cities, but just go with it — for the pizza's sake.)
In this style of pizza, the dough is special in part because it contains a healthy dose of brewer's malt. The effect? A darker and sweeter crust. To balance out the sweetness, Quad City pizza makers incorporate a spicy tomato sauce and spiced-up, fennel-filled lean pork sausage. The best part? Unlike other pies, Quad City pizzas are often cut into strips with giant kitchen scissors.
Honorable Mention: California's Inventive Toppings
California-style pizza isn't really a thing — at least not in the same way as these other regional pies. Instead, California pie makers are known for their creative, gourmet toppings. Generally hand-tossed and thin-crust, these pizzas are topped with everything from Thai-style peanut sauces and barbecue chicken to lobster and Buffalo bleu cheese.