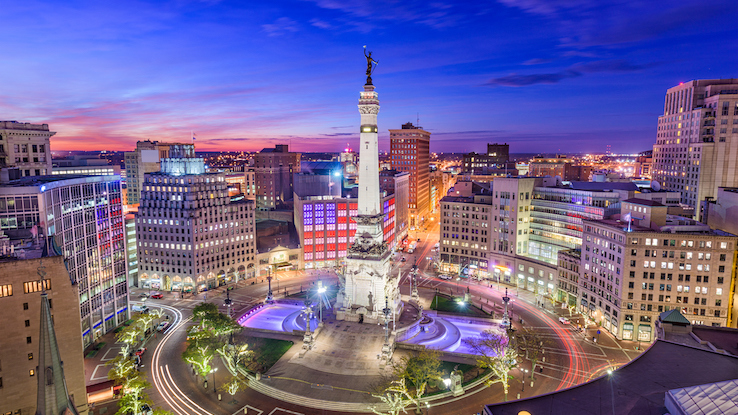 From the cultural attractions of its cities to the beauty of its nature, Indiana has plenty to offer in the way of tourism. Whether you're considering visiting Indianapolis to see historic sites or want to enjoy the beauty of nature, we'll give you a thorough breakdown of the best Indiana vacation spots. We'll also outline some of the best places to eat, drink, and stay throughout your travels.
From State Parks to Amusement Parks: Indiana's Best Activities
If you're looking for one of northern Indiana's most impressive destinations, consider a trip to the Indiana Dunes. Located near Chesterton, the Indiana Dunes National Park stretches along the scenic south shores of Lake Michigan. The dunes incorporate beaches, hiking trails, campsites, and cabins. Throughout the cities along the south shore, you'll also find plenty of nearby golf courses, casinos, and shopping destinations. 
If you find yourself in the southern part of the state, then consider a trip to the Marengo Cave. This cave is one of Indiana's most visited natural attractions and offers plenty of opportunities for camping thanks to its cabin rentals. You can also enjoy adventuring through the cave itself. 
Between Evansville and Louisville, you'll find the holly jolly town of Santa Claus. Make sure to stop by Holiday World, an action-packed theme and water park where Christmas is in the air all year long. 
About 20 miles north of Indianapolis you'll find Conner Prairie, a unique living history museum located in the town of Fisher. Conner Prairie is both Indiana's first Smithsonian affiliate and is listed on the National Register of Historic Places. Conner Prairie features a 19th-century village called PrairieTown, complete with resident actors, animals, and buildings. You can also go on an 1859 helium balloon voyage or visit a Native American village. 
The Best Places to Visit In Indiana
If you're looking for more of an urban adventure, then rest assured that Indiana has plenty of great cities worth traversing. Right in the center of Indiana lies the state capital of Indianapolis.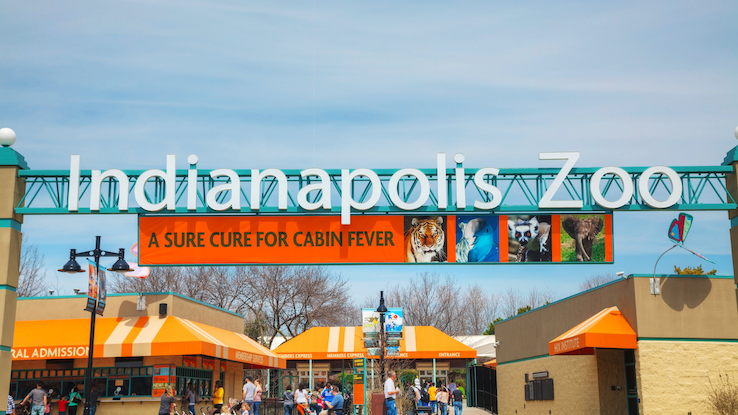 There, you'll find plenty of great attractions, such as the Indianapolis Zoo, the Indy Motor Speedway, and the Children's Museum of Indianapolis. Enjoy a Colts game at Lucas Oil Stadium or spend a day in the urban oasis of White River State Park. 
In Northeast Indiana, you'll find the charming town of Fort Wayne, where you'll discover plenty of museums and galleries such as the Science Center and the Fort Wayne Museum of Art. Enjoy a baseball game at Parkview Field, take in the beauty of the Foellinger-Freimann Botanical Conservatory, or peruse the museum artifacts you'll find in the historic building that once served as Fort Wayne's City Hall. 
Then there's Northern Indiana's South Bend, which is home to Notre Dame University. Stop by the campus to check out some legendary football at Notre Dame Stadium, and then take in the beauty of the university's Basilica of the Sacred Heart. The stunning cathedral offers tours that allow you to experience the opulent art and architecture of the building firsthand. 
Enjoy Indiana's Best Lodging
No matter what part of Indiana you find yourself in, you'll enjoy plenty of great choices when it comes to lodging. In the heart of downtown Indianapolis, you'll find the Conrad, the only five-star hotel in Indiana. Not only does the Conrad offer a great central location, but you'll also enjoy amenities such as a spa, fitness center, and art gallery. Feast on the famous dry-aged steaks at the hotel's Capital Grille, or enjoy a selection of over 200 wines at Tastings Wine Bar and Bistro. 
If you decide to visit Notre Dame, you'll find the Morris Inn boutique hotel conveniently located on campus. The delightful guest house features AAA Four Diamond accommodations, an excellent steakhouse, and everything you need to enjoy a luxurious stay. 
Indiana also boasts a variety of resorts that are travel destinations in their own right. In southern Indiana you'll find the small but culturally rich town of Bloomington, which is home to the Fourwinds Lakeside Inn and Marina. The luxurious resort is perched right on the shores of Lake Monroe and offers boat rentals for guests who want to spend a day out on the water. 
Last, but certainly not least, is French Lick Resort, an historic resort located in the beautiful hills of Hoosier National Forest. With two AAA Four-Diamond hotels, three golf courses, two spas, and a gaming casino, French Lick is like a world unto itself. 
Indiana's Best Dining Experiences
Foodies will find plenty to love in Indiana's many world-class dining destinations. It's worth going out of your way to experience a meal at Indianapolis' legendary St. Elmo Steak House. Since 1902, St. Elmo has been serving up epic steaks and shrimp cocktails that earned the facility a reputation as one of the best steak houses in the United States. And worry not if you find yourself settled in closer to French Lick; the resort also offers an amazing steak dinner at its 1875: The Steakhouse restaurant. 
Indiana is also home to a number of Amish communities that have become renowned for their mouthwatering meals. Look no further than the town of Middlebury to experience the culinary magic of a homemade Amish pie at Das Dutchman Essenhaus, Indiana's largest restaurant. 
Bloomington also has a collection of excellent restaurant choices, such as FARM, where Chef Daniel Orr creates unique seasonal menus with locally grown ingredients. 
Round out your evening with a drink at Bloomington's Irish Lion pub. The historic vintage pub is so cozy that a photo of its interior was regularly featured in the opening credits of the sitcom Cheers.  
With a unique blend of natural beauty and vibrant cities, Indiana is a great vacation destination for every type of traveler. Whether you're looking to get away from it all with a trip to a lakeside resort or you want to experience the sights and sounds of bustling Indianapolis, we hope our Indiana tourism guide has helped point you in the right direction.