It's important that you're aware of rules and restrictions for international flights, even when it comes to your luggage — you don't want to find yourself stuck at the airport with an oversized bag, prohibited items or confiscated goods. Before you start researching ticket prices and booking hotels, learn these important rules for traveling with carry-on luggage on your next international flight.
What Are the Weight and Size Restrictions on Carry-On Luggage?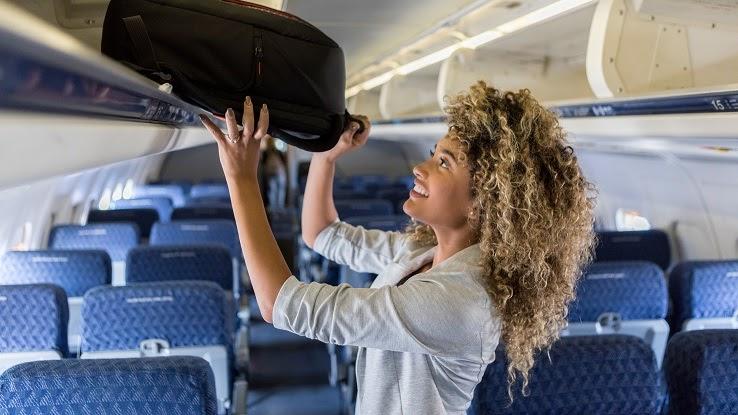 When it comes to international flights, weight limits are fairly standard across the board. Most airlines allow you to bring bags weighing up to 15 pounds as your carry-on luggage. However, some airlines have specific policies that differ from this guideline, including United Airlines, which permits luggage weighing up to 70 pounds for business class and premium club flyers, and British Airways, which has a carry-on weight limit of 50 pounds. Keep in mind that these limits can differ based on your seating type — it's best to check with the specific airline about weight restrictions before booking a ticket.
Each airline tends to have its own restrictions related to the dimensions of carry-ons you're allowed to bring. On many airlines, especially those based in Europe, your carry-on should be good to go if it's under 21 inches by 15 inches by 9 inches. Because size restrictions can vary not only based on the airline you're traveling with but also on the travel class of your ticket, you might not know exactly how large your carry-on can be until you've chosen a seat.
The number of carry-ons you can tote along is also different for each airline. Typically, airlines allow one bag, two bags, or one bag and a personal item (such as a laptop/tablet). The best way to identify any luggage restrictions is to check the airline's rules directly on its website or by calling its customer service number. With these details in mind, you can better anticipate how you'll pack. Just make sure to weigh and measure your bags before leaving home; this can help prevent unexpected delays (and expensive baggage fees).
What Are the Guidelines for Traveling With Liquids?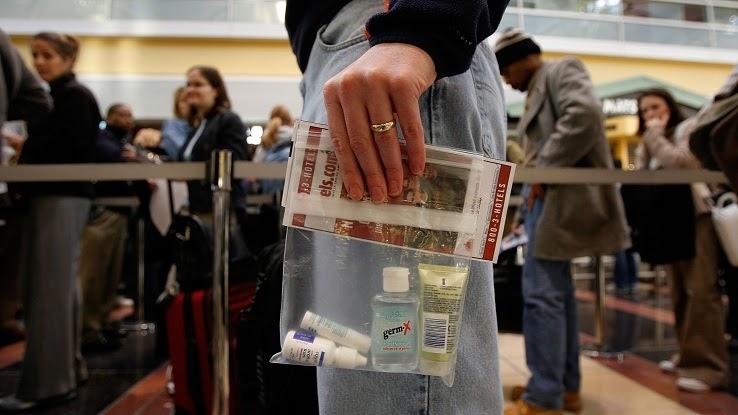 Liquid guidelines for international travel are similar to those for domestic travel. Many international airlines go by the 3-1-1 rule, which states that you can bring along 3.4-ounce bottles of liquids or gels — including toothpaste, face wash, body wash, shampoo, conditioner and some other liquids — as long as they all fit into one quart-size resealable bag. Anything over this limit should go into your checked baggage. Keep in mind that different governments and airports can set the rules surrounding these allowances, but the airline you're flying with should have correct information about your destination's requirements.
On some airlines (or when flying into certain destinations) the liquid rules may be stricter, potentially even forbidding liquids of any size in your carry-on luggage. There are also certain liquids you may not be able to bring back into the United States, such as various types of alcohol and food. Generally, if you purchase a liquid item at a duty-free shop after you've been through the security screening process, it's fine to bring it along on board. If you're uncertain, check the guidelines for your airline and/or customs, and plan to check your baggage rather than carrying on if you need to bring larger containers of liquids.
Should You Bring Medications or Prescriptions in Your Carry-On?
The CDC recommends that you always keep your medication in your carry-on, as luggage loss or theft is a higher possibility for checked baggage, and you don't want to be stranded in a foreign location without your meds. Your medication bottles should include all of the original label information (your name, your doctor's name, the medication name) because airport officials may need to use this information to verify that you're traveling with a legitimate prescription and not trafficking drugs. You'll also want to bring a copy of your prescription and a few extra days' worth of medication in case you experience travel delays.
That said, it's vital to verify whether your prescriptions are permitted in the country you're traveling to. Every country has different laws about medications people are allowed to bring in. Medications that are readily available within the U.S. may be illegal in countries that you plan on traveling to — even if you're traveling with allergy medicine that's widely available in U.S. drugstores, for example, it may be prohibited to possess in Japan.
Medication laws, and the consequences for violating them, can range from inconvenient to punitive. Some countries might just confiscate your medication when you arrive, and some could levy penalties like jail time. The United Arab Emirates, for example, has tight laws against bringing narcotics into the country that can lead to legal issues like imprisonment if officials believe you intended to distribute the substance. The CDC recommends checking with the foreign embassy of the country you're visiting to ensure the destination allows your medication and the full amount you need to carry — some areas only permit you to bring a 30-day supply of certain drugs across their borders.
What Items Aren't Allowed for International Travel?
While different countries have different rules, there are some items that you're almost always not allowed to pack in a carry-on. Firearms and ammunition are almost universally forbidden for international travel in carry-ons. Meat and seafood products, along with other consumable items that could serve as threats to public health, are also typically not allowed in your bag. Certain kinds of plants categorized as invasive species are also typically restricted or banned. These items may be approved for transport via a special permit or license, but it's unlikely that the average tourist will need to obtain one of these permits.
When you're returning to the United States, customs may not allow you to carry certain things through a U.S. airport. These include dangerous or illegal items, as listed on the U.S. Customs website, including "dangerous toys…bush meat, or illegal substances like absinthe and Rohypnol." For example, the popular Kinder Eggs chocolates are legal in Europe and other countries but not the U.S. due to the toys contained inside the edible shell. Purchasing the European version of the treat abroad and bringing it back to America through airport security could result in a fine.