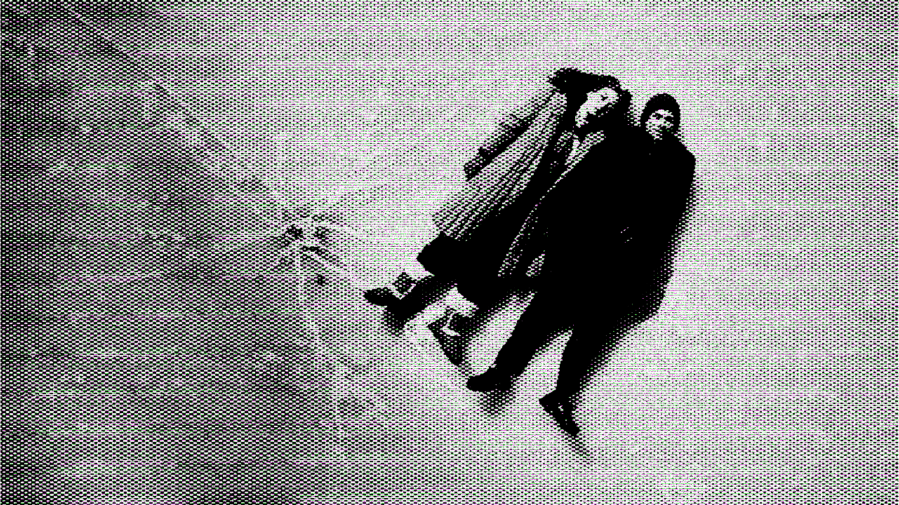 For over four decades, Jim Carrey has entertained families through his energetic slapstick performances. The funnyman started his career by doing impressions in front of a mirror, only to ultimately become a household name across several generations of movie lovers. From comedic hits like Bruce Almighty (2003) to hallmarks of cinema like Eternal Sunshine of the Spotless Mind (2004) to family-friendly blockbusters like Sonic the Hedgehog (2020), Jim Carrey has done it all. Here are some of his best — and most iconic — roles.
The Best Films of Jim Carrey's Career
Eternal Sunshine of the Spotless Mind (2004)
If you've ever been emotionally devastated by a film — one that lingered long after the credits rolled — it was more than likely something written by Charlie Kaufman (Adaptation; Synecdoche, New York). Although his recent Netflix fare, I'm Thinking of Ending Things (2020), was a little more divisive in that surrealist way, most moviegoers agree that Eternal Sunshine of the Spotless Mind is a classic.
Here, Carrey stars as Joel Barish, an introvert who meets Clementine Kruczynski (Kate Winslet), a free-spirited, artsy type. After a passionate but incredibly trying two-year relationship, they decide to have their memories clinically erased so that they don't remember all of the pain. Of course, that means losing the joy (and each other), too.
We won't say too much more about this sci-fi romance drama, but Eternal Sunshine remains one of Carrey's best and most understated performances. If you haven't seen it, what are you waiting for? Meet us in Montauk already.
The Truman Show (1998)
The Truman Show marks another one of Jim Carrey's best performances — it's at times more grounded, but you do get a dose of that unhinged side that he's most known for giving us in his (often problematic) '90s-era comedies. In this sci-fi drama, Carrey stars as Truman Burbank, an insurance salesman whose world is completely shaken when he discovers his whole life is a reality TV show of sorts.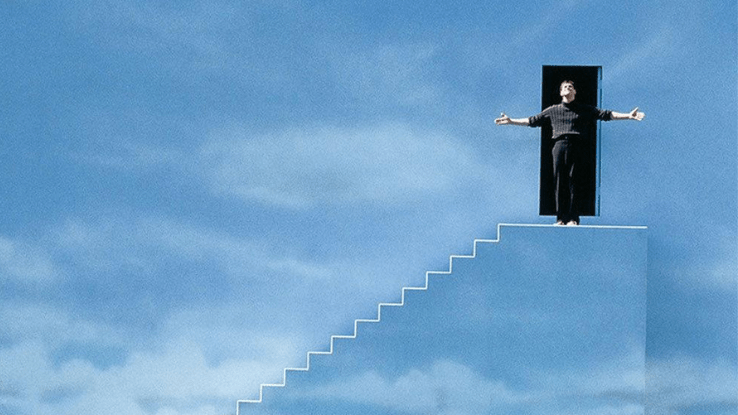 But this isn't a Keeping Up With the Kardashians situation. Instead, the cameras are cleverly hidden — and the place he lives is populated with actors. Arguably, The Truman Show predicted the rise of reality TV — a true mark of any good sci-fi movie. Not to mention, Jim Carrey won a Golden Globe for his pitch-perfect performance.
In a 2020 interview, Carrey chose The Truman Show as the most worth revisiting of his works. "Now everybody has a subscriber channel," Carrey said. "Everybody has their own little Truman Show world."
Some Classic Jim Carrey Comedies
Liar Liar (1997)
After working with director Tom Shadyac on Ace Ventura: Pet Detective (1994) — a film that's notably absent from our list due to its homophobic jokes and transphobic plot points — Jim Carrey collaborated with the filmmaker again on Liar Liar. In the fantasy comedy, Carrey plays a divorce lawyer — well, a divorce lawyer who can't lie for 24 hours.
You might be wondering why, and that's a fair question. Our protagonist has promised his son to stay honest as a sort of birthday gift. While the plot is somewhat thin, Carrey's energetic physical comedy keeps you glued to the screen. Plus, this one stands out for earning Carrey a Golden Globe nomination for Best Actor in a Comedy or Musical.
Bruce Almighty (2003)
In Bruce Almighty, Jim Carrey stars as Bruce Nolan, a struggling television reporter who complains to God (the incredibly well cast Morgan Freeman) that He's not doing enough. So, God makes Bruce the "Almighty" — just for a week. Carrey's co-star, Jennifer Aniston (Friends, Dumplin') also deserves a shout out here; the duo have pretty great chemistry, making this 2000s film feel like the '90s team-up we never got.
However, Bruce Almighty did court some controversy. Namely, the film was banned in Egypt and Malaysia with censors deeming it inappropriate to portray God as a man (or equate God and a human). A real commercial breakthrough, the film didn't need any divine intervention to win over most movie-goers. In the end, Bruce Almighty earned $242 million domestically and $484 million globally, making it the fifth highest-grossing film of 2003 — and Carrey's highest-grossing movie worldwide.
Jim Carrey at His Most Wonderfully Unhinged
Batman Forever (1995)
It's kind of a toss up between which film gets more flack — Joel Schumacher's Batman Forever (1995) or Joel Schumacher's Batman & Robin (1996). Coming on the heels of the Tim Burton-directed Bat-films, Batman Forever had a lot to live up to — and a new Caped Crusader, Val Kilmer, leading the cast.
And, aside from Kilmer, the rest of the cast was iconic, too. The film featured Tommy Lee Jones as Harvey Dent, a.k.a. Two-Face; Nicole Kidman as Dr. Chase Meridian; Chris O'Donnell as Dick Grayson, a.k.a. Robin; and, last but certainly not least, Jim Carrey as Edward Nygma, a.k.a. The Riddler.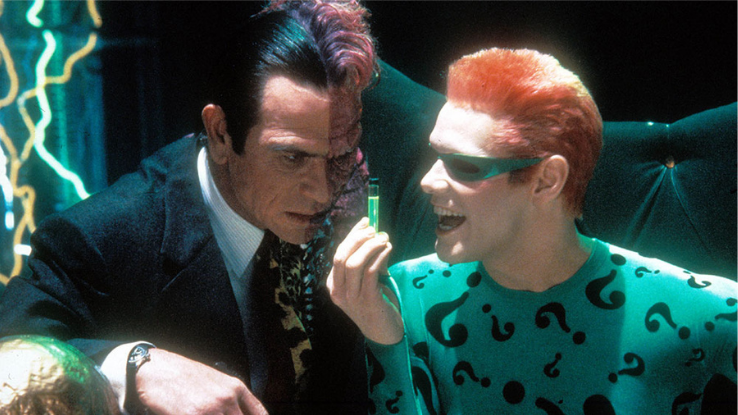 After a Batman-related incident leaves him, well, two-faced, Harvey Dent is out for revenge. The Riddler, meanwhile, has some despicable plans of his own, which he hopes to achieve by working with Two-Face. To fans' dismay, Schumacher ditched the dark atmosphere of Burton's Gotham City, but, perhaps thankfully for Riddler fans, he saved the full '60s-style camp for Batman & Robin. Still, Carrey's Riddler is a standout in an otherwise messy — although very colorful and funny — movie.
The Mask (1994)
One of the few '90s comedies to make our list, The Mask features Jim Carrey as Stanley Ipkiss, a meek bank employee who stumbles upon a magical mask that, as fate would have it, transforms him into The Mask, a green-skinned troublemaker.
Loosely based on a comic book series, the film isn't just your typical hijinks. As The Mask, Stanley can alter himself and his surroundings, making for cartoonish, Who Framed Roger Rabbit-esque fare. And he uses these strange abilities to fight crime. Obviously.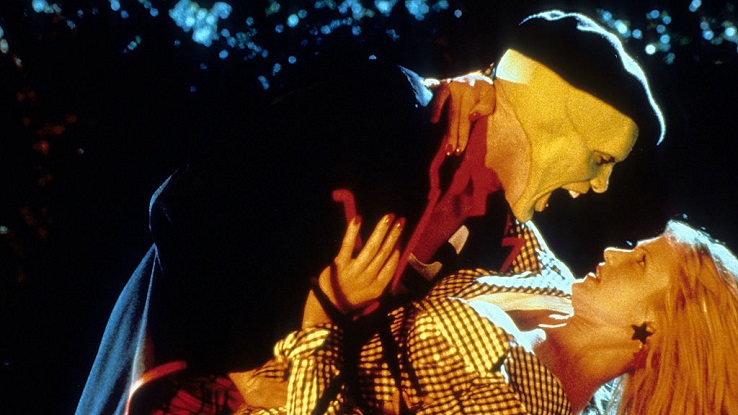 The film was a critical and commercial success. In addition to becoming Jim Carrey's second highest-grossing movie worldwide, it landed him a Golden Globe nomination. Plus, the The Mask is Oscar-nominated — though it lost Best Visual Effects to Forrest Gump (1994) — and the movie marks Cameron Diaz's feature-length film debut. Despite all that success — and a three-season animated series — the stand-alone, Carrey-less film sequel, Son of the Mask (2005), was an epic flop.
Jim Carrey Fun for the Whole Family
Sonic the Hedgehog (2020) — and Sonic the Hedgehog 2 (2022)
Dr. Robotnik — also referred to as Dr. Eggman for his distinct appearance — has got to be one of the most bizarre video-game villains of all time. And by that we mean, we can't really imagine anyone else bringing him to life. Jim Carrey gets to lean into his most unhinged here, returning to his over-the-top, wholly embodied comedy roots.
The first installment of the now-franchise — and possible trilogy — saw our tennis shoe-wearing hero, Sonic the Hedgehog (voice of Ben Schwartz), and his human buddy, Tom (James Marsden), facing off against Carrey's cartoonish Dr. Robotnik.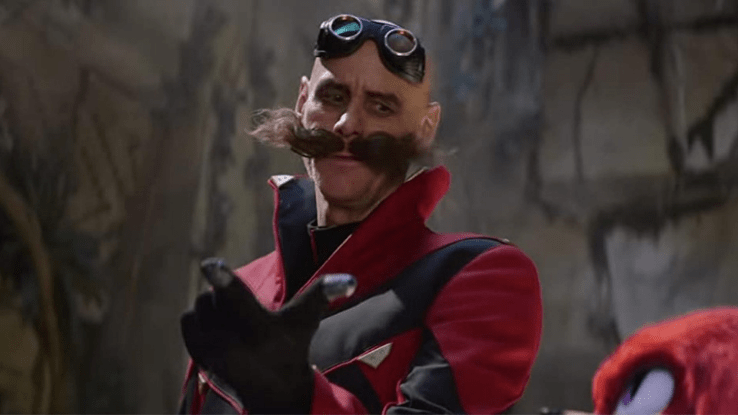 A highlight of the surprisingly fun Sonic, Carrey reprised his role in 2022's sequel, which introduced movie-goers to franchise favorite characters, like Tails (voice of Colleen O'Shaughnessey) and Knuckles the Echidna (voice of Idris Elba). Carrey's trademark antics were there in full-force, too — we're just hoping he agrees to finish out the trilogy.
Lemony Snicket's A Series of Unfortunate Events (2004)
Lemony Snicket's A Series of Unfortunate Events follows the orphaned — and very unlucky — Baudelaire children in the wake of their parents' death in a mysterious fire. With little family to turn to, the kids — Violet (Emily Browning), Klaus (Liam Aiken) and baby Sunny (Kara and Shelby Hoffman) — end up in the custody of their cousin, an eccentric actor named Count Olaf.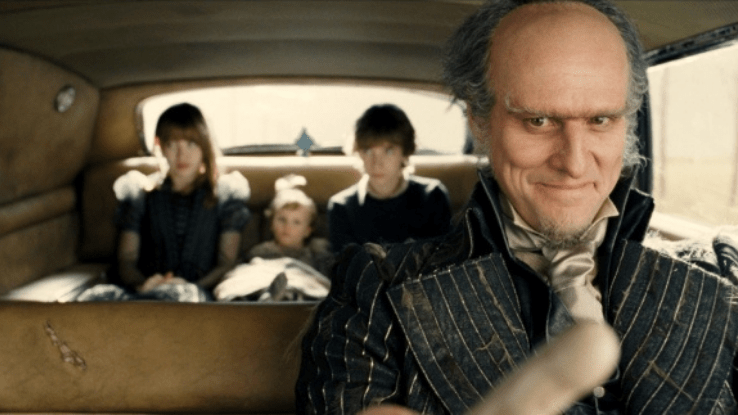 However, Olaf is secretly scheming to steal the massive Baudelaire fortune the kids are set to inherit. This film traces the plots of the first three books in Snicket's (a.k.a. Daniel Handler's) beloved series. Even for Carrey, bringing someone as sinister as Count Olaf to life on screen posed a challenge. After all, the first book in Snicket's series alone sold over 60 million copies — that's a lot of fans.
Praised for its high production values and costuming, the film really captured the book's feel and look. Carrey, for his part, delivers a perfectly balanced Olaf: he's outlandish without being cartoonish, and frightening without being too-evil for a dark comedy. Basically, he's perfectly unhinged. And his performance is the definitive one — much better than Neil Patrick Harris' cringey rendition of Olaf for Netflix's adaptation (2017–19) of the series.
Other Jim Carrey Films That Deserve a Shoutout
Man on the Moon (1999)
In the biographical comedy-drama Man on the Moon, Jim Carrey brings the late American entertainer Andy Kaufman to life. Like a typical biopic, the film follows Kaufman's life from formative childhood moments to comedy club performances and television appearances.
What sets this one apart, though, is the attention to detail; fans of Kaufman will recognize the inside jokes and scams that made the entertainer famous. Although the film received mixed reviews, Carrey won a Golden Globe for his performance — the year after he won for The Truman Show, actually — and some critics, like Roger Ebert, praised Man on the Moon pretty generously.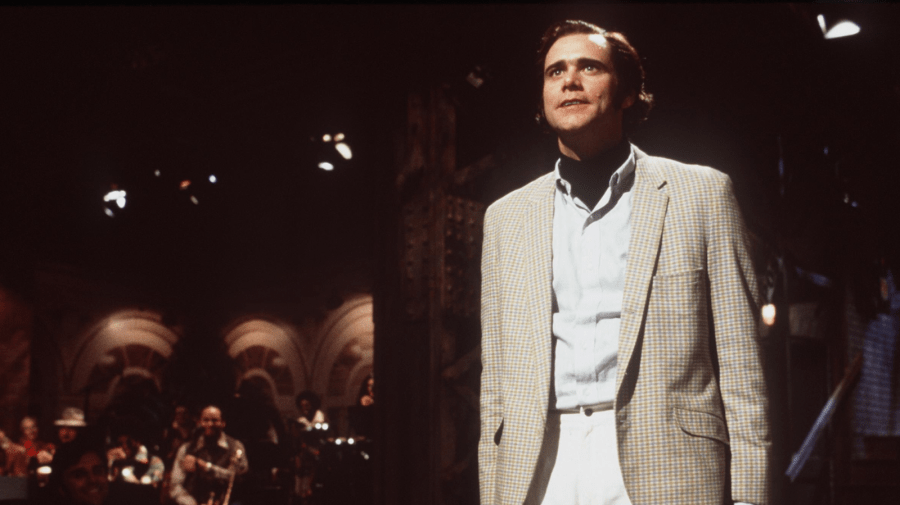 "What is most wonderful about Man on the Moon, a very good film, is that it remains true to Kaufman's stubborn vision. Oh, it brightens things up a little," Ebert wrote in the Chicago Sun Times. "But essentially it stays true to his persona: A guy who would test you, fool you, lie to you, deceive you and stage elaborate deceptions, put-ons and hoaxes."
The 2017 documentary Jim & Andy: The Great Beyond allows viewers a glimpse behind the scenes of Man on the Moon, mixing together footage from the set with contemporary interviews with Carrey. While some fans may enjoy the insight into Carrey's process, the kind of method acting he employs certainly isn't universally celebrated, especially as it can lead to unprofessional conduct.
I Love You Phillip Morris (2009)
I Love You Phillip Morris is a black comedy-drama that's actually based on a real-life imposter and con artist Steven Jay Russell, and based on a 2003 book, I Love You Phillip Morris: A True Story of Life, Love, and Prison Breaks, by Steve McVicker. As the title of the book suggests, Steven broke out of prison quite a bit.
As you might guess, Carrey stars as the con artist. Ewan McGregor, meanwhile, co-stars as Phillip Morris, a fellow inmate of Steven's. Before Phillip comes into the picture, Steven leaves his family behind, eager to live life as an openly gay man in Miami. There, he becomes a con artist to support his lavish lifestyle. When he's caught and incarcerated, he meets Phillip — and falls in love with him. This leads to more cons and lies and prison breaks, all in an attempt to live together in a place that's not behind bars.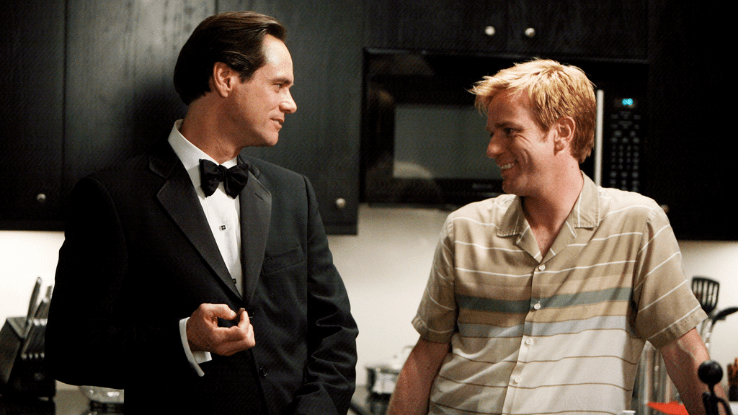 Steve Persall from the Tampa Bay Times perhaps describes the film best, writing "Think Catch Me If You Can mashed up with Brokeback Mountain if Mel Brooks directed and you'll get the idea." I Love You Phillip Morris certainly allows Carrey to lean into the comedy chops we love, but it's also a genuinely touching film in moments.
Jim Carrey on the Small Screen
Kidding (2018–)
Although it was canceled by Showtime after just two seasons in 2020, Kidding is a comedy-drama series that's worth marathon watching. For starters, in addition to Jim Carrey the cast is stacked with greats, including Frank Langella (The Trial of the Chicago 7), Judy Greer (Halloween Ends) and Catherine Keener (Brand New Cherry Flavor). And the impressive guest appearances really run the gamut — from Dick Van Dyke to Tyler, the Creator, for example.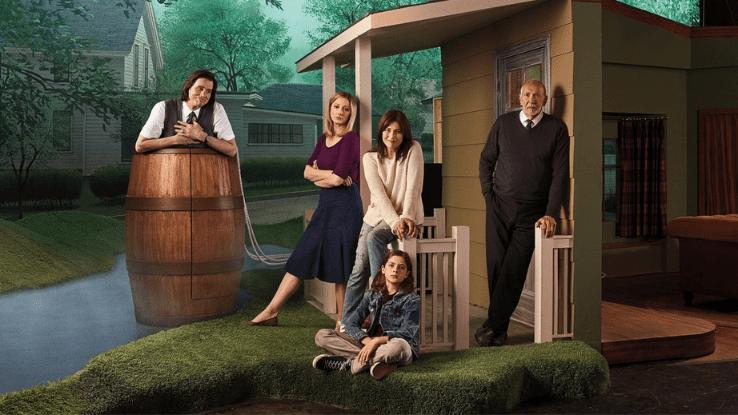 Executive produced by Eternal Sunshine's Michel Gondry (he also directs a few episodes), Kidding is about Jeff Piccirillo (Carrey), a man who's more commonly known as Mr. Pickles. Beloved by kids and their parents, Mr. Pickles is a TV personality — this world's Mr. Rogers, kind of. But even though the puppet-filled franchise he helms is worth millions, that doesn't mean life is perfect behind the scenes.
Sure, its second season holds a perfect 100% on Rotten Tomatoes, and it was nominated for a Golden Globe, but we can't help but feel that this series flew under the radar. The Hollywood Reporter's Tim Goodman offered high praise, writing, "With its keen self-awareness, exceptional writing and consistently great acting, Kidding — starring a perfectly cast Jim Carrey […] — is Showtime's best and most binge-worthy series in a long time."
30 Rock — "Leap Day"
The satirical situational-meets-workplace comedy 30 Rock (2006–13) is a bona fide classic that helped pave the way for contemporary shows outside of the traditional sitcom formula. Throughout its seven-season run, the show received a whopping 103 Emmy nominations, and won the Emmy for Outstanding Comedy Series for its first three seasons.
As you may know, the show centers on Liz Lemon (Tina Fey), the head writer on an Saturday Night Live-style sketch show that stars an unlikely duo, the unpredictable Tracy Jordan (Tracy Morgan) and the attention-seeking, clueless Jenna Maroney (Jane Krakowski). And Jack Donaghy (Alec Baldwin) is the controlling NBC exec who's often causing issues for Lemon and the others.
One of the show's best episodes — and most inventive — is the ninth episode of Season 6. Entitled "Leap Day," it's a "holiday" episode of sorts. But it's also a holiday episode that's a send-up of holiday episodes (and movies). In the world of the show, Leap Day is a widely celebrated holiday with an Easter Bunny-like mascot, Leap Day William. As the story goes, this Leap Day ambassador is a gilled humanoid who lives in the Mariana Trench and emerges to trade candy for children's tears.
There's also a Leap Day Williams-inspired film, Leap Dave Williams, that's intercut with the characters' stories throughout the episode. This fictional movie stars Jim Carrey as the titular character who must learn the true meaning of Leap Day, while Andie MacDowell, in a nod to Groundhog Day (1993), plays his wife. It's meta in the best way, which is why it works so well; Leap Dave Williams is exactly the kind of movie Carrey would've made in the '90s.