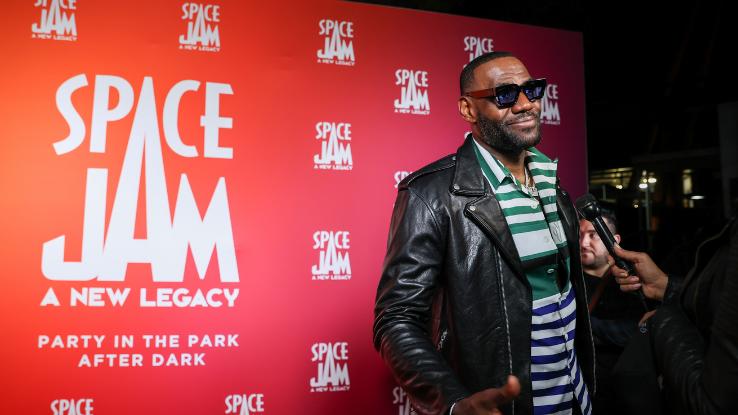 Muhammad Ali, Michael Jordan, Serena Williams — once in a while, a superstar athlete comes along to captivate fans, inspire new generations and attain household-name status. Their sheer athleticism, accomplishments and larger-than-life personalities are unparalleled, and they become cultural institutions thanks to the skills they've devoted their lives to sharpening. But what happens when you combine that performance, tenacity and success with a drive to champion what's right and improve people's lives? You get LeBron James.
Despite sharing similarities with other iconic athletes, LeBron James is one of a kind. From the start of his professional career, which began just after he graduated high school, the basketball prodigy has had a spotlight shining down on him. Controversies involving James have ranged from whether or not professional athletes should have mandatory time in college to comparisons with Michael Jordan and how an athlete of his caliber should act on and off the court. The media has made many attempts to paint James in a negative light, but he knows that his actions speak louder than his words.
James is famous for his fearlessness and team-first mentality on the basketball court, but he doesn't leave them in the locker room after the final buzzer sounds. Instead, he applies these principles to his real-world efforts to spark political and social change and to help vulnerable communities better themselves. And unlike other big names in sports, James has shown he's consistently willing to stand up, speak out and get hands-on with contentious issues like a true activist. If his current off-court conduct is any indication, this basketball superstar isn't going to "shut up and dribble" anytime soon — and there are so many reasons why he shouldn't.
James Isn't Afraid to Speak Out, No Matter What
James has spent a long time in the public eye, and he frequently navigates criticisms and attacks with the same finesse he showcases on the court. He boldly uses social media and interviews as platforms for discussing politics and social issues that others may shy away from, including racism and police brutality.
Unsurprisingly, James has received backlash for expressing himself. In 2018, Fox News host Laura Ingraham insulted his intelligence and told him to "Shut up and dribble" after he criticized Donald Trump and discussed the difficulties he's faced being a Black public figure in the United States. James responded to the host in class-act fashion, noting that "the best thing [Ingraham] did was help me create more awareness" around issues of social injustice. James didn't let the host derail him; instead, he kept the focus on his message, not himself, to highlight what he felt was truly important.
James doesn't just defend himself and his ideas, either. He consistently encourages fellow athletes to share their opinions and stand up for themselves, having long "defended players' rights to speak out on political issues." "If you feel passionate about it or you feel like it's something you want to talk about, then so be it," James said in the midst of facing backlash over earlier references he made about politics, but his unwillingness to back down, to go along with others' calls to silence himself, is admirable in an age when it's essential for us to keep fighting for what's right. His words have "emboldened other NBA players…[who] have found strength in LeBron." And that's been vital for Black athletes who were inspired to find their voices — to speak out on social issues they're passionate about when they might've stayed quiet before.
Some public figures are outraged that James doesn't just stick to basketball. The NBA's response? They encourage him to keep expressing his views, and he does so by taking action.
More Athletes Are Protesting on the Court Thanks in Part to James
James also uses his role as a leader to inspire other players, encouraging them to take action by standing up for their beliefs and calling out injustice. And when we see these brave actions playing out, we feel empowered, too. After 17-year-old Trayvon Martin was murdered by neighborhood watch coordinator George Zimmerman in 2012, James and his Miami Heat teammates wore black hoodies to make a statement and demand justice for the senseless killing.
The move encouraged social and political change in the NBA, pushing the Players' Association to issue an official statement calling for Zimmerman's arrest. This was four years prior to the first time Colin Kaepernick took a knee, which helped normalize athlete critique of social justice. LeBron James, in this regard, is a trailblazer.
James, along with teammates, often spreads awareness on the court about social change, whether it's by wearing an "I Can't Breathe" shirt to honor Eric Garner or a "Black Lives Matter" sweater. They find ways to signal their support even when they're in situations when they can't actively speak out. But these days, James and other NBA players are making their voices heard by doing as well as saying. On August 26, 2020, James reportedly led the Lakers and Clippers in voting to cancel the NBA season in response to the police shooting of Jacob Blake in Kenosha, Wis. The next day, he changed his mind and decided to resume the playoffs. But it shows how much influence James has on other players and the NBA. In the words of Clippers guard Patrick Beverley, "If King James said we hooping, we all hooping."
His Legacy Reaches Far Beyond the Basketball Court
Of course, James has earned some remarkable accolades and got to where he is today because of his skills on the court — but he's even seemed to transcend norms there. Many basketball fans believe that, to be a legend, a player has to win an NBA championship or earn a title to secure their place in the pantheon of hoop superstars.
But James shattered that assumption when he burst onto the scene; he managed to become one of the most celebrated players in the history of basketball before he ever won a championship. Even when he was barely out of high school, sportswear giants Nike, Reebok and Adidas were competing to sign James for an endorsement contract. He went on to win multiple NBA championships. He was named an NBA MVP nine times, and he's played in All-Star games every year since 2005. James is one of the highest-paid athletes in the game and has been for almost a decade. These achievements are important to recognize, of course. But his contributions to society as a whole deserve that same honor.
One of James' greatest accomplishments — and one of the things he's most proud of — isn't an NBA award; it's his commitment to providing education and resources to kids whose families face economic challenges. In 2018, he opened the I Promise School to support at-risk children in his hometown of Akron, Ohio, giving them access to a STEM-based curriculum and other uplifting education opportunities. The I Promise School operates using funds from the LeBron James Family Foundation, James' charity, which aims to provide programs, mentorship and support to kids around Akron. He's even committed to offering full-ride scholarships to the University of Akron to 2,300 eligible students who meet certain I Promise Program criteria.
James is also a strong supporter of nonprofits, including the After-School All-Stars and the Boys & Girls Clubs of America, for which he frequently raises millions of dollars. Recently, he's headed the More Than a Vote campaign with other Black athletes to combat the systemic racism that results in voter suppression in Black communities. This initiative aims to provide awareness and encourage people to vote, which it's partly aiming to accomplish by turning unused sports arenas into voting centers. More Than a Vote is also partnering with the Florida Rights Restoration Coalition to help ex-felons vote in the 2020 presidential election.
After coming up short in the 2021 NBA Finals, people speculated that LeBron James might join Team USA in the Tokyo Olympics. But LeBron has told the media that the only team he will be on in summer 2021 will be the Toon Squad, alluding to Space Jam: A New Legacy, starring LeBron James. The film has all the ingredients for a perfect summer movie, which may put James in position to do even more good.
This basketball superstar has already secured a legacy that far surpasses the game, and he shows no signs of slowing down in making a difference wherever he can. His efforts will leave a lasting impact on thousands of lives by reshaping and improving communities. And his words will inspire thousands more, reminding us to stand up against injustice for ourselves and for others who need our help. James' example provides all of us with hope for a better future — a future we can shape ourselves if we're willing to get up off the sidelines and fight for it.