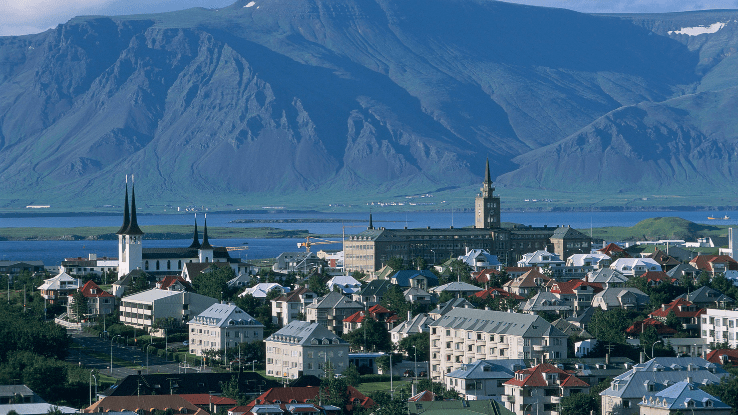 As the capital of Iceland, Reykjavík is the largest city in the land of fire and ice, covering 106 square miles. It's also a coastal metropolis full of natural wonders that make it a fantastic place to begin a unique northern escape. A midpoint between the U.S. and Europe, Iceland has become a must-visit tourist destination for people all over the globe.
Iceland is known for its iconic film locations thanks to programs like Game of Thrones and Under the Arctic Sky. The country is also known for noteworthy music acts like Bjork, Of Monsters and Men, and Sigur Ros. Icelandic folklore is full of fairies, trolls and ogres, so if you notice a magical essence in the sights and sounds of Iceland, you aren't alone.
Iceland's geography makes the country a unique place to visit, as geothermal wells have helped the country thaw and thrive despite being so close to the North Pole. Its capital, Reykjavik, was founded in 1786 and has a bustling population of over 131,136. Whenever you're itching to travel internationally again or are vacationing virtually in your mind, let this guide on Reykjavik take you on an Icelandic adventure. Verið velkomin til Íslands (Welcome to Iceland)!
3 of the Best Places to See the Northern Lights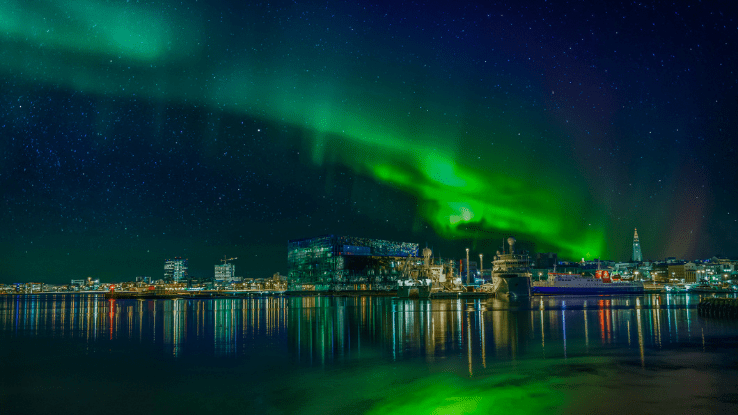 The Aurora Borealis (aka the Northern Lights) is a top activity for tourists visiting Iceland. Reykjavik's proximity to the north pole and city-level accommodations make the destination perfect for crossing the Northern Lights off of your bucket list while experiencing comforts like great restaurants and a heated hotel room. The best time to see the Northern Lights starts in September and goes until April.
On the northern end of Reykjavik's westernmost point, the Grótta Island Lighthouse is a great spot for Northern Lights viewing. The lighthouse is a ten-minute car ride from downtown Reykjavik. Its coastal proximity can help you feel isolated from the hustle and bustle of the city while the sky shines in different colors. With unspoiled beaches and 106 bird species flying around, you'd forget you were in a city if not for Reykjavik's beautiful skyline in the distance.
Lake Hvaleyrarvatn is only a 20-minute drive from downtown Reykjavik if you're looking for something away from the city but still lowkey. The lake offers light hiking trails, mossy fresh air and views of the nearby Keilir Mountain.
If you want a more immersive experience and don't mind a 30-minute drive, the Lava Tunnel in Raufarhólshellir can make a perfect viewing experience. The Lava tunnel offers tours of caverns formed by volcanoes long ago every day until 5:00 pm year-round and evening tours in the winter months. The indoor sections of the caverns are lit, but there are openings in the caves that allow for spectacular viewing.
Dining, Iceland Style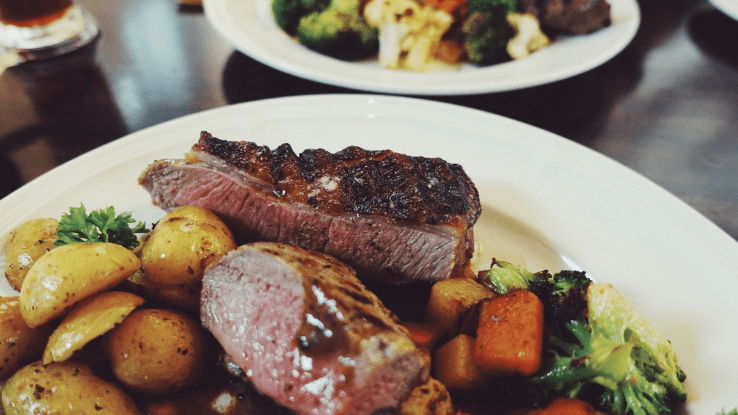 Icelandic cuisine historically means fermented meat like lamb, salmon or even shark. Fermentation has helped Íslendingars survive harsh winter months for centuries. Those traditional techniques are still popular today in Reykjavik restaurants, but with a modern twist.
For family-friendly fun, try Reykjavik Street Food. While street food in other destinations will feature items that are skewered, wrapped in tortillas and fusions of different cuisines, Reykjavik sticks to its roots. You can order fish & chips, fish stew and a number of soups. Lobster, lamb meat, beef and veggie noodles are all available to keep you warm while walking the streets of Reykjavik. For your sweet tooth, try skyr, a yogurt-like Icelandic dessert that comes in many flavors.
If traveling on a budget, there are plenty of options for meals under $10 U.S. dollars. Baejarins Beztu Pylsur is a food truck that offers Icelandic hot dogs. Lamb and beef will grace your hot dog buns just as often as pork. The SeaBarron is another popular spot — and it's one of Iceland's oldest restaurants. They offer a wide variety of fish like trout, cod, and scallops and many vegetarian options. This place is great for the whole family as they do only take reservations for parties of 4 or greater.
When you're really looking to treat yourself (and why not, you're in Iceland!) Apotek is a fabulous option. Apotek offers an original, decadent cocktail menu for when you need a bit of warmth on a cool day. They offer small plates in addition to full entrees. Lamb tartare, beef carpaccio, pan-fried plaice and tiger shrimps made our mouths water when looking through their menu. In addition to fabulous food and drinks, Apotek's desserts are Instagram-worthy in addition to tasty, so save room!
Don't Miss These Essential Reykjavik Destinations
For one of the best views in Reykjavik, check out Hallgrimskirkja church. The largest church in the country is 244ft high and towers over much of the city. This church's architecture is different from Cathedrals like Notre Dame or the Trinità dei Monti in terms of its architecture, probably because it was built in the 20th century. The church took 41 years to build. Construction began in 1945 and ended in 1986. The church is open to the public every day until 5:00 pm in the winter and 9:00 pm in the summer.
Don't forget to check out some of Reykjavik's museums while you're in the country. You could spend multiple vacations touring Iceland's museums and doing nothing else, but we narrowed down the choices for you. Perlan is the self-proclaimed #1 attraction of Iceland, and it's hard to disagree. The nature exploratorium offers exhibits that showcase Iceland's nature, animals and land features. This means it has a 100-meter-long cave among other wonders.
If traditional museum-going is more your speed, the National Museum of Iceland is an amazing option. The museum's permanent and visiting exhibits will help you learn more about Iceland's Indigenous populations and early settlers with modern marvels mixed in. NMoI boasts more than 2,000 objects from the settler period until now and over 1,000 historic photographs from the 20th century.
For a type of fun experience you could only have in Iceland, try Laugardalslaug. Just outside of Reykjavik, Laugardalslaug offers several pools that are geothermally warmed. With water slides, steam rooms, hot tubs and even mini-golf, this family-friendly place is not one to miss when you're in Reykjavik.