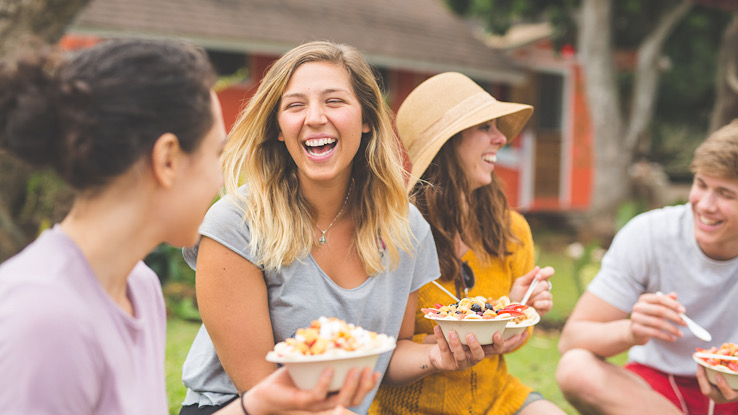 Do you love everything about Hawaii and now want a Hawaiian theme for your next party? There's no doubt the decor and food will be a hit! Hawaii is home to a beautiful traditional culture with food that will simply blow you away with its richness, flavors, and originality. The unique combinations in most Hawaiian food may seem different, but the taste will have you coming back for more. So check out these luau party food ideas for your next Hawaiian-themed party to surprise guests with a mix of pineapples, tropical flavors, and grilled food.
Grilled Pineapple Meatball Skewers
It's no secret that pineapples are a staple in traditional Hawaiian food, showing up in all forms. You may not think this tropical fruit belongs in savory food, but pineapples add the perfect sweet and tangy kick to these meatball skewers. Plus, they're super easy to make!
Make meatballs as you normally would, or try some pre-cooked ones to help save time.
Coat the meatballs with garlic, crushed pineapple, brown sugar, and tomato paste sauce.
Thread your meatballs and pineapple chunks onto skewers and grill them for about five minutes on each side.
Finally, your perfectly sweet and savory grilled pineapple meatball skewers are ready to serve for as your luau party food! You can also substitute the meatballs for shrimp or prawns.
Pineapple Upside Down Cupcakes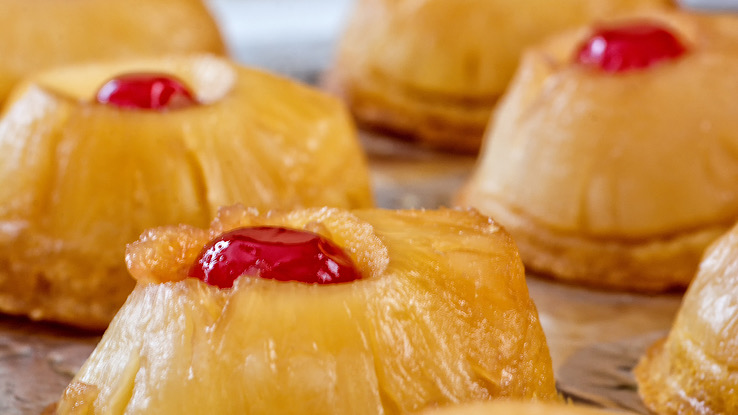 These small, fluffy desserts are the perfect luau food as they're easy to make and the perfect treat for party-goers with a sweet tooth. They're best served warm or at room temperature, making these pineapple upside-down cupcakes ideal for a party environment. Baking these mini desserts is a piece of cake (pun intended), especially if you already have cake mix.
Spoon brown sugar, crushed pineapple, melted butter, and one cherry into a cupcake tray. 
Cover the mixture with a few spoonfuls of cake batter and bake as instructed on the box.
Once baked, turn the cupcakes over and serve them at your next Hawaiian-themed party!
Rainbow Fruit Kabobs
Rainbow Fruit kabobs are one of the most famous Hawaiian finger foods, and no luau is complete without them. They're easy to make and incredibly affordable, too! Making them is as simple as layering some strawberries, kiwi, watermelon, pineapples, grapes, blackberries, and mango in an order resembling the rainbow. All you have to do is thread your fruits through a skewer. Your party-goers can pop them in whenever they need a sweet and sour refreshment at your Hawaiian-themed party. It's simple, delicious, quick, and foolproof!
Aloha Burgers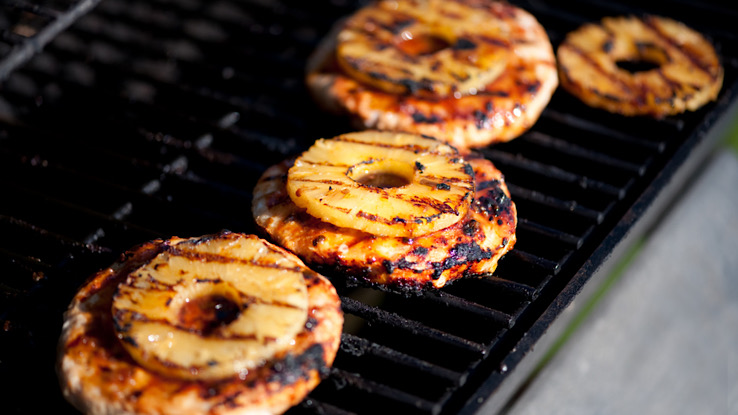 If you're a fan of juicy cheeseburgers, you'll love Aloha burgers. They are basically a smaller Hawaiian version of your favorite comfort food. Making them may take some time, but compliments from everyone at your party will make it all worth it.
 Make a pineapple juice and teriyaki sauce mixture.
Coat your pineapple slices and beef patties in this tangy and flavorful mixture, and leave them to marinate for as long as you can wait. 
Grill the burger patties on each side for six to nine minutes.
Of course, don't forget to grill the pineapples for a few minutes too! 
Finally, assemble everything into a bun with lettuce, sauteed onion, the grilled patty, grilled pineapple, cheese, and bacon.
Hawaiian Hot Dogs with Grilled Pineapple and Teriyaki Mayo
Everyone loves hot dogs, but trust us when we say they'll love them even more Hawaiian-style. These aren't your average hot dogs; these are flavorful are luau party food your guests won't get enough of!
Grill some pineapple slices and sprinkle with cayenne pepper.
Take this time to grill your hot dogs and toast the hot dog buns. 
Finally, assemble the hot dog with the grilled hot dog and pineapple, teriyaki mayo, cilantro, red onions, jalapeno, and maybe even some mustard!
Making these sweet and savory treats is incredibly easy and will get endless compliments from your guests.
Spam Musubi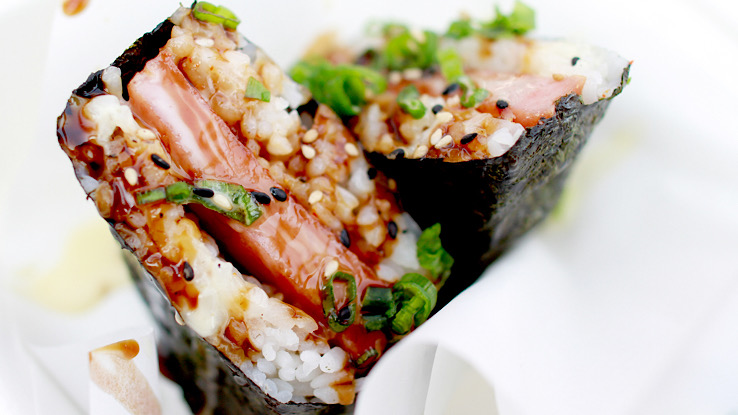 Did you know Hawaiians consume more Spam than the entire rest of the US? Combining Japanese rice balls and Spam for your next luau works perfectly. Not only do the textures complement each other deliciously, but the presentation is also adorable.
Create a sauce with potato starch, rice vinegar, sake, water, soy sauce, and sugar. 
Cut the Spam into half-inch-thick slices, fry until golden, and cover in the homemade sauce generously. 
Cover the insides of the Spam container with cling film to use it as a Musubi mold.
Press in the Musubi to adopt the shape of Spam before pulling out the molded rice and placing the cooked Spam on top of it. 
Cut nori into strips and wrap it around the Spam Musubi to hold its shape.
Hawaiian Salsa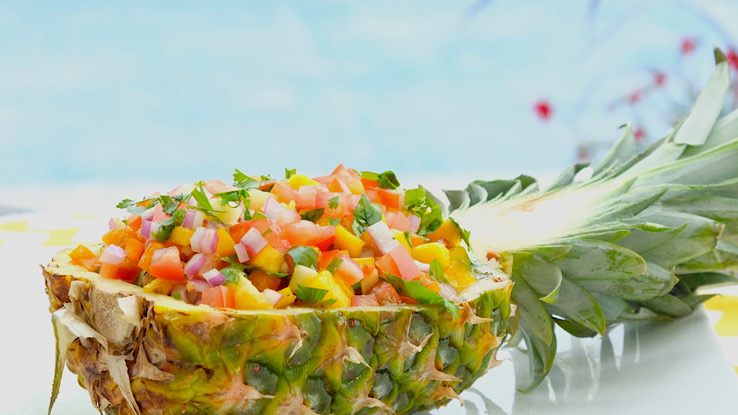 The best part about salsa isn't just its delicious, refreshing taste; its colorful appearance also makes it the perfect party food. Luckily, Hawaiian salsa is as colorful as it gets, offering the perfect combination of fruits and veggies.
Start by blending diced tomatoes, orange pepper, purple onion, jalapeno, cilantro, garlic, cumin, salt, and lime juice.
Chop up some purple onions, orange peppers, mangoes, tomatoes, and pineapples. 
Stir in the chopped additions to the blended mixture and garnish with cilantro!
This is the perfect party food to serve in a hollowed pineapple with some tortilla chips to add to the Hawaiian theme and effortlessly impress your guests. 
Not only are these Luau party food ideas quick, easy, and affordable to make, but they're also bound to get endless compliments as a homemade meal always impresses!