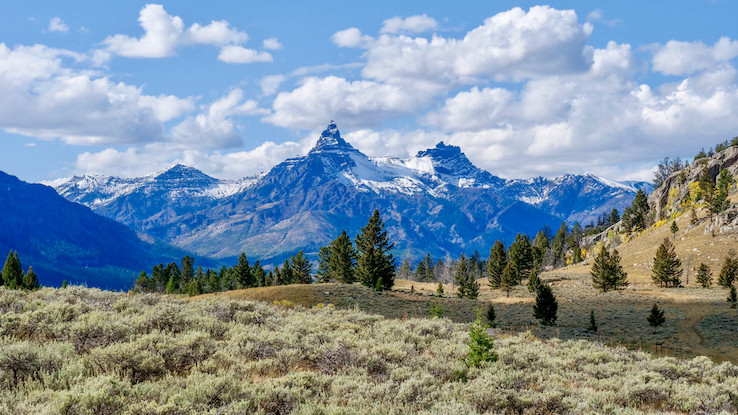 Montana is often referred to as "Big Sky Country" — and for good reason. The scenic views, stunning parklands, and rich natural history make it a spectacular state for tourists to explore. You can engage with its fascinating past and present, whether you're exploring glacial remains, examining dinosaur bones, or hiking through the stunning mountain trails. While it's impossible to cover all this state's gems, this Montana visitor guide is full of some of the must-see spots to visit on your trip.
Enjoy the Views at Glacier National Park
Glacier National Park is home to some of the most fascinating views in the country and one of the best places to visit in Montana. Every turn offers breathtaking stretches of mountains, glowing alpine lakes, and gorgeous trees. Tucked away within the Rockies, the location offers countless chances to climb, fish, boat, bike, and camp. There are also more than 734 miles of hiking trails to explore. You can reach Glacier Park's two entrances by traveling along U.S. Highway 2.
Check Out the Dinosaurs at the Museum of the Rockies
This incredible non-profit museum focuses on natural history. The Smithsonian-affiliated institution is known for one epic feature: a huge collection of dinosaur bones. Museum of the Rockies (MOR) hosts thousands of impressive fossils in its halls. MOR also includes features on Native American artifacts, food and cultural history, and more. The museum is located in Bozeman and is open year-round, excluding limited holidays.
Hang With Wildlife at Grizzly & Wolf Discovery Center
This wildlife park lets you get up close and personal with some of the creatures that call Montana home. The Grizzly & Wolf Discovery Center focuses on animals that live in Yellowstone, specifically grizzly bears and gray wolves. Unlike a traditional zoo, all the park's inhabitants live at the center because they're unable to survive in the wild. Guests can see these animals in habitats designed to stimulate and entertain without endangering them. The park is situated West of Yellowstone National Park.
Go Stargazing at Hyalite Canyon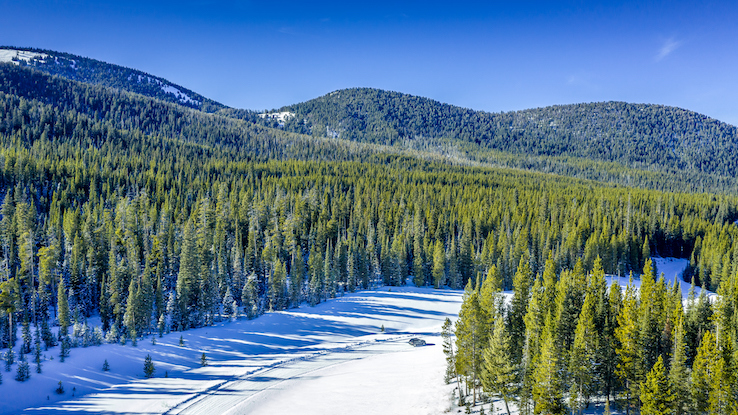 Located in Custer Gallatin Natural Forest, Hyalite Canyon is perhaps the most popular recreation site in the state. The canyon hosts campgrounds for overnight guests who want to watch the striking stars illuminate the night. What make this spot unique are its various seasonal offerings, from skiing in the wintertime to hiking throughout the summer. There's also some amazing wildlife, such as elk, goats, and moose. Reach Hyalite Canyon by heading South of Bozeman and searching for the forest entrance situated on South 19th Avenue.
Tune In to the Whitehall Ringing Rocks
Butte, Montana, has a collection of unique instruments…but humans didn't create them. The Whitehall Ringing Rocks, also known as "rock gongs," let out a resonating sound when hit by a hard object. These musical rocks only work in the original landscape and no longer produce sound when isolated. You can reach this curious tourist destination by following I-90 to the Pipestone Trailhead. Beware: You'll need a vehicle that can handle winding, steep roadways.
Soak Up the Hot Springs in the Boiling River Pools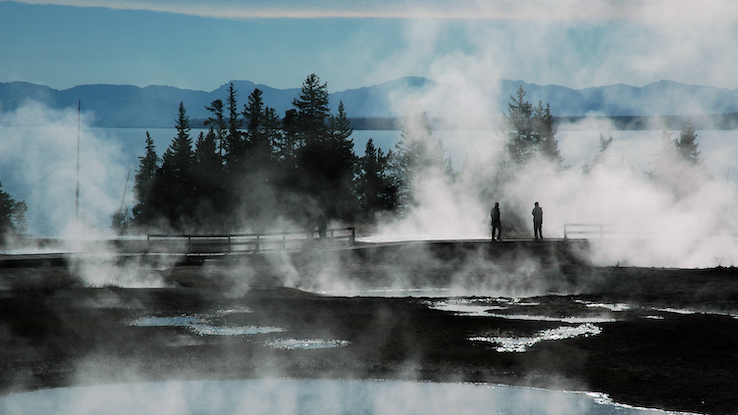 On the Montana side of Yellowstone, you can find the Boiling River. It's one of the handfuls of hot springs that allows people to swim. This is because the Boiling River's pools consist of cool runoff water from the Gardner River rather than the centralized, unstable heat that makes some hot springs so dangerous. All the park asks is that you respect the thermal features and don't bring food, drink, trash, or pets into the waters. And don't touch the actual running river — at over 140 degrees, it's dangerous! You can reach this swimming spot from a parking lot a half-mile away from the pools.
Wander Through Castle City's Ghost Town
Castle City may sound like something out of a Stephen King book, but this ghost town exists in the heart of Montana. The mining town was booming, with over 2,000 residents in the mid-1800s. The search for silver (and lack of a rail line to haul goods) led most inhabitants to relocate by the 1930s. It's rumored that the famed Calamity Jane once called Castle City her home. Though the town is completely abandoned, it's a beautiful site. It's surrounded by lush green land and freckled with a few remaining structures. You'll find the skeletons of stores, schools, and other buildings on the land. However, to tour the grounds, you'll need permission from the current property owners.
Dive Into History at the Havre Historical Underground
This dark tourism site is a testament to the will of a town to survive. The Havre Historical Underground features a recreation of the underground city that Havre's original residents produced post-disaster. When a devastating fire swept through their town in 1904, it destroyed most residences and stores. Rather than rebuild above ground, the residents of Havre dug down and reformed their city beneath the surface. Today's underground tours include replicas of the old town's popular businesses, including a barbershop, a laundromat, a bar, and a bordello. You can find Havre Beneath the Streets in Havre itself, located in Northwest Montana.
Unpack the Past at the World Museum of Mining
The Ringing Rocks aren't Butte's only prize gem. The World Museum of Mining opened in 1965 where an old mine called Orphan Girl used to operate. General admission to the museum lets you explore over 50 old mining structures and 66 special exhibits of mining artifacts. For an extra fee, you can also go on an underground mining tour that takes you into the tunnels and shafts of Orphan Girl. This unforgettable experience is worth the drive into Butte. It's also situated near many scenic state parks.
Sail Your Way Through Flathead Lake
This 28-mile-long lake in Montana is a marvel. Flathead Lake's 200 freshwater square miles are perfect for boating, fishing, and water-skiing. The carved landscape was created by glacial melting over 10,000 years prior. The shoreline is popular for campers who want to spend a night amongst the shores' massive trees, glimmering water, and rolling hills. The park also respects Indigenous groups' rights. It requires permits from visitors who wish to enter any preserved tribal land surrounding the lake. Many public access points to Flathead can be found in this guide.