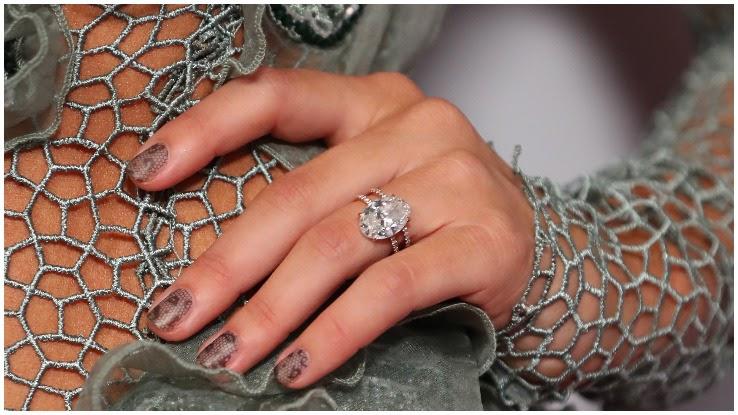 Engagements are a special time in everyone's life — celebrities too! — but you might notice just a few tiny differences, like the extravagance of the wedding dress, the size and cost of the venue — and the price tag on the engagement ring. After all, an engagement is usually represented by a ring, and everyone will want to gawk at the bride-to-be's new sparkler.
When it comes to engagement rings, some stars certainly refuse to settle for less than the best. Even "modest" celebrity rings cost more than some cars! The flashiest of them all? Well, let's just say those rings could buy you a few houses. Don't believe it? Check out some of the most expensive celebrity engagement rings ever slipped on lucky fingers.
30. Kate Middleton – $40,000
Kate Middleton's non-traditional engagement ring sparked a trend like no other. William gave her a 12-carat, oval, blue Ceylon sapphire surrounded by a halo of near-flawless diamonds — and just about everyone wanted a blue stone ring after that.
Kate's ring was originally purchased by Prince Charles as a gift for William's mother, the late Princess Diana. Lady Di supposedly hand-selected the ring, which cost Charles about $37,000. The ring is near and dear to William's heart and is a very special family heirloom.
29. Emily Ratajkowski – $90,000
Emily Ratajkowski tied the knot in 2018, but it wasn't until five months after her secret wedding that she shared a photo of her engagement ring with her 20-plus million Instagram followers. The model showed off her unique two-stone ring, featuring one princess cut stone and one pear cut stone.
Ratajkowski's husband, Sebastian Bear-McClard, proposed with the ring, which is set in yellow gold. After they tied the knot, Ratajkowski added a simple, wide, yellow gold band to complete her wedding ring set. She also posted a closeup on Snapchat.
28. Miranda Kerr – $100,000
Miranda Kerr received an elegant, classic diamond ring from her husband, Evan Spiegel, when he popped the question. The ring is made up of a traditional, round cut solitaire center stone but also features tapered baguettes on both sides. The stones are set in platinum to give it an extra expensive look.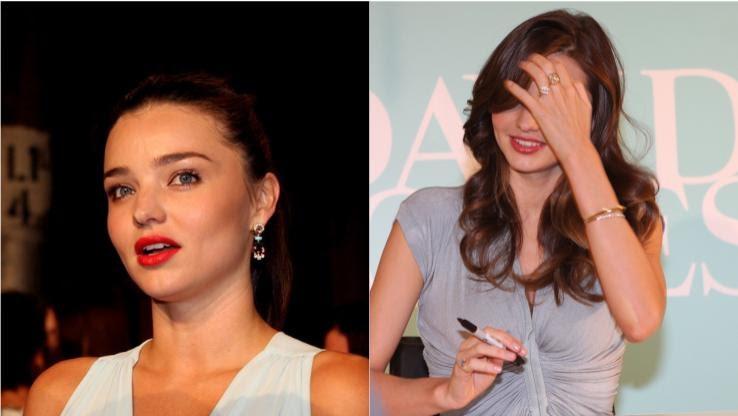 Kerr showed off the engagement ring, estimated to cost $100,000, on Instagram. The actress and the American businessman tied the knot in 2017 and have welcomed two sons together. Kerr also has a son from her previous relationship with actor Orlando Bloom.
27. Ariana Grande – $100,000
Ariana Grande's engagement news pretty much shocked the world, but her then-boyfriend Pete Davidson didn't care much about the negative press. The comedian doled out approximately $100,000 on a pear-shaped diamond ring for the woman he thought he was going to marry. Unfortunately, things didn't work out for Grande and Davidson.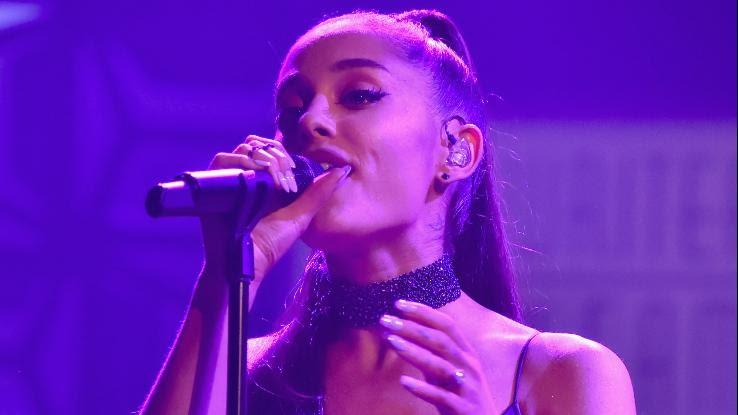 After their split, Grande purchased her very own diamond ring, which she sings about in her hit song "7 Rings." "Wearing a ring, but ain't gon' be no 'Mrs.' Bought matching diamonds for six of my b*tches."
26. Lea Michele – $100,000
Lea Michele is the proud owner of a gorgeous, vintage-style engagement ring. Beau Zandy Reich spent around $100,000 on the 4-carat sparkler. The radiant cut center stone is surrounded by a halo of smaller diamonds. The platinum band is also covered in diamonds for a glistening look from every angle.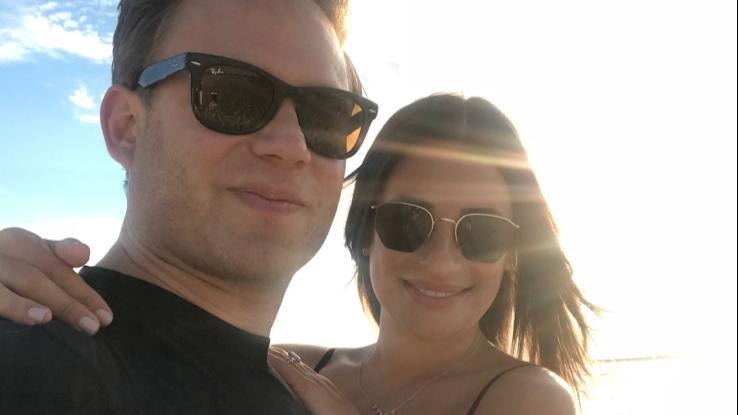 "I think the first thing I said to him was, 'Stop joking around!' So, I was super surprised," Michele previously said of her engagement. She and Zandy tied the knot in early 2019 after being together for about two years.
25. Priyanka Chopra – $150,000
Nick Jonas proposed to his wife, Priyanka Chopra, with a stunning cushion cut diamond ring. The bauble was reportedly purchased from a Tiffany & Co. location in London. Rumor has it, the Jonas Brothers singer shut the store down so he could pick out the perfect piece of jewelry privately.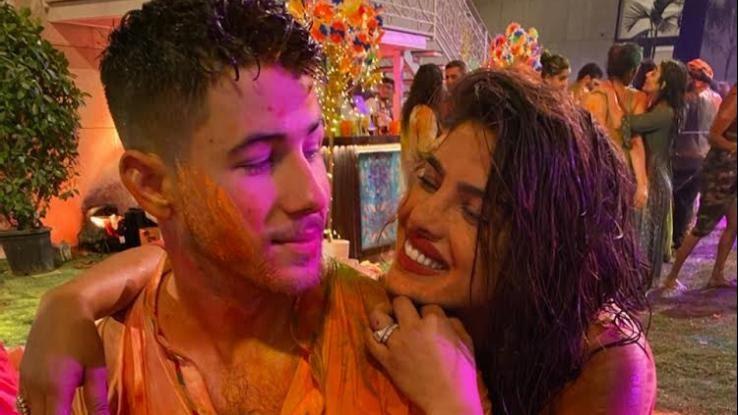 The engagement ring is said to be about 4 carats, and Jonas allegedly spent about $150,000 on his purchase of love. Chopra seems to love it and has been wearing it proudly ever since the couple got engaged.
24. Hilary Duff – $300,000
"Lizzie McGuire" star Hilary Duff and her now ex-husband Mike Comrie made headlines following their engagement back in 2010. The NHL player dropped some $300,000 on a gorgeous 4.5-carat diamond ring, and this came after he bought Duff a pricey car.
Sadly, Duff and Comrie's relationship didn't work out, and the two split in 2016. Duff started dating Matthew Koma in 2017, and the two became engaged earlier this year. Her current engagement ring is far more understated and is worth somewhere in the $50,000 to $75,000 range.
23. Meghan Markle – $350,000
Meghan Markle has been walking around with approximately $350,000 on her hand! Prince Harry custom-designed the engagement ring that he gave to his wife. The ring features a diamond sourced from Botswana, a location that is near and dear to the couple.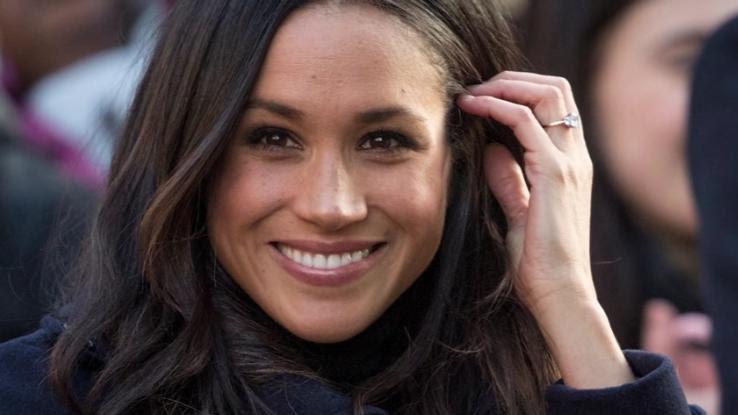 Markle's sparkler also includes a nod to Harry's late mother, Princess Diana. "The little diamonds on either side are from my mother's jewelry collection," he told the press following the couple's engagement. After the birth of the couple's son, Archie, Markle had the ring reset, opting for a thin micro-pavé band.
22. Rosie Huntington-Whiteley – $350,000
Rosie Huntington-Whiteley's engagement ring consists of a 5-carat round center stone set in platinum. The $350,000 bauble was designed by jeweler Neil Lane, who also designed rings worn by actress Kristen Bell and singer Jessica Simpson.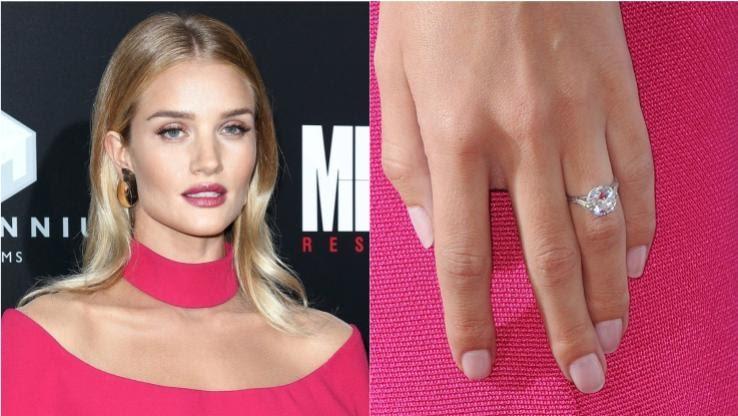 Huntington-Whiteley and her beau Jason Statham didn't formally announce their engagement. The couple walked the red carpet at the 2016 Golden Globes together, and the ring on the actress' finger did all the talking. Although she and Statham have been together since 2010, they are in no rush to get married.
21. Julianne Hough – $350,000
Former NHL player Brooks Laich worked with jewelry designer Lorraine Schwartz to pick out the perfect engagement ring for Julianne Hough. The 5-plus-carat rock wowed Hough, who opened up about getting engaged in a blog post on her website.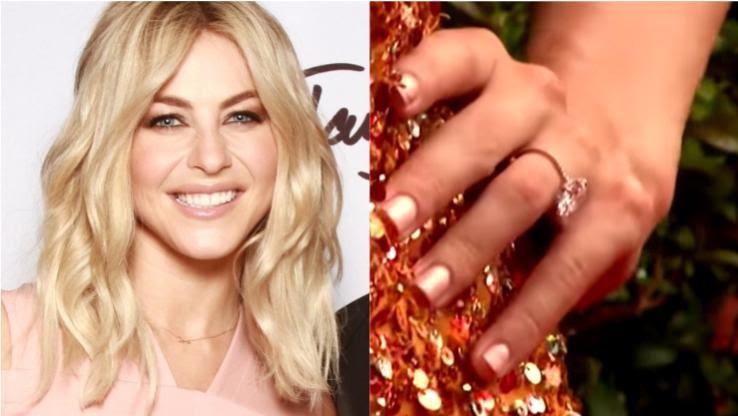 "The ring itself makes me feel very feminine and takes my breath away every time I look down, which I can't stop doing, by the way. When it comes to taking it off, forget it. I'll even wake up in the middle of the night to make sure it's still there," Hough wrote.
20. Cardi B – $500,000
Cardi B has been spoiled by Offset when it comes to jewelry. The rapper gave her an 8-carat, pear-shaped diamond worth an estimated half a million dollars. However, Offset didn't stop there and decided to outdo himself with another impressive gift.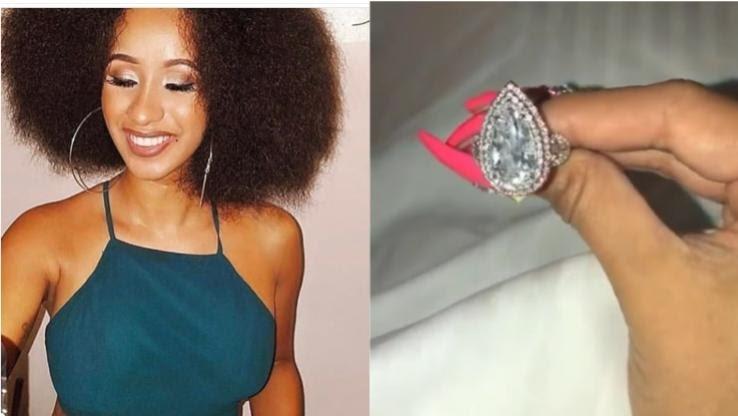 He teamed up with Pristine Jewelers for Cardi B's birthday gift this year and presented the mother of his child with a massive, 100-carat, heart-shaped diamond ring that is said to be worth millions. The diamond is so large, it has actually been referred to as the "Titanic Diamond."
19. Hailey Bieber – $500,000
Justin Bieber might be young, but that doesn't mean he doesn't know how to spoil a woman! The "I Don't Care" singer helped design the perfect ring for his wife, Hailey Baldwin — and dropped about $500,000 on the sparkler.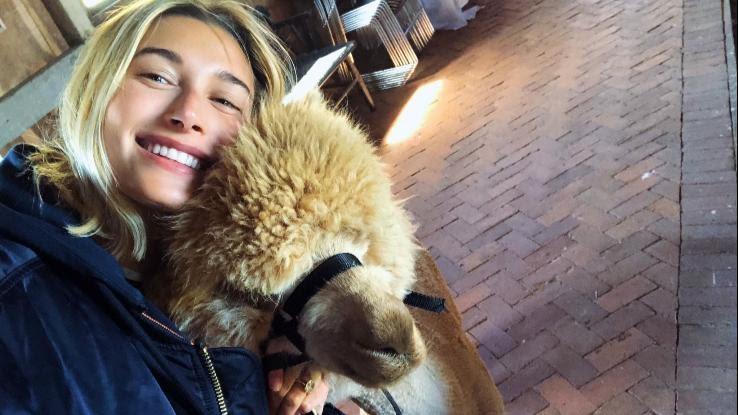 Bieber teamed up with private jeweler Jack Solow, and the rest is pretty much history. Hailey Bieber's ring is oval-shaped and is estimated to be between 6 and 10 carats. It's set in yellow gold and perfectly complements pretty much anything — it's a huge diamond! The duo exchanged vows in September 2018 and again in 2019.
18. Lady Gaga – $500,000 and $400,000
Lady Gaga and Taylor Kinney didn't make it down the aisle, but the engagement ring that he gave to her when he proposed is worth recognizing, nonetheless. Kinney presented the "Poker Face" singer with a one-of-a-kind, heart-shaped diamond ring worth an estimated $500,000. The 6-carat sparkler was designed by the legendary Lorraine Schwartz.
In 2018, Lady Gaga ended up getting engaged to the guy she dated after Kinney, and that ring was also impressive. Christian Carino dropped about $400,000 on a pink sapphire ring that was between 6 and 7 carats.
17. Angelina Jolie – $500,000
Angelina Jolie and Brad Pitt are no longer together, but when the two fell in love, Pitt generously opened his wallet to show Jolie just how much he loved her. He proposed with a stunning $500,000 engagement ring that was designed by jeweler Robert Procop — and Pitt helped with the design.
The elongated, emerald-shaped center stone has been referred to as a "tablet shape" by Procop. The design was created to complement Jolie's long fingers. The center diamond was flanked by several additional elongated diamonds, making it an absolute head-turner.
16. Sofia Vergara – $750,000
Actor Joe Manganiello found his one true love in Sofia Vergara, and he went all-out when it came to buying her an engagement ring. The $750,000 sparkler is simply breathtaking. The center cushion cut stone is estimated to be between 5 and 7 carats.
"I'm very happy, very excited. I cannot believe it. I think we're going to try to do it sooner than later. It's going to be a lot of people. It has to be a lot of people," the actress told the media shortly after getting engaged.
15. Amal Clooney – $750,000
Amal Clooney will always be known as the woman who changed George Clooney's life, so it makes perfect sense that he would go above and beyond when it came to her engagement ring. The 7-carat sparkler is something straight from a dream. It features a huge, emerald cut center stone flanked by two additional stones.
The Clooneys said their "I do's" in Italy back in 2014. They are now a family of four, after welcoming boy-girl twins, Alexander and Ella, who were born in 2017. They live just outside of London.
14. Gabrielle Union – $1,000,000
Gabrielle Union is one lucky lady! Her engagement ring from Dwyane Wade pretty much needs its own around-the-clock security guard. The 8.5-carat, 4-prong, cushion cut sparkler is rumored to have cost a cool $1 million.
The ring is a classic style, with just one center stone set in platinum. The band itself is plain and doesn't have any detail, allowing that center stone to stand magnificently on its own. The couple tied the knot in 2014 and welcomed their daughter Kaavia James Union Wade in 2018 via surrogate. Wade also has three sons.
13. Catherine Zeta-Jones – $1,000,000
Catherine Zeta-Jones and Michael Douglas have one of the most amazing romances in Hollywood, and her engagement ring is equally amazing. The breathtaking bauble features a 10-carat diamond side-set marquise center stone. The diamond is surrounded by a halo of 28 smaller diamonds to give it the ultimate sparkle.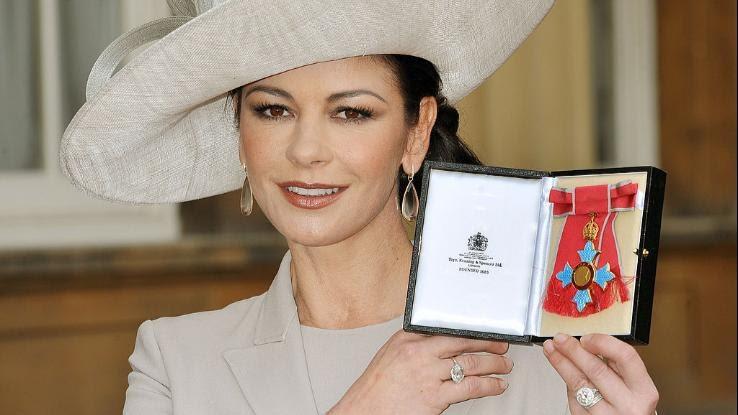 Zeta-Jones and Douglas exchanged vows at the Plaza Hotel in New York City back in 2000. As you can probably imagine, the wedding was nothing short of incredible, and no expense was spared. Rumor has it, the event cost $1.5 million.
12. Jennifer Aniston – $1,000,000
Justin Theroux wanted to be sure to give Jennifer Aniston an amazing ring, so that's exactly what he did. He chose an 8-carat radiant cut diamond for Aniston, who wore the sparkler proudly. The ring has an estimated price tag of $1 million.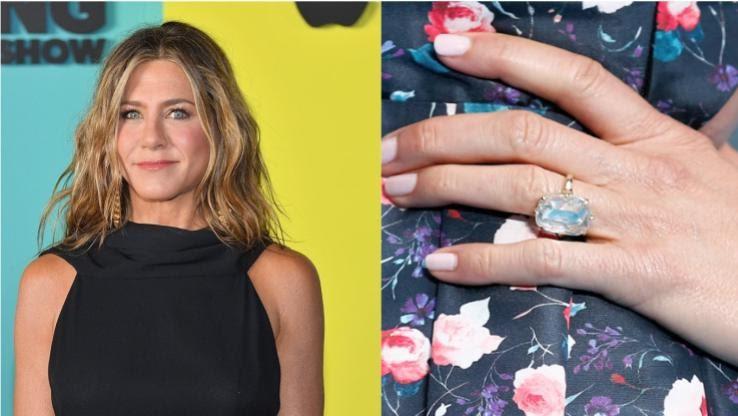 "It's a rock, I know. He rocked it up. It took me a while to get used to it. I'm not a diamond girl. I'm more Indian jewelry and stuff," she previously said. Sadly, Theroux and Aniston's relationship didn't last. The two divorced in 2017 after two years of marriage.
11. Blake Lively – $1,000,000
Blake Lively is another actress who has an engagement ring designed by Lorraine Schwartz. Lively's husband, Ryan Reynolds, proposed with a stunning 12-carat oval shape with rose-gold accents. The ring seems to perfectly compliment Lively's style.
Lively and Reynolds exchanged vows in Charleston back in 2012. The Sisterhood of the Traveling Pants actress wore a Marchesa gown that featured a fitted bodice, crystal beading and rose-gold embroidery. Schwartz was called upon once again to design the couple's wedding bands. These days, Lively and Reynolds are busy raising their three daughters.
10. Kate Upton – $1,500,000
Kate Upton is one of the few women in the million-dollar diamond ring club. The supermodel proudly wears a $1.5 million engagement ring that has a stunning round center stone. The estimated 8-carat diamond was given to her by her husband, Houston Astros pitcher Justin Verlander.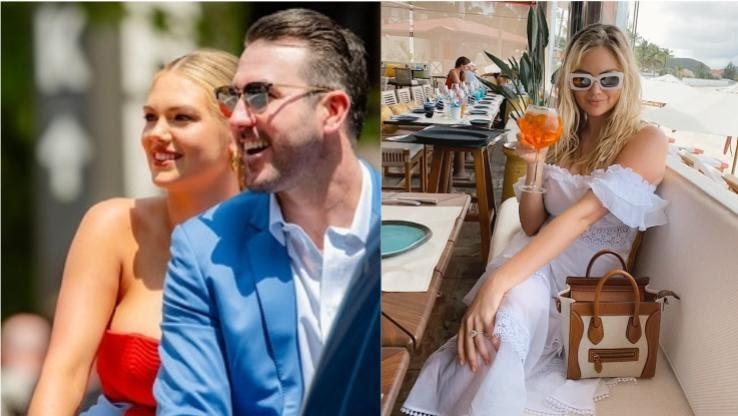 "Justin and I collaborated on creating the most perfect one-of-a-kind ring that is rare and of exceptional quality…just like their love," jeweler Anita Ko told E! News after the couple's engagement. Mr. and Mrs. Verlander welcomed their first daughter together last year.
9. Melania Trump – $1,500,000
The first lady of the United States is no stranger to expensive jewelry. In fact, Melania Trump's impressive engagement ring is said to be worth $1.5 million! Although there has been some dispute over what Donald Trump actually paid for the diamond, there is no denying that the 15-carat sparkler cost a fortune.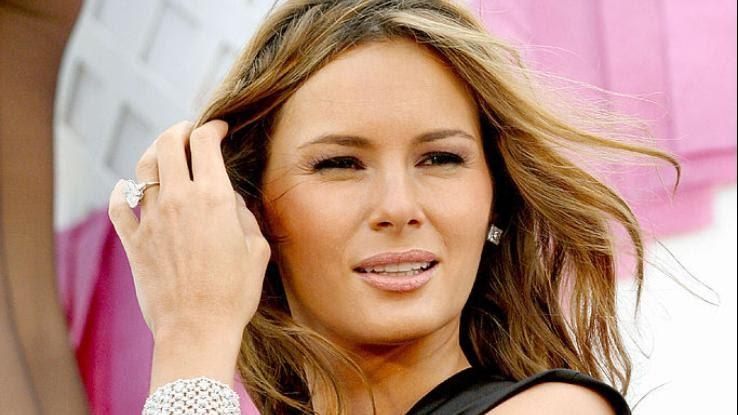 But wait, there's more! For their 10-year wedding anniversary, Trump spent $3 million on another ring for his wife, this one clocking in at a whopping 25 carats. FLOTUS wore the ring in her official White House portrait.
8. Paris Hilton – $2,000,000
Paris Hilton has had some luck getting engaged, but she has yet to make it down the aisle. Last year, the heiress opened up about her split from model-actor Chris Zylka and explained that she decided to keep the 20-carat, pear-shaped engagement ring he gave her during a romantic ski trip in Aspen, Colorado.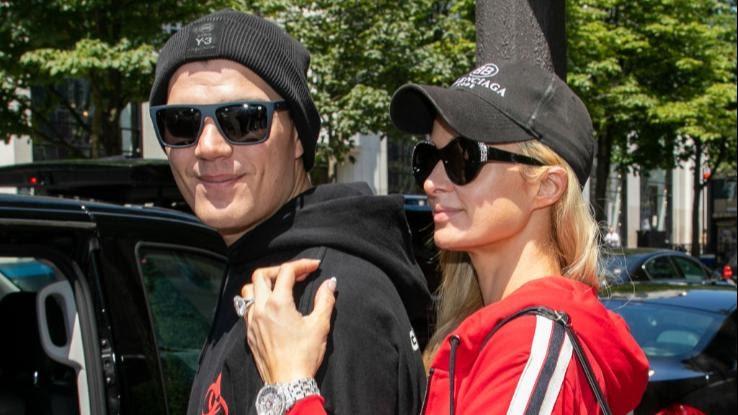 Hilton's reaction when she was asked about keeping the bauble? "Diamonds are a girl's best friend," she told Jenny McCarthy on Sirius XM. The $2 million diamond ring is still believed to be in Hilton's possession.
7. Jennifer Lopez – $2,000,000
Sure, Jennifer Lopez has been engaged several times. However, her engagement ring from Alex Rodriguez is the cream of the crop. The massive emerald cut diamond made its debut after the couple's beach proposal.
The sparkler is estimated to be between 10 and 15 carats and allegedly cost A-Rod more than $2 million. In fact, some jewelers estimate that the ring could be worth an insane $5 million! The "Jenny from the Block" singer and the former MLBer have yet to set a wedding date, but they seem excited to be taking the next step together.
6. Serena Williams – $2,000,000
Alexis Ohanian proposed to tennis star Serena Williams with a 12-carat, emerald cut diamond ring said to be worth a cool $2 million. The Reddit co-founder spared no expense when it came to proposing to his wife. Williams' wedding ring is also impressive.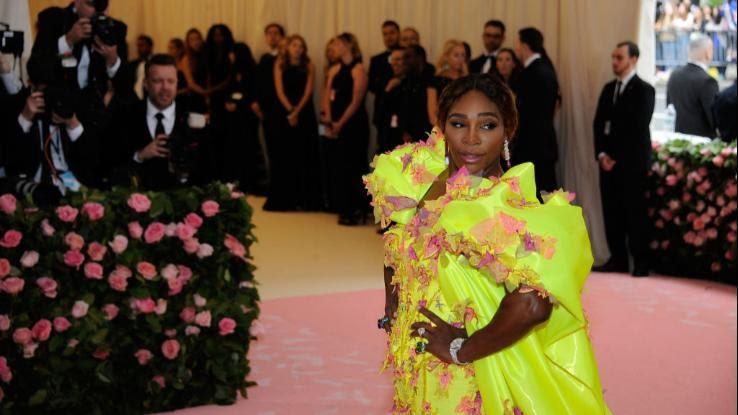 She chose an eternity band with a teardrop concave that creates a halo effect around the center stone. The band also features stunning stones — three of them, all pear-shaped, to be exact. Williams and Ohanian got married back in 2017 in New Orleans, and they have one daughter together.
5. Anna Kournikova – $2,500,000
Anna Kournikova and Enrique Iglesias kept their romance extremely quiet for several years. However, the tennis star has been seen with her $2.5 million engagement ring quite a few times. Iglesias purchased a radiant cut, canary yellow sparkler for the love of his life, and it's one of the prettiest rings on this list.
The huge ring is a solitaire style and is set in platinum. While it's undoubtedly huge all by itself, Kournikova often wears it with a diamond wedding band that takes up half her finger. She doesn't seem to mind, though.
4. Vanessa Bryant – $4,000,000
Vanessa Bryant is in a league of her own with her stunning 8-carat purple diamond ring. Perhaps better known as an "apology ring," the stunning bauble is said to have cost the late Kobe Bryant a whopping $4 million.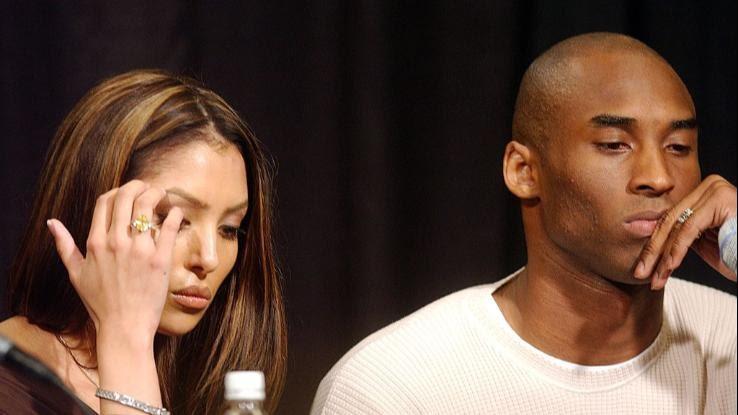 The ring was given to Vanessa after her husband admitted to being unfaithful. The purple diamond is one of a kind, but it wasn't enough to keep Vanessa from filing for divorce. But forgiveness is a virtue, and the couple did ultimately rekindle their romance, making the tragedy of Kobe's death — and their daughter's — even more horrific.
3. Kim Kardashian West – $4,000,000
Ex-husband Kris Humphries gave Kim Kardashian West an incredible 20-plus-carat ring designed by Lorraine Schwartz. Naturally, when it came time for Kanye West to propose, the rapper had to totally up the ante!
Kardashian-West's current engagement ring is actually smaller, coming in at about 15 carats, but the clarity is unbeatable. The cushion cut diamond was also designed by Lorraine Schwartz and is said to have cost Kanye a cool $4 million. For those who are really into diamonds, Kardashian-West's center stone is said to be a D-Flawless Type 2A.
2. Beyonce – $5,000,000
"If you like it, then you better put a ring on it!" Jay-Z heard Beyonce loud and clear and dropped a cool $5 million on her engagement ring, and Bey is not shy about showing it off. The stunner is a flawless, 18-carat, emerald cut center stone with a split shank.
The ring was designed by jeweler to the stars Lorraine Schwartz. Money was no object when it came to creating Beyonce's bauble. Since his proposal, Beyonce and Jay-Z have gotten married and have three children, including twins, together.
1. Mariah Carey – $10,000,000
Mariah Carey certainly doesn't need help when it comes to her finances, but she still ended up getting engaged to one of the wealthiest men in the world. James Packer popped the question with a stunning 35-carat engagement ring said to be worth an estimated $10 million.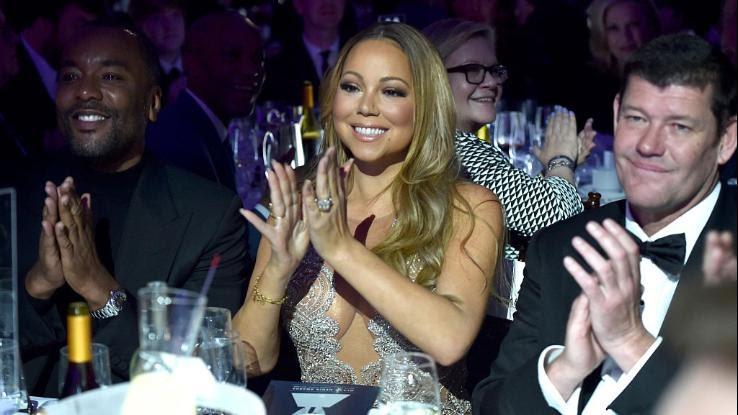 When the two split in 2016, Carey decided to keep the ring. After a couple of years, however, she decided to quietly sell it. Maybe that was because she found love again. Carey has been dating one of her dancer/choreographers, Bryan Tanaka.