Corfu is an island in the Ionian Sea in Greece. It's a popular tourist destination with beautiful sandy beaches, amazing natural scenery, and a cosmopolitan Old Town.
Corfu also has a rich history. Archeological studies have revealed that the area has been inhabited since the Paleolithic era. Mythical stories say that Phaeacians inhabited Corfu, and Odysseus landed here on his trip back to Ithaca. What can you learn from these ten must-see historical landmarks in Corfu, Greece? Let's see.
Paleokastritsa Monastery
Paleokastritsa Monastery, also known as the monastery of the Holy Theotokos, serves breathtaking sea views and rich historical knowledge. It was built in the 13th century, then reconstructed in the 18th century. The incredible bird's eye view of this monastery built on a hill makes it the most visited religious site in Corfu.
A small museum on-site displays Byzantine and post-Byzantine memorabilia, books, icons, and souvenirs. You're expected to dress modestly when visiting Paleokastritsa Monastery. Women should cover their bare legs and shoulders. Don't worry, though, in case you're inappropriately dressed. They provide skirts and shawls at the entrance. There's no entrance fee, but you can donate or buy products from the souvenir shop, such as handmade olive oil.
Angelokastro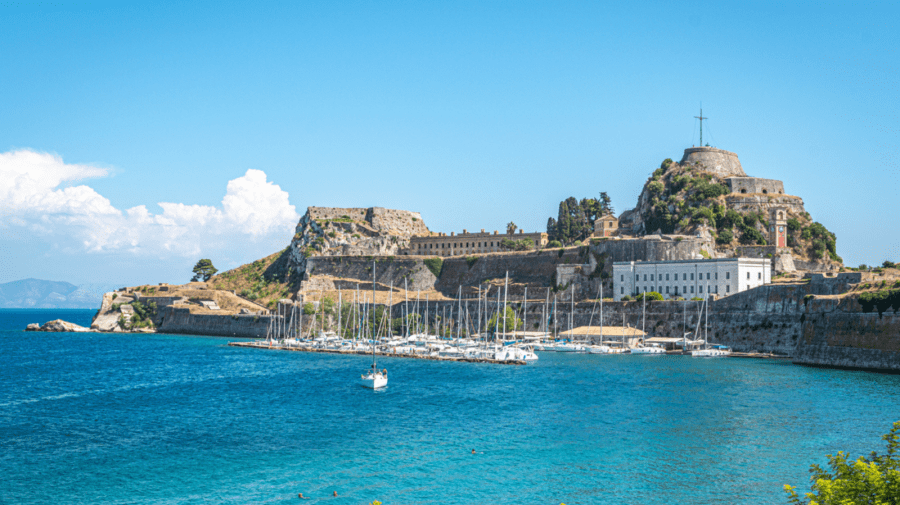 Angelokastro is found 300 meters above sea level, at the top of the highest peak of Corfu's shoreline. It's a 13th-century Byzantine castle that was Corfu's capital and the governor's residence. There's an ancient church on-site, dedicated to the angels Michael and Gabriel, located in the caves.
According to legend, the emperor chose Angelokastro as the strategic location to thwart pirate attacks, majorly from Venetians and Africans. Historians believe that this fortress was instrumental in the 1403 attack against Genoan pirates. The entrance fee is 2 euros, operation from 8:30 am to 3:00 pm every day, but is closed on Mondays.
Corfu Old Town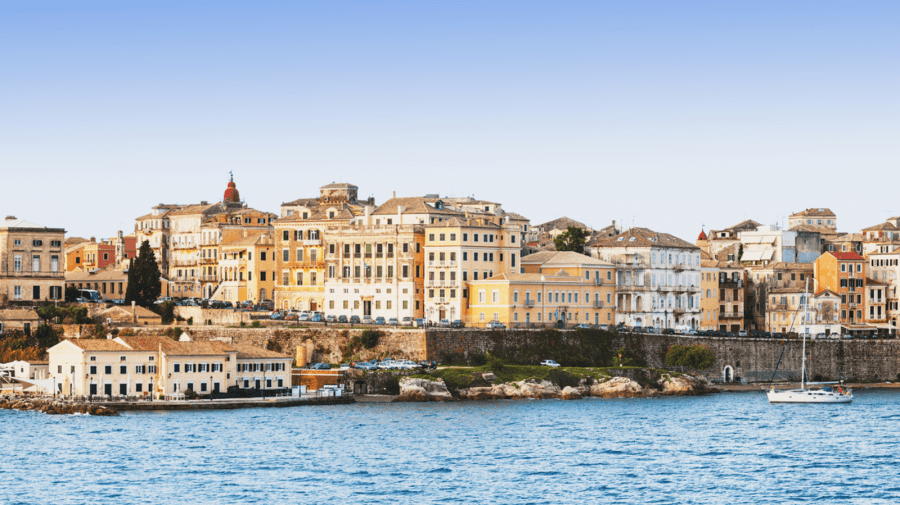 Corfu Old Town is rich in history, art, museums, and architectural wonder. It's found off the western coasts of Greece and Albania and dates back to the 8th century BC. Corfu was in a strategic position, which meant that whoever controlled it controlled important military and trade routes. This saw the town in unfortunate historical conflicts involving the Venetians, French, British, Goths, Romans, Greeks, Normans, Byzantines, and the Neopolitan Angevins.
Venetian engineers designed the three forts on Corfu Old Town, which were instrumental in defending the maritime trading interests of the Venice Republic against the Ottoman Empire for four centuries. It later shifted to the French, but only for a short time. Then in the 19th century, it served British interests. German forces badly bombed the area during World War II, and what survived is now protected courtesy of the UNESCO world heritage site status. Entry to the old fortress is €4. It's open from 8:00 am to 8:00 pm on weekdays, and 8:00 am to 3:00 pm on weekends.
Old Perithia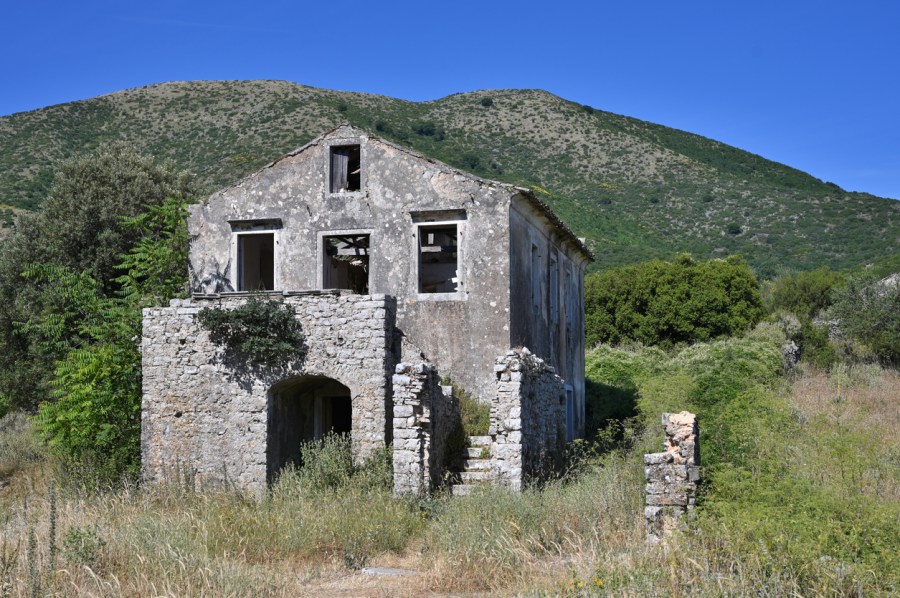 Old Perithia is Corfu's oldest village, built in the 14th century under Byzantine rule. It's located 400 meters above sea level on the northern flanks of Mount Pantokrator. The environment supported olive and vine cultivation and sheep farming, making the village prosperous. Six centuries later, tourism boomed on Corfu Island, and villagers had to abandon their homes, searching for jobs and better life.
As a result, the village is now a protected site, hosting 130 Venetian-style houses, a school, and eight churches. You don't have to visit and leave. There's a bed and breakfast on site that serves good food, rich history, and stunning views.
Church of Saint Spyridon
The Church of Saint Spyridon is a Greek Orthodox church built in the 1580s. It's the most famous church in Corfu and is located in Old Town. You'll find the relics of Saint Spyridon, including a sprig of basil, the "royal plant," here. Saint Spyridon is historically and religiously important to the people of Corfu and Eastern and Western Christian traditions. He is known for using a potsherd to successfully convert a pagan philosopher into a Christian. This act made him the patron saint of potters.
He also miraculously expelled the plague from Corfu Island and is celebrated annually on December 12 as the patron saint of Piraeus. The church is open every day from 7:00 am to 8:00 pm. Entrance is free, but don't plan your visit during a church service. Visitors are discouraged during the weekly service.
The Liston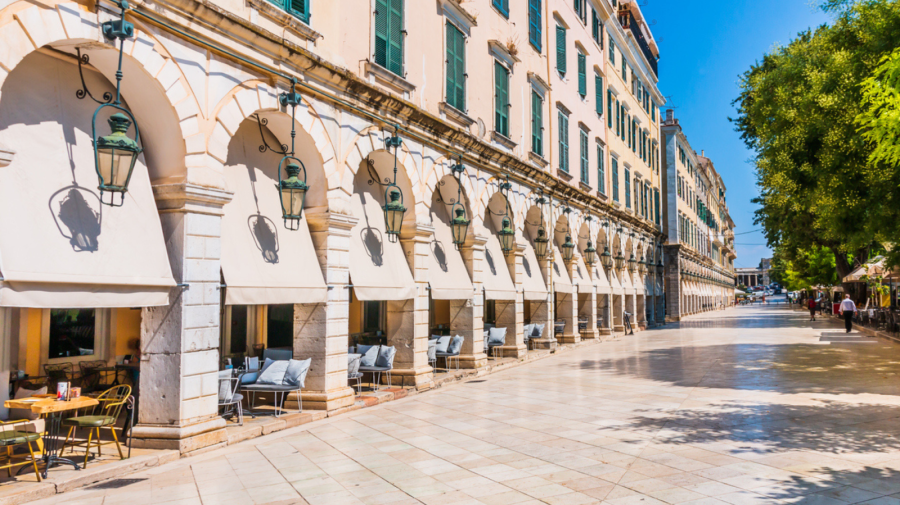 The Liston serves 19-century Parisian-style architecture. It's located in Corfu Old Town, with various bars, jewelry shops, restaurants, coffee shops, and boutique shops. The arcade links the Old Fort, Corfu's historical center, and the former King's palace.
The Liston was heavily influenced by the Venetians, the French, and the British when they controlled Corfu Island. As a result, a stroll in this area exposes you to a beautiful blend of culture, tradition, history, and modern life. Access to Liston pedestrian street is free.
Corfu Museum of Asian Art
Corfu Museum of Asian Art displays over 15,000 works of Asian Art. It's the only museum in Greece dedicated to Asian Art. The 1928 museum, however, first started as the Museum of Sino-Japanese art. It is located at Palea Anaktora, Kerkira 491 00, Greece, and is open every day of the week from 8:30 am to 3:30 pm. A visit costs a standard fee of €6.
You can end your day by taking a stroll to the nearby restaurants that serve impeccable Greek dishes. Anthos restaurant, for example, is popular for its delicious seafood. Papagiorgis serves gluten-free dessert options but doesn't allow dine-ins.
Achilleion: The Palace of Sisi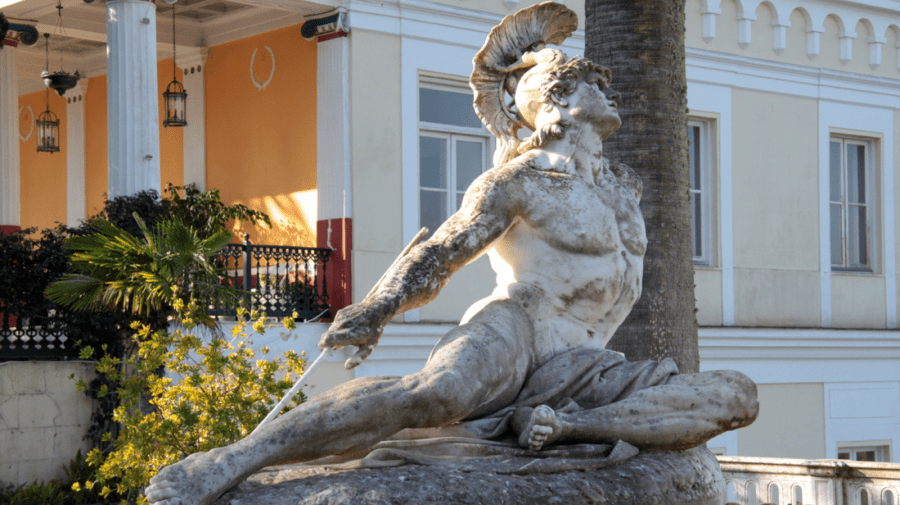 Achilleion Museum is the 1891 home of Empress Elisabeth of Austria (also known as Princess Sissi). Entry is €7. Enjoy magnificent sea views and a beautiful walk in the garden. Learn why the empress lost interest in the property shortly after construction was completed.
The home now serves as a museum. Ceiling paintings, delicate murals, and amazing outdoor sculptures are on display. They were all personally picked by the princess. Achilles' statutes, one in his prime years and one when dying, are one of the most significant statutes here. Fun fact, the place has changed ownership since Princess Sisi, and was once a casino! Pay a visit to learn more.
Corfu British Cemetery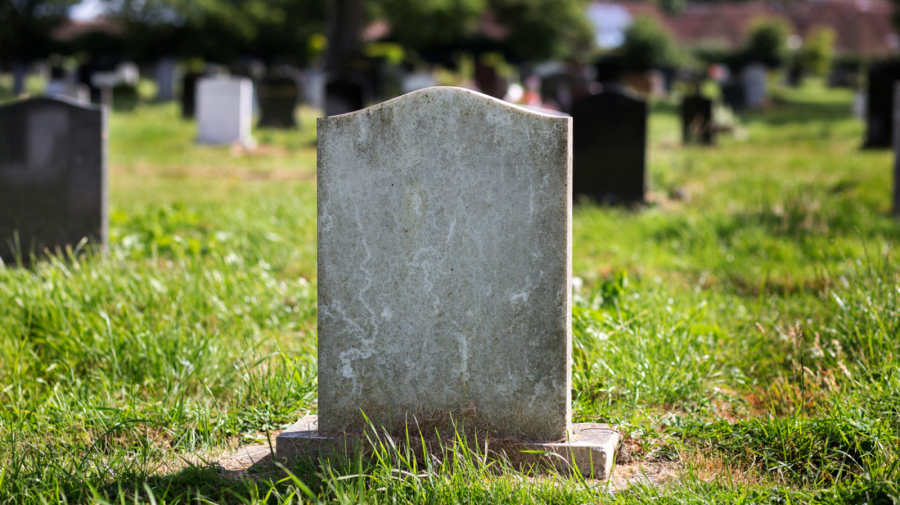 The Corfu British Cemetery is located at Kolokotroni 8, Kerkira 491 00, Greece, and is commonly known as the English cemetery. The cemetery opened in 1855. Most of the identified causalities are from World War I and II. A tour takes about an hour of learning rich history from when the British ruled Corfu to the current ex-pats. For generations, one family has tended to the cemetery, amassing an incredible wealth of information. Although a visit is free of charge, a tip is welcome.
New Fortress
The New Fortress of Corfu is a late 17th to early 18th-century Venetian fortress built on the hill of St. Mark. The current buildings within the fortress, however, were built by the British during their rule in Corfu. The fortress is a masterpiece comprising a bastion, defense towers, and killing fields.
The New Fortress of Corfu has a €4 entry fee and is open all week from 10:00 am to 4:00 pm. The New Fortress is smaller than the Old Fortress, but it is still quite large. Bring your hiking shoes to ensure a comfortable climb to the top.
Corfu, a Historian's Paradise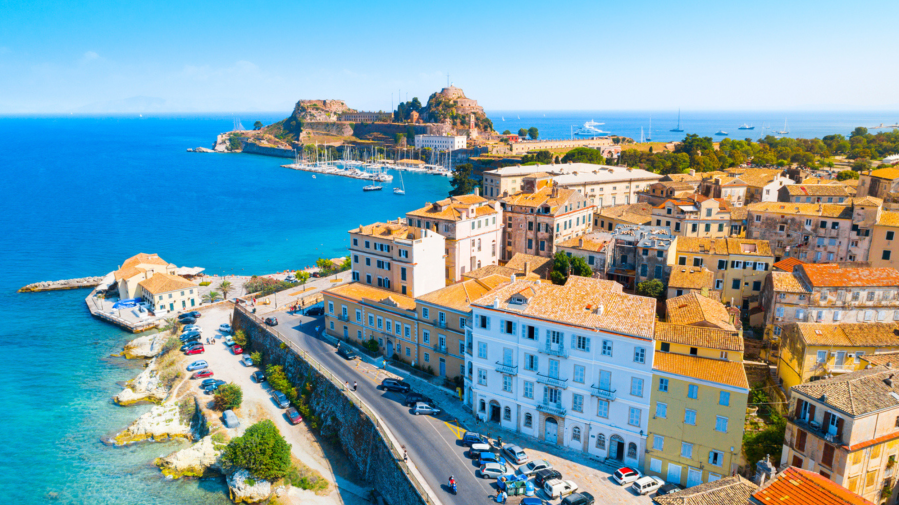 Corfu was strategic for military and economic reasons. As a result, several nations exchanged hands running the Island. Corfu, therefore, is rich in Venetian, French, British, and Byzantine history, culture, and architecture. Plan your visit today for a wholesome experience.