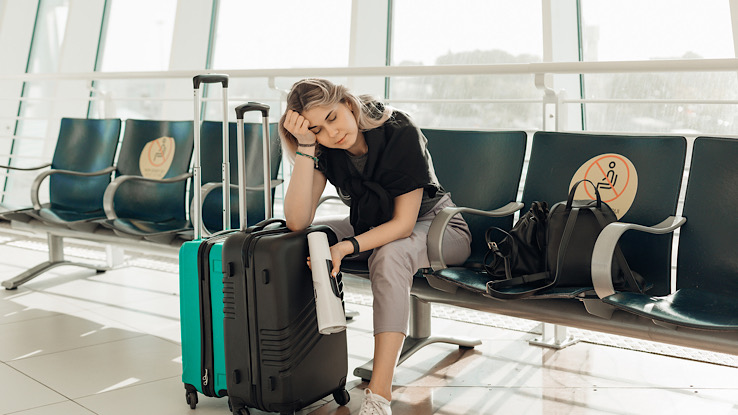 Has this ever happened to you? You've booked a flight well in advance, only to reach the airport to discover that the airline has changed, delayed, or canceled the flight altogether. You ask for a flight refund, but you're told that refunds only apply when the airline makes "significant" changes to your flight itinerary. But what exactly does that mean?
In the old days, the rules surrounding refunds were hopelessly unclear. Thankfully, the US Department of Transportation has just approved new rules that protect those seeking a refund. So before you book your next trip, you'll want to review these guidelines and keep them in mind.
Flight Refund Rules Related to "Significant" Changes
The Department of Transportation has always required airlines to issue refunds when there are "significant" changes to the flight. But the definition of "significant" has always been hazy. It's often been left up to individual airlines to determine what exactly counts as a significant change, which is why you may have noticed some inconsistency regarding flight refunds.
Canceled Flight Refunds 101: New Definitions of "Significant"
If the airline makes significant changes to your flight, you are legally entitled to a refund, even if your flight is not canceled entirely. The DOT has defined "significant" changes as:
Changes that alter the departure/arrival time of a domestic flight by at least 3 hours
Changes that alter the departure/arrival time of an international flight by at least 3 hours
Changes that alter the departure/arrival airport
An increase in the number of connections in your flight itinerary
Changes that downgrade the type of aircraft/amenities offered during your flight (such as a smaller cabin, reduced food services, or a downgrade from first class)
Some passengers have received refunds for such instances in the past. However, the new legislation codifies the language to ensure that all passengers receive a refund.
Airline Refund Rules Related to the Pandemic
The COVID-19 pandemic introduced new questions related to air travel. For instance, if you test positive and need to be quarantined, can you pursue a refund if you miss your flight? What if the government issues another travel ban?
According to the latest rules, you should get a flight credit or voucher under the following circumstances:
Flight Canceled Due to Travel Bans
If the US government issues a travel ban to prevent the spread of a contagious illness, you're entitled to a flight credit or voucher. These vouchers are valid indefinitely, so you don't have to worry about an expiration date once the ban is lifted.
Closed Borders for International Travel
When traveling internationally, some countries can close their borders to contain a public health hazard. If this happens, your flight will be canceled, and you'll also receive a flight voucher or travel credit.
Health-Related Travel Restrictions
What if you test positive for an illness like COVID within the two weeks before your flight? If you've been advised not to travel to protect your health (or the health of others), you're also entitled to a flight voucher or travel credit. Be advised, however, that most airlines will expect to see a positive COVID test before approving these vouchers.
Obviously, COVID-19 isn't the only health hazard that warrants a refund. If you have any other type of serious illness, a note from your doctor may be necessary to cancel your flight and receive a voucher.
Your Airline Receives Government Assistance
You'll be issued flight credits or a voucher in the above cases. But you may be entitled to a canceled flight refund if your airline receives significant government assistance related to emergencies like the pandemic. This stipulation means that instead of receiving a flight voucher, you would receive a full refund.
Other Circumstances Where You Deserve a Refund
The above two rules are the most recent changes to air travel. However, they are hardly the only circumstances in which passengers are entitled to a refund. Here are some others:
Canceled Flights
If the airline cancels a flight (regardless of the reason), passengers are entitled to a canceled flight refund. While you may accept a voucher or credit, you are legally entitled to a full refund.
Baggage Fees
When you pay a baggage fee only to have your baggage lost during travel, you are entitled to an airline refund. Be advised, however, that airlines have different criteria to meet before declaring a bag officially "lost." If it's taking them a while to get back to you, it may be worth contacting the Department of Transportation. You can contact them through their website or call their service center during weekly business hours.
Refundable Tickets
Refundable tickets allow you to get your money back if you buy them but choose not to travel. In these cases, you are fully entitled to a cash refund, regardless of your reasons for not traveling.
When Are Passengers Not Entitled to a Refund?
Despite these changes and established regulations, there are still situations where airline passengers may not receive a refund for air travel.
These situations include:
Missing your flights by being late or for other personal reasons
Unsatisfactory service during the booking/boarding/flying experience
Incidental expenses (such as a hotel or meals) caused by a flight change/delay
Unfortunately, if your flight is delayed or canceled, the airline has no legal obligation to reimburse you for meals, lodging, or other expenses.
As a consumer, you may still advocate for a refund or other compensation if you have an unsatisfactory experience. Document any changes that fall short of the "significant" criteria above, and contact the airline to explain your experience. Unfortunately, you aren't legally guaranteed any refund. However, in some cases, the airline may make price adjustments in the interest of customer service.
What To Do Before Your Next Flight
How can you be prepared for these changes? Here are some tips to prepare yourself before your next flight.
Learn Your Airline's Refund Procedure
While these changes entitle you to a refund, airlines will still have their way of assisting their customers. In most cases, the airline will include its refund policy on the company website. If you want further clarity, you can always call your airline directly.
Be Prepared for Last-Minute Changes
Always be prepared for last-minute changes to your itinerary. It's not uncommon for airlines to spring these changes on you at the last minute. Take a moment to review these changes and determine whether they meet the criteria for "significant" changes.
For example, if your new flight plan adds a 2-hour layover in Atlanta, you are entitled to a refund. Similarly, if you board the plane and the airline downgrades you to business class before takeoff, you're entitled to a refund.
If this happens aboard the aircraft, there's not much you can do, and the flight crew can do little more than offer sympathy. Your best course of action is to simply document the change, then contact the airline later to pursue a refund.
Get a Note from the Doctor
Are you feeling sick? Get yourself checked out within two weeks before your flight. Ask your doctor if air travel is a good idea. If your doctor advises against travel, ask for a note or results from any medical tests. Then, call the airline immediately. They'll walk you through the procedure of getting a refund/voucher, and you can make arrangements once your health improves.
What These Changes Mean for Travelers
Secretary of Transportation Pete Buttigieg says, "this new proposed rule [will] protect the rights of travelers and help ensure they get the timely refunds they deserve from the airlines."
What counts as timely? Well, the DOT requires that airlines issue refunds promptly. If you paid by credit card, the airline must issue a refund within 7 business days. If you paid by check, the airline must issue a refund within 20 business days.
Either way, the law has finally caught up to the challenges of air travel. And for many weary travelers, that's good news.