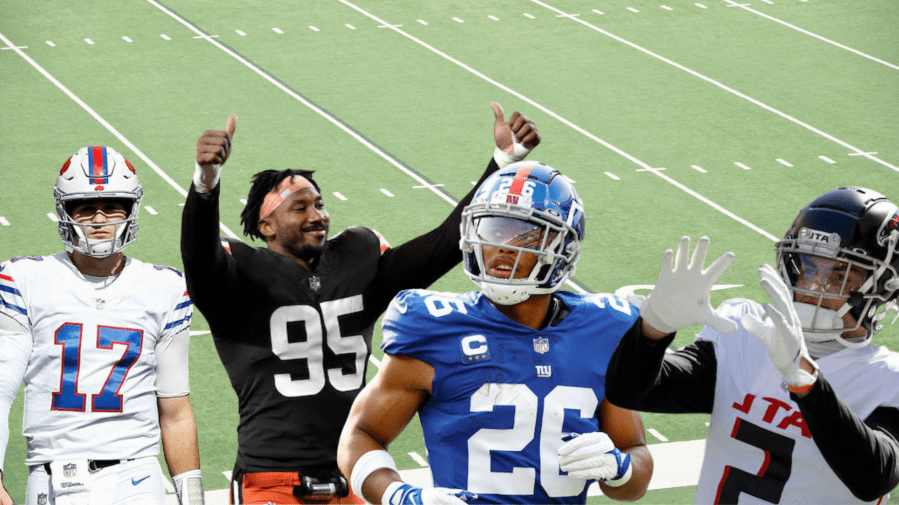 In recent years, the NFL Honors have grown to take on greater meaning to players, coaches and fans alike. These annual awards have earned a place as one of the most sought-after sports events, pushing players to become more competitive and stand out from their peers. For fans, though, they mean a big opportunity to have fun predicting the biggest awards from the start of the season — and make adjustments to those predictions as the season progresses. 
Fresh off the fourth week of the season, so much has happened since the preseason. Some players have pulled surprises on all of us and others have underachieved, while many have left their fans with several unanswered questions.
The 2022–23 season has become incredibly unpredictable. You can't be sure who'll be the MVP, defensive POY, offensive POY, ROTY or even coach of the year. All we can do is play a game of probabilities with the league's favorites. Ready to join us?
MVP — Quarterback Contenders
The NFL has 1,696 players across 32 rosters — and only one can win the MVP award. So, the probability of your player winning it is 1 in 1,696. However, not all players are equal, and more are likely to win it than others.
For instance, if the past few seasons are anything to go by, there are high chances that the MVP honor will go to the QB position. The award has gone to the position nine times in the last 10 seasons and 17 times since 2003.
That said, so far, Josh Allen is a clear favorite for the 2022–23 NFL season's MVP award. The QB has been phenomenal in the Bills' impressive run. He currently leads the NFL players in terms of total touchdown passes and is expected to widen this gap with his current imposing form.
Beyond Allen, a number of QBs are proving to be serious contenders for the NFL's most prestigious individual award. Patrick Mahomes, Lamar Jackson, Justin Herbert and Jalen Hurts are making some serious arguments for taking MVP. 
Offensive POY — A Viking Victory?
Determining the potential winning options for the offensive POY can be an overwhelming task, especially for the 2022–23 season. The award usually goes to the player who leads in multiple categories or helps an unexpected team to a playoff season with outstanding success. Unlike the MVP award that's associated with QBs, historically, offensive POY can go anywhere — which also means there are many, many contenders.
But, considering player statistics so far into the season — and other factors such as form, injuries and roles in their teams — the evidence doesn't go past Justin Jefferson, Jonathan Taylor and Cooper Kupp, who are all currently dominating the charts. However, Justin Jefferson seems more likely to outperform the rest.
Several players are challenging for the honor, too. Other names to look out for in this tightly contested award include Stefon Diggs, Lamar Jackson, Ja'Marr Chase and Davante Adams. Is your favorite player on the list so far? 
Defensive POY — Seasonal Shakeups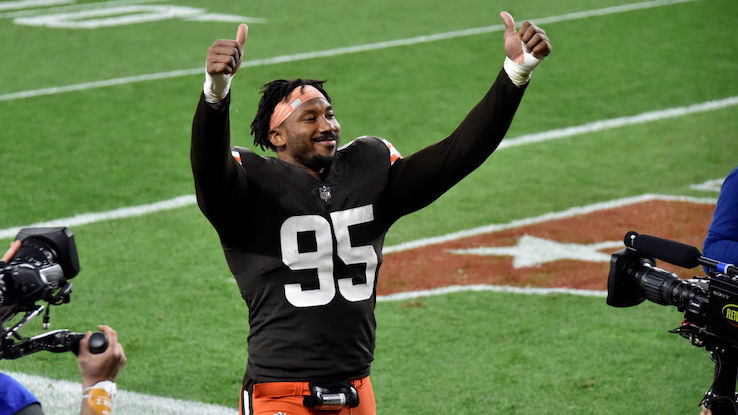 The past five seasons have seen the L.A. Rams' Aaron Donald clinch the award three times before the Steelers' T.J. Watt, who dominated in previous seasons before, won it last season. In between, Stephon Gilmore was the name to be reckoned with.
This year, things look absolutely different. So far, not one of these names is currently in the top three as Myles Garrett, arguably the league's best athlete — he was named an All-Pro player three times — takes an early lead. In the same tier is Nick Bosa, who's giving Garrett a run for his money, and last year's DROY, Micah Parsons.
T.J. Watt was a close contender. Unfortunately, he's dealt with a pectoral injury and might not play for around six weeks. However, if you're a Garrett, Bosa or Parsons fan, you might want to watch out for Aaron Donald, Joey Bosa and Von Miller — they're serious threats. 
Rookie of the Year — Anyone's Game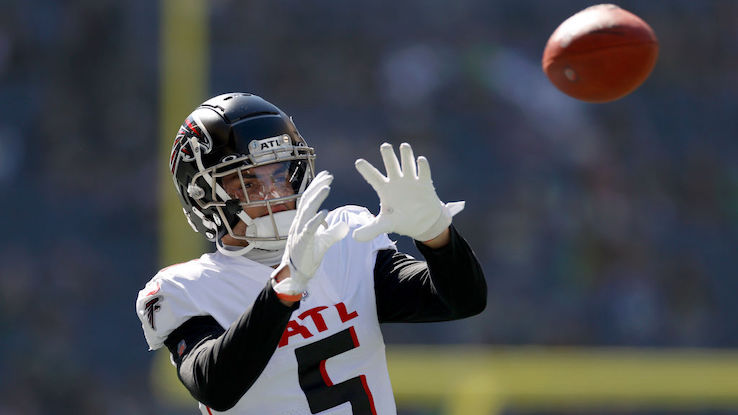 With 262 players drafted for the season, candidates for the Rookie of the Year award are all over the place. During the preseason, a vast majority, including sportsbooks, had George Pickens and Kenny Pickett listed as clear favorites. However, with the brief glimpse of these rooks so far into the regular season as they transition to the pros, there have been twists and turns. All it took were a few distinctive performances for the odds to dramatically shift.
The Falcons' Drake London has been exceptional so far this season, stacking some impressive numbers that have set him apart from his peers. The 6'5" wide receiver has had 16 receptions, 25 targets and two scores so far this season against the likes of the Seahawks, Rams and Saints. From the upcoming matches, he could bring even more impressive numbers.
However, it's not going to be a smooth ride for him, considering he's up against players like Garrett Wilson, Dameon Pierce, Kenny Pickett and Aidan Hutchinson — all of whom are also proving to be serious contenders. 
Comeback POY — Running Back Runaway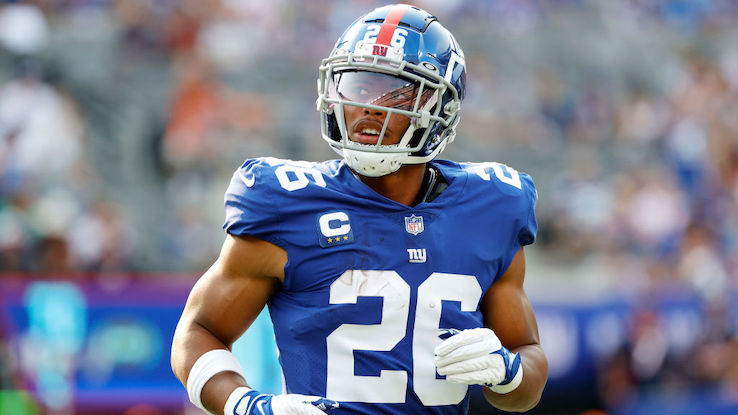 The Comeback POY contention has also seen massive shifts since the preseason. Now the race is mostly between RBs — Saquon Barkley and Christian McCaffrey — and a QB, Jameis Winston. Of the four, Barkley has much higher chances of becoming the NFL's 2022 Comeback POY. Despite an impressive career ravaged by injuries and coaching ineptitude, the star is back with a bang, and there's just no stopping him.
McCaffrey has only appeared in 10 games over the past two seasons as a result of injury. The player hopes to earn some respect for his name by making the league remember how good he can be on the pitch.
Besides McCaffrey, New Orleans' Winston looks good. The advantage he has over his contenders is that he's earned a key spot in his squad, despite not having lived up to expectations so far. Other contenders to watch out for include Brian Robinson Jr. and Derrick Henry.
Coach of the Year — Not So Simple
Out of the six NFL Honors awards, Coach of the Year might seem easy. After all, it's just picking the best coach of the season out of only 32 candidates, right? Well, it's not that simple. The NFL Coach of the Year isn't always given to the best coach in the league. It often goes to the coach who turned a bad team early in their tenure. It can also go to the coach who won more games without key superstars.
That said, this is quite a difficult one to call, considering injuries, bad lacks, team situations and the presence of unpredictable factors as the league progresses. However, based on results up to this point in the season, some of the coaches have clearly stood out and mean business.
One such coach is Mike McDaniel, who's in his first season as the Miami Dolphins' head coach. When he took over, there were a lot of doubts. But he shut down his critics, winning all his games against the Patriots, Ravens and Bills.
Other contenders include Nick Sirianni, Kevin O'Connell, Brian Daboll and Brandon Staley. A notable trend from this list is that these are coaches who'd been written off when the season started but are now producing some good statistics with their teams.