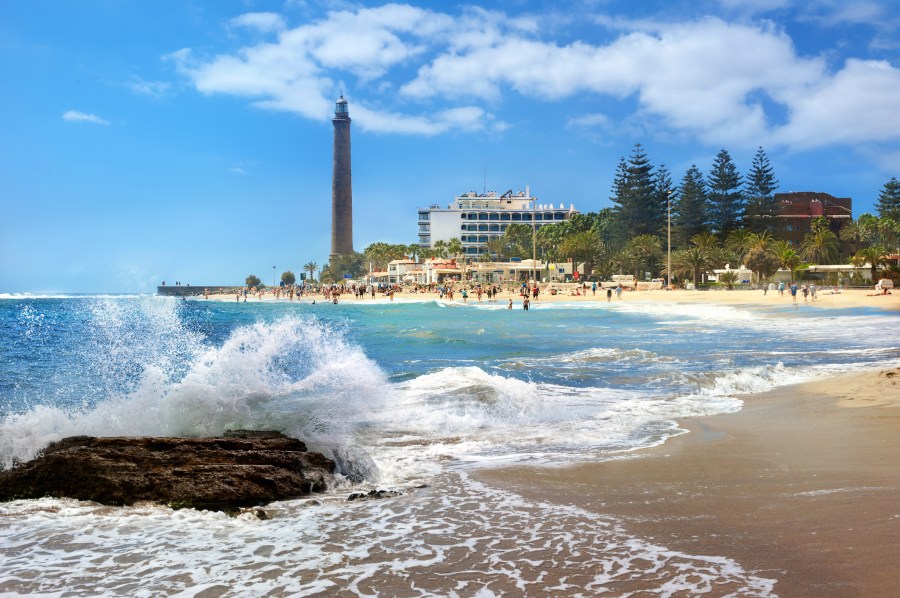 The Canary Islands are among the best destinations for a perfect holiday in Spain. Maspalomas, a tourist resort located south of Gran Canaria Island, is booming with tourist activities. And with long walks on the beach, historical monuments, and an amusement park all at your finger tips, it can be a great destination for the whole family.
If golden beaches, breathtaking natural scenery, comfortable accommodation, and rich history are your things, start planning a trip to Maspalomas, Gran Canaria –– and make sure to check out these 10 historic landmarks on your trip.
Playa del Inglés
On the south coast of Gran Canaria is Playa del Inglés, a beach resort. There's a dispute around the origin of the resort's name that dates back to the 20th century. Some people say that an English bohemian moved to the area in the 20th century and helped develop it. Others say that the man was French and not English. As of 2013, the area was still sparsely populated with a population of 7,515 people. However, these historical contradictions don't dampen the experience at the resort. The fine weather, sandy beaches, and turquoise waters are astonishing. For family, couples, and single people. A fun day here should cost about $160.
Yacimiento Punta Mujeres
Yacimiento Punta Mujeres (Punta Mujeres archeological site) is an aboriginal coastal settlement from between the 7th and 9th century. Domestic settlements of the aboriginals were found here, and it's believed to be part of a larger settlement. The aboriginals are believed to have migrated from North Africa and developed their civilization until the 15th-century Spanish conquest. The remains have helped archeologists piece together details about the lives of the aboriginals. Visit anytime as it is open 24 hours, free of charge.
Templo Ecumenico El Salvador
Templo Ecumenico El Salvador is a 1970s church located near the Playa del Ingles resort. The landmark is easily recognizable by its stained glass and inverted ship outline. The church is for Christians of all stripes and holds masses on Sundays at 10:00 am and 6:00 pm. During its construction, the tourism industry in Maspalomas was booming, and designers were told to fill the temple with symbols that were as neutral as possible, so that folks of all faiths could feel welcome inside.
The church also hosts events such as concerts and special celebrations. There's no entrance fee, but you can donate. Visit the temple to learn more of its history.
Parroquia de San Fernando
Parroquia de San Fernando is small community church. Although the church isn't meant for tourists, it's still an important historical landmark in Maspalomas. The church has simple yet striking architecture, with a well-lit altar to ensure that you follow the proceedings keenly. You can call them or email them to plan a visit, an event, or talk to someone to learn more about the parish, free of charge.
El Faro de Maspalomas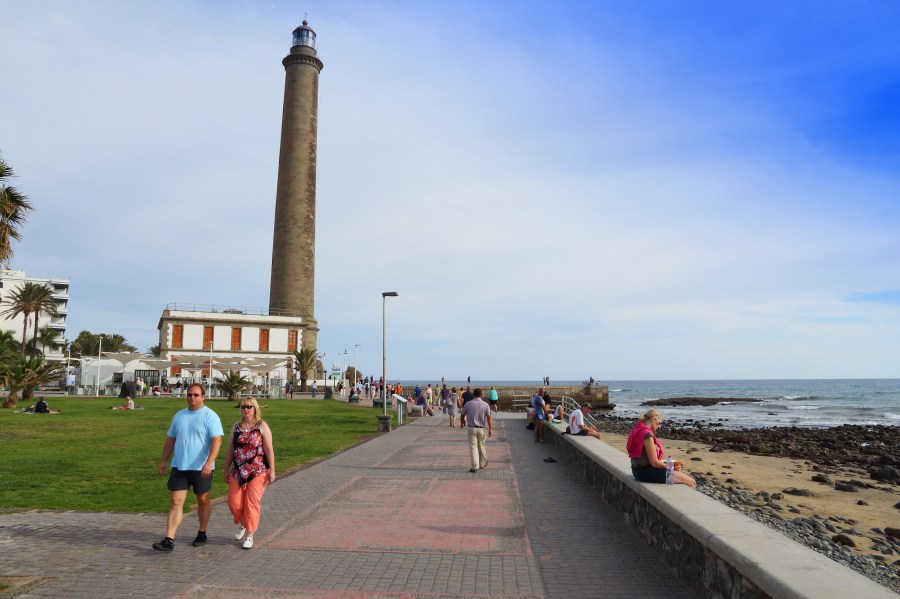 El Faro de Maspalomas (Maspalomas Lighthouse) is located 4 kilometers south of the town centre, and next to Maspalomas dunes. The active lighthouse was constructed in the 19th century and took 28 years to complete. It's 56 meters high, making it the tallest masonry lighthouse on the Islands.
The light can be seen for 19 nautical miles, thanks to the 60-meter focal height. In 2005, the government declared the lighthouse a Property of Cultural Interest. The inside of the lighthouse is not open to the public, but you can still visit the site at no cost.
Paseo Marítimo
Paseo Marítimo is a long seaside promenade that begins at San Agustin and ends at Maspalomas Dunes and El Faro de Maspalomas, the lighthouse mentioned above. The promenade itself contains three long staircases and breathtaking views of the beach. There's a shopping center with beautiful kiosks serving refreshing drinks and food to refuel you along the way. And you'll find plenty of benches and other rest spots for you to pause and soak in the fresh, calm breeze of the Atlantic.
Sioux City Park Gran Canaria
Sioux City Park Gran Canaria was designed to send you back to the old days of the Wild West. Well, sorta. The place was originally built in 1972 as a set for shooting Western movies. But today it is filled with fun activities where you can watch bank robberies, cattle demonstrations, and cowboy duels. There's also an onsite zoo with animals, including Jersey Giant chickens and dwarf crocodiles. The experience costs about $25 per person.
Holiday World
Calling all amusement park lovers! This theme park is perfect for all ages. Keep the kids happy with arcade games or bowling alley. Teenagers can spend their time on the fairground rides. For adults, there's a sports bar and a couple nightclubs. Go on the ferris wheel for a picture-perfect view of Maspalomas. The view is even better at night.