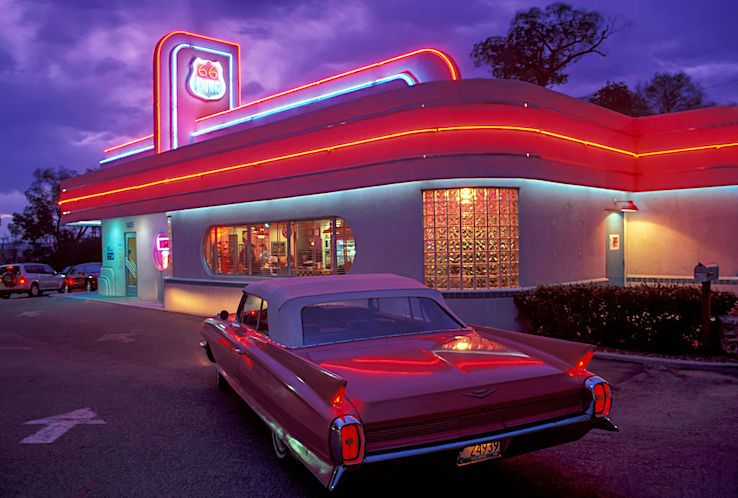 When you're in the middle of a great road trip, sometimes the last thing you want to do is slow down your driving momentum and sit down for a lengthy meal. That's why we've put together a collection of great fast-food restaurants along Route 66 that will fit right in with your spirit of adventure. Here you'll find everything from historic diners to innovative newcomers, all of which serve up dining experiences that are unique enough to pull over for and check out while you're traversing the Mother Road.
Pink's Hot Dogs in Los Angeles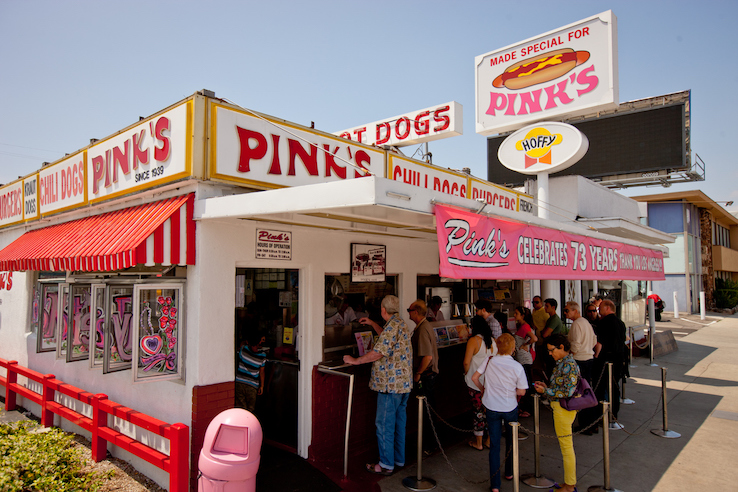 Touted as "A Hollywood Legend Since 1939," Pink's is one of those places you don't just visit for the food, even though it's admittedly delicious. In the 1930s, Paul and Betty Pink began selling their now-famous hot dogs for 10 cents apiece from a $50 pushcart. In the 1940s, the couple took out a loan to build the charming location that still exists on La Brea and Melrose today.
Due to the high quality of the hot dogs and burgers, plus the stand's prime Hollywood location, word of Pink's soon began circulating among the nearby movie studios. Over time, Pink's has become a living piece of Hollywood history and still regularly attracts celebrity clientele to this day.
While you should be prepared to brave the consistently long line, rest assured you'll be spoiled for choice when it comes to the many hot dog and burger menu options available.
In-N-Out in Los Angeles
When you're in Los Angeles, it's sort of an unspoken rule that you must dine at In-N-Out at least once. Pretty much the entire state of California goes wild for In-N-Out's classic hamburgers, fries and shakes, whether or not residents and visitors are even aware of the restaurant's iconic fast-food history.
It all started back in 1948 when founder Harry Snyder revolutionized quick eats forever by introducing the intercom ordering system. It was Snyder's innovation that allowed In-N-Out to become California's first drive-thru hamburger stand, and quite possibly the world's first true fast-food drive-thru location.
Want to order from the (not so) secret menu? Ask for your fries "animal style" for an added dose of melted cheese, grilled onions and secret sauce.
Moon Palace by David Chang in Las Vegas
There's nothing like a long drive across the desert to work up a good appetite. As the glittering lights of Vegas appear on the horizon, you'll be greeted by plenty of swanky dining choices. But if you're in the mood for a delicious bite that doesn't cost a fortune, head over to the Palazzo at the Venetian Resort.
There, you'll find David Chang's Moon Palace, a cool little counter-service diner that offers decidedly casual breakfast, lunch and dinner options. Moon Palace's delicious sliders are available with various fillings, which even include a few vegan options. For dessert, check out the Half Dip, which consists of two pancakes dipped in chocolate and filled with marshmallow fluff.
Texas Meltz in Las Vegas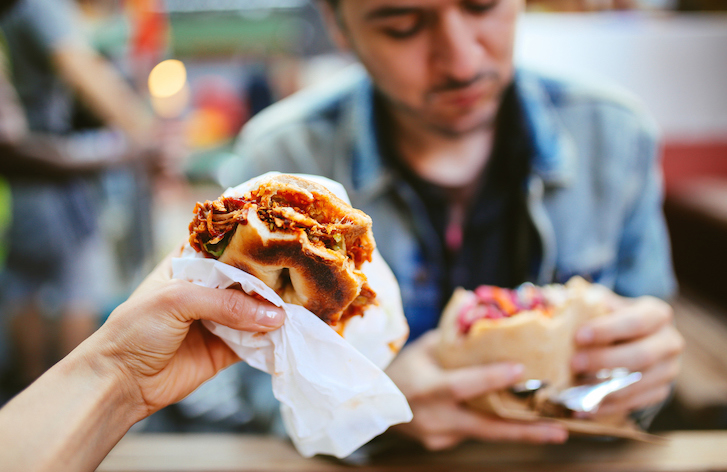 Looking to avoid the madness of The Strip altogether? Fear not, for Vegas locals have plenty of hidden gems all their own. Texas Meltz, which you'll find tucked into an unassuming strip mall, offers grilled sandwiches you've got to taste to believe.
Indulge in your choice of brisket, pulled pork, roast beef or a slew of other options piled high on Texas toast or a sub roll. In the mood for beef? Opt for one of the Cowboy Burgerz topped with sweet grilled onions. You can even ditch the bread entirely and cut straight to chase with the best deep-fried ribs, fried catfish and other Southern favorites.
Raising Cane's in Flagstaff, Arizona
If you're in the mood for chicken fingers, be sure to stop by Raising Cane's as you pass through Flagstaff. Chicken fingers are this place's entire jam and their track record proves that they've pretty much got them down to a science.
Raising Cane's is also known for its trademark secret sauce, so prepare to get your dip on before every delicious bite. Round out your meal with coleslaw, crinkle-cut fries and Texas toast for a hearty quick bite that's certain to please even the most discerning chicken strip connoisseur.
Rusty Taco in Albuquerque, New Mexico
Looking for a few good tacos? Swing on into Rusty Taco as you cruise through New Mexico. This fun little joint was founded by Rusty Fenton, who dreamed of opening a place where everyone could come to enjoy a great taco with an ice-cold margarita proudly made with "cheap tequila."
But don't let the ridiculously reasonable prices fool you. Rusty Taco has what's possibly one of the most eclectic taco menus ever known. Choose from various fillings like shrimp, brisket, grilled cod, chicken and many others. Each taco comes with a colorful array of toppings, such as cotija cheese, pickled red onions, grilled pineapple relish or BBQ sauce.
Kix on 66 in Tucumbari, New Mexico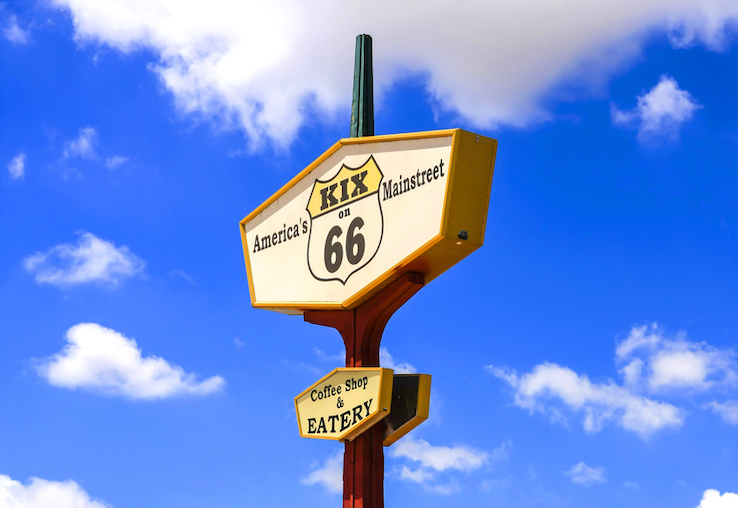 There's nothing better than a Route 66-style diner on a Route 66 road trip — except maybe one that's located literally on Route 66. Stop by Kix on 66 for breakfast and lunch served up with a side of classic Americana. The roadside eatery was established by sisters Yvette Peacock and Yvonne Braziel and encapsulates the essence of an old-school counter diner.
Get into the greasy-spoon spirit at its finest by fueling up with a breakfast of pancakes hot off the griddle, complete with whipped cream and plenty of maple syrup. Or, mix it up with an omelet hidden beneath a mound of melted cheese and hashbrowns on the side.
For lunch, there are plenty of sandwiches and burgers to choose from, with your choice of waffle or sweet potato fries. Wash things down with a cup of authentic Route 66 coffee, or grab an ice cream float or milkshake for the road.