Being the easternmost state of all 50 United States, just the faraway nature of Maine can make it feel a bit exotic. And you're not wrong. Maine is brimming with stunning views, isolated beaches, and a quaint New England charm that will feel culturally different to people who haven't experienced this corner of the country before. For those traveling in the fall, the memories of bright red foliage will stick with you long after you've left the state. Anyone brave enough to visit in the winter will discover the unique beauty of a snow-crusted lighthouse. Hopefully you can fit this trip into the summer months though, when the sand will be warm under your feet and the water will be…well, not warm, but less cold.
Maine is a state begging you to visit by car. One location isn't nearly enough to claim you've seen the state. The lobster rolls, arguably the most important food to try on your trip, are easily enjoyed on the go. So whether you're flying in from somewhere out West or hopping in your car from the outset, pack your bags for your Maine roadtrip, and let our roadmap guide you on your journey!
Getting to Maine
If you're already a New Englander (or residing in a neighboring New York or Pennsylvania), then you know how quick it is to traverse a few states by car to arrive in Maine. We recommend that you start your journey by heading to Portland. If you're flying in, you can fly into Portland through the Portland International Jetport (PWM), or opt for a flight to Boston through Boston Logan Airport (BOS), which is likely to have more flight options and car rental choices once you arrive.
Boston to Portland
If you opt to fly into Boston, it is an easy drive, just under two hours. Try not to be too eager to arrive at your first destination. This is a road trip after all, and you are highly encouraged to pull over for ice cream or at any of the scenic outlooks on your way.
On the Road
Between Boston and Portland you'll find Old Orchard Beach. Here you'll find seven miles of beach, and New England's only ocean-front amusement park! A day pass will cost you about $40, which is a great option if you want to enjoy all 28 rides the park has to offer. You can also buy tickets for about $2 a piece, and opt to jump on just a few rides before getting back on the road. Before you roll into the city, take a quick detour at Cape Elizabeth and marvel at the Portland Head Light, Maine's oldest lighthouse. If it hasn't hit you yet that you've arrived in Maine, it will now.
When in Portland- Eat, Stay, and Play
When you arrive in Portland, consider that this is the only city on your stop. Maine is a pretty rural state after all. That means that now is the time for all things dining and nightlife. Don't worry– the nature comes later. You've got lots of hiking ahead of you on your journey, so now is time to prepare. We recommend doing so with a large helping of poutine from Duckfat. You're just a stone's throw from Quebec, so this dish isn't as out of place as it might seem. And the fries are fried in– you guessed it– duckfat. This highly popular eatery doesn't take reservations, but is well worth the wait.
You could easily spend a whole week in Portland, and we'll leave that part of the planning totally up to you. It's good to know in advance that Portland is not an inexpensive place to stay, so budget accordingly. For a more budget friendly option, you could book a bed in a hostel. The Black Elephant Hostel offers clean accommodations and vibrant common spaces for socializing, starting at $65 a bed. For a more upscale option, consider a stay at The Francis. It's a boutique hotel with a spa, in a historic mansion, located walking distance from the Old Port.
You'll want to give yourself at least a day to wander the city, which is easily walkable. Consider following the Portland Freedom Trail–is a self-guided, 13-stop walking tour of important places on Portland's Underground Railroad. It's a great way to see the city and take in some history. Before you hit the road, make a stop at The Holy Donut for a famous potato donut. Trust us. It's great road food, so long as you pack napkins.
Portland to Acadia National Park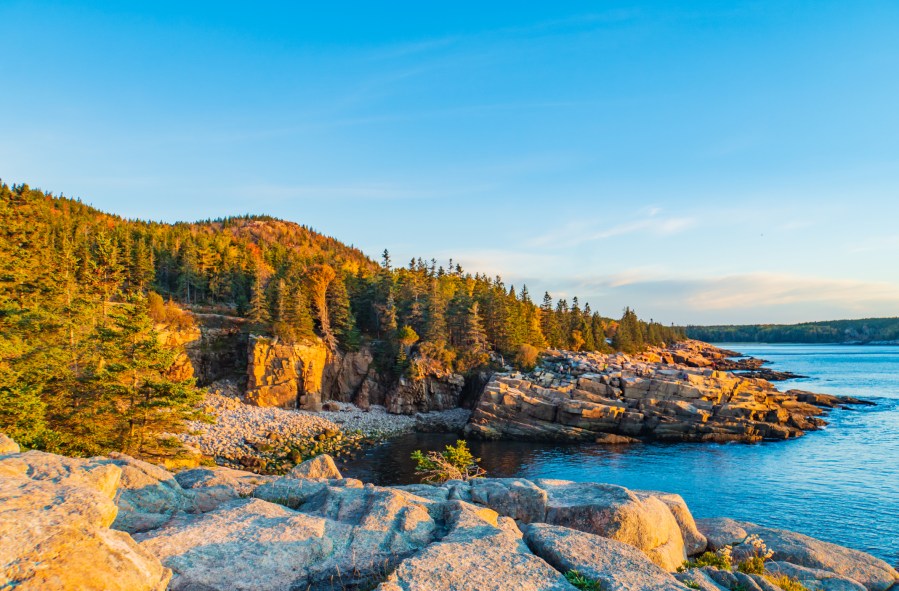 On the Road
Your next stop is Acadia National Park, and this leg of your drive is an easy three hours. As you make your way towards Acadia, you'll notice lobster shacks peppering the coastal roadside. The time to act is now. These lobsters were pulled straight from the ocean, covered in butter, and dropped onto a soft bread roll with your name on it.
Acadia- Sightseeing and Snoozing
Acadia National Park is one of the top ten most visited national parks in the United States. With miles of hiking and incredible scenery, Acadia is a must for nature lovers or even nature skeptics/undecideds. The park is home to the highest point of the eastern seaboard, meaning that you can wake up extra early to be among the first people in the US to see the sunrise on any given day. There is plenty of easy hiking for the uninitiated, and plenty of challenging routes for the experienced hiker. We recommend choosing a route that takes you past Thunder Hole, preferably at high tide.

Camping is allowed within the park with a permit at one of the designated camping sites. These sites fill up quickly though. Luckily, there is an abundance of nearby camping sites, with tent camping and cabin options available. If you would prefer a hotel, there are plenty of options in the neighboring Bar Harbor, which is an easy drive to Acadia. You'll just need to purchase a car pass to be able to enter the park, which will run you $30 for seven days.
As you leave, remember to leave the park better than you found it. This means bringing any trash you create out of the park with you (and picking up any litter you see along the way). It also means sticking to the path where indicated, keeping your dogs leashed, and generally following any park rules, as they are there to both protect you and to preserve the beautiful nature you came to enjoy.
Bar Harbor- Off the Beaten Path
If you have time on your trip, or you're eager to spend a night at a hotel and B&B, where you can enjoy a long bath and a hot meal, consider visiting Bar Harbor before you head on your way. This little town is the gateway to Acadia, and is often overlooked by travelers who are hurrying to their destination. But you're on a road trip, so you know that fixating on a destination isn't how you enjoy the ride. Consider a stay at Harborside Hotel, Spa & Marina if you want to splurge on a night of oceanfront luxury. On your way out, visit the George B. Door Museum of Natural History. It's a lesser-known local treasure, run by College of the Atlantic students who have crafted several scavenger hunts for your amusement.
Acadia to Baxter State Park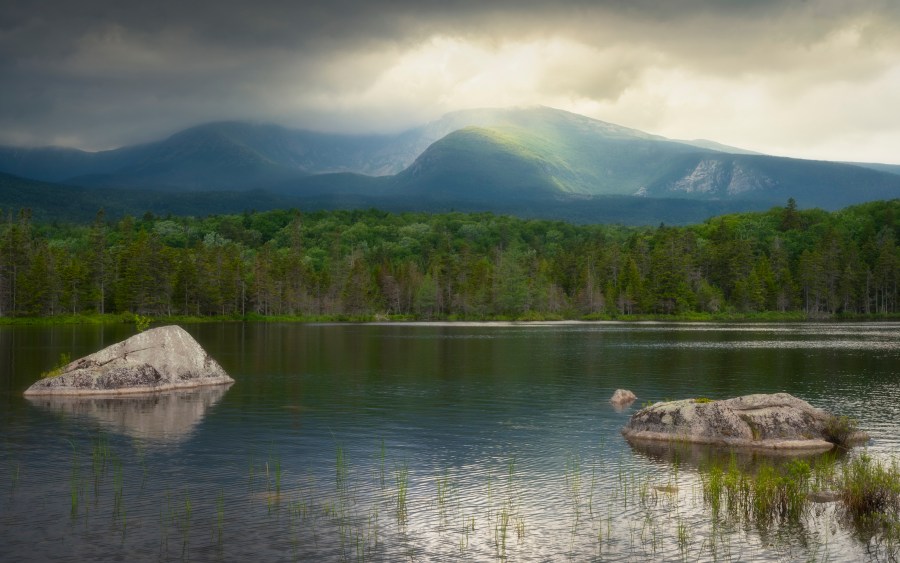 This might be the end of your road trip. If you've opted for longer stays in Portland or Acadia, or you just can't fathom the idea of another day of hiking, now is a fine time to turn around. But if you've still got gas left in the tank, both literally and figuratively, now is time to head north to enjoy some of Maine's inland nature. The drive from Acadia to the Millinocket entrance to Baxter State Park will take just a little more than 2 hours.
Whereas car camping and cabin camping was easy at Acadia, the camping in this part of the world tends to feel a bit more like roughing it. If that sounds like your idea of a great time, maybe plan to spend a couple of extra days on your trip here at Baxter. If you're more of a running water kind of traveler, the Big Moose Inn & Cabins offer charming accommodation right at the entrance to the park. Once inside the park you can hike, swim through the natural water slides, or explore the unique Debsconeag Ice Caves.
And that brings us to the end of our roadmap.
If you have a passport and an itch to experience more city living, you could drive five hours north to Quebec City. If you turn around and head back to Bar Harbor, you could take the ferry to Nova Scotia and have a very different Canadian experience.
Whatever you decide, have another lobster roll for us along the way.