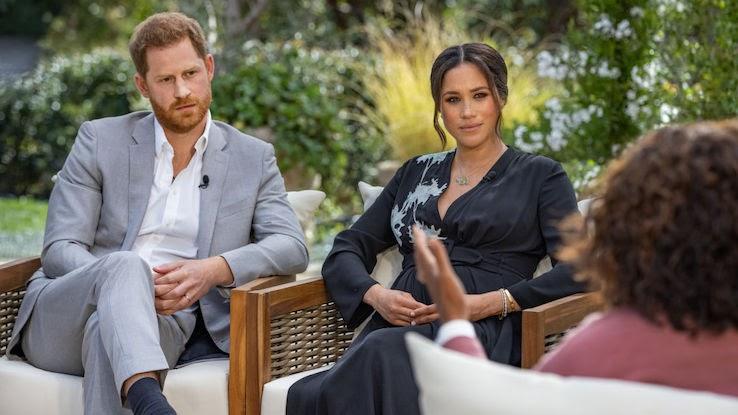 On Sunday, March 7, Prince Harry and Meghan Markle — the Duke and Duchess of Sussex and prominent members of the British royal family — joined Oprah Winfrey for an interview that sparked "explosive revelations about the couple and their fraught relationship" with the U.K. monarchy. During the interview, the couple, both of whom have been longtime advocates for destigmatizing mental health conditions and improving access to mental health care, openly discussed topics like suicide, the "relentless racist attacks" Meghan was subjected to and the lack of familial support that ultimately led the couple to step back from their roles as senior royals.
The information revealed in the interview was shocking and unexpected, but it ultimately highlighted the importance of what Harry and Meghan have been drawing attention to for years: the increasing need for racial justice, social support and improved access to mental health resources — along with more of those resources in general. The couple's openness in talking about their mental health struggles is encouraging. But they're no strangers to raising awareness, participating in activism and navigating complicated familial situations — as Meghan's pre-royal life demonstrates.
Meghan and Harry Have an Enduring History of Advocacy Work
The Oprah interview wasn't the first time the couple have been in the news for drawing the public's attention to difficult topics; they've both spent years championing causes related to health. Harry has been a long-time advocate for AIDS awareness and building educational opportunities for children in developing countries, and Meghan has supported a variety of charities and initiatives aimed at improving women's health around the globe.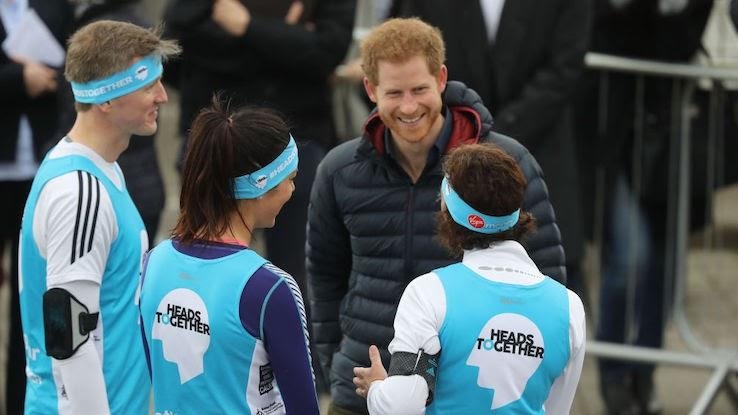 More recently, Harry joined the Campaign to Change Direction as an ambassador raising awareness about the need for improved mental health services among active-duty military members and veterans. Together with Prince William and Kate Middleton, he also leads the Heads Together campaign, which is designed to tackle stigmas and judgment around mental health struggles.
In the wake of the March interview, the pair announced that their charitable foundation, Archewell, which aims to "uplift and unite communities…one act of compassion at a time," will begin supporting a variety of nonprofit organizations that back mental health, racial justice and media diversity causes. These include Mind, a British charity that campaigns to "improve services, raise awareness and promote understanding" about mental health issues; Color of Change, the United States' largest online racial justice organization, which aims to "create a more human and less hostile world for Black people in America"; and PressPad and URL Media, two journalism organizations that aim to provide better professional opportunities to people of different racial and socioeconomic backgrounds.
Meghan's Identity Informs Her Work
Meghan has been relatively open about her experience growing up biracial — she has a Black mother and a white father — and having struggled with her heritage and how she chooses to identify. Because her parents were divorced, she felt like she had to choose between the two. Meghan also grew up in a neighborhood that wasn't racially diverse, and people often assumed her mother Doria was her nanny — an assumption they made because of Doria's race.
This experience influenced how Meghan saw the world as a child and, for a time, created some difficulties for her in defining her identity. Nowadays, however, Meghan has learned to embrace herself for who she is. Her advice? "Introduce yourself as who you are, not what color your parents happen to be." Many fans have found inspiration in her message.
She's Always Spoken Out and Stood Up
In the wake of the interview with Oprah, supporters have called Markle's decision to speak up "necessary and even heroic," according to The Guardian. But she's never been afraid to speak her mind — even at only 11 years old. At that age, Meghan saw a soap commercial that was marketed exclusively towards women, and she didn't like the message it sent. She thought advertisements shouldn't perpetuate the idea that moms have to take care of everything, including cleaning. So, she started writing letters — to the company and even to Hillary Clinton and Gloria Allred. Her voice was heard; shortly after Meghan's criticism, Procter & Gamble changed the wording in the ad from "Women all over America" to "People all over America." Meghan was never afraid to make waves.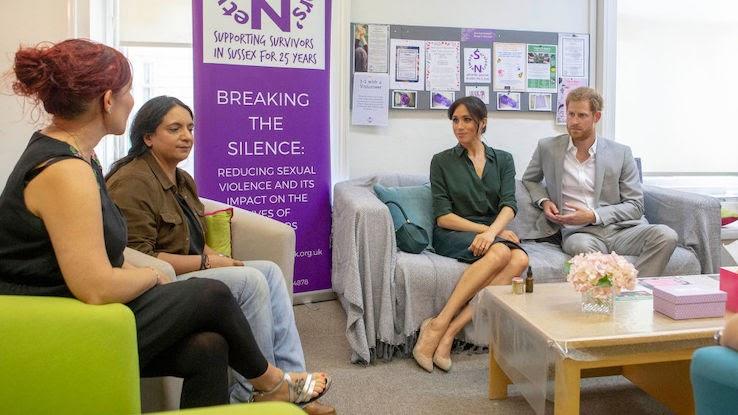 Considering that she used her powers of outspokenness for good, it's not surprising that Meghan took to the philanthropic life of royalty effortlessly. She had already been involved in philanthropic endeavors for many years, having frequently volunteered in soup kitchens and pursued other opportunities to improve nutrition among different groups. She was also involved in organizations such as the youth nonprofit One Young World, the humanitarian group World Vision and the U.N. Women's Political Participation and Leadership Initiative. With all of these altruistic projects on her resume, Meghan had no problem tackling new philanthropic missions, and the experience will likely inform her work on mental health initiatives moving forward.
Meghan Has Consistently Navigated Strained Family Relationships
Meghan's difficulties navigating life with the British royals aren't the first time she's dealt with familial unrest, and this has potentially informed her approach to dealing with difficult family members. She hasn't had the smoothest relationships with members of her biological family, either. Her two half-siblings on her father's side, Samantha and Thomas Jr., have been estranged from her for some time. They lived together when Meghan was very young, but the siblings were never close. This potentially has to do with their ages: Samantha and Thomas are 17 and 15 years older than Meghan, respectively, and they have a different mother. Samantha has spoken out against Meghan in the media, calling the princess "narcissistic" on numerous occasions.
Meghan's relationship with her father is also strained. Although she reportedly had a happy upbringing with him, this relationship has also been strained since she and Harry began dating. Not all the details have been divulged, but he potentially staged photos for the paparazzi before her wedding. On top of that, he's said some negative things about the crown on media outlets. All of this has caused tension between Meghan and her father, leading to the decision that he wouldn't be walking her down the aisle.
Meghan Has Always Been Ambitious and Forthright
For a time after joining the royal family — and largely until the Oprah interview — Meghan scaled back on her outspokenness; royals are required to refrain from making political statements. Before her marriage to Prince Harry, however, Meghan was accustomed to speaking her mind.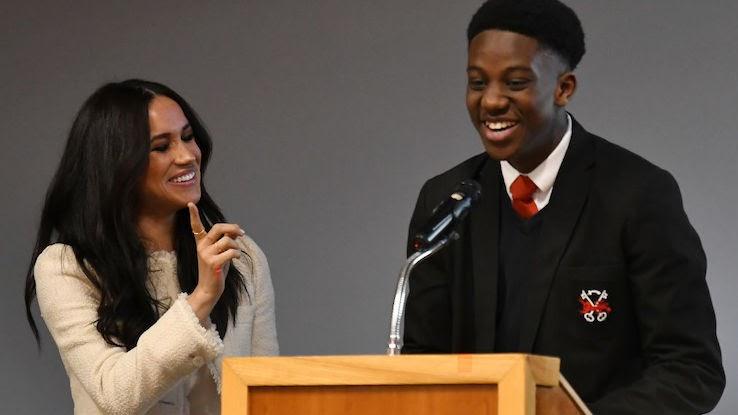 One way she did this? Via a personal blog called The Tig. Here, she commented on fashion, beauty and food, among other things. She chose to quit blogging as she came under increasing public scrutiny, but not before posting a heartfelt note of farewell to her fans.
As her degree in international relations suggests, Meghan also has a keen interest in global politics. Shortly after graduating college, she worked as an intern at the U.S. embassy in Argentina, figuring the position would be a stepping stone within the world of politics. Meghan says her time abroad was as exciting as one would think. "I'm 20 years old, in Buenos Aires, in a motorcade, doing that whole thing," she explained. "I thought for sure I would still have a career in politics."
Needless to say, Meghan Markle's unique past and accomplishments make her a modern addition to the royal family. Rather than becoming something that estranges the public, what some royals may see as Meghan's unorthodox nature is generally viewed as refreshing and illuminating by the rest of us. It's past time a figure like her was royalty — and we hope that she continues to use her platform for good.