Travel plans haven't exactly been going as expected as the COVID-19 pandemic continues to remain a global threat. Despite the ongoing crisis, many people are still looking to enjoy a getaway after months of sheltering in place or reunite with loved ones they haven't seen for months. With health and safety in mind, it's only natural to wonder about the risks of booking stays at hotels or vacation rental homes. Before making a reservation, learn how these businesses have adjusted to the COVID-19 pandemic and implemented safety recommendations from infectious disease experts.
Vacation Rental Hosts Are Following New Rules for Cleaning and Booking
Staying in a vacation rental can be a viable option thanks to the different precautions various companies have implemented. For starters, vacation rental marketplace Airbnb has prioritized health and safety during the COVID-19 pandemic. To protect guests and hosts, the company has rolled out more thorough cleaning protocols. For instance, the company's "Enhanced Clean program" helps hosts learn how to disinfect their homes properly, such as by using supplies recommended by the U.S. Environmental Protection Agency. The program requires hosts to learn the new cleaning procedures, pass a quiz and consent to an attestation confirming that they're going to follow the series of updated safety guidelines. After completing the program, the host receives an "Enhanced Clean" tag and a badge on their listings for users to see.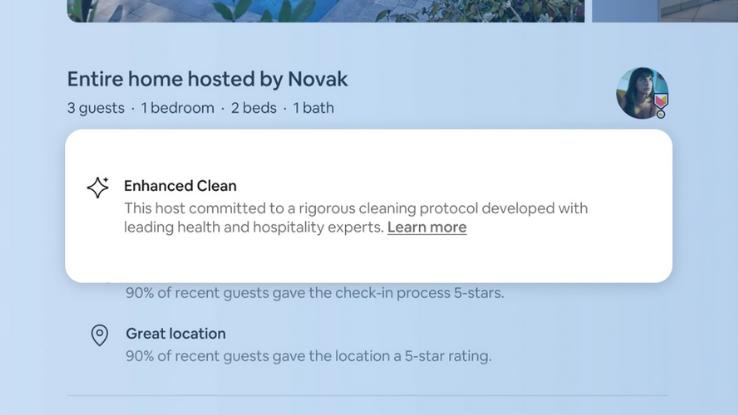 In addition to enhanced cleaning, Airbnb introduced a program called "booking buffer," which keeps the home vacant for 72 hours between guest stays. This response aims to make visitors feel safer knowing that only the cleaning staff has been on the premises during that time.
VRBO, another popular vacation rental company, adopted similar safety guidelines recommended by the CDC, the WHO and Cristal International Standards, a company that provides risk-management systems to hotel groups. The measures recommend that property partners block time between bookings, offer contactless check-ins, sanitize high-touch surfaces and stock homes with antibacterial hand soaps and sanitizers. According to VRBO, owners can show users the key cleaning practices they've implemented by putting the information in their property descriptions. The company also has a flexible cancellation search filter for travelers.
Vacation rental management company TurnKey also updated its cleaning and booking processes. Before the pandemic, it already offered keyless locks and other ways to reduce in-person contact. Now, it requires cleaning staff to disinfect properties using "COVID-19 fighting products." According to TurnKey, each home clean must be "validated by photos and the cleaning products used before the job is considered complete." In this way, the company has stricter guidelines than Airbnb and VRBO.
Airbnb, VRBO and TurnKey aren't the only companies with health and safety on their minds; hotels have also set up new cleaning guidelines in response to the pandemic.
Major Hotel Chains Are Working Closely With Health Experts
Major hotel chains have adopted new safety protocols recommended by public health departments and are including detailed information on their websites to reassure potential vacationers. These guidelines promote social distancing, enabling contactless check-in and cleaning high-touch surfaces with powerful disinfectants.
For instance, Marriott is now sanitizing its hotels with CDC- and WHO-approved electrostatic sprayers. Shared surfaces and spaces are cleaned daily, while social distancing is strictly enforced. The company encourages guests to check in and check out online to reduce contact with others.
Meanwhile, the Four Seasons has worked with Johns Hopkins Medicine International for its "Lead With Care" program. Some of the program's requirements include cleaning frequented areas hourly, limiting capacities in bars and restaurants and inspecting rooms by using black lights.
Although vacation rentals and hotels have new cleaning protocols, health experts say that one business minimizes risks more than the other.
Are Vacation Rentals Safer Than Hotels?
To determine if a hotel or vacation rental is safer for guests, health experts review the facility's cleaning policies, mask and social distancing guidelines, and the number of people visitors are likely to come into contact with — the risk of transmission is higher when you interact with others.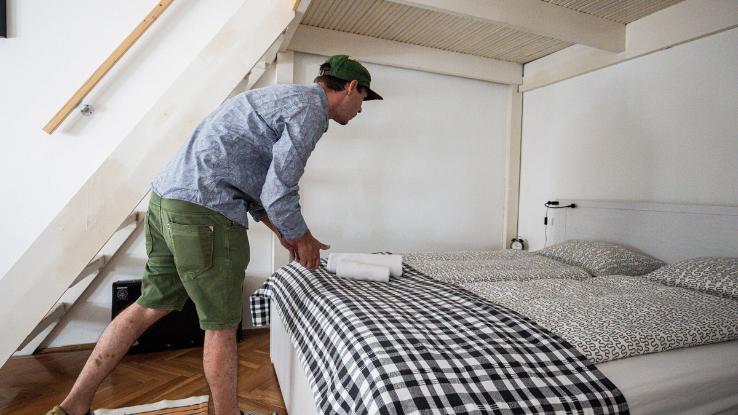 Vacation rentals have a low risk of person-to-person contact as they offer contactless check-ins and reservations of entire homes. These features allow guests to have more control over their environments. While some hotels also provide no-contact check-ins, you can still encounter people in lobbies, elevators and other public spaces.
"In a hotel, it's inevitable that you'll have more interactions than at an Airbnb," said Thomas Russo, head of the infectious disease division at the University at Buffalo. He explained, "Anything you can do to decrease your encounters with other individuals will be safer. Or if you have those encounters, they're at safe distances with everyone wearing masks ideally."
Ultimately, it's safer to stay in a vacation rental, but that doesn't mean there's no danger. To lower the risks of contracting the virus, Russo suggests guests "run utensils and dishware through the dishwasher when you get there." Wiping down phones, TV remotes, door handles and other commonly touched surfaces with disinfectants can further reduce risks. It's also a good idea to wash towels and bedsheets so you have better oversight on everything you want to clean.
John Marroni, owner of the disaster recovery company National Restoration, advised checking for dust. If there's dust, then the property's cleaning practices are questionable.
Vacation Rentals and Major Hotel Chains Have Experienced Hardships During the Pandemic
Despite enhancing cleaning measures, vacation rentals and hotels have had a difficult time getting business during the pandemic. The UNWTO, which is the United Nations' worldwide tourism agency, found that 2020 was the worst year in tourism history "due to an unprecedented fall in demand and widespread travel restrictions."
While many rental property hosts and major hotel chains are struggling, there are some positive signs for the vacation rental industry. Airbnb and VRBO hosts in remote areas have seen a rise in bookings. In fact, The New York Times reported that 30% of Airbnb's Labor Day bookings in 2020 were in remote areas, which was double the amount from the same weekend in 2019.
According to CNBC, Americans have been flocking to rural vacation rentals to escape cabin fever and stress from COVID-19. Remote properties are not only filled on weekends but also on weekdays. Guests who are concerned about their ability to continue social distancing are largely choosing these remote vacation homes as a safeguard.
Although hotels and vacation rentals have adopted many new policies to ensure healthy environments, guests must also do their part to keep everyone safe — and that doesn't just mean choosing a remote property for vacation. Thankfully, there are simple steps visitors can take to minimize risks further.
If you're planning to stay in a hotel or Airbnb, these recommendations can also help you stay safe:
Wear a face covering in public spaces and any time you're around people who don't share your household. The CDC recommends wearing a two- or three-layer fabric mask that covers both your mouth and nose.
Request contactless check-in and check-out. Find out if your hotel or vacation rental service has an app you can use to complete these processes without visiting a front desk or interacting with a property owner.
Check the property's space for cleanliness when you arrive. Make sure the water glasses are in sealed wrappers, and see if there's a paper strap around the toilet seat. Look for fingerprints and smudge marks on faucets, doorknobs and handles. See if there's dust around — and don't be afraid to do a sniff test. If the room smells like cleaning products, it's likely clean.
Bring your own wipes to clean the space. Review this infographic from the Environmental Protection Agency to learn which products to use and how to use them properly.
If you're experiencing any symptoms of illness, stay home. Get tested for COVID-19 if possible, and quarantine yourself for 14 days if you've come into contact with a person who has COVID-19.
As a reminder, it's important to prioritize your health and safety when you're traveling during the pandemic. The best way to keep everyone safe is to practice proper hygiene and minimize contact. If possible, search for properties with flexible cancellations, just in case you change your mind or start feeling sick.