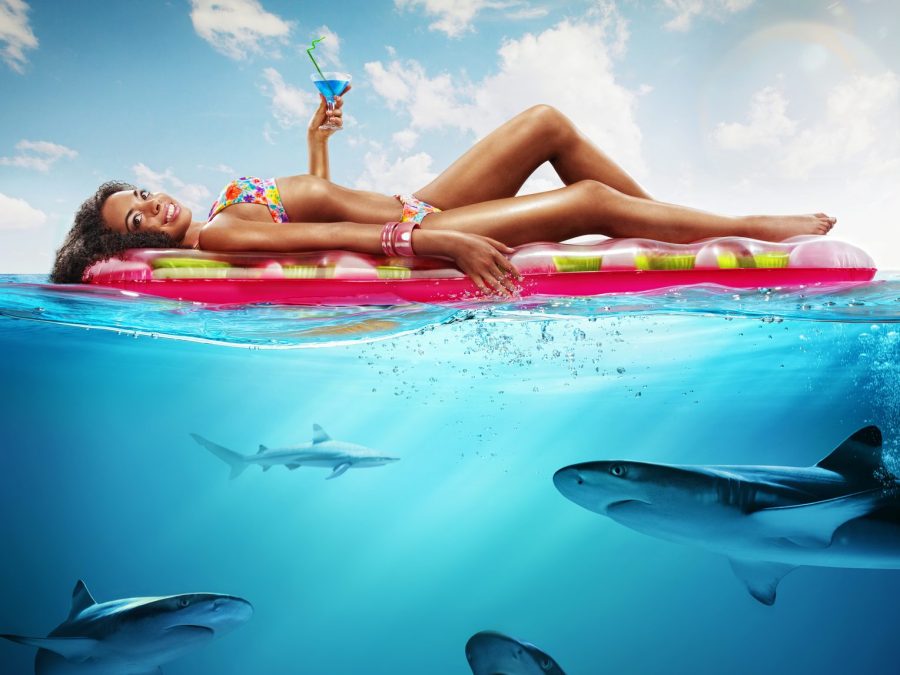 In honor of Shark Week 2022, airing on Discovery and Discovery+, we've rounded up some beachy cocktails to help you celebrate. From nautical cocktails to salty martinis, these recipes below will make you feel like you're oceanside on the beach, maybe enjoying the sand in your toes or maybe swimming in not-quite-deep-enough waters (duh nuh, duh nuh). Thankfully for you, this beach is in your living room, free of any sharks. Before you sit down to binge your favorite week of hammerheads and great whites, grab the shaker and give one of these beachy cocktails a try. Cheers, shark fans.
Cocktails With a Nautical Theme
Blackbeard's Rum and Coke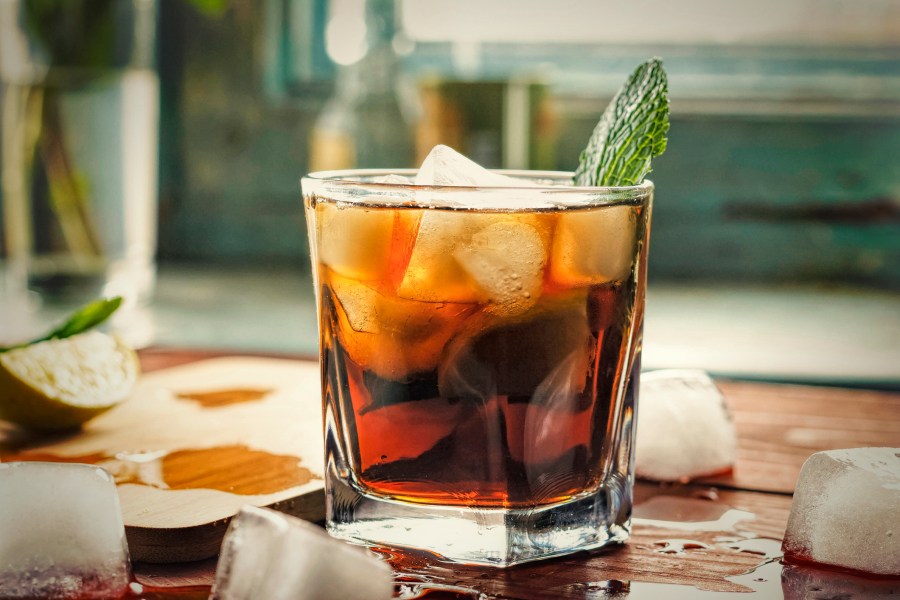 If you like a classic rum and Coke, you'll love this Blackbeard's Rum and Coke from Mantitlement. This nautical take on a rum and Coke features a splash of Goldschlager to give your drink a hint of cinnamon. If you're hosting a Shark Week viewing party (we would like an invite, please) flecks of gold floating in the glasses will certainly impress your guests. Use a pirate sword skewer with cherries or seasonal fruit for a cute nautical garnish.
Rosemary Salty Dog
The classic Salty Dog cocktail tastes like summer at the beach in a glass. With the addition of rosemary syrup with your expected vodka and grapefruit juice, this drink from Krazy Kitchen Mom is a light, refreshing, and slightly herbaceous ocean breeze in cocktail form. The rosemary in this drink instantly elevates it to a craft cocktail that you can make at home. The sprig of fresh rosemary doubles as a garnish too! This refreshing cocktail pairs perfectly with a summer night on the patio or a week of watching sharks.
Hurricane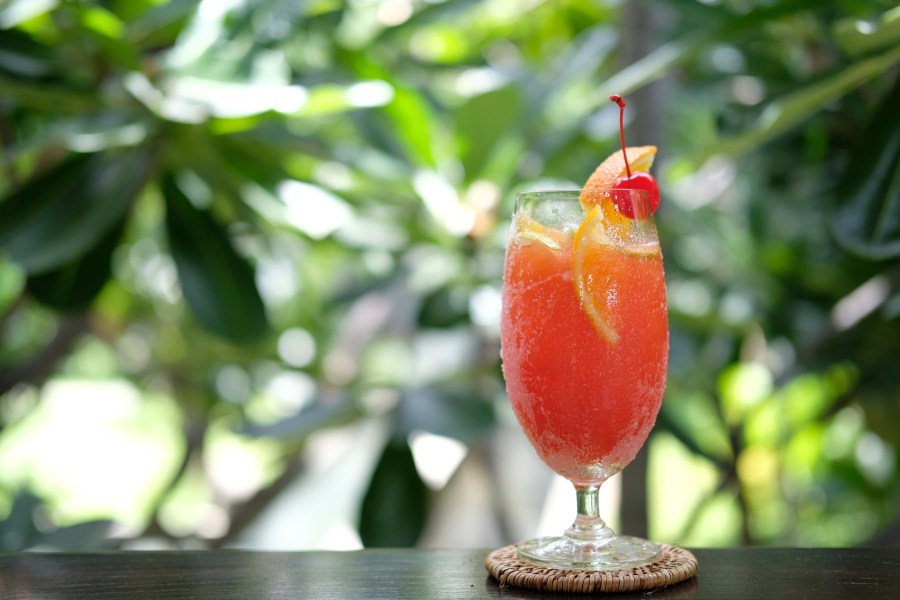 A Hurricane is the ultimate summer cocktail. If the thought of crafting a Hurricane at home has you feeling overwhelmed, this easy recipe from Flour Child breaks it down into a few simple steps. Just as the force of nature it's named after, a Hurricane will pack a punch. While Hurricanes are on the stronger side, the rum, passion fruit purée, and grenadine make it a sweet and easy drink to enjoy. To garnish your hurricane, add an orange slice or a cherry to the rim of your glass and enjoy.
Drinks That Look Like the Ocean
Looking to entertain with something a bit more literal? These festive blue drinks will keep you in the shark spirit all summer long. Dress any of these up with a few drops of grenadine. It adds a splash of sweetness and the appearance of a shark attack.
Shark Bite, Blood in the Water
This drink recipe from Mix That Drink will get some laughs at a Shark Week binge party. The Shark Bite cocktail looks as blue as the ocean and includes a few drops of grenadine for a gory blood effect. This cocktail is as festive as it is refreshing. The cocktail's base is spiced rum, and it's combined with blue curacao and sour mix. Use a thick grenadine to get the proper blood effect for the topper.
Blue Water Breeze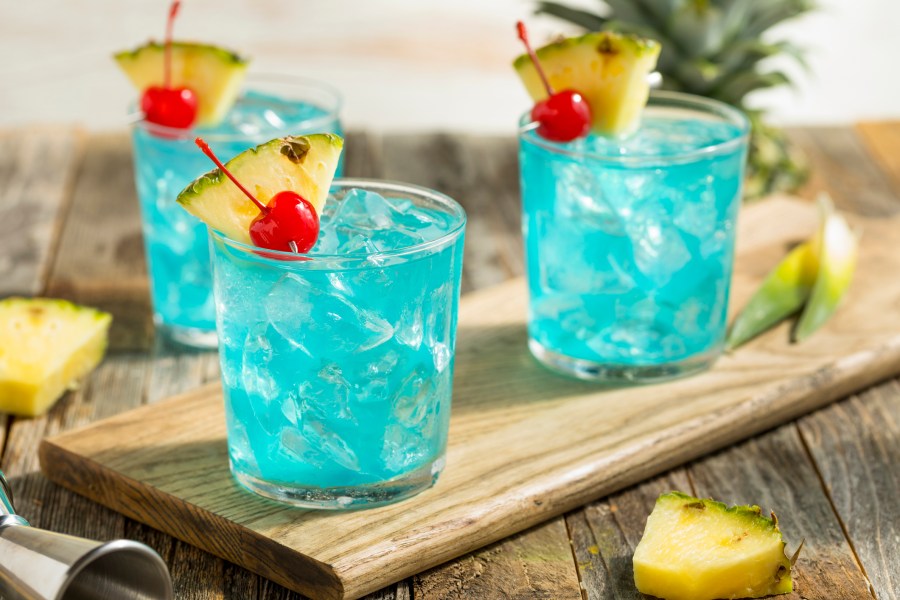 The Blue Water Breeze cocktail is just as light and airy as it sounds. This tropical recipe from The Blonde Cook has a striking blue color. The recipe calls for equal parts vodka and rum. It also uses blue curacao, coconut water, and pineapple juice to give it a beachy color. Add pineapple juice last to get just the right hue. Drop-in a pineapple wedge and a cherry to top off this beauty.
Blue Margarita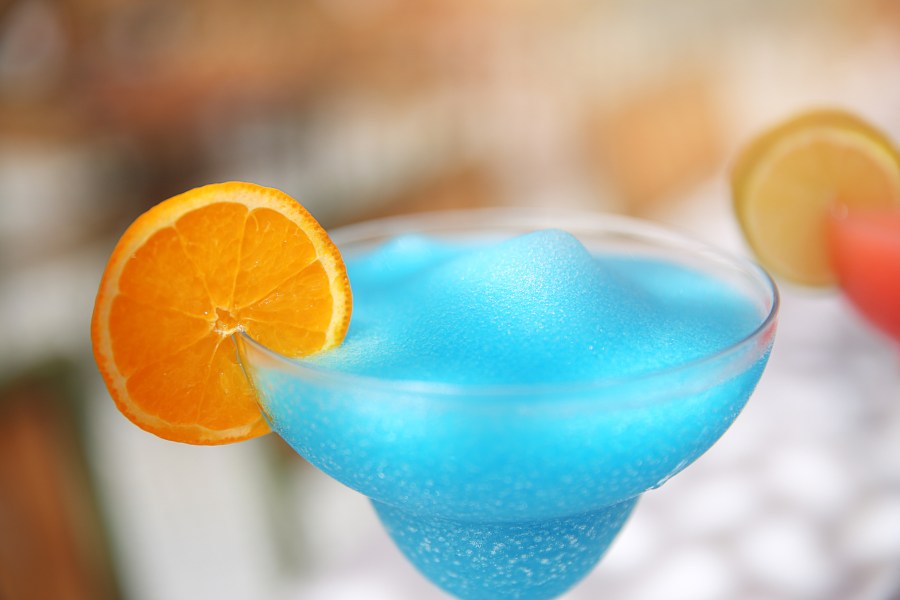 The Blue Margarita from Spiced is a fun twist on the classic margarita. Although it tastes like raspberries, this drink gets its color from blue curacao. This bright blue beauty also features triple sec, fresh lime juice, and silver tequila. Rim the glass with salt and garnish it with an orange wedge or fresh lime. You can also blend this margarita and serve it frozen.
Drinks That Are Literally of The Ocean
For a sophisticated Shark Week cocktail, try an ocean water cocktail that includes ingredients straight from the ocean. You'll taste the salty sea air in every sip.
Nautical Mary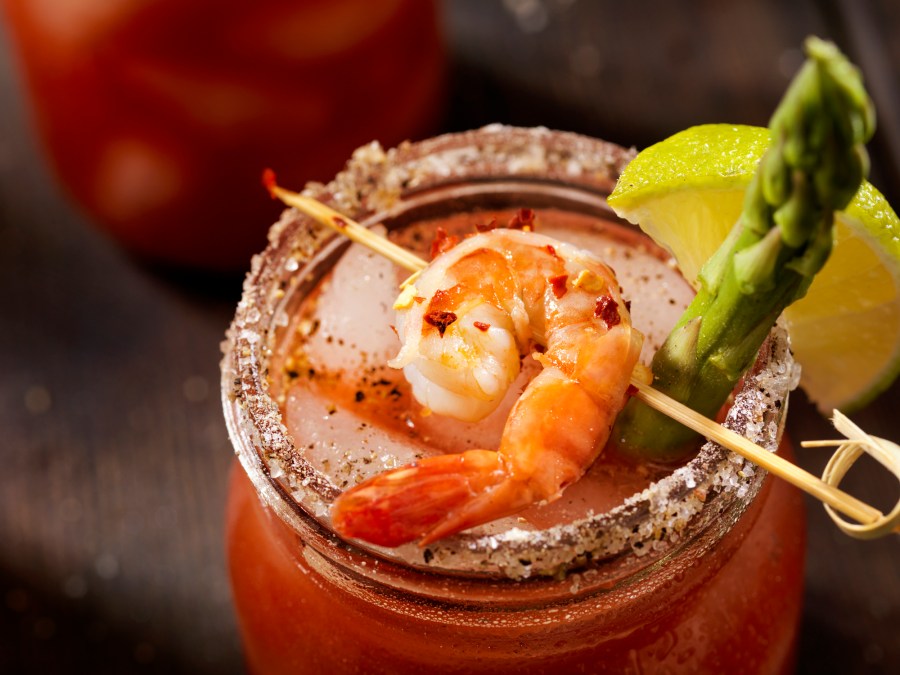 The Nautical Mary from A Family Feast is a Bloody Mary recipe with a salty twist. It features a homemade tomato juice mixed with vodka and clam juice. The clam juice gives the drink a slightly salty taste. Squeeze in a lemon twist, and you'll have a Bloody Mary that's refreshing and tangy. Garnish it with your favorite Bloody Mary toppings, such as lemon, lime, celery sticks, or a pickle. To keep the ocean vibes going, you can also add a shrimp with a pinch of horseradish. If you like your Bloody Marys spicy, add extra Tabasco sauce to taste.
Saltwater Martini
If you love a salty martini without the olives, the Saltwater Martini inspired by the Portland Hunt & Alpine Club is for you. This drink is literally an ocean water cocktail. It takes a classic martini and adds seawater to give it a salty sea flavor. The martini recipe calls for gin, sherry, and seawater mixed into a chilled glass. If you're not an olive fan, the sherry mixed with the seawater gives the martini a salty taste without the need for olives. You can still enjoy a dirty Salty Martini without the signature olive juice. Garnish your martini with a fresh lime or lemon wedge.