Sports fans are always debating who deserves the title of GOAT — or Greatest Of All Time. Athletes like LeBron James and Sue Bird, who have both won four championship titles, are undoubtedly two of the greatest basketball players of all time. Meanwhile, in boxing, icon Muhammad Ali has been dubbed "The Greatest" for decades. Although the internet will certainly try, it's difficult to compare athletes across sports and land on a single GOAT. But, if we had to land on someone, it might just be tennis icon Serena Williams.
Back in 1995, Williams began her professional career at just 14 years old, and, since then, she's earned a staggering 23 Grand Slam titles and four Olympic gold medals. At the 2022 US Open in New York City, Serena Williams retired from professional tennis to focus on her family. In her own words, Williams views this decision as a "transition", and not a retirement — one that's well earned after a sterling 27-year career. We wish Williams the best in her future endeavors and thank her for blazing the trail for so many athletes around the world.
The Williams Sisters: A Real Dynamic Duo
At three years old, Serena picked up a tennis racket for the first time. But she wasn't alone. Her older sister, Venus, who was four at the time, started playing too. The sisters' parents, Richard Williams and Oracene Price, took up tennis to teach their daughters and, eventually, Williams left his job to become the sisters' full-time coach. By 1991, Serena, at just nine years old, played in her first junior tournament. Impressively, she made it to the finals where she faced Venus — and this, maybe, was the start of an incredible on-court rivalry.
Having moved from Compton, California to West Palm Beach, Florida, the sisters trained with former tennis player Rick Macci. And that cross-country move certainly paid off. In 1995, Serena went pro at just 14 years old. Soon enough, she became known for her powerful serves and groundstrokes. Everyone from fans to sponsors couldn't get enough of the Williams Sisters. It was clear that they were both destined for greatness.
Although critics predicted that Venus would be the first of the sisters to win a Grand Slam singles title, Serena was the one to win the 1999 U.S. Open, becoming the first Black woman since Althea Gibson to win a Majors title. "I was the older sister, and everyone thought I would win the first major, but she did. I felt motivated. Now I know what to do. Serena showed me what to do," Venus has said, reflecting on the 1999 U.S. Open. "At the time, I didn't think to say that to her, but over time, I've told her, 'If it wasn't for you, I wouldn't have done anything.' We have a good laugh about that."
In the early 2000s, the sisters became the first tennis players to play in four consecutive Grand Slam singles finals, all of which Serena won. "It is the most unlikely thing that has ever happened in our sport — that siblings would face off against each other in the final of four straight majors," former pro tennis player Pam Shriver said. "It is a once-in-a-galaxy type of thing." Think that's impressive? Between the 2001 U.S. Open and the 2017 Australian Open, the sisters met in a staggering nine Grand Slam singles finals.
While the on-court rivalry is certainly exciting, the Williams sisters also have a reputation for dominating doubles events. At the 1999 U.S. Open, the same tournament that saw Serena making history in the singles track, the Williams sisters won the doubles event, kicking off an incredible legacy. In total, they've earned an impressive 14 Grand Slam doubles titles.
Serena's Legendary Solo Career
In the early 2000s, Serena's career was reframed a bit. Between 2002 and 2003, she won four consecutive Grand Slam titles. (For those who don't know, the four Majors tournaments, the Australian Open, the French Open, Wimbledon, and the U.S. Open, are known as Grand Slams.) Now, this feat has been dubbed a "Serena Slam." Back in the early 2000s, Serena beat out Venus to accomplish her first Serena Slam, which also helped reframe the champ's career. That is, she was no longer viewed just in comparison to her older sister.
It's a common in-joke in tennis fandom that only Maria Sharapova thinks that she and Serena are rivals. This likely stems from the fact that Sharapova caught a lucky break in 2004 and beat Serena at Wimbledon. At the end of the year, Serena lost to Sharapova again. (This would be the last time Sharapova would best Serena, for the record.) These losses, in combination with dealing with disheartening injuries and grief from a devastating personal loss, pushed Serena to begin searching for a life outside of tennis.
By 2007, Serena had recommitted to tennis. At the Australian Open, Serena, who was unseeded and ranked No. 81, shocked spectators by trouncing Sharapova. In 2008, Serena and Venus won a doubles Gold Medal at the Beijing Olympics and, just a few weeks later, Serena clinched a U.S. Open title. And what about those rankings? Well, Serena climbed right back to the top. In fact, throughout her career, she's been ranked No. 1 by the Women's Tennis Association (WTA) a total of 319 weeks.
Off the court, Serena launched clothing lines and received incredible endorsements — but, as in other industries, the women of the sports world aren't paid nearly as much as men, even when it comes to endorsements. In 2019, Serena was the only woman to make Forbes' highest-paid athletes list, thanks to high-profile deals with Nike ($55 million over five years), J.P. Morgan Chase, Wilson and Gatorade.
Making History On and Off the Court
While Serena was on the top of her game from 2007 onward, a startling upset in 2015 — which saw Serena losing in the U.S. Open semifinals to Roberta Vinci — threatened to derail her history-making strides. By 2017, Williams was poised to win her 23rd Grand Slam title, which would make her the winningest women's player in Open era history. "I want to see her win 23 for her. She is her own worst critic, her toughest competition, and she's really hard on herself when she doesn't succeed," Isha Price, Serena's sister, told ESPN. "I'd like to see her win it as soon as possible, but for her. Not for me, not for anybody else. I want that so badly for her."
Serena went on to make history at the Australian Open, nabbing her 23rd Grand Slam title by beating Venus in the final. "I really would like to take this moment to congratulate Venus. She's an amazing person. There's no way I would be at 23 without her," Serena said post-game after Venus' speech congratulating her on the 23rd title. "There's no way I'd be at one without her. There's no way I'd have anything without her. She's my inspiration — she's the only reason I'm standing here today and the only reason the Williams sisters exist."
Later, Serena announced that she had been about two months pregnant while playing in the Australian Open. "I was nervous," she admitted (via The Washington Post). "I wasn't quite sure what to think, but I knew that at that moment, it was really important for me to just focus." Now, Serena and her husband Alexis Ohanian are the proud parents of Olympia Ohanian. From Alexis embracing his "Girl Dad" role to Olympia and Serena's adorable photos, the family is beloved by fans.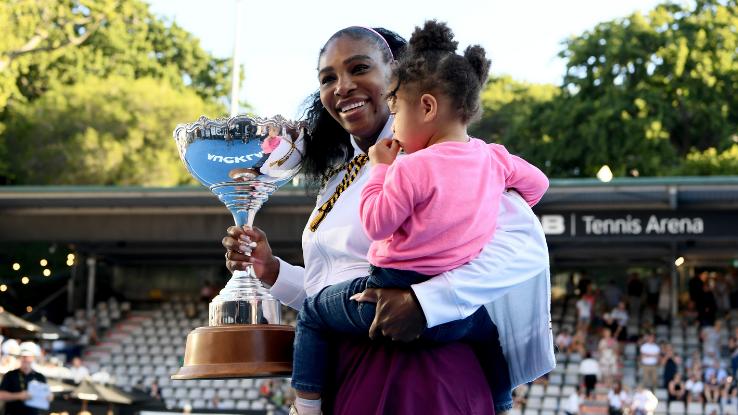 But Serena has also used her platform to speak out on the behalf of other Black women and parents. "I almost died after giving birth to my daughter, Olympia," she wrote. "Yet I consider myself fortunate." As Serena points out in her piece, the Centers for Disease Control and Prevention (CDC) has found that Black women in the U.S. are "over three times more likely to die from pregnancy or childbirth-related causes." She went on to share that, "When I finally made it home to my family, I had to spend the first six weeks of motherhood in bed."
With her return to the court, Serena is poised to win another title and tie Margaret Court's all-time record of 24 Grand Slam wins. The tennis legend's first real shot at this was in 2018, where she played then-up-and-comer Naomi Osaka in the title match of the U.S. Open. Unfortunately, the would-be exciting match-up was completely marred by umpire Carlos Ramos, who made a number of controversial calls and penalties against Serena.
"This umpire not only stripped Williams of a fair game… he robbed Osaka of a victory unburdened by complications," Refinery29 points out. "…It didn't take long for media outlets… to decry Serena Williams for 'having a meltdown.' That reaction is indicative of the sexism Williams contends with constantly. It also props up the harmful, racist 'angry Black woman' trope she must maneuver around with every move she makes."
Even in 2020, commentators reporting on U.S. Open matches couldn't resist continuously pointing out that Serena and her fellow tennis great Victoria Azarenka are both mothers. This is of course worth celebrating, but the near-constant (and very sanitized) commentary rang "hollow" for many. (And it's certainly not how commentators would frame a match between athletes who are also fathers.) While not as appalling as the 2018 U.S. Open coverage, this certainly speaks to the sexism women athletes face, no matter how accomplished they might be.
More recently, Serena was defeated in the semifinals of the 2021 Australian Open by now-superstar Osaka. After the tournament, reporters asked Serena about her future tennis endeavors — as well as the possibility of retirement. "I don't know," she admitted. "If I ever say farewell, I wouldn't tell anyone."
Paving the Way for Women in Professional Sports
Speaking to both Williams' unparalleled talent and barrier-breaking advocacy, U.S. Open champ Naomi Osaka noted that "if Serena wasn't there, then I wouldn't be here." Williams is, without a doubt, one of the most influential athletes of all time. And she has also used her platform to uplift and empower others, from opening Compton's Yetunde Price Resource Center in honor of her late sister to adding her voice to the fight for equal pay.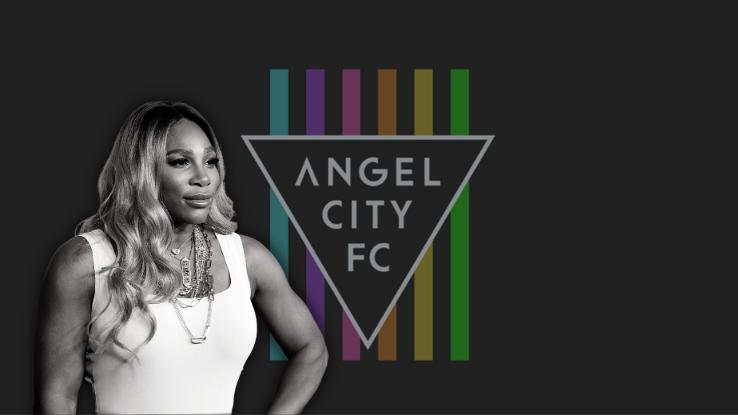 In July 2020, Williams announced that she, along with her husband, Alexis Ohanian, and her daughter, Olympia, will be founding investors in Angel City Football Club (FC). This new Los Angeles-based National Women's Soccer League (NWSL) team took to the field in April 2022. Other big-name investors include Academy Award-winning actor Natalie Portman and former footballer Abby Wambach, who won two Olympic golds and a FIFA World Cup title alongside the U.S. Women's National Team (USWNT).
To some fans, Williams' decision to invest in a soccer team might seem surprising. But, for her, it's not about the sport itself — it's about what the league represents. Angel City encourages women athletes to pursue their dreams and aims to empower them so that they can build lasting careers as athletes. Plus, women athletes gaining more visibility is something that Williams hopes will serve as an inspiration for her daughter. "Our daughter [Olympia] loves soccer — I hate to say it!" Williams told WTA with a laugh. "Every time she starts kicking a ball, I get this jealous look in my eyes and I give her a tennis racquet."