Born in Washington D.C. but raised in Charleston, South Carolina, Stephen Colbert is no stranger to the notion of humble beginnings. The youngest of 11 children, Colbert took his larger-than-life personality and put it to good use on television.
Many of us probably first encountered the comedian and commentator on his self-titled Comedy Central show, The Colbert Report. Since then, he's beat the odds to become a rather successful late-night talk show host. Here, we're taking a closer look at Colbert's path to fame — and being on our TV screens every night. 
Stephen Colbert Before the Fame
Stephen Colbert's early childhood was by no means easy. While being the youngest in such a big family is always a challenge, Colbert was also confronted with an enormous tragedy at just 10 years old when his father and two of his brothers died in a plane crash.
To escape the grief, Colbert recalls becoming an introvert and escaping into sci-fi and fantasy novels. His favorite writer was J.R.R. Tolkien, the author of The Hobbit and The Lord of the Rings series.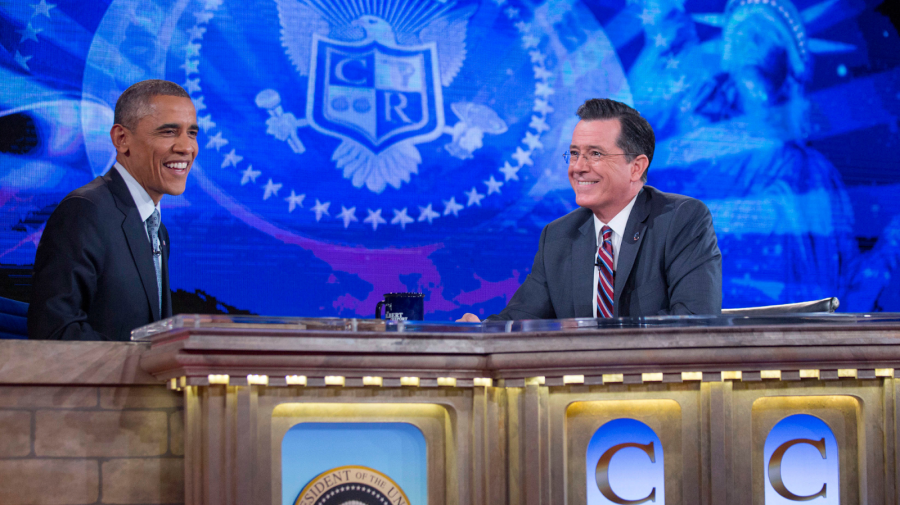 As fate would have it, he took to acting as a means of expressing himself and exorcizing the grief and sadness that had made him so withdrawn. Colbert grew up in a home where singing and dancing were the norm. In fact, his mother, Lorna, was also an actress. In the family kitchen, she taught her son how to do fake falls and faints.
After taking roles in several school plays, Colbert acknowledged that acting was a huge passion, but he put it aside to pursue a philosophy degree at Hampden-Sydney College (HSC) of Virginia. But these pursuits were cut short when he left HSC to study theater at Northwestern University.
Stephen Colbert Tries Comedy
Once he graduated from Northwestern, Stephen Colbert decided to further explore his comedic chops. He took a position with the esteemed Second City comedy troupe, an improv organization that's also the oldest ongoing theater troupe in Chicago. After two years of working in their offices, he was asked to join their traveling group and went on the road for two years.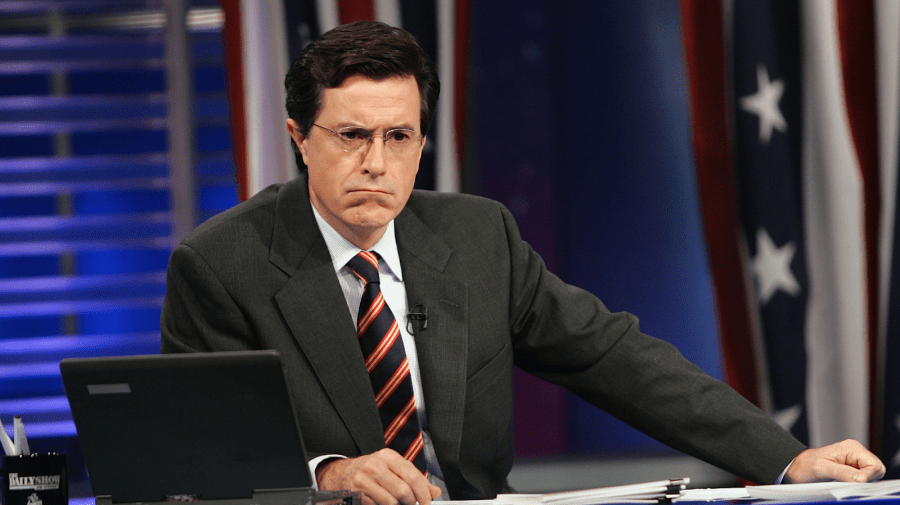 While on the road, he met two formative comedians: Amy Sedaris and Paul Dinello. The trio eventually created and starred in two TV shows — Exit 57, which was a sketch comedy show that aired from 1995–1996, and Strangers with Candy, which spoofed after-school specials and aired from 1999–2000. The latter series later got picked up by none other than Comedy Central.
Colbert eventually earned a spot as a correspondent on The Daily Show with Jon Stewart. This role allowed him to introduce his hilarious, overly old-fashioned persona to the world. Then, thanks to his frequent cameos on The Daily Show and the syndication of Strangers — which was also turned into a film in 2006 — Colbert's star really began to rise. Clearly, if we've learned anything from Colbert and Trevor Noah, it's that The Daily Show is the place to be if you want to become a successful comedian-turned-host.
Enter: The Colbert Report
In 2005, The Colbert Report debuted on Comedy Central. Stephen Colbert and his refreshing, satirical take on mainstream, right-wing political pundits immediately struck a chord with Comedy Central's audience. With over a million views in its first week alone, The Colbert Report instantly became one of the network's top shows. This was, of course, what catapulted Colbert to full-on celebrity status.
Some six months later, Stephen Colbert was selected to appear as a featured speaker at the 2006 White House Correspondents' Association Dinner. However, the political world was not quite prepared for his off-beat, parodic point of view.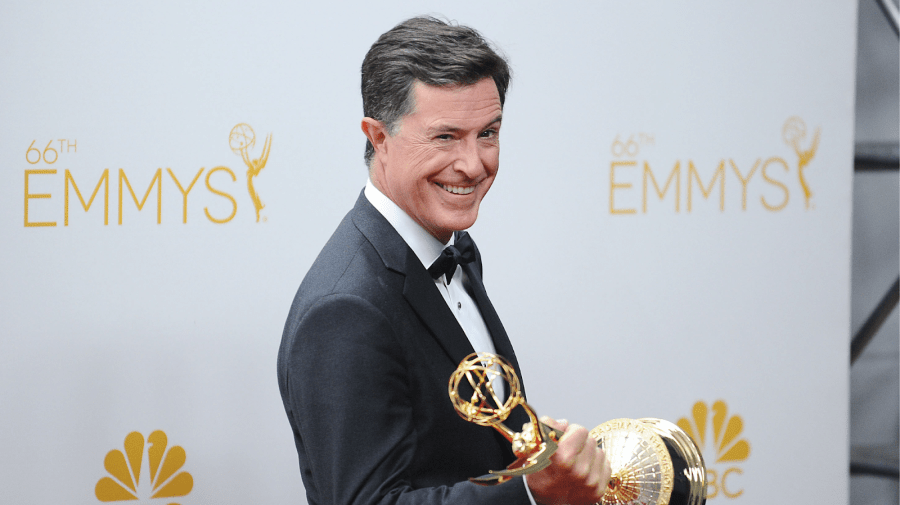 After going on what some viewers might call a misguided diatribe, all while being just feet away from former President George W. Bush and First Lady Laura Bush, Colbert received mixed reviews. And controversy followed. But, in the end, this incident only served to add fuel to his shooting star. Plus, the fanfare helped land him several Emmys over the next few years.
In addition to hosting The Colbert Report, the comedian penned the best-selling I Am America (and So Can You!) in 2007, and, alongside Jon Stewart, co-organized the Rally to Restore Sanity and/or Fear — an event intended to mock those being hosted by the likes of Glenn Beck. But, more than just mockery, the co-hosts hoped to initiate serious conversations about the state of American politics.
Sliding Into Late-Night Television
Stephen Colbert later admitted that appearing as a guest on Late Night with David Letterman had, at the time, been the pinnacle of his career. But hosting a late-night show? That would exceed his wildest expectations.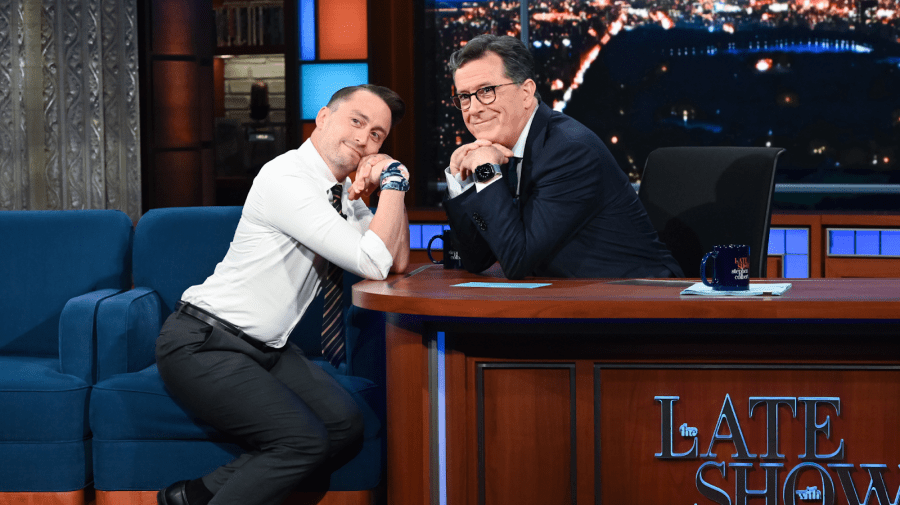 After ending his Comedy Central show in 2014, Colbert was shortlisted to become the next big star in late-night television. With Letterman's retirement pending, the stage was set for Colbert. In the fall of 2015, he made his debut as the host of The Late Show. While audiences were hesitant to embrace him in the new role at first, Colbert, and his ratings, soon soared.
When the COVID-19 pandemic shuttered television studios, Colbert, yet again, proved himself to be a highly talented, innovative talk show host. By taping — and later airing — honest monologues that he recorded everywhere, from his bathtub to his front porch, Stephen Colbert illustrated his innate ability to not just entertain audiences, but connect with them.